Book Themed Activities – Gratitude Rocks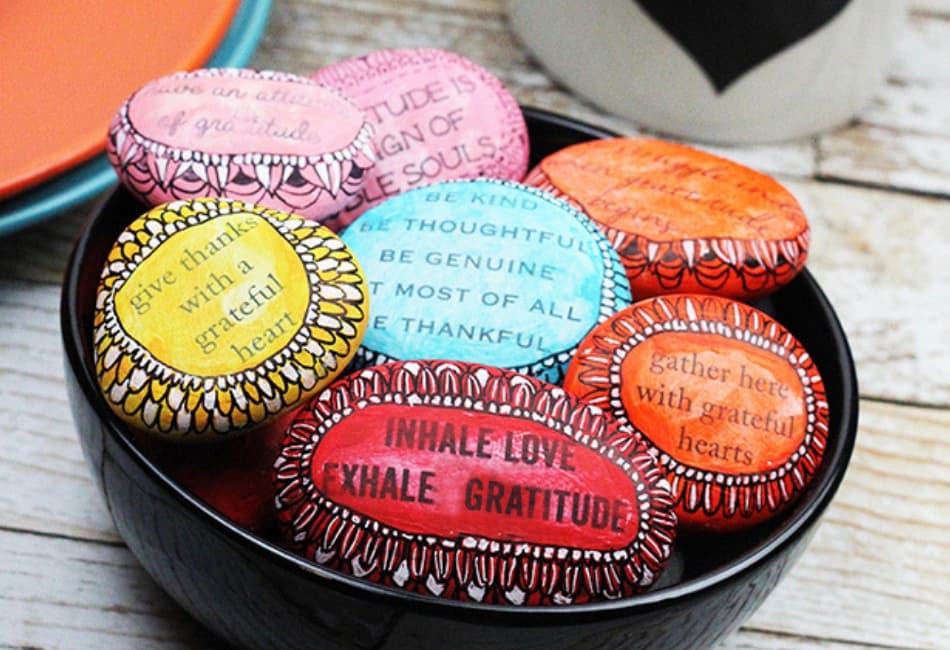 1824 Views
September 10, 2018
I'm sure you will agree when we say that one of the many lessons taught to us as children was to not just be kind, good, well-behaved kids but also be grateful for what we have. If you have a warm, happy home filled with people you love, you're bound to be grateful. If you've got nice friends who are always around to help you, you've got another reason to be grateful. Gratitude then lies in simple things like these.
With World Gratitude Day around the corner, let's all look for things that we are grateful for in our lives and say thank you. I'd like to use the book Ismat's Eid as an example of expressing gratitude. In the story, Ismat's wife is extremely happy when he buys her a beautiful blue burqa. Ismat's mother too simply adored the dupatta her son had bought her as an Eid present. Ismat was expressing gratitude towards his family on the special occasion of Eid. This heartwarming and funny story talks of how Ismat's family showed him their gratitude in turn.
And so, the gratitude cycle comes full circle.
Gratitude Rocks. Image Courtesy Alisa Burke
Just as Ismat and his family were grateful to one another, we bet you're grateful for a lot of things and people too, such as your friends, family, cousins…the list goes on! So, on World Gratitude Day, which is on the 21st of September, why not do this fun activity with your kids.  Let's celebrate being grateful and saying thank you for all the good things in life with the help of some gratitude stones. Wondering how to make them? Let's take you through it.
What you will need:
Stones/ Pebbles
Tissue paper
Acrylic Paint
Scissors
Set of Paintbrushes
Image Courtesy piedracreativa.com
Method:
Find a couple of stones or pebbles from the garden and make sure you wash them until they are clean.
Allow them to dry by placing them on a plate under the fan.
Now, with the help of a parent or an adult, use the scissors to cut out a heart shape from one of the tissue papers you have.
Once you've cut out your tissue paper heart, place it on one of the stone's surface.
Next, use your paintbrush, dip it into the paint colour of your choice and spread the paint gently onto the heart.
Let it dry.
Once it is dry, you will see how the tissue paper blends smoothly into your rock, making the perfect gratitude stone!

Image Courtesy firefliesandmudpies.com
But hey, feel free to experiment and paint your gratitude stone any way you like. It doesn't have to be a heart. You can even write your favourite quotes on the stones. Here are some ideas to paint your gratitude stones differently.
You can make as many gratitude stones as you'd like. You can use it to express gratitude in plenty of different ways. One fun way to use your gratitude stones is to sit around the dinner table with your family, hold onto your stone and tell everyone what you are thankful for before passing it on to the next person. Another way to use these gratitude stones is to share them by handing them over to somebody you are grateful for like your mother or your father.
One thing's for certain – these gratitude stones sure will bring a big, beaming smile onto anyone's face! So, go on, it's time to spread some cheer this gratitude week with the help of your very own gratitude stones.
Like this?
Read: Make Books Come Alive – A book for Puchku
Read More Book Theme Activity Blog HERE
eature Image Courtesy Alisa Burke