Trailblazing Librarians: Guneet Kaur Bhusari and Priyanka Khanduja
311 Views
August 21, 2023
In the world of education, there are few roles as transformative and inspiring as that of a librarian. Librarians are not just keepers of books; they are guardians of knowledge, guides to new worlds, and champions of the written word. Today, we celebrate two exceptional trailblazers in the realm of libraries – Guneet Kaur Bhusari and Priyanka Khanduja, both hailing from the esteemed Gems International School. These dynamic educators have earned the prestigious Getlitt! Most Motivating Librarian Award for their remarkable contributions to the world of literature and education.
Congratulations to GetLitt!'s Most Motivating Librarians! Ms. Guneet and Ms. Priyanka.
Let's get to know more about these incredible librarians and the work they did to secure these titles. First, let's take a look at:
Ms. Guneet Kaur Bhusari: A Beacon of Literary Enchantment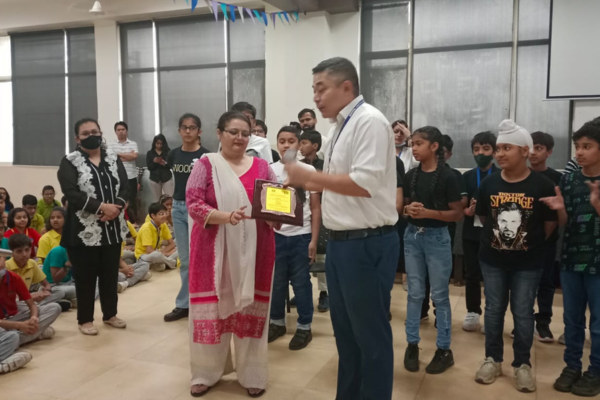 Ms. Guneet Kaur Bhusari, a name synonymous with literary passion, has been recognized with the Getlitt! Most Motivating Librarian Award for her unwavering commitment to nurturing the love for reading among students. Her library initiatives at Gems International School have truly revolutionized the way students engage with literature.
Imaginative Storytelling and More: To kindle the flames of curiosity and creativity, Ms. Guneet introduced 'Imaginative Storytelling' and 'Weave a Story' programs. These activities transported students into fantastical realms where their imaginations ran wild. She supplemented these programs with All India Literature festivals, book fairs, book weeks, author talks, and storytelling sessions held monthly.
Fostering Responsibility: In a world that values responsibility and ownership, Ms.Guneet established 'Honesty Libraries.' Here, students are entrusted to pick and return books without cumbersome records, instilling a sense of responsibility and trust in young minds.
Diverse Author Exploration: Ms. Guneet's 'Author of the Month' initiative is a testament to her commitment to diverse literature. Each month, authors from different age groups are selected, exposing students to a wide array of genres and perspectives. To make library lessons engaging, students dress up as authors, bringing the words to life!
Unbelievable work, Ms. Guneet!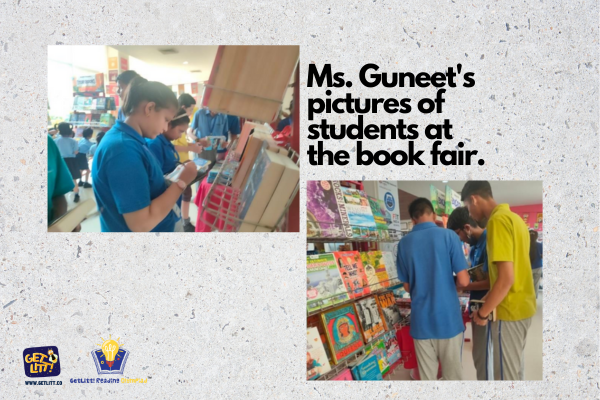 The students at Gems International School are lucky to have Ms. Guneet at the helm! Here are a few words from the librarian:
 "First and foremost I want to thank team GetLitt! for their wonderful initiative to encourage reading. Awards always validate that you are on the right path. These awards motivated and inspired me to keep on encouraging children to read. My views on reading are that it is a very important skill that we can impart to the students. Reading helps them to be lifelong learners apart from enhancing their vocabulary, concentration, and knowledge it also enhances their speaking and writing skills. A person with a book is never alone."
Speaking about the GetLitt! Reading Olympiad she says, "GetLitt! Reading Olympiad is a great initiative by team GetLitt that will encourage students to read and comprehend. As it is a competition students will take reading more seriously. I congratulate team GetLitt and wish them success in this endeavour." 
Ms. Priyanka Khanduja: Crafting a World of Reflection and Imagination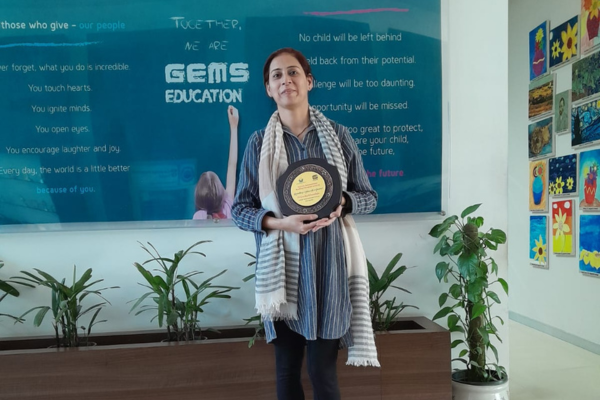 Ms. Priyanka Khanduja, the winner of Getlitt!'s Most Motivating Librarian Award stands as a beacon of student empowerment and creative exploration. Her dedication to nurturing young minds goes beyond the library's shelves, extending into various innovative initiatives.
Reflect, Reimagine, and Recreate: Ms. Priyanka, in collaboration with the school committee, introduced the theme of 'Reflect, Reimagine, and Recreate.' This theme was ingeniously divided into six sections, each enriched by combining books, authors, and stories that engaged students deeply in the theme.
Student Agency Initiative: Ms. Priyanka played a pivotal role in the "Student Agency" initiative, a program that encouraged students to take charge of their reading experiences. In this program, students were tasked with picking books that piqued their interest, reading them, and reflecting on their journeys through word jars. This initiative not only promoted a sense of autonomy but also fostered critical thinking and self-expression.
Primary Library Quill Club 2022-23: An instrumental force in the creation and success of the Primary Library Quill Club, Ms. Priyanka helped shape a dynamic and enthusiastic group of young thinkers and writers. The Primary Quill Club, a gathering of eloquent, cheerful, energetic, and optimistic minds, convened every Tuesday. In this vibrant space, members shared, pondered, and expressed their perceptions through poems, articles, reviews, illustrations, and art.
Amazing work, Ms. Priyanka!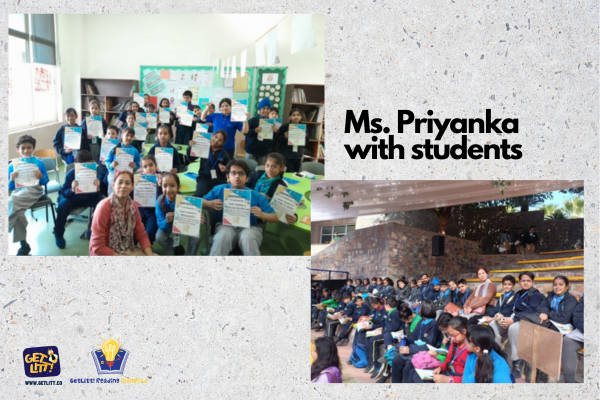 The Students at Gems International School must absolutely love their library and all the incredible activities thanks to Ms. Priyanka. Here are a few words from her about winning the GetLitt! Most Motivating Librarian award: "Winning an award, getting felicitated, and words of praise and respect surrounded me for sure. But, the most beautiful yet vital significance was an endless count of the pride my mother felt. With a warm and pure hug, tearful eyes, and often admiration is an ethereal significance. Every time learners visit my library, the respect gained is undoubtedly angelic. This sojourn of working towards the GetLitt! Reading Olympiad, getting awarded is an indication – more and more to observe, think and act towards my passion."
Speaking about the GetLitt! Reading Olympiad, she says, "The GetLitt! Reading Olympiad wasn't only about reading and at the end doing questions and answers. It indeed was a real insight and the essence of reading books, exploring varied genres, and appreciating authors. Many who opted for it, had never heard of the writers and read the fictitious and non-fictitious work. Every school and parent must get the children enrolled for such olympiads. Knowing our own Indian authors is a seed to sow towards enriched and varied reading habits." 
Round of Applause for the GetLitt! Most Motivating Librarians.
At GetLitt!, we look forward to engaging with the students, as they are the main focus of our initiative. However, a lovely part of this journey is meeting the incredible teams of librarians and educators behind the students.  This year's awardees have indeed been inspiring and we hope their stories and work have motivated you to make literature and books part of your daily life.
If you're interested in the Reading Olympiad, keep checking out the website and social media for updates. We host them twice a year, so there could be one right around the corner!
Like this blog?
Read: Meet The Librarians Who Impacted The Way 2000+ Students Read During the Pandemic
Read More: The Young and Powerful Poets of GetLitt!'s Creative Writing Program