Five Minutes With Illustrator Deepti Sunder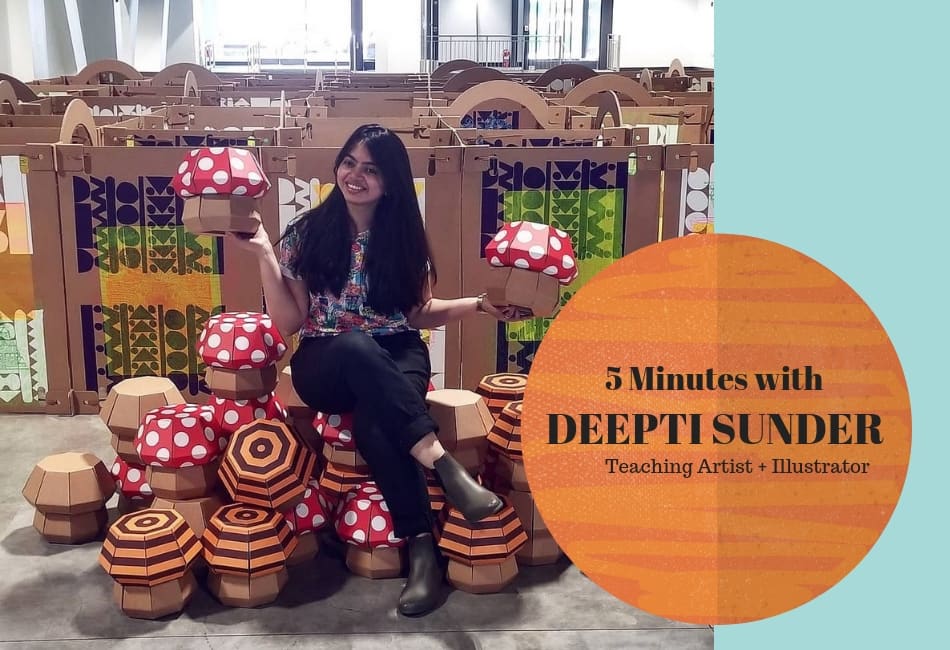 1348 Views
September 4, 2018
We love that the Indian publishing industry is filled with such fantastic writers and illustrators of children's books. Five Minutes With … is a feature where we get to know some of our favourite children's book people in some not-so-usual ways.
You know that look of wow your child gets when they open up a book and immediately get drawn in? That reaction comes from the handy work of stunning illustrations created by artists like Deepti Sunder. If you've read the Crystal Kite award-winning book Bonkers, then you're already well-versed with Deepti's drawings.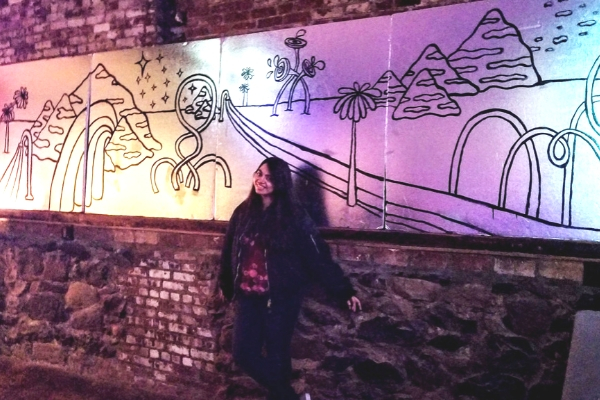 Image Courtesy Deepti Sunder
Apart from pursuing her career in illustration, she is currently based in Brooklyn, New York, where she works as a Teaching Artist at the Children's Museum of the Arts in Manhattan. She believes everyone should experience the joy of making something with their hands and hopes to be able to spread some of that cheer in her own small way in this world.
The task for any illustrator, especially a children's book one is to walk a tightrope between enhancing the author's vision, without hampering a child's imagination. This is what Deepti does best and it's reflective in many of her works. Taking us behind the pretty pictures and her fantastical worlds, Deepti sits down with us to discuss some of her inspirations and favourite types of illustrations.
Team GetLitt: What is your favourite thing to draw?
Deepti Sunder: So many things – it would be hard to pick, honestly! I have a couple of favourites. These include imaginary worlds, handwritten type, random objects, and food – all the food!

Image Courtesy Deepti Sunder
TGL: Tell us a children's book whose illustrations you love.
DS: I've been obsessed with both the text and images in the book Cloth Lullaby– The Woven Life of Louise Bourgeois, written by Amy Novesky and illustrated by Isabelle Arsenault. It's one of those books that is a perfect marriage between the visuals and the words, and just so poignant and heart-wrenchingly beautiful.

Image Courtesy Julia Prohotskaya
TGL: Which children's book character would you love to illustrate if given the chance? Why?
DS: Ooh ooh I know! The Five tongued Fire fanged Folkadotted Dragon Snake from Anushka Ravishankar's book of the same name. It's hard to argue with such a splendid name for a character. I'm also very weak in the face of good alliteration.

Image Courtesy Amazon.in
TGL: If you had to create a new creature which was a combination of two already existing creatures, what would the two be and what would you call the new one?
DS: It would have to be something wibbly-wobbly, colourful and funky. I'm not sure what that would be. Possibly a patterned, many-coloured, bespectacled, flying walrus of sorts. And she would be called…Sploosh? Yes. Sploosh.

Image Courtesy Deepti Sunder
TGL: If you could travel through time and space to be able to use what you see in your illustrations, where would you like to go?
DS: Any place that is surreal and otherworldly in its beauty, I think. I'd travelled to Kutch with a couple of friends some years ago, and we'd driven to the Rann of Kutch after sundown. I still can't forget the bizarre feeling of standing in the dark, with no light but the headlights of the car, staring around at this endless flat horizon surrounding us. Anything that replicates that feeling, I think, is a winner in my books.

Image Courtesy Deepti Sunder
There you have it, a sneak peek into the creative mind of Deepti Sunder. We can't wait to see her newer works in galleries and books and wish her all the luck. Until then, if you haven't already, you can catch her illustrations in the book, Bonkers – Find it on getlitt.co