Five Minutes With Lavanya Karthik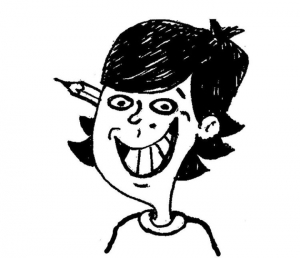 We're very excited about launching our blog and we wanted to begin with a feature called Five Minutes With … We love that the Indian publishing industry is filled with such fantastic writers and illustrators of children's books. We want to use this feature to get to know some of our favourite children's book people in some not-so-usual ways.
Writer and illustrator Lavanya Karthik is a Mighty and Most Excellent Warrior of the Light, leading an army of ninja against the Loathsome Hordes–but only in her dreams. In real life, she lives in Mumbai where she writes, draws, eats way too much chocolate and takes a lot of naps.  She does lead an army, though–of imaginary pugs.
What's your favourite thing to write about? 
Crazy ninja grannies! Grumpy pugs! Talking cats! Zombies! (Check out the Ninja Nani series for more!)
Which children's book character do you think you're most like?
Pongo, the grumpy pug from Ninja Nani!
Tell us a children's book you love.
May I pick two? I love everything by Eva Ibbotson, but her The Island of the Aunts and Which Witch? are my absolute favourites. Both feature weird animals, interesting kids and batty old ladies.
If you could have any pet in the world, what would it be and what would you name them?
A purple and pink brontosaurus that could magically shrink in size to fit in my palm, so I could keep her indoors in her very own customised terrarium. She would be known in the three worlds … well, the ones in my head, anyway … as Tiddlywinks the Third. If you try and shorten that to T3, she won't eat you. I will.
If you had to write a story about an object/human around you, what would it be?
A pesky young fellow bounced up to me as I was walking my pet one day, and said, "Ooh, T3 looks cho chweet!"
RAAAAARGH!