The Young and Powerful Poets of GetLitt!'s Creative Writing Program
1102 Views
February 28, 2022
Poetry is the ultimate expression of the mind and heart. The emotions words can evoke through the different forms and structures can be very impactful.  That's why we at GetLitt! teach this art form in our Creative Writing Programs. No matter how old you are, there is always a well of memories that can be drawn upon to create poems. This is evident in the GetLitt! Capstone Project, which we're featuring in this blog. 
Get ready to be dazzled by the words of our 9 youthful and powerful poets who have taken the skills we taught them and given them flight. But, before we dive into the poetic worlds of the students, we'd like to shed light on the project.
Capstone Project – GetLitt's Creative Writing Program.
As we mentioned earlier, poetry is a beautiful game of words and emotions. This is precisely what we teach in the beginner levels of the GetLitt! Creative Writing Program (CWP). Over the course of 32 sessions in the first two levels of the program, the students are exposed to a number of various poetry styles and the elements to incorporate into and create strong and impactful poems.
After those insightful 32 sessions, the students from grade 4 and grade 5 are then given the opportunity to showcase their wonderful poetry skills in a Capstone Project, which is a poetry anthology. Each child has to create a collection of the various poems they learned, from alliteration poems to recipe poems – the choice is theirs.
Talking about the anthology and poems, Ms. Kaviya, a CWP faculty says, "Poetry is my favourite genre to teach since it allows students to be at their imaginative and creative best and at the same time, have loads of fun learning to play with words using rhyming words, rhyme schemes, imagery, figures of speeches and poem structures. I have enjoyed being part of the entire writing process enabling the Creative Writing Program kids – From the stage of ideation of wonderful poems to writing them down, editing and revision to finally learning to self-design and publish their poetry anthology – all at such young ages!"
A key point Ms Kaviya brings up is about publishing their anthology. Along with the students' striking poems, visuals must also follow, and we don't just mean mental imagery. We're talking about the visual component of their anthology. Using the Canva (online graphic design platform) skills and techniques we taught them, the students get the opportunity to publish a visually gripping booklet.
Ms Tarika Nalwa, Program Coordinator and faculty, says, "I loved working with the kids to consolidate their poetry journey into an anthology. The works created are directly connected to that child's feelings and emotions about a certain topic which is so powerful. I remember working with my group and engaging in wonderful conversations about the angle their anthology will take. The work in this blog is just a snapshot of the amazing expressions of our students and this is just the start of their journey!"
As you can tell, we're very excited to share the students' final Capstone Project! So, without further ado, here are the hero pieces from the 9 students of GetLitt!'s Creative Writing Program. 
Meet The Kid Poets
1 Virpratap S, Grade 4
Poetry Type: Rhyming Poem
Virpratap is a Grade 4 student and is an avid reader and keen writer. His anthology includes seven poems of different genres although most center around comical scenes.

2. Shraddha C, Grade 4
Poetry type: Freestyle
Shraddha grew up in Mumbai. Her love for books grew as she grew up. She has written this book of poems to enable children to laugh and start making their own poems and books.
3. Shreeya S, Grade 5
Poetry Type: Couplets and Quatrains
Shreeya is in fifth grade and wrote this anthology with the help of her wonderful teacher – Ms Kaviya and her awesome friends – Shraddha and Sahana in her Creative Writing class.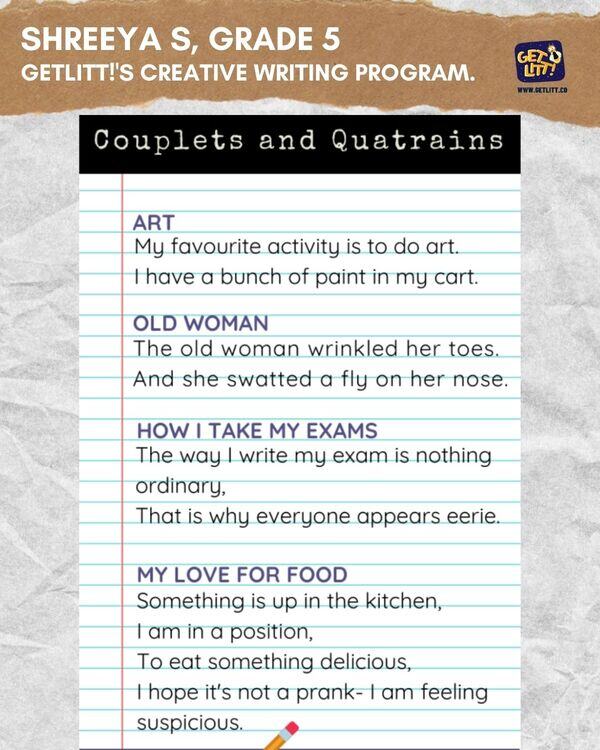 4. Rithu A, Grade 4
Poetry Type: Nursery Rhyme
Rithu is from Kerala but lives in Maharashtra. Her anthology has a lot of different, amazing, and colourful poems. Her inspirations were books and her creative writing teacher! 

5. Pranay A, Grade 5
Poetry Type: Alliteration Poem
Pranay is from Bangalore and is 10 years old. He likes sports, writing, music, and interstellar studying. He was inspired to create this anthology by one of his favorite books.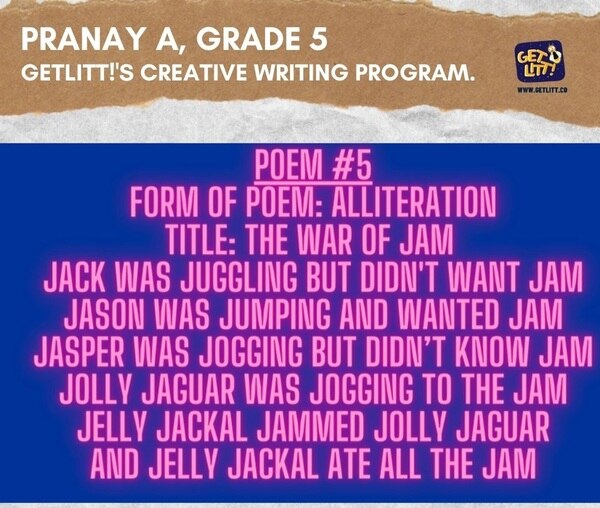 6. Anaya R, Grade 4
Poetry Type:  Rhyming Poem
Anaya was born in Mumbai, Maharashtra, in 2012. She was inspired to write poems by her grandmother.  That's because, before she would go into a deep slumber, her grandmother would read out many poems.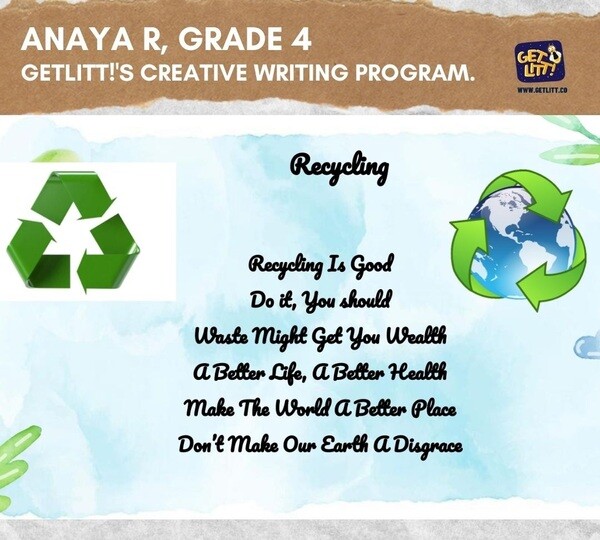 7. Sri Sahanaa A, Grade 5
Poetry Type: Colour Poem
Sri Sahanaa was born in Atlanta, USA in the year 2011. While her goal in life is to become a doctor, she also loves to create stories and poems. At a very young age, Sri Sahanaa's parents introduced her to books and brought the joy of reading to her – she's a bookworm now!

8. Sahanaa V, Grade 4
Poetry Type: Quatrains
Sahanaa grew up in Hyderabad, India. Her love for books started at age 5 when she started reading the ever–famous Geronimo Stilton books. Most of her poems are based on friends, family, or closely related characters.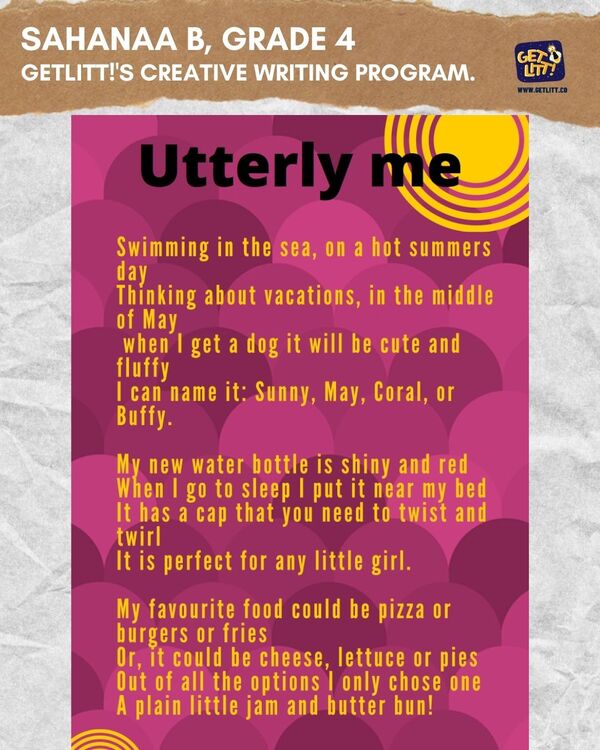 9. Prisha T, Grade 5
Poetry Type: Recipe Poem
Prisha was born in Ghaziabad. She mostly got her inspiration from her creative writing teacher, who inspired her to write all her creative poems in this book so that the whole world can see them.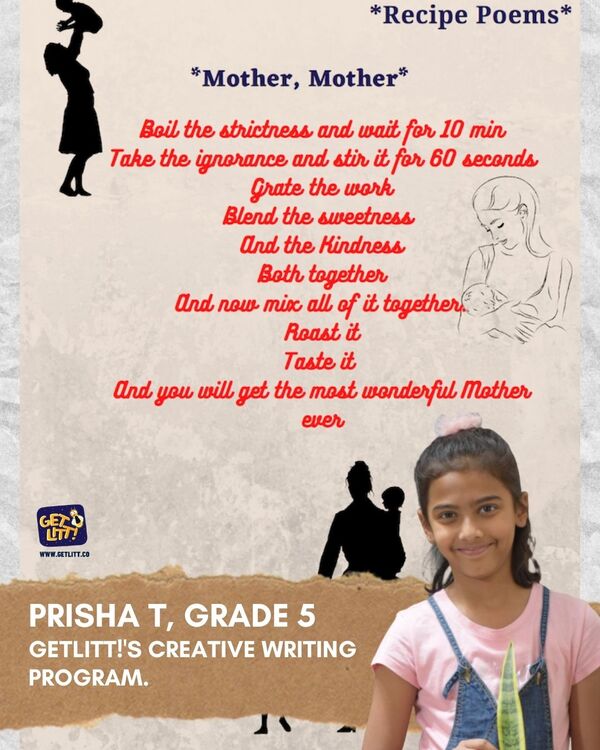 We're sure you enjoyed the poems by these youthful spirits! If you'd like to enroll your child in a creative writing class, we'll be more than happy to nurture their talents! All the enrolment details are down below.
About the program:
The GetLitt! Creative Writing Program covers topics from fiction, non-fiction and poetry. The extensive 12-level program ranges from Grades 4 – 10 and gives children the exposure to various writing techniques and an opportunity to express their thoughts uniquely! If your child is interested, please register for a demo now on: https://www.getlitt.co/learn/creative-writing
What are you waiting for – click the link above!
Like this blog?
Read: Meet The Child Poets Of GetLitt!'s Creative Writing Program!
Read more: GetLitt!'s Creative Writing Students Featured in the Blue House Journal!