Valentine's Day According to Book Lovers – It's All About Reading!
1139 Views
February 12, 2019
Valentine's day is about celebrating love, and since we're crazy in love with books Getlitt! decided to get in touch with fellow book lovers. We spoke with Indian parents, kids, publishers, illustrators and authors to get down to the main question – why do they love books?
If their answers don't give you the love feels for books and reading, we don't now what will! Book lovers are some of the most imaginative people and it's probably all thanks to the books they've grown up reading. Don't believe us?
Here's what they had to say – Valentine's day according to Book Lovers!
Preeti Vyas, Author and Publisher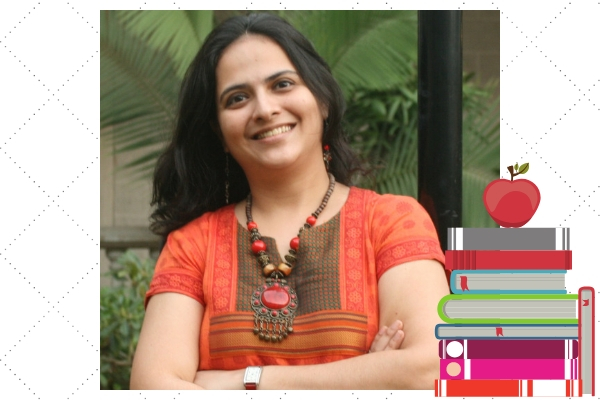 Preeti Vyas is the founder of FunOKPlease Publishing and has a 22-year-long career in the retail, publishing and content industries. The three absolute loves of her life are her 9-year-old son Neel, reading and travelling. Her first book as an author, Woka Chimni, the Adventures of a Mumbai house sparrow, is inspired by the gorgeous natural beauty of India. Woka's eco-consciousness however, comes from her 9-year-old nature-lover son Neel!
Team GetLitt: Why do you love books?
Preeti Vyas: Because books are the truest, surest, most dependable and wisest friends you can ever have!
TGL: What do you love about reading?
PV: I love the flights of fantasy I can take, the places I can visit, cultures I can experience, characters I can meet and things I can learn to live a fuller life all from the comfort of my cosy armchair
TGL: If you could go on a date/playdate with any book character, who would it be and why?
PV: I'd love to meet Obelix, visit his adorable Gaulish village and have a gulp of that delicious potion which Obelix fell into when he was young that made him super strong!
Lubaina Bandukwala, Children's Book Author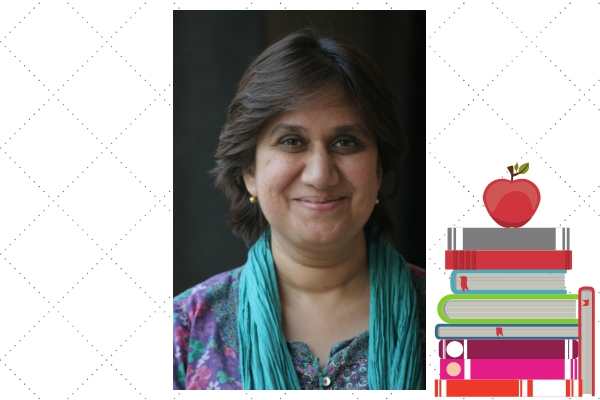 Lubaina Bandukwala is a children's book writer and founder of the Peek A Book Festival for Children's Literature.
Team GetLitt: Why do you love books?
Lubaina Bandukwala: I absolutely love to immerse myself into lives and times of other people and places
TGL: What do you love about reading?
LB: If I've read a good book it leaves me deeply satisfied and enriched as if I had eaten a most delicious meal the experience of which lingers in my memory well beyond the time of the feast itself.
TGL: If you could go on a date/playdate with any book character, who would it be and why?
LB: Mr Darcy wins hands down. He's such an irresistible combination of strength and vulnerability. But if you're talking about children's books, then, I would love to hang with Noddy for the day, so very fascinating to live in a tiny imaginary world made of blocks and ride in a tiny train set and have a friend who lives under a toadstool!
Vinitha Ramchandani, Children's author and Editor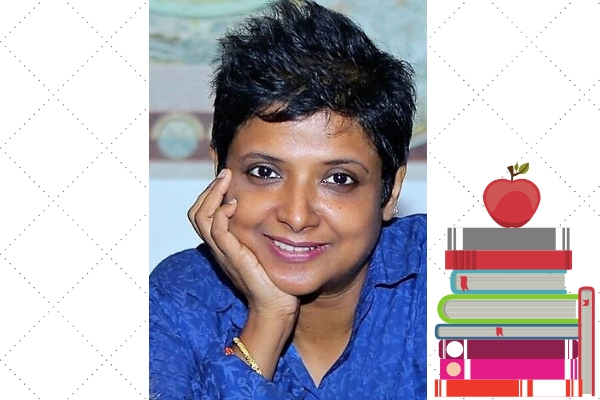 Vinitha's recent career history has largely been about introducing and managing transformative change in the space of education and literature. An editor and author with 20 years of experience in editing and writing, Vinitha has worked with the media as a journalist for many years, eventually moving to working with the book publishing industry.
She has written over 20 books for children, the last two being a book on Subhas Chandra Bose, and one mapping the city, titled People Called Mumbai (read it on Getlitt!).
Team GetLitt: Why do you love books?
Vinitha Ramchandani: Books have been my happiness quotient. Here, everything was possible. If I believed—no believe—in magic, it is because of books. Books have been my magic carpet—that which I sat upon and rode high up in the sky and visited magical places, even not-so-magical places. Books have been my place of sanctuary—the place I slipped into for shelter, love, for friendship, magic, to feel safe and to be comforted. All I need, even today, is a good book; and that is enough to keep me beaming and inspired for days.
TGL: What do you love about reading?
VR: The marvel about reading, to me at least, is that somebody found the words that I was searching for in my head, to express something, and said it exactly as I felt it. It is like hunting for days for a shade of colour and someone pulling up that exact shade and propping it in front of you. Reading a good book is like spinning inside a tapestry of colour that I somehow want to stay inside. When I know I am heading towards the end of the book, I find ways to delay reaching the end. It's almost like a process of grieving—I have to part ways with a friend, a dear friend. How on earth am I going to walk ahead now? The best part is that so many avid readers feel exactly the same way with a book.
TGL: If you could go on a date/playdate with any book character, who would it be and why?
VR: Atticus Finch. Unhesitatingly. I remember reading To Kill a Mocking Bird and feeling wistful. I wanted a father like that! I loved that Atticus was the unassuming superhero of Maycomb. The part where he shot a rabid dog–where he had just one chance to put a bullet through it and that his kids did not know what a good marksman he was–is still etched in my mind. I love the book for the story and style and perspective.
Vrinda Khattar Mother of Nishka Khattar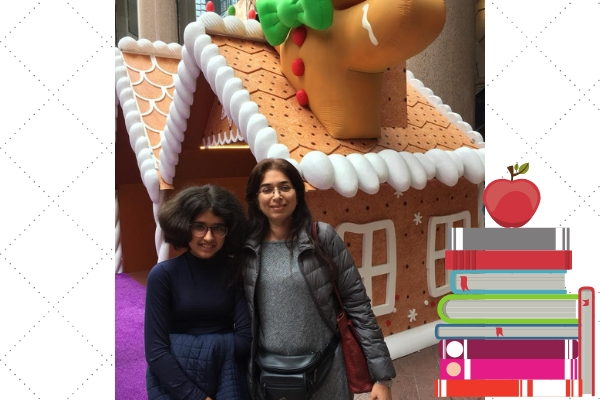 Vrinda Khattar is a mom to Nishka Khatter who is as big a book lover as her mom. According to an article published on Pratham books' website, Vrinda believes that it's important for children to break away from their syllabus and observe the world around them. We couldn't agree more!
Team GetLitt: Why do you love books?
Vrinda Khatter: Books – the smell of paper sprinkled with words, garnished with images brings out memories of long, languid and carefree summer afternoons.
Nishka Khattar: Books let me enter another universe, another world. They let me into the mind of a character, let me live a life that isn't my own. They let me not only escape reality but also deal with it. They introduce me to worlds I would have never otherwise known, ones that make life without their depths seem incomplete.
TGL: What do you love about reading?
VK: Reading – it evokes emotions, passions and a peek into different lives and unthought of thoughts. It expands the mind and heart. It makes you a better person.
NK: I love being able to sink into the pages and forgetting the fact that you're reading, and it's suddenly a movie in your mind, and the dialogues are actually spoken speech, and you feel as if you are in the scene, along with the characters. I love watching the characters on their adventures, and all the emotions that are sparked inside of me from ink on thinly sliced pieces of wood. I love reading.
TGL: If you could go on a date/playdate with any book character, who would it be and why?
VK: I think currently I'd like to go with Maya Angelou. She stands tall – literally and figuratively. Her story is very inspirational.
NK: How am I even supposed to choose hello?? Also, is that supposed to be just one book character orrr can I say the Marauders or the Weasley Twins or the Quagmire triplets for example!?
Vaishali Gupta, Mother of Ira and Prakhar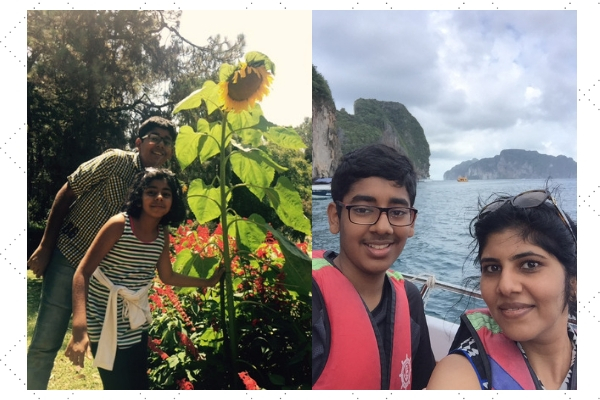 Ira, Prakhar and Vaishali make a family whose lives revolve around books of all types, brightening their lives at all the turns and crossings!
Ira is 11- not only does she read herself to sleep but also wakes herself up to an early start with books. Prakhar delves in the world of science and tech, having got a headstart by the side of Artemis Fowl. Mommy Vaishali spins the thread weaving a web abundant with choices for the family and her own life decisions.
Team GetLitt: Why do you love books?
Vaishali Gupta: Reading transports you to a world that is completely yours to design and own! One where you enter and exit as and when you want and lets you travel far and away at the drop of the hat err.. at the pick of a book.
TGL: What do you love about reading?
Prakhar Gupta: What I love about reading is that with books around you don't need any other company.
TGL: If you could go on a date/playdate with any book character, who would it be and why?
Vaishali Gupta: I will come flying with 'Eragon' for a bookish playdate with 'the help' of 'The time traveller's wife.'
Ira Gupta: I would have gone with a playdate with Matilda as I too love reading just like her.
Prakhar Gupta: Artemis Fowl because he is a child prodigy and has got a unique sense of humour and a hint of audacity.
Priya Sindhwani Mother of Anahita and Mrinal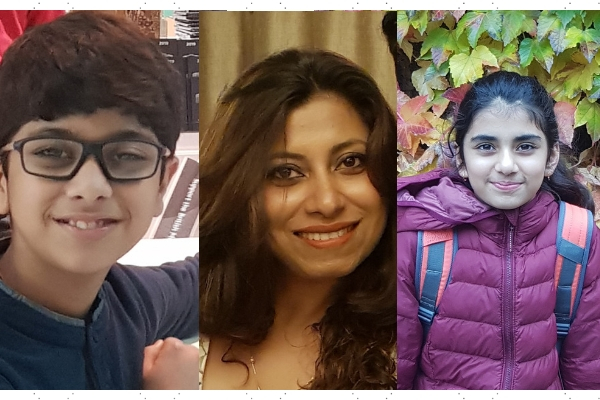 The Sindhwani family consist of mommy Priya, who is an enthusiast of life and happiness. Her daughters Mrinal and Anahita are both 10 years old. Mrinal loves sports and Anahita is an old-young lady whose curiosity can kill a cat!
Team GetLitt: Why do you love books?
Priya Sidhwani: Books give me power and expression.
Anahita Sidhwani: I love books because I don't have any restriction on reading books. It also opens my imagination a lot.
Mrinal Sidhwani: I love books because each word affects your life, it opens a new perspective to the way you think. Also I love the way a book convinces your feelings to be sad when a sad part happens.
TGL: What do you love about reading?
Priya: Reading demystifies my thoughts.
Anahita: I love the smell of books, when I read time flies and I have no track of time.
TGL: If you could go on a date/playdate with any book character, who would it be and why?
Priya: I'd rathergo on a playdate an author..Devdutt Patnaik….he would go crazy answering my questions.
Ananita: I would go on a playdate with Beth, Franny and Joe from 'Far away Tree.' I get excited reading about them.
Mrinal: My favourite character for a playdate would be Andy from Treehouse Series. He is funny and has a lot of inventions, so we have a lot in common to talk about.
Tanvi Bhat, Illustrator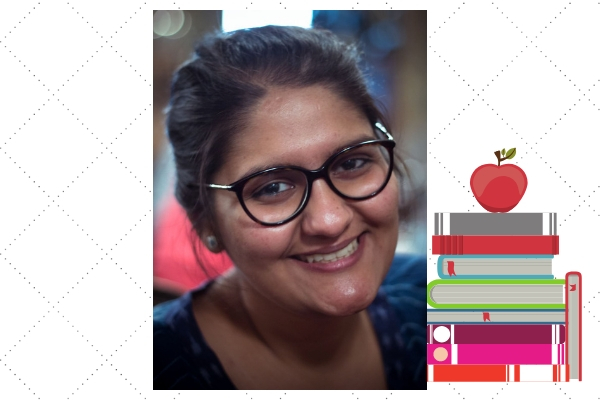 You may have seen many of Tanvi Bhat's beautifully illustrated books in our library. She is a self-taught freelance illustrator who currently lives in Mumbai. Her love for illustrating children's books has led her to do many books such as Lucky Girl, The Shy Supergirl, Fakruddin's Fridge and Dream Writer amongst others. Her inspiration comes from things she sees on the colourful streets of India.
Team GetLitt: Why do you love books?
Tanvi Bhat: I think what I love most is stories in all forms and that's why I love books. To me, books are a little window into someone else's mind and their voice.
TGL: What do you love about reading?
TB: That feeling of being immersed into a story so deep, that my reality has slipped away from me for those moments, is really exhilarating.
And also, I love that it's an alone-time activity. I really enjoy that time with myself.
TGL: If you could go on a date/playdate with any book character, who would it be and why?
TB: Oh, I'd love to be friends with Sirius Black. I remember having such a crush on him. He has so much heart and is so fearless and badass!
What a fun post about the love for books and reading! Well, the only commitment we're looking at this Valentine's week is to our favourite books. Luckily we have a whole host of books for different ages and reading levels in our library. We pride ourselves in stocking some of the best Indian children's books online, and we hope you're as heart-eyed about them as we are. Well, that's all we have for you today, wasn't it a refreshing look at Valentine's day according to book lovers?Happy reading!
Like this?
Read: From Costumes to Candy, Here's Why These Getlitt! Members Love Halloween
Read more: Indian Parent Devi Nayar on Turning Her Daughter Into A Bookworm