3 Reasons Why Speaking to Abhijeet Kini was an Unforgettable Experience!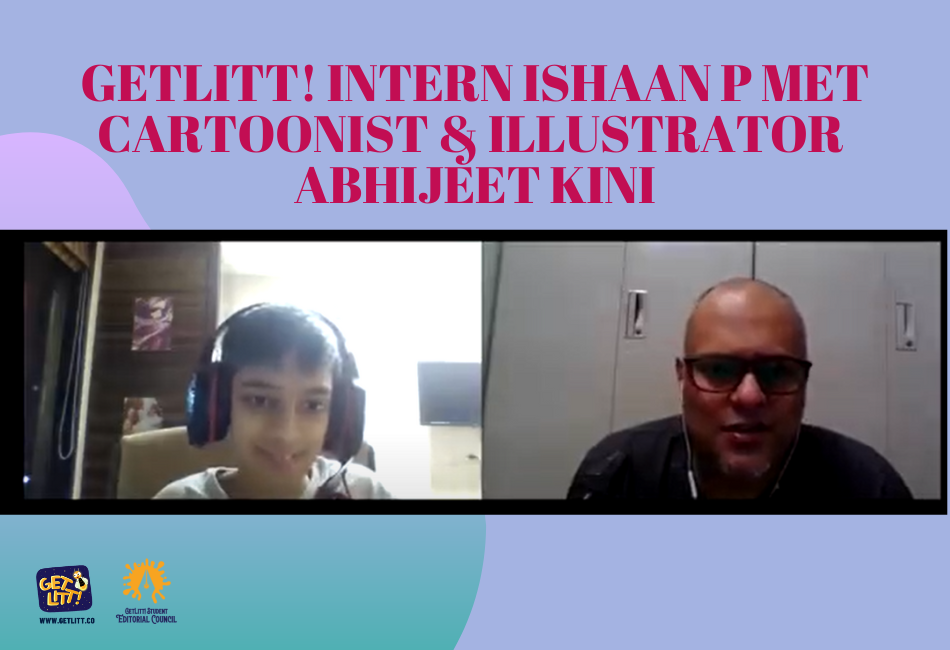 A little while ago, I had the wonderful opportunity to interview a renowned Tinkle illustrator: Mr Abhijeet Kini. During our hour-long conversation, we were able to hit on a plethora of topics ranging from Indian comics all the way to the Matrix!
It was a frosty morning as I had just barely woken up. As I logged on to the Zoom meeting, I received some eye-opening news. I HAD TO CONDUCT AN INTERVIEW! Surprised, I was overwhelmed at hearing this, almost for 2 whole weeks, and it just so happened that I had to prepare for the interview during this time! Engulfed in uncertainty, I doubted if I really could participate in this "once-in-a-lifetime" opportunity or if I had fallen too deep. Just as I was about to hit rock bottom, but before I fell victim to skepticism, others came to my rescue and helped me to organize, share tips and more! At that moment, I knew that this entire journey was going to be special- and it was! The next 2 weeks were certainly frenzied, filled with humor, adrenaline and joy! Before I knew it, I was asking a talented illustrator with so much experience.
This interview was special for me and below are my three reason why!
The First Interview ever
This was my first interview ever! Growing up, I used to love asking questions to others about their lives, accomplishments – just about whatever popped up in my head. I was also fascinated by the marvelous, sublime responses I received. I constantly tried to weave those answers into a story.
Growing up, I also watched and read a lot of interviews, which definitely augmented how great this "event" was, so actually conducting the interview and creating this environment felt uncanny, rewarding and gratifying.

The Personality Behind the Interview
Going into the interview, I assumed that this would be any classical standard interview with semi-decent anecdotes and mundane-repetitive talking points. I couldn't have been more wrong.
Even as I sat down and opened up Zoom, I was wondering what to expect, but it didn't matter. No matter the expectations I set, it would have been blown out of the park. With crazy doodling and art anecdotes originating from all the way back in school. As a matter of fact, no way I describe these hilarious and mind-twisting anecdotes can completely prove justice to the direct way the interviewee, Mr Abhijeet Kini has said it, which is yet another reason to send you to the full article, jam-packed with rib-tickling stories straight after you finish reading this newsletter.
The Behind-the-Scenes team and experience
The final reason why I hold this interview so special to my heart is because of the team organizing everything! Instead of ending it on a cliched vote of thanks, I would also like to share some of the action that took place behind the scenes, and the sheer preparation it took to reach this end.
And those… are the three reasons why this interview is irreplaceable in my heart. I am so grateful to Mr. Abhijeet Kini for taking his time out of his busy schedule and discourse with me.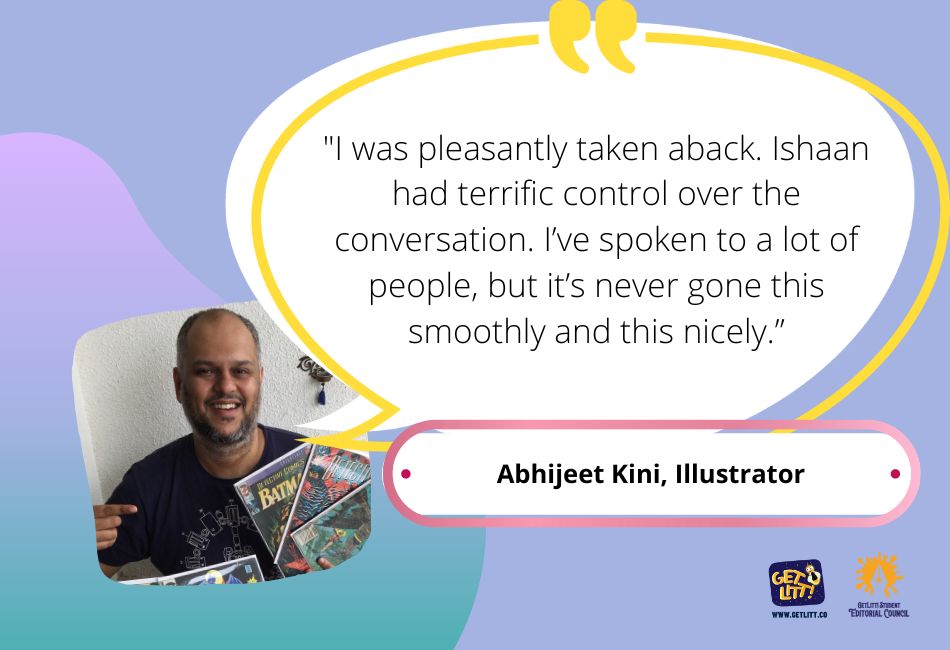 Read the full article where we talk about Mr. Kini's early life, career, achievements and some of the secrets behind being an illustrator (not to mention, filled with bonus side stories and fun facts!) by clicking HERE.
Like This?
Read: Deep Diving into the endearing world of comics with Abhijeet Kini
Ishaan Patel
Ishaan Patel is currently a learner in the 8th Grade, JBCN International School. He has debuted as an author in the year 2018 with a fiction book, published on Kindle titled Death Islands. He has also participated in several math competitions and earned awards and accolades in them, including a trophy for first place in the Mental Maths Competition. He was a part of the editorial team for JBCN and has helped in editing an article called The Snippets. He has also participated in Sachin Tendulkar's Middlesex Global Academy, in Cricket. He is a risk-taker with a plethora of creative ideas and a logical mind. When he isn't glued to the screen, he takes a keen interest in learning quantum mechanics or works on improving his creative writing skills. Being an avid reader, he enjoys reading novels like 1984 and plays like Julius Caesar. In the future, his aim is to work in the field of Science and also blend his knowledge with innovation, in order to improve lives. Ishaan Patel is part of the GetLitt! Editorial Student Council, a 10-week, literary initiative aimed at getting students actively involved in reading, writing, and editing.