Deep Diving into the endearing world of comics with Abhijeet Kini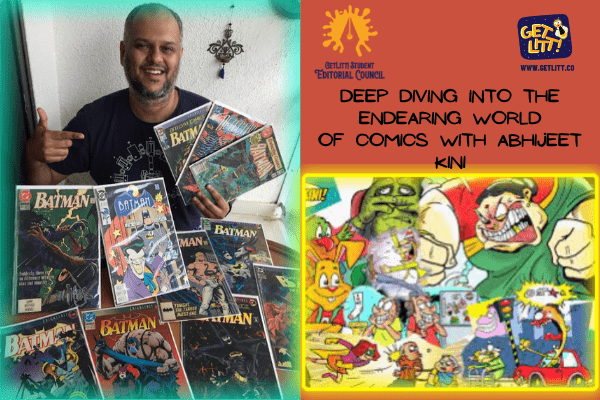 1398 Views
April 11, 2022
It was a tempestuous night when a young boy was traversing the terra firma. Covered in dust, a peculiar device lay 5 meters in front of him – a gauntlet. As dubiety filled his face, he slowly approached the golden gauntlet. As he donned the gauntlet, he felt different. He felt as if he gained an enormous amount of power, that which wasn't comprehensible by an ordinary human. As he inspected the gauntlet, he realised the true powers of this device. He could… draw. Animate. Illustrate. All at once, on the go!
Mr Abhijeet Kini is an illustrator-animator who runs an award-winning creative service agency based in Mumbai. Kinistudios hosts multiple forms of media like comics, figurines, clothing merchandise, and more. His vast portfolio has a range of companies he has worked with- from ComicCon India to hotels such as Novotel. Finding his love for comics early on in his life, he considers his profession not so much a dictionary definition of a job. Over the years, he has worked with many companies and has also written his own comics.
I had the pleasure of conversing with Mr Kini on a weekday evening where we discussed his early life, growing up as a comic lover and his career up till now. His responses and ideas were definitely an inspiration!
The Origin Story
'Music Banned from Ships' was on Tinkle, how did you come across Tinkle and decide you wanted to work with them?
Class 2 was when I was first introduced to Tinkle comics, and we used to receive a Tinkle issue every fortnight, and my family and I used to look forward to the issue coming home- The characters were so nice, they were as Indian as it gets. On one hand, you had all these international comics like Superman, Batman, Archie but here we had an extremely homegrown bunch of characters who you totally relate to. The moment you see someone who is like Supandi or Shikari Shambu or Kalia the crow, you feel like they are around you because you are from the same cultural territory as them, so as a child, I used to connect a lot with the comics.
Bonus side story – The fanboy moment
We all have a hero, one who we look up to and hope to meet one day. Luckily for Mr Kini, that came true! When Mr Kini was in class 9, he went to meet the late uncle Pai and to make me see the Tinkle workspace and team. He also showed them his doodles and artwork. In the midst of legendary heroes, he stood there with his sketchpad and shared his drawing with Uncle Pai. It truly was his fanboy moment!
Did you draw and illustrate a lot in school?
Oh yes, absolutely, in fact, most of my textbooks and classwork books mostly used to have doodles on the last few pages-the "rough work" pages, we used to call them, I didn't have any rough work, I just kept on doodling funny faces and I remember, it was mostly in the Geography and History periods that I used to draw the most, but I somehow used to end up having some great ideas when the teacher used to talk about stalagmites. I used to come home and scribble on my sketchbooks as well!
The Flashback Vault arc
Nostalgia is a rare emotion, awakened from time to time, only triggered by certain events that occur in our lives, and we cherish and thrive on it. Mr Kini, however, is one step ahead. Instead of having to waste an afternoon brainstorming nostalgic events, he has collected all of his old works-from sketchpads to the caricatures he drew, he has stored everything safely, keeping nostalgia completely at his own disposal.
What was your favourite subject in school?
Honestly, I used to like reading stories in the English subject, I don't think English was my favourite subject per se. Although I used to get bored in my history classes, I actually used to enjoy preparing for the History exams. I used to enjoy reading about the battles, treaties and kings, so I suppose History was one of my favourites.

Abhijeet Kini's greatest fears:
Such a formidable artist is scared. But scared of what?!
Geometry
Physics
Chemistry
Mr Kini's Sanskrit Teacher (Asked random roll numbers to recite grammatical forms- In Sanskrit!- Could you imagine?)
Do you think you implement/demonstrate what you learned in school in your art/drawings? (For example-: History battles)
Sometimes yes- what used to happen was, many a time, those history chapters we had, we used to actually read in Amar Chitra Katha as well. I used to take those pictures from the comic in my mind while I used to read the History chapters later, so it worked both ways for me. To me, I used to comicify the entire chapter in my mind and even kind of doodle it, which helped me and Amar Chitra Katha had better books than the History books themselves. So I definitely demonstrated some of those panels and battles in small doodles and sketches.
When you were growing up in school, did you have any art events or competitions?
Yeah, we used to have a lot of these competitions. Intra-school competitions were a lot of music competitions and art competitions. Nothing on comics, per se, but art-drawing competitions and we also had elocution competitions. I used to participate mostly in these 3, specifically, and I remember winning the first prize, in a national-level drawing competition which was held at J.J. School of Art. I was in class 7 at that time, and the drawing was in a comic style, so it was a big deal for me.
Bonus Trivia:
The award bestowed on Mr Kini was a rotating shield for coming in the first place. It was given to the school and had his name engraved on it. The theme for this competition was "save electricity." and Mr Kini drew several people with expressions holding place cards and signage.
Did this competition propel your love for drawing and art?
I think so because as a child it gives you a strong sense of confidence that you are able to go out there with 30 – 40 other kids, and no matter what- you win or lose or whatever, (you know that) you are able to deliver something worth the competition, so the confidence factor definitely is there. You always strive to win the first prize and you start to think what more creativity you can add, what other elements you can show in it, all these things add up to one's ability to draw better I feel.
The First Breakthrough
In 1999, you illustrated some of the magazines for times and other famous companies. How was the experience?
It was a very special feeling. 1999 was when I got my first break to illustrate for a publication. The first publication that featured my work was a magazine called JAM (Just Another Magazine). It was for teens and the college population, but it was a very nice magazine, then some of my work got published in Times Group. It was very important to add some of these names to your portfolio because as an artist or a creator, your portfolio should be something that has strong names in it, so I was very happy to see that these publications could carry my work.
Trivia:
A lot of Mr Kini's peers- photographers, journalists, artists started off with JAM as well, at around the same time. Mr Kini also freelanced and interned with Midday. A lot of work happened during 1999-2003, his college years!
His Zealous Career
In your recent tweet, you used the word 'riot' to describe your journey working on the Twinkle story "Music Banned from Ships". Why did you choose this word in particular?
I've been working on 'Defective Detective' comics and stories since around 2006 and every Defective Detective story is a laugh riot. The situations they find themselves in are hilarious and they always end up saving the day. This particular story, in fact, has 3 parts and the complications in this story are insane. The funnier the situation, the funnier the expressions are to be shown in a particular comic drawing a character. I had terrible fun drawing it and the entire journey was a crazy roller coaster which is why I consider this story to be a riot!
You have digitally animated. How was the first time you digitally animated, was it a big change?
Yes, Yes in a very specific, certain way yes because up until that point you are used to the pencil and paper techniques but once you start using digital, you do realize that making corrections is faster, so many times for deadlines if you don't have too much time, digital helps you save some time. Ultimately, It all depends on the handiwork. Eventually, your artwork should be great, doesn't matter how you do it.
Insert_Image- Interview Article Internal_Images (1).png
(Note: This wasn't his first time digitally animating)
The giant misconception
Unfortunately, there are several people who believe that digital art and animation doesn't require any skill from humans and the computer does it all by itself. The computer just helps you get mean to the end. The computer doesn't just "make illustrations happen".
What were your first thoughts about digitally animating?
I used to find it fascinating because I realized that the corrections being faster adds a lot more to your production work. I used to see the magic happen live – like when I was drawing it, it was happening, but when I was animating on paper and pencil, I had to scan it, colour correct it and then other production aspects to it. Here, you're directly able to create things on the go.
What were some of the difficulties and challenges you faced in bringing KiniStudios up?
Most new clients need something new all the time, something path breaking, so going into the comics domain was something that we started pitching them, and sometimes it used to get very difficult convincing them, but once they [were] convinced, they realized that using comics for particular projects is also a super fun way of promoting your own brand. Churning out the kind of work in that deadline gets kind of difficult because we haven't scaled up. Say, for example, if we have 2-3 projects happening at the same time and if the deadline is the same, it becomes very tricky, but fortunately, so far, we have managed it well and learned lessons along the way.
Trivia– KiniStudios is run by Mr Kini and his wife, Mrs Diksha!
Out of all of the products KiniStudios hosts, which product would you gift a fan?
I think the Angry Maushi figurine because it's one of the newest additions we've added to the roster and the fact that we always wanted that figurine out on the shelves, and it's finally out!
Behind the scenes: how an Angry Maushi figurine is made.

Step by step:
Poses, 3d sketches and angles handled by Mr Kini
An NGO sculpts the figurine
Great attention to detail+perfect nuances + striking colours
It's all clay! -100% organic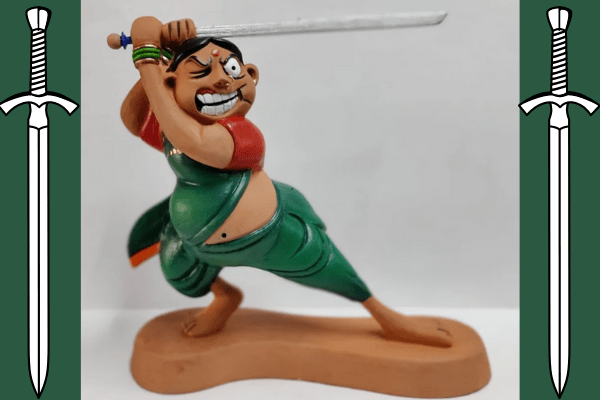 The Final Product
Angry Maushi, one of your most popular series, finished off as a trilogy. Why did you choose to do so?
I drew the first Maushi comic just to see what comes of it, it was liked a lot, then came the second and then came the third. Then I was like –  "A trilogy always sounds like closure", so I didn't force myself into writing the fourth one because it's getting popular.,I call it 'the gun, fists and blades trilogy' and it became very popular – it has a cult following.
Trivia- The Angry Maushi Timeline
Angry Maushi is an iconic character for Mr Kini, created in 2011 and registered in 2012. He announced a new Angry Maushi trilogy at the Ahmedabad comic con and also released a 2020 edition which was an edited version of the original trilogy.
What was the biggest epiphany moment in your illustrating-animating career?
Maybe me being able to carry my laptop and Wacom tablet along and say "I can now draw in buses," There was a time when you had to sit in front of a desktop, you had to make sure that your internet connection was plugged in but over time, technology has let you be so portable with your work, so as an artist, that's a blessing, because you don't need to be bound to a certain place
Bonus Trivia
Sometimes, when deadlines are due, Mr Abhijeet Kini must take his laptop or tablet while he is on a vacation. If he does, his vacation truly starts after he has finished his work!
On average, how long does it take you to illustrate a comic?
If I'm working on a Tinkle comic, which comes under the "commissioned work,"  I strictly work only on the art and the colours. That takes me around a page, a day for drawing and then colouring takes maybe another 2-3 hours per page. Paperwork was actually getting those big art sheets, drawing in pencil first, inking it, then couriering it to them, there were a lot of steps involved, but now, a page a day is something that I comfortably work on, and if I really time myself in hours, maybe an inking of a page will take a couple of hours per page.
If I'm working on my own comics like Fanboys and Angry Maushi, where I write my story as well, what I do is while I'm writing it, I start storyboarding it. Sometimes it is faster, sometimes it's slower and I remember one particular comic, which was 16 pages long, it took me 6 days to come up with the entire finished comic, and I was pretty astonished. I was in the flow, writing and drawing it together and that's how I was able to finish it off.
The Anomaly
Sometimes, it may take Mr Kini longer to finish illustrating a comic, especially when the style requires more detail and if a lot of crowds are shown.
Do you think, in the future, you will write more satirical based comics?
I would love to because I like satire, I love to look at things a little satirically and I think everyone should be able to laugh at themselves, which we don't. We have a very poor sense of humour, we will laugh at others, but not at ourselves, which is where I think looking at things in a satirical way kind of gives people a perspective, saying" You know what, I never saw it that way," I grew up reading MAD Magazine, which was probably the best satirical, spoof-based humour magazine ever. So, I think satire is something I would love to keep drawing and I'm known more for my humour work, no matter what it is- social satire, pop-culture satire, whatever, I'd love to keep writing in that domain.
Where has your love and passion for Comic-Con come from?
Growing up, when you are reading comics, and when you are watching animated shows or even movies, you have always heard of Comic-Con in some sort of pop-culture reference. In 2011, the first Comic-Con was announced in India. I was very much part of that entire Comic-Con wave, I saw it right from the start to where it is today. I think having an event like that happen in India, where comics was not seen as such a "force to reckon with", but once Comic-Con started, everyone realized that comics are here to stay. Comic-Cons are events which I look forward to so that I meet more people, interact with fans and readers, make sales, [and] have book signings.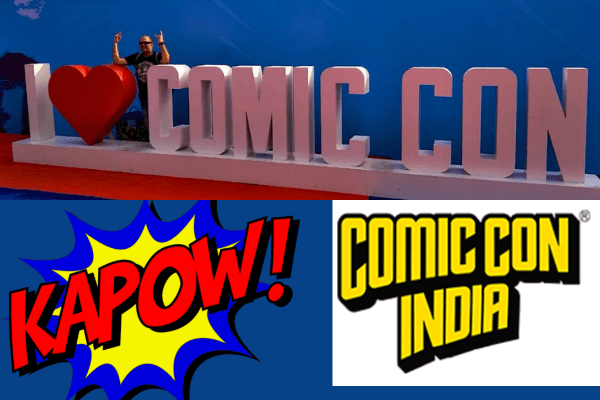 Picture Trivia
The last part of my interview was visually interactive – I showed Mr. Kini visuals of his own illustrations to get a better understanding of their origin story!
Are your characters inspired by anything or anyone in real life or are they conjured in your imagination?
It's a mix of both, every character one draws is going to be consciously or subconsciously inspired by someone you know. For example, Angry Maushi is based on any angry woman in a nauvari saree. In the city of Mumbai, you will come across this character so often, no matter where you are, so I wanted someone who is angry, who is going to take action against the evil in society, but it has to be a very traditional looking Mumbaikar, so that's how Angry Maushi came along. She has an amboda, a nauvari saree, and of course, she has got skills with various weapons, which makes it so much of a contrast.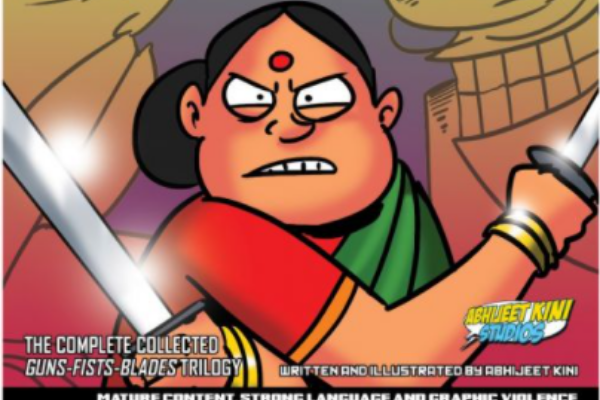 For Rahul (from Defective Detectives) I didn't have any specific real-life person, however, the more I draw Rahul, the more I remember this one classmate I had in school. He was also a little stout and hyper, so I kind of take these things from my memory and I'm able to convert it into a comic form. I have probably subconsciously drawn people from my school or college days and relatives out, so once I draw it, I am told many times by people I know "Does that character look like that particular person?" or" Does that person look like your math's teacher?" and I'm like "Yeah probably, it looks pretty much like that person".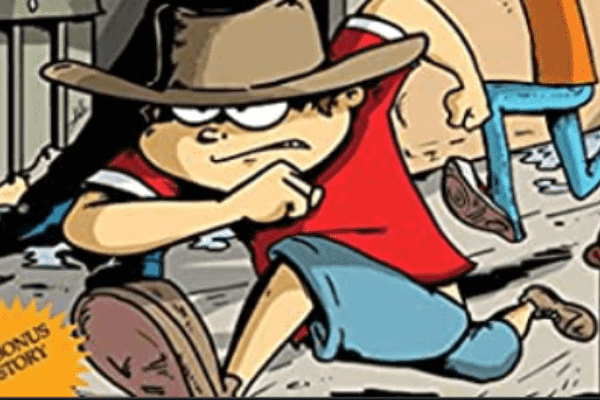 Even though Amar/Butterfingers, such a funky character, has a triangular face, he fits in perfectly for this character and his persona. Why do you think it fits in so well?
There's nothing that's symmetrical about him – his face, his body, it's all a chaotic shape, and chaos is what he's into. I think, in a certain way, I designed the character after reading the story which came to me in a script form – I thought that this boy cannot be shown in any other way other than a very chaotic set of lines put together to create this face shape. Amar is the most distorted of all the characters, maybe it is the chaos in his behaviour which actually shows in the drawing form as well.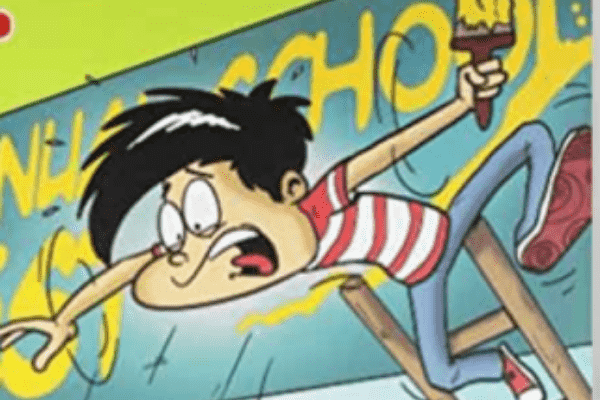 How do you incorporate text into your panels and which speech bubbles to use?
Whenever you are working on a comic, you have to make sure the speech bubbles need to be very crisp and short enough to deliver what the meaning is. You can't have very long dialogue boxes, because people will just start getting bored, they'll be like: "It's a comic, why should I read so much?", You need to be very skilled in making sure that much of the story can be crunched down to 2 sentences, to make a particular dialogue bubble fit. So, you need to be crisp, concise and be able to deliver the meaning of that visual-only through that little bit of text; not too much and understand that balance.
Font Trivia
Mr Kini believes that fonts are crucial. He prefers using fonts like 'Slackey' over cliched fonts like 'Comic Sans.'
Almost all comics require you to have a similar art style (while drawing the characters), but at the same time, you don't want the characters to look the same. How do you avoid doing this?
If you are drawing a bunch of characters, they do need to be different from each other so you can give someone glasses, you change the nose, you can change the shape of the eye, the space between the eyes, the hair, so eventually if you change 2-3 features, you end up with a different looking face. That's how the differentiation comes, so you need to keep in mind the anchor points.
Trivia
This comic issue was actually hand-drawn, on paper, with ink
How long does it take you to completely illustrate the cover art versus a page of the comic?
Even though it's a single illustration, it's a lot more detailed because you need to bear in mind the layout aspects and also the marketability of it because people are going to look at the cover. No matter what they say- "Don't judge a book by its cover", many times, people do judge the book by the covers they see. So, you need to keep a lot of things in mind when you are designing covers. Cover art takes a lot longer than a page and something like the first volume of Defective Detectives took me around 4 days to get done. Whenever cover art comes up, it is treated as a different project as compared to a single page. Keeping these points in mind, I think covers are a lot more detailed
Before concluding, Mr Kini wonderfully summarised his life in an anecdote.
"There once lived a boy who loved reading comics and collecting comics. If he had a superpower, he would use that to make more comics and draw his own comics. And then one day, that dream came true!"
Like this?
Read: What is Comic Con and Can I Take my Child There?
Read more: Illustrator Spotlight: Ahmed Sikander
Ishaan Patel
Ishaan Patel is currently a learner in the 8th Grade, JBCN International School. He has debuted as an author in the year 2018 with a fiction book, published on Kindle titled Death Islands. He has also participated in several math competitions and earned awards and accolades in them, including a trophy for first place in the Mental Maths Competition. He was a part of the editorial team for JBCN and has helped in editing an article called The Snippets. He has also participated in Sachin Tendulkar's Middlesex Global Academy, in Cricket. He is a risk-taker with a plethora of creative ideas and a logical mind. When he isn't glued to the screen, he takes a keen interest in learning quantum mechanics or works on improving his creative writing skills. Being an avid reader, he enjoys reading novels like 1984 and plays like Julius Caesar. In the future, his aim is to work in the field of Science and also blend his knowledge with innovation, in order to improve lives. Ishaan Patel is part of the GetLitt! Editorial Student Council, a 10-week, literary initiative aimed at getting students actively involved in reading, writing, and editing.