Book Themed Activities – Make Your Own Family Tree!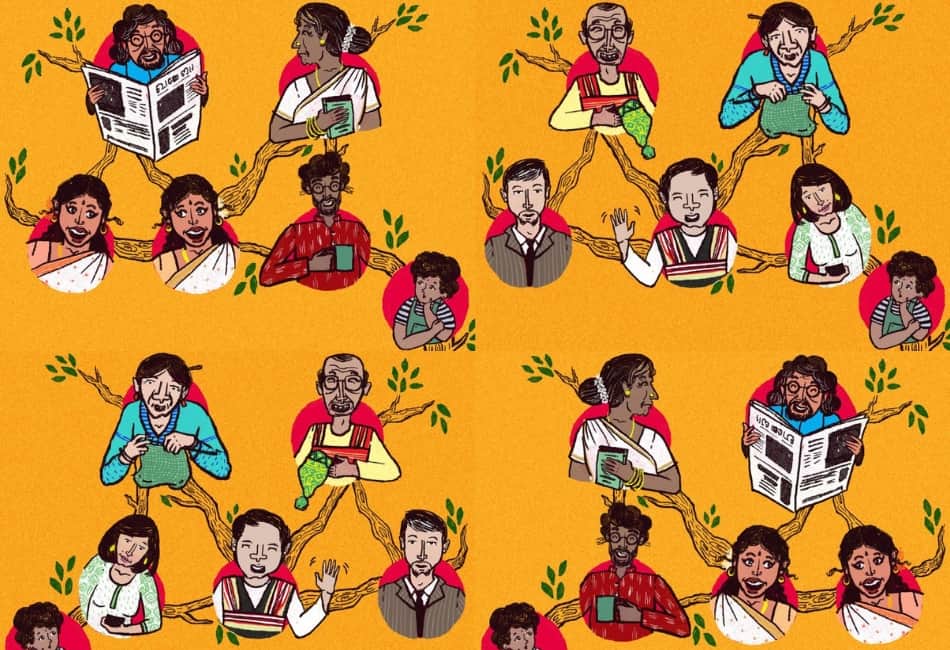 1382 Views
November 20, 2018
This month an exciting book about family and DNA caught our eye for the 'Book Themed Activity' blog post. Where Did Your Dimples Go?  is a book by Radha HS that addresses genetics and getting to know your family history. For children who are constantly asking why they have daddy's nose or mummy's eyes, this book helps to explain just why they look the way they do.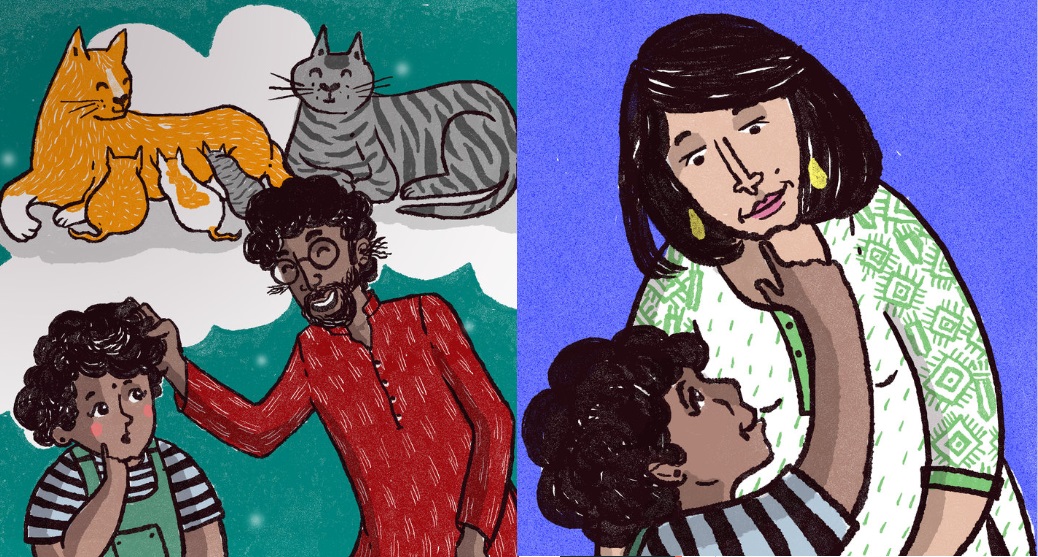 Image Courtesy Where Did My Dimples Go?
The protagonist, Langlen has curly hair just like her father and a cleft chin like her mother, but she wonders why her siblings don't have the same features. This delightful journey into a family's history will have your inquisitive one inspired to find out about their family too.
Since the festive/wedding season is in full swing in India right now, we thought this book would fit right in. It's a time when everyone from the family comes together; similar to Thanksgiving in the U.S, family dinners during the festive season happen on a regular basis. Aunts, uncles, grandparents and even third cousins all come to visit, which makes it easier for your little one to trace the family history.

Image Courtesy Where Did My Dimples Go?
Making a family tree is fun for everyone, not only does it get your child to ask questions about your family but it also creates a great bonding experience; since you have to interact with family members to get information.
Here are some of our tips and things you will need to make the family tree into a poster.
You will need:
A mini-notebook and pen
Pictures of family members
Poster paper
Glue
Felt tip pens
Decorative stickers (optional)
How to make a family tree
Read the book 'Where did your dimples go?', so that your child understands the concept of a family tree.
Get a mini-notebook to write down the names, birth dates, the city of birth and the relation of each family member.
At a family party or whenever a family member visits, you and your child can gather the required information.
Print pictures of all the family members you have interviewed.
On a piece of poster paper, stick your child's picture at the bottom, and write the name, birth date and city of birth.
Starting with your child/children at the bottom, work your way up to the eldest relative, adding the title of each person in relation to your child under their picture. For example – under your picture, add the title father/mother.
Finally, this is optional, decorate with stickers to make the poster pop!
Frame this lovely poster and hang it up in your home, it'll be a talking piece for everyone who comes to visit. We're sure seeing the family tree will make your little one really proud of who they are. Plus, the simple act of getting this information will undoubtedly lead to hearing heartwarming and funny stories about each of their family members – now that's something everyone will appreciate!
We hope you liked this book themed activity, each month we're going to bring you different ones that you and your child can do together. If you'd like to read more like these and have a suggestion, do let us know in the comment section – we'd love to give it a try.
Till next time, happy reading!
Like this?
Read: Book Themed Activities Gratitude Rocks
Read More: Book Themed Activities: Vampire Plate Craft