Five Minutes with Indian Children's book Author Parinita Shetty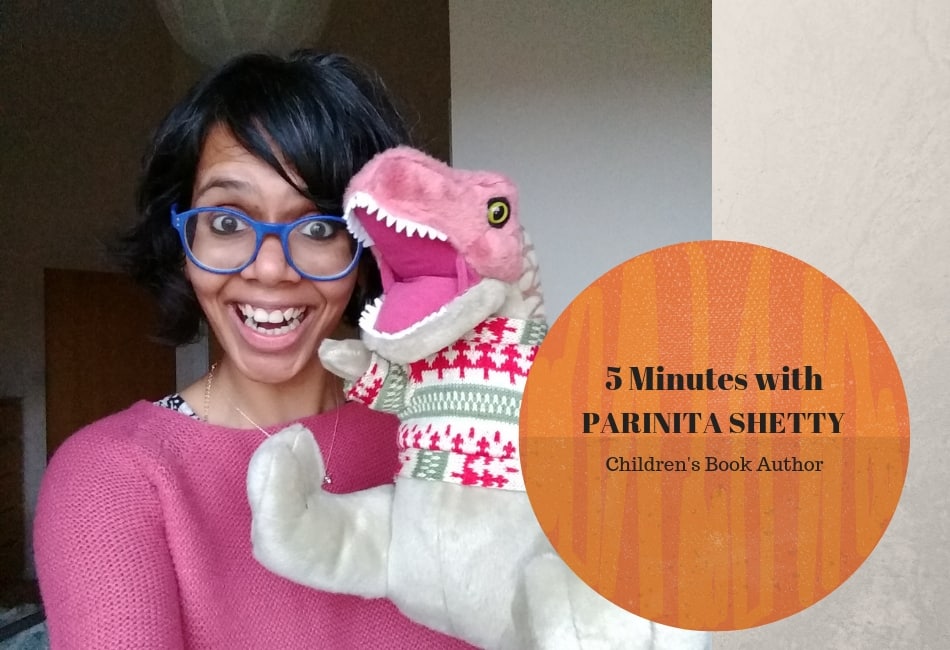 2185 Views
November 26, 2018
The author we're featuring in this blog today is very much part of the GetLitt family. If you've been following us on our social media from the beginning, you would have probably read content from this author, that's right – we're talking about Parinita Shetty, our former social media content writer who is also a children's book author.
Parinita is the quintessential quirky girl next door, who loves books, board games, building blanket forts and eating cake. If she isn't writing, she's probably watching Doctor Who; we know how addictive that show can be, so who can blame her! However, we're secretly hoping she's busy working on a new novel because her book, The Monster Hunters continues to be a hot favourite amongst our GetLitt readers!
She didn't spill the beans on any upcoming book launches, unfortunately, but this interview did give us a charming look into the author's mind and personality.
Team Getlitt: What's your favourite thing to write about?
Parinita Shetty: Adventures – or, to be more accurate, misadventures – are really fun to write. I enjoy coming up with characters and events which I know will entertain my future self. I also seem to be drawn to stories where the rules surrounding what might be possible are stretched and frequently turned upside down – I think this is reflected in both the kinds of books I enjoy reading and in the stories I write.
TGL: Which children's book character do you think you're most like?
PS: Anne of Green Gables. Like her, I love to read, I'm prone to flights of fancy in everyday life, I hunt for stories and experiences which make the mundane more interesting, I have the tendency to exaggerate and be melodramatic, and I seem to attract an absurd number of ridiculous accidents. I haven't accidentally dyed my hair green yet, but give it time.
TGL: Give us five adjectives that describe your body of work so far.
PS: Hmm that's a tough one. Maybe funny, fanciful, absurd, adventurous, and accident-prone. (Why yes, I do draw from life)
TGL: Is there a book that you would love to pass down to your grandkids or have had passed down to you through generations?
PS: I have a weakness for buying books as you can tell from the picture below (my bank account gets really worried if I'm left in a bookshop unsupervised). So, I'd pass down my entire library full of hundreds of books down to anybody who will promise to love them.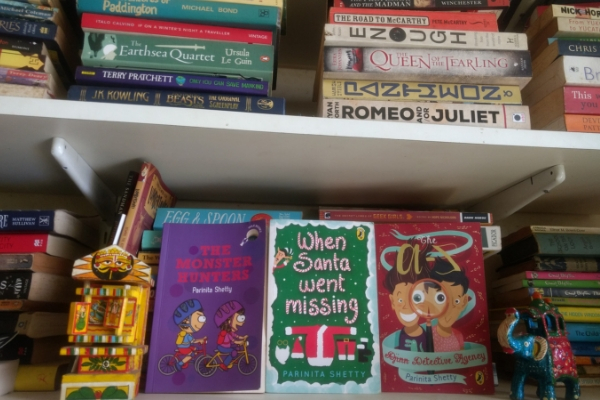 TGL: Tell us a children's book you love.
PS: I've fallen in love with so many children's books over the years that naming just one feels like a betrayal to the rest. But I'm going to say Fly By Night by Frances Hardinge because I'm trying to start a Hardinge-loving cult in India and have already recruited several members. Her brain is magic, and she does extraordinary things with words. You must read her.
TGL: If you could have any pet in the world, what species would you choose and what would you name them?
PS: I would love to have a pet goat named Masala Dosa. I would train her to be my writing coach. Whenever I procrastinate (and I do that a lot), she would determinedly head-butt me and/or chase me around until I sat down and started writing.
TGL: If you had to write a story about an object/human around you, what would it be about?
PS: Currently I'm sitting next to a snoring black cat named Luffy. On the floor lies a Christmas-sweater wearing dinosaur named Gideon "Digby" Tiberius Rex. I think they would make excellent partners – the adventures of a narcoleptic cat who randomly falls asleep at the worst possible time and a ferocious looking T-Rex who is secretly terrified of everything.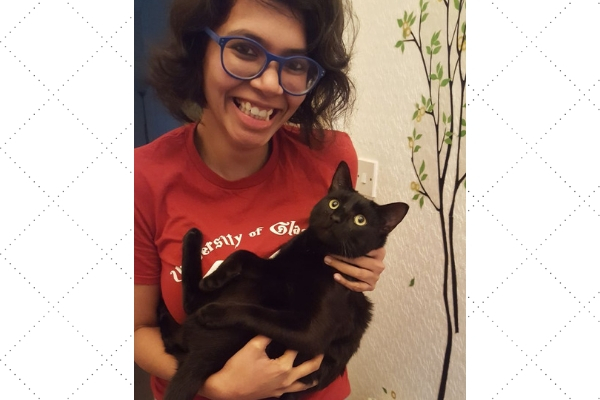 TGL: Which of your senses or elements (for example music, food, favourite drink etc.) helps put you in the mood to write?
PS: I don't really need anything while I'm writing. I'm a terrible procrastinator who always finds a dozen other things to do unless I'm threatened with an impending deadline, so anything extraneous will just distract me. But some cake or mint chocolate chip ice cream at the end of the day might act as a good motivator (I should experiment and see if this actually works)
TGL: Give us three reasons why reading is vital for children?
PS: It expands your brain by filling it with all sorts of inventive ideas and new ways of looking at the world.
It's not only a passport to travel across made-up worlds and meet a bunch of people you wouldn't otherwise encounter, but it's also a way to understand the real world and empathise with the people who live in it.
Most importantly, because reading (all kinds of books in all kinds of formats) is just so much fun.
Now that's an answer we're entirely on board with. We'd like to thank Parinita for taking the time to answer our questions. We do these 5-minute interviews every month, so make sure you check back to see if your favourite author is being featured!
Happy Reading!
Like this?
Read: Five Minutes With Vaishali Shroff
Read More: Five Minutes with Illustrator Savio Mascarenhas, Group Art Director of Amar Chitra Katha