Book Themed Activities: Vampire Plate Craft
1165 Views
October 8, 2018
It's already October which means we're all looking forward to celebrating the spookiest holiday of the year – Halloween. The 31st is still a couple of weeks away but we couldn't help but want to get into that eerie spirit. If you and your child love Halloween too, then kick off the celebrations by reading the book 'Vee Loved Garlic', a story about Miss Vee Noonie, a vampire!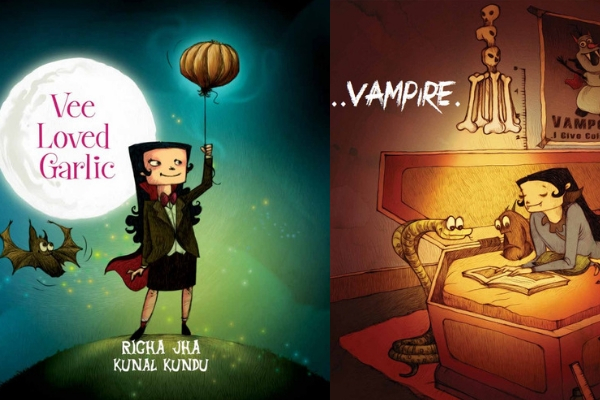 In this book, you will get to see a different side of vampires, one that actually likes the taste of garlic. Not all vampires are scary, some are just like Miss Vee Noonie who loves tasty, garlicky food. If you've watched vampire cartoons before, you'll have seen that garlic is used to actually ward off these immortal creatures. Vampires, like those in Vee's family, don't like garlic, as they are said to be allergic to them. However, Miss Vee just can't stop dreaming about the yummy garlicky food she has tasted and wants her whole family to try it too. Unfortunately, her family isn't as forthcoming – will she get her whole family to change their minds? Now that's for you to find out, we don't want to give out too many details.
All this reading about vampires got us excited about decorating the house with some halloween inspired decor. While we love all things scary like ghosts, spiders and witches, this year we're concentrating on vampires. If you're just as enthusiastic about these creatures, then you're going to love this DIY vampire plate decor done by Michelle from the Crafty Morning Blog – for instructions on how to make the plate craft by following the link to their website.
Why not take it a step further and combine Vee Loved Garlic with this activity. Since you can create many different vampire faces, we suggest using Vee's entire ecentric family, to inspire your vampire plates. There is a family portrait of her whole family at the end of the book, where you can see their outfits and all their names.
This is also a fun activity to do if you're planning on hosting a Halloween party. Simply, prepare all the materials beforehand. Then, read Vee Loved Garlic to the kids to get them fascinated and inspired by vampires. Once you're done with the story, lay out all the materials and the kids can get together to create their own vampire plates that they can take home with them.
If you do indeed make some of the vampire plates with your little ones, remember to tag us on social media when you post the pictures. We'd love to see your creations!