Five Minutes with Indian Children's Book Author Shals Mahajan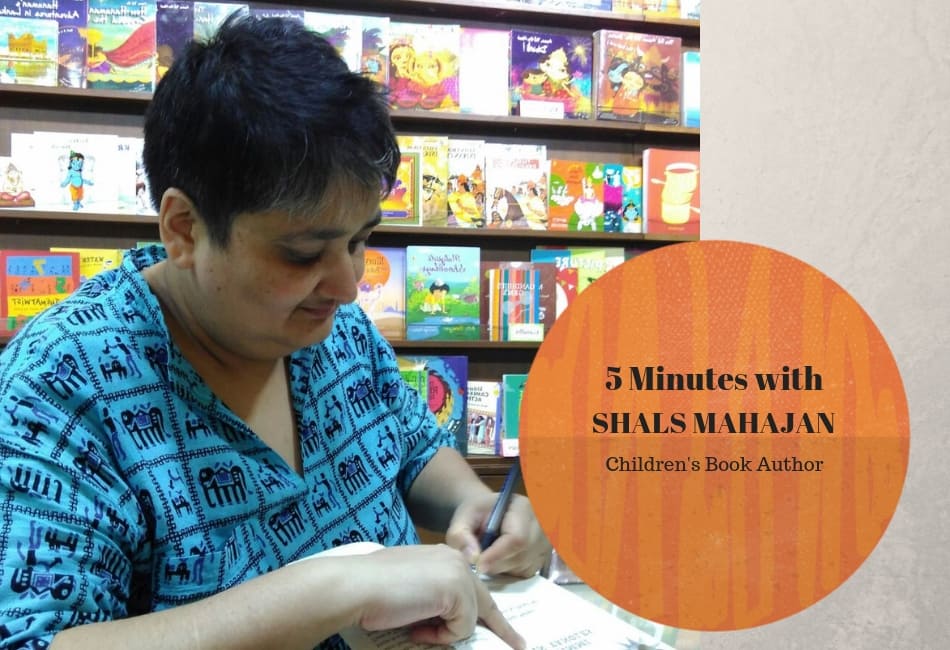 1428 Views
December 13, 2018
This month for our Five Minute blog series we've got an author who believes they are 'part cat and part human, with a dash of black pepper thrown in.' The creative mind we're talking to this month is none other than Shals Mahajan, the author of the enormously imaginative book, Timmi in Tangles. If you haven't read this book already do check it out in our library, you won't be disappointed.
Apart from being part cat, Shals says that they 'have discovered that trees are good chatty people who sometimes ask for a scratch on their trunk if they can't reach it, and feel happy when you do it.' Well, we're feeling a bit tree-like, and the only itch we have is wanting to interview the author whose book we're so fond of. Thankfully, Shals has agreed to let us into their whimsical world and mind!
So, let's begin.
Team Getlitt: What's your favourite thing to write about?
Shals Mahajan: People who come to meet me in my head. They pop up and hang around, and sometimes we start talking, and then I start writing their stories. It is my way of getting to know them.
TGL: Tell us a children's book you love.
SM: These kind of questions are most difficult, but if I had to pin it down, it would have to be Francis Hardinge's A Face Like Glass. She is a most amazing writer and I'd like to spend some time in her hatted head.
TGL: Which of your senses or elements (for example music, food, favourite drink etc.) helps put you in the mood to write?
SM: Reading or sleeping helps me write. And very often after I write, I need to sleep, it is exhausting work! And so reviving things like banana chips, chocolate and fruit are good to have 😀
TGL: Give us five adjectives that describe your body of work so far.
SM: Wonky, personal, warm, complex, and did I say wonky?
TGL: If you could have any pet in the world, what would it be and what would you name them?
SM: I have lived with a gorgeous cat for sixteen years and his name was Chintoo. He died of old age in 2009 and I haven't felt that connection with anyone else. But if Toothless, the dragon from the How to Train Your Dragon films, who looks very much like Chintoo, came along, I'd consider hanging out with him for sure!
TGL: If you had to write a story about an object/human around you, what would it be about?
SM: Not sure about any humans currently on the road that I can see from my window, but there is this slightly weird koel who lives on the copper-pod tree right across. And this koel, like me, starts waiting for the monsoon pretty much from January. Often this fellow starts cooing, or whatever it is that koels do, at three in the morning when I am reading. I wonder what thoughts the koel is having then. So yeah, maybe a story about the deep thinky-koely thoughts at 3 a.m.
TGL: Which children's book character do you think you're most like?
SM: I am not sure if there is a single character that I connect to so clearly. But I think I am that character in books who is alone in their own world. Who knows what's going on but would rather not interact much with other people, who is away from the hullabaloo. I am also that warm lazy orange cat who dreams up worlds which are wonky and amazing. I am a bit of each of the persons who inhabit my books.
TGL: Is there a book that you would love to pass down to your grandkids or have had passed down to you through generations?
SM: I do not plan to have kids or grandkids, but what I'd like to share is a love for books, stories and language itself. And the knowledge that there is a huge world out there, much beyond the sphere of our lives and so we should learn more, listen to more stories, and try to understand worlds beyond our limited personal spaces.
TGL: Give us three reasons why reading is vital for children?
SM: To know the world we live in, to know what amazing things are possible, and to understand that everything we think, believe in, and do matters and so to be careful, kind and brave.
Well, that was a delightful interaction if we do say so ourselves. Judging from the creative yet endearing answers we got, it's little wonder that Shals is such a fantastic writer. All the books Shals has written comes with that inimitable quality that makes the novels a pleasure to read. We hope there are many more book launches from the author as we can't wait to snap them up and get lost in them!
Like this?
Read: Five Minutes With Illustrator Deepti Sunder
Read more: Five Minutes with Illustrator Savio Mascarenhas, Group Art Director of Amar Chitra Katha