Learning About Famous People Through Graphic Novels
1679 Views
September 18, 2018
It's no secret, if you've been with us for a while now, you may have noticed that our library has recently been updated with Amar Chitra Katha comics. These books will most certainly take you back to summer vacations when all you wanted to do after a long day of playing in the sun, was to attack your comic book stash. It is this exact nostalgic feeling we hope the future generations will have when they start to enjoy their first Amar Chitra Katha comic.
What better way to be introduced to these comics than by learning about some of the world's most famous personalities. Reading up on History and its icons can sometimes be dreary, but these comics make their stories come alive. Comics or graphic novels are not only addictive to read but they are educational as well, making them perfect for your child's weekend reading list.
1. Marie and Pierre Curie
We can't imagine a better way to learn about physicists Marie and Pierre Curie than through this comic. Their story begins in a small government school in Warsaw where Manya (Marie Curie) is playing a war game with her siblings. You're immediately transported into their world and as the story unfolds you get to see how they contributed to the study of radioactivity and their discovery of the elements radium and polonium. A great read for children who love science.
Read Now – Marie and Pierre Currie
2. Jawaharlal Nehru
Why not compliment your child's history textbook with this next comic about Jawaharlal Nehru? This retelling of Nehru's life starts in the early days, in the valley of Kashmir and goes on to explain in great detail all the aspect of his life as a son, a scholar and a politician. Young minds who have an interest in our country's struggles and tribulations will enjoy this thoroughly.
Read Now – Jawaharlal Nehru
3. Kalpana Chawla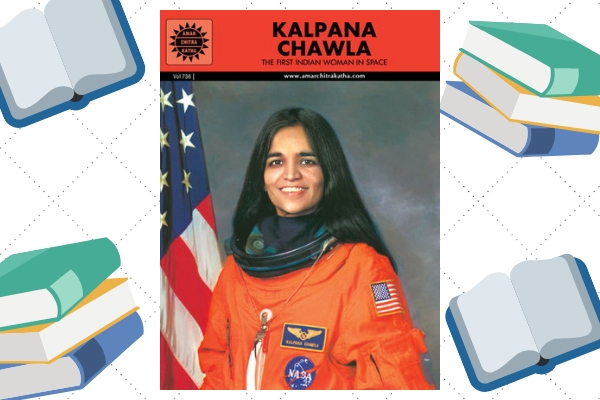 Many of us know of Kalpana Chawla's unfortunate demise, but how much do we really know about this starry-eyed woman who wanted to travel the universe? From wanting to be an astronaut to even choosing her own given name – there was nothing ordinary about Kalpana and this comic does a delightful job of showcasing her uniqueness and tenacity. Your little Space-head kiddies will have a blast with this comic.
Read Now – Kalpana Chawla
4. Baji Rao
If your child is obsessed with epic battles and stories from the past, then they will be itching to get their hands on this comic about Baji Rao. The battles, the drama and the traditions all take center stage as you read on from page to page. Who needs the movie, when you can be equally engrossed in the comic?
Read Now – Baji Rao
5. Purava and Alexander
Now here's a tale that isn't as widely-popular but definitely a nail-biter. We're talking about the battle between Alexander of Macedonia and King Purava. The comic gives us an on-the-battlefield view of how things played out between these two courageous conquerors. Strategy, skill and a whole lot of intelligence – this book will have your little burning the midnight oil. Definitely beats being on their mobile!
Read Now – Purava and Alexander
6. Mangal Pande
Another historic character and battle brought to life through the pages of a graphic novel. Here we get to see and understand the difficult times in which Mangal Pande lived. Follow his journey through a time when India was on the verge of radical change.
Read Now – Mangal Pande
There you have it, these are just some of the many Amar Chitra Katha comics in our library currently. We're always restocking with fun new titles, so do follow us on our social media for #FridayFirsts, where we will be featuring a newly launched book every week. So exciting!
Like this?
Read – Monsters And Mythical Creatures In Indian Children's Books
Read More – Indian Children's Books Featuring Characters With Disabilities