An Internview with Ashok Rajagopalan and his Genre of Humor with a Message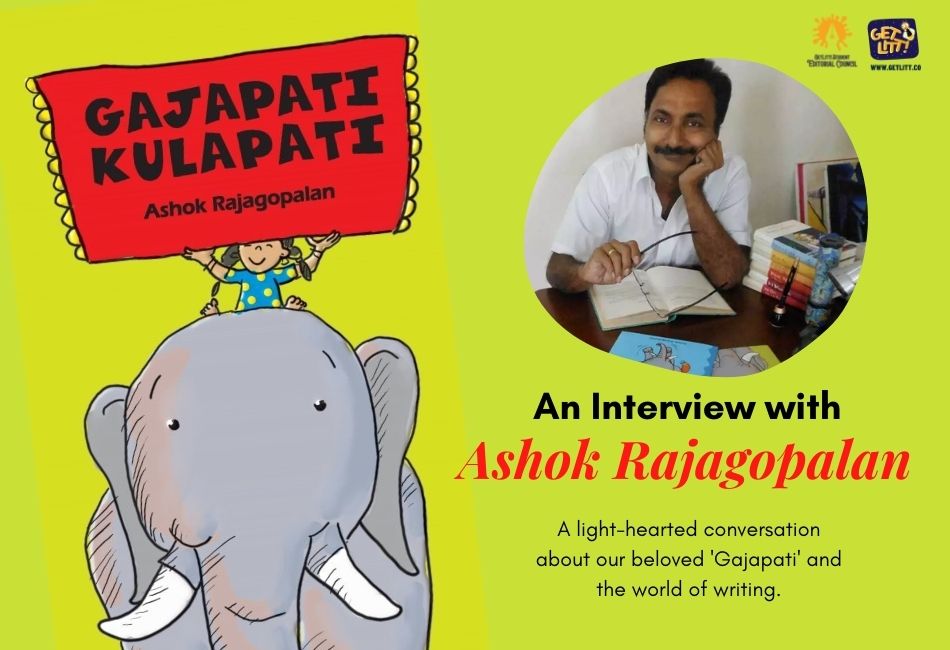 In the world of Indian children's literature, when one reads of an 'elephant', it automatically creates an image of a friendly giant with humongous, flappy ears, two little eyes and a huge trunk. This makes an endearing visual in our minds that sticks with us. The man behind the famous elephant series, Gajapati Kulapati, Ashok Rajagopalan, embodies an elephant's gentleness, patience, wisdom and kindness. He is an author, illustrator, freelance cartoonist and graphic designer who has worked on over 500 books since his first published article in 1989. He is also known under a writing pseudonym- Kenny Wordsmith!
Ashok, with his signature smile, took us on the journey of his craft. He shared anecdotes from his childhood and walked us through his creative mindset when we sat down with him and talked about authors, spirit animals and his books.
Creating Gajapati Kulapati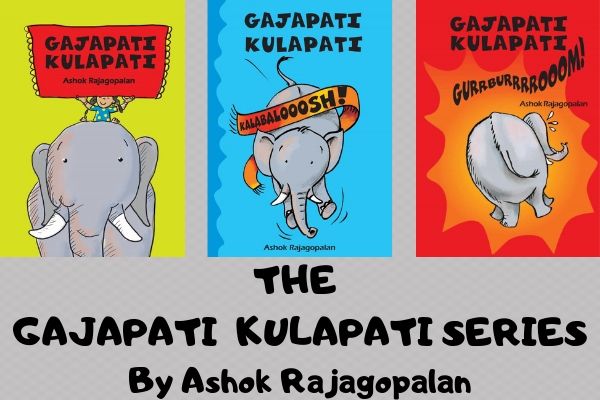 Read the series on GetLitt! today – click HERE
Ashok comes from a family of elephant lovers – "My mother is very fond of elephants, she has this obsession to collect all information there is relating to elephants…When I first drew a comic, it was to make my mother happy, which was of an elephant" he mentioned. This comic was part of the initial portfolio that he carried with him to meet publishers and made great headway with that. While speaking about this giant animal, he recalled his memories of petting an elephant calf and commented that he would love to have one of his own if he is able to provide for him.
Ashok said, "I was born in Kerala and everybody in Kerala loves elephants, and you can see that because most houses will have all kinds of ornaments related to the friendly giants- hangings, sculptures, you name it. Actually, a distant uncle of mine used to have an elephant living in his house! And it would put his trunk inside the kitchen window to happily munch on whatever!"
Ashok's most loved and recognised work is his series Gajapati Kulapati, which focuses on a gentle elephant calf that embarks on many fun adventures. When asked about how this unique name came about, Ashok thoughtfully told us, Gajapati means 'Lord of Elephants' and Kulapati, 'Lord of a Clan'…I had attended a poetry workshop conducted by writer Suniti Namjoshi that sowed the seed of writing in me". He shares, "An important insight I took away from that workshop was that prose can be poetic and rhythmic. This subconsciously inspired the singsong narration of Gajapati Kulapati and the title that resembles the walking sound of an elephant."
He also hesitantly revealed that it is his favourite creation. "I got so much love in return, and for that reason it's my favourite series that I have written so far."
Ashok Rajagopalan – Illustrator or Writer: Who comes first?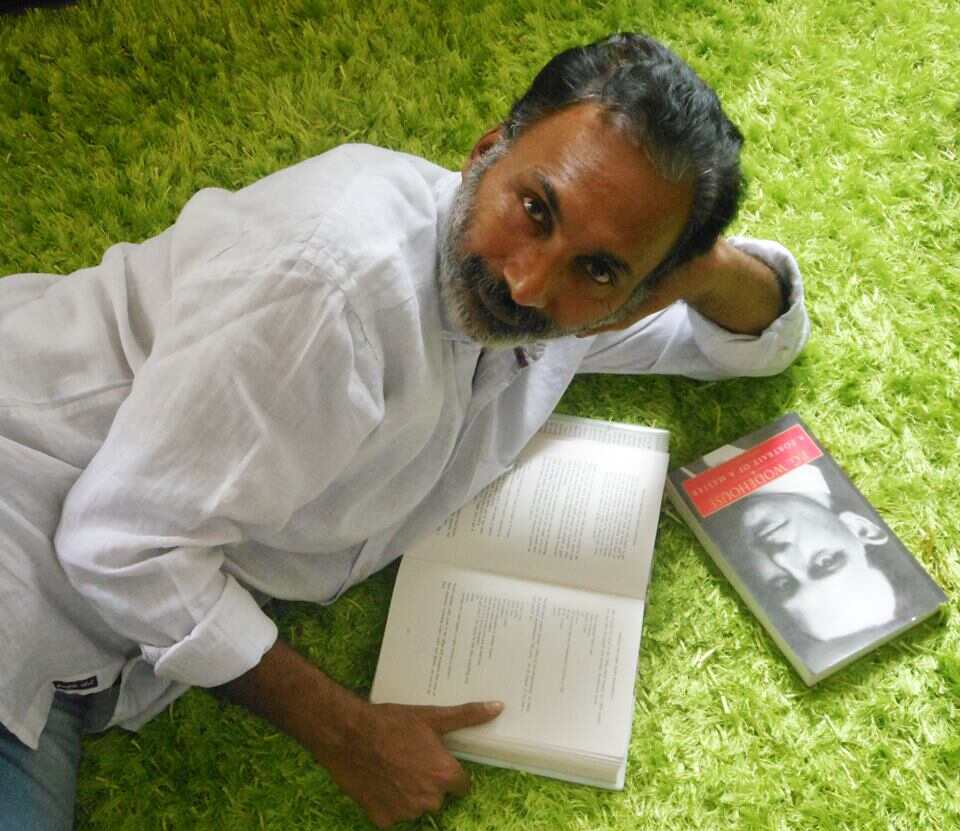 "Every writer writes an autobiography, always making a portrait of himself", Ashok emphasised on the experience as fodder of creativity. He shared "Writing comes from experience".
With Ashok's creative process, the narration comes first. He watches the play of imagination in his mind as we would watch scenes of a movie or a story clipping on a kaleidoscope and so he writes.
As an illustrator, he comprehends the work of the author and creates artwork. Sometimes it just springs to his mind and on other times he would sit and imagine. "If the editor hasn't specifically requested a particular medium, I take time to decide the medium and material to be used: pastels, pencils, watercolours, inks, or software."
"Light humor with a message": Salim the Knife Sharpener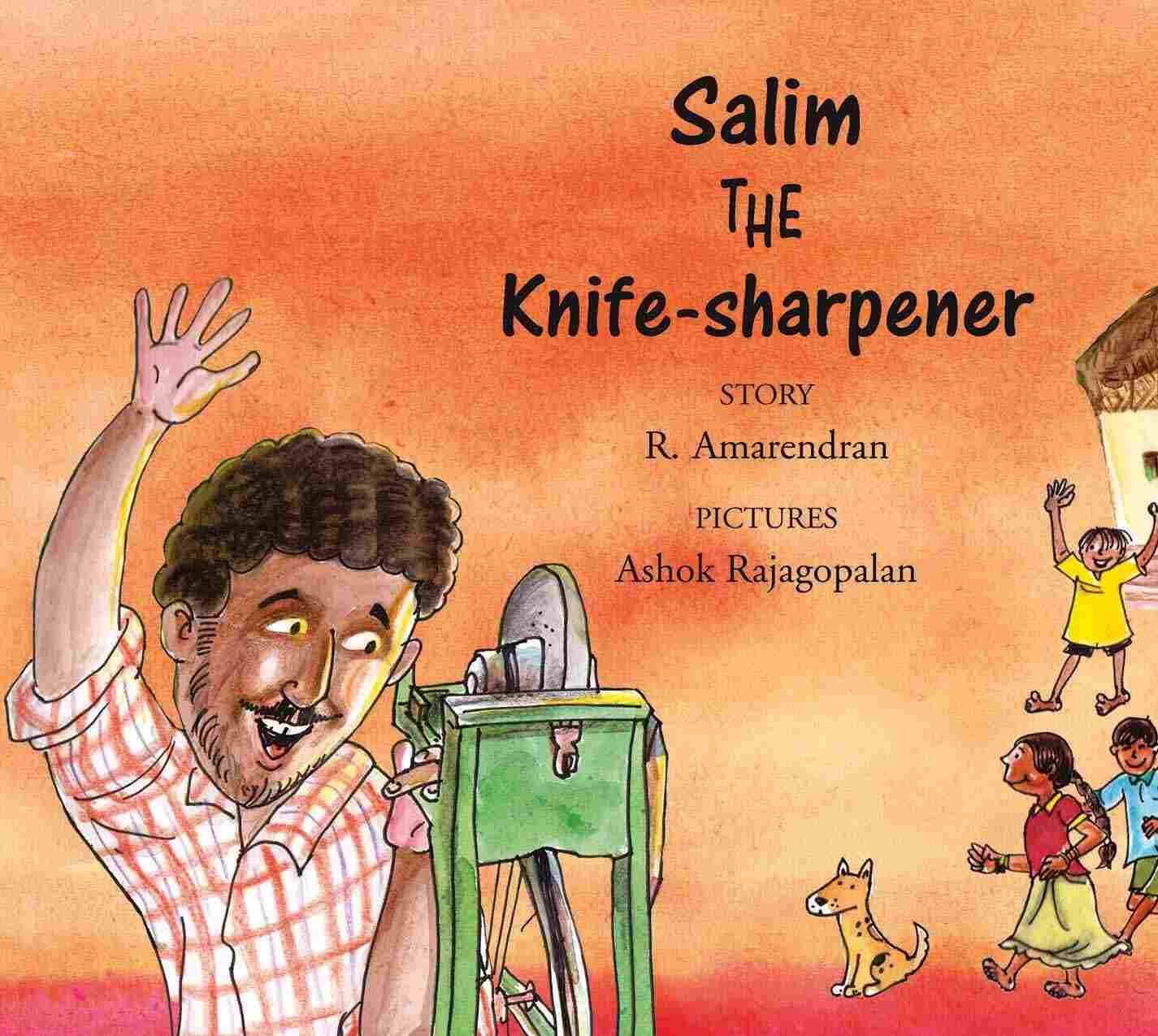 Read Salim the Knife-Sharpener on GetLitt! – Click HERE
Responding to how he imagines and creates characters he has not written himself; Ashok narrates a rather fascinating story about how the drawing of Salim from Salim the Knife Sharpener came to be. "I remember knife sharpeners from my childhood. They used to be everywhere, but now you hardly see them anymore. I managed to capture one, who was making rounds in my neighbourhood. So, when I saw him, I pounced upon him, gave him some money and asked if I could take pictures". Thus, the birth of Salim! With wavy hair and scattered beard, we now know why his work on this book is so captivating.
Spirit Animal: "A flying horse, maybe"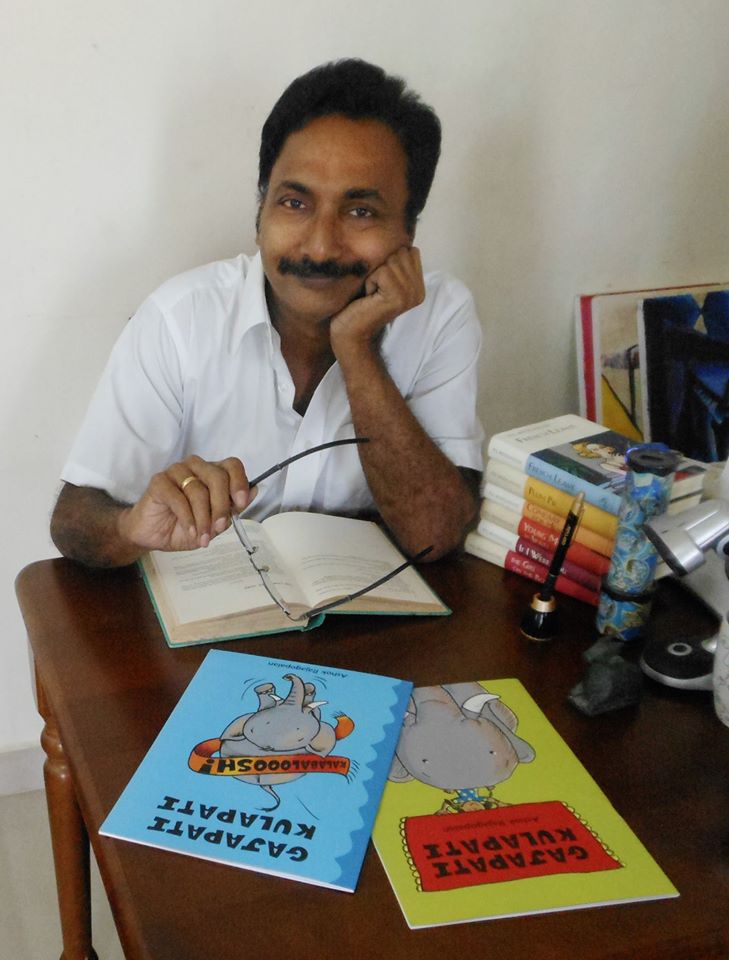 When asked about his spirit animal, Ashok said, "it has to be one with wings", moving on then to a flying horse, which took my thoughts to Pegasus, the mythical flying horse that symbolizes freedom, eternal spring of imagination and creativity. It aptly conveyed the characteristics that he embodies; he seemed a reservoir of ideas, brimming with childlike wonder to satiate the curiosity of the reader.
These wings take him on the flight of fancy to reach a land that is full of fun, for the author and his readers. His readers, children, are spoken to as equal, treated with respect as he entertains them by being their peer not a patronizing elder.
Advice to Young Aspiring Writers: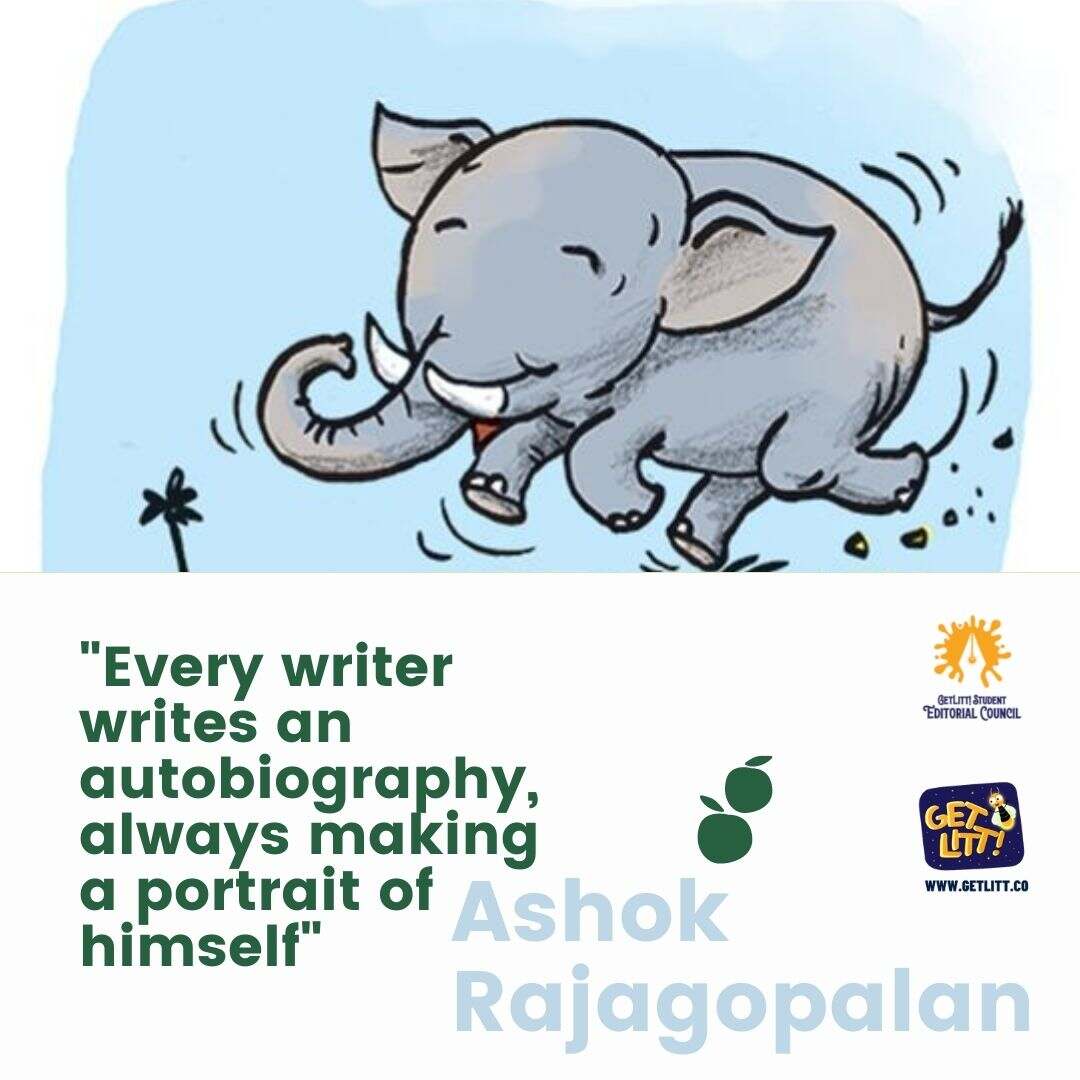 Balancing yin and yang, Ashok Rajagopalan talks about how he was afraid to send his work to editors, because of his imperfect English. He talks about his growth with that insecurity saying, "It's not supposed to be all perfect" and the importance of accepting constructive criticism. He also expertly advises aspiring writers, encouraging them to send in only their best work, and not doubtful plots.
Diving further in the realm of creative writing, he said "all writers have to be good readers, as we should not trust a lean chef, in the same way it's hard or nearly impossible to be a good writer without being an avid reader."
When I asked about his advice to young, aspiring authors Ashok detailed,  "Only send in your best stuff. And don't worry about the language. Actually, that stopped me from being a writer for years. That's why editors exist!"
Throughout the interview, Ashok maintains a cheerful smile; something that softens many negative emotions in just one go. Someone so joyful and easy at heart makes the perfect persona for a children's writer. With works like 'Gajapati Kulapati' and 'Salim the knife sharpener, I can confidently say that kid's literature is very lucky to be the pedestal he has built a beautiful career upon.
Like this blog?
Read: Deep Diving into the endearing world of comics with Abhijeet Kini
Read More: Author Sowmya Rajendran: Changing the World One Book at a Time
Sana Singh
I, Sana Singh, am a dreamer. I enjoy making art; of all kinds, right from putting together a welcoming batch of chocolate chip cookies to taming my thoughts on a piece of paper. My untapped emotions come out best in colorful hues on a blank canvas and long walks in the chilly winter air. Like every other 9th grader, I do sometimes cluelessly gawk at the blackboard but I enjoy working towards gaining knowledge. My favorite colors are sage and viridian; and while I understand not everything is black and white, some things simply are. I aspire to catch the first spark when hard work and talent are rubbed together. Every drop makes an ocean. Every spark ignites a fire. Sana Singh is part of the GetLitt! Editorial Student Council, a 10-week, literary initiative aimed at getting students actively involved in reading, writing, and editing.