Best Geronimo Stilton Books List
Today, more than 14 years after the first book was published, Geronimo Stilton and his mousetastic family of mice still seem to be winning hearts across the world. These series of books include a unique bunch of mice that don't chase adventure, rather, are chased by adventure. Therefore, Team GetLitt! decided to bring to you best Geronimo Stilton books list
Geronimo Stilton Author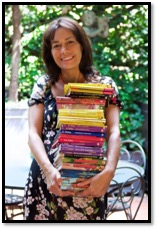 Geronimo Stilton was originally conceptualized by Elisabetta Dami and published in Italian by Edizioni Piemme of Milan, Italy.
It has thereafter been translated into 38 languages! The Geronimo book series is intended for readers in the 5-12-year-old age bracket.
The series is available as graphic novels, audio cassettes and CD versions too.
Who is Geronimo Stilton
Geronimo Stilton is the title character and protagonist of the series. Geronimo was born in New Mouse City, Mouse Island.
He was adopted by the Stilton family when he was an orphan and does not know who his biological parents are.
He has been successfully running The Rodent's Gazette, New Mouse City´s most widely read daily newspaper. He admits to being laid back and scared. However, his family and friends make sure he lives a very action-packed life.
Children who have read the series, and book reviews alike place it as a must read for young children.
There seems to be something about an older journalist/editor mouse reluctantly going on adventures with his mouse family that attracts kids, making them loyal fans and rooting for the character.
Geronimo Stilton Stories
The Geronimo book series can be largely categorised into the genres of adventure, mystery and fantasy. The stories are crisp and well written, building on suspense making it a page-turner. The kids are kept guessing about how Geronimo or his sister, Thea, are going to solve the mystery or find a solution to the problem?
Without oversimplifying the plot or language, the books deliver a perfect thriller.
The endearing and supportive illustrations aid the storytelling process. The stories create a completely new universe. Personifying the mice gives the author a huge advantage in terms of liberty and freedom to shape an unknown world for the children to step into, building curiosity and immersing the readers into the story. These relatively long stories have just the right amount of depth and detail to keep the books engaging without boring the reader.
Geronimo Stilton Story Books
The USP of these books lies in the autobiographical nature of storytelling and how the characters deal with the situations thrown at them.
The characters are mostly adults, barring Geronimo's nephew and niece, yet they retain attributes of children, making them relatable and aspirational at the same time.
They are vulnerable, funny and value friendships and family. Geronimo's relationship with all the members of his family is that of care, kindness and love.
Most importantly he has a quiet nature. He is shy, reluctant and scared. He is not waiting to jump onto the next train of adventure. He is lazy, starts his mornings late and has a robot to work for him. Yet, Geronimo has a brilliant mind and a vast worldview, which comes from his experiences.
He keeps friends and family at the forefront. He, despite his vulnerabilities and shortcomings, must find a solution to the problems and ends up having loads and loads of fun while at it. He is the type of mouse that can find a way to solve all problems and that, at the end of each adventure, proves to be the real hero of the situation. And who doesn't enjoy rooting for an under-doggish hero?
More about Geronimo Stilton Books
On the boundaries, Geronimo is informational, spewing out general knowledge (about geography, history, science etc) and vocabulary words alike from time to time.
It aims at teaching the kids something new, yet does a marvellous job of not talking down to them. For example, the tone of the books is conversational giving kids the illusion that they feel personally connected with the main character.
The books also keep up with the current social trends and have an underlying sense of humour that keeps you smiling pretty much throughout. The characters use the latest technological (sometimes more advanced) gadgets, are fashion conscious, and the women in the stories are not passive.
They also make fun of each other and know how to have a good time despite their circumstances. The characters travel to new locations and the books maintain the authenticity of these places, introducing kids to new places and culture.
The sentence structures are simple and to the point, maintaining the readability for the intended target audience. The complicated words are also dramatised with illustrations for better understanding. However, all of this is subtly and intelligently woven in. Many kids hardly ever notice that they are learning something new, making it a brilliant way for children to learn new words and gather information.
Geronimo, therefore, is a brilliant way to get children to start reading, ease the transition from picture books to chapter books or even just enjoy a good light-hearted read before bed.
Best Geronimo Stilton Books List
Having said so much, it would be unfair if we didn't reveal our best Geronimo Stilton Books List.
These are our top 12 picks of the Geronimo Stilton books that you should add to your reading list.
1. The Geronimo Stilton Kingdom of Fantasy books
Geronimo Stilton finds a golden staircase in his attic, above that a door and beyond that – the Kingdom of Fantasy. He sets off on an incredible adventure to save the Queen of the Fairies. But along the way, he has to face many fantastical creatures that he had only ever heard stories about. Can Geronimo actually save the Queen and come back safe from such a crazy adventurous journey?
2. Geronimo Stilton Journey through Time
Geronimo Stilton has accepted to travel through time with Professor Paws von Volt and you have got to join him uncover the lost mysteries of history!
3. Geronimo Stilton Valentine
Geronimo is cheesy, romantic and Valentine's Day is one of his favourite holidays! This year he has a date with Petunia Pretty Paws! But then he gets a call from his private investigator friend Hercule Poirat, asking for help. The most beloved, romantic, and famous painting in New Mouse City had been stolen! Now Geronimo has to help Hercule AND impress Petunia at the same time. Holey Swiss cheese, what will this gentlemouse do?
4. Merry Christmas, Geronimo!
It's Christmas time and Geronimo's favourite nephew, Benjamin is visiting! But amidst the hospital and a house fire, this was turning out to be the worst Christmas ever! Can Geronimo and Benjamin make the most of these circumstances and find some cheer in these times of despair?
5. Geronimo Stilton Bollywood Burglary
Geronimo and his detective friend Hercule Poirat are headed to India, where Geronimo also gets to act in a movie with a Bollywood star! However, the theft of a valuable Ruby means that Geronimo and Hercule Poirat have to now find the thief. Will they be able to?
6. Geronimo Stilton Phoenix of Destiny
Geronimo Stilton has returned to the Kingdom of Fantasy on the wings of the Phoenix of Destiny! Blossom, Queen of Fairies, needed his help again. But Blossom has been behaving strangely, sending Geronimo on one magical quest after another, each more bizarre and dangerous than the last. This is a story full of twists and turns, mazes and puzzles and tons of fantastical creatures! Are you ready for this one?
7. Cat and Mouse in a Haunted House
Lost in a dark spooky forest, Geronimo finally stumbles upon Curlypaw Cannycat's Castle. But the castle isn't empty, like Geronimo thought! Haunted by cats, Geronimo is in real trouble, you've got to read this to know what happens.
8. The Mona Mousa Code
When Thea heard that there was a secret map hidden beneath Mouse Island's most famous painting, the Monamouse, Geronimo teamed up with her and began to investigate, and soon discovered secret clues that led them to the most fabumouse secret. Read the book to find out!
9. The Curse of the Cheese Pyramid
Geronimo is off to Egypt! Climbing onboard a crabby old camel that would take him across the desert to the Great Cheese Pyramid, where, among mummies and hieroglyphics, he would learn the secret of the Seven Wonders of the Ancient Mouse World…. Don't you want to know too?
10. The Phantom of the Subway
When Thea told Geronimo a ghost was haunting New Mouse City's subway tunnels, he knew he had to get the scoop for The Rodents Gazette! So he set off with Thea, his cousin Trap, and his assistant editor Pinky Pick. But everyone was in for the fright of their wee mouse lives… because the ghost turned out to be a CAT!
11. The Race Against Time
It was Geronimo's third journey through time. On this trip, Geronimo and his family visited the Ice Age, ancient Greece, and the Renaissance. They encountered woolly mammoths and enormous bears, wrote and starred in a play, and even helped put a bad guy in prison! But then the portal started malfunctioning—could they get back to the present day, or would they get lost in time?
12. The Dragon of Fortune
Geronimo Stilton travelled on the wings of the Dragon of Fortune back to the Kingdom of Fantasy! He was called there by her friend Blossom, Queen of the Fairies, who needed his help. The enchanted Winged Ring had gone missing! This was terrible news. The ring allows its owner to travel between the Kingdom of Fantasy and the real world which would be a dangerous power if it fell into evil hands. Could Geronimo find the ring before it was too late?
Geronimo Stilton Books Alternative
Don't you worry! If you can't get your hands on a Geronimo Stilton book right away, we have curated a list of wonderful books from GetLitt! These books are relatively similar genre-wise and we are certain that you will absolutely love them. These books are packed with adventure, loaded with mystery and suspense and most definitely about child-heroes.
1. Monster Hunters by Parinita Shetty
Abhay is going monster hunting with his friend, Nitya. So what if no one believes him, he knows there are monsters under every bed, and the two friends are determined to prove it. They will present a monster as a part of their class project, and everyone who laughed at them will have to eat their words. But monsters are elusive creatures, and hunting them down turns out to be more difficult than they expected.
2. Something Fishy by Pavithra Sankaran
An antique watch is stolen…packets of Mayamix are destroyed…a neighbour goes missing… something fishy is going on and Mira will get to the bottom of it! A complete entertainer, which lets you travel with Mira on her adventure missions to solve crimes, you will love this!
3. Defective Detectives: Tinkle Tall Tales
Rahul and Ravi are Tinkle's infamous Defective Detectives, who have vowed to solve every mystery on this planet. And if and when there is no mystery, rest assured they will invent one! With their overactive imagination which sees a mystery behind every bush and their unwavering determination to see everyone as a criminal, the duo are always hot on the heels of trouble or more often than not, trouble is hot on their heels! Enter this world of mayhem, at your own risk!
4. Moin and the Monster by Anushka Ravishankar
One night in the dim darkness of his room, Moin heard something shuffling and sniffling under his bed…
This funny adventure with Moin, his friends and the monster is sure to win your hearts and keep you glued to the pages with a grin on your face.
5. The Shy Supergirl by Shabnam Minwalla
Nina is very shy, but she has a secret superpower. When a silver owl disappears from a neighbour's house, it's the shy supergirl who has to find the culprit! Read this true mystery that will activate the sleeping detective in you.
Now, that's a long list.
That means… it's time to grab that hot cup of hot chocolate and snuggle in between the sheets with the perfect adventure story and escape into the fantastical world! Happy Reading!