Book Launch: Exclusive Interview with Co-Authors Dr Swati Lodha And Swaraa Lodha
1486 Views
December 3, 2018
Dr Swati Lodha and her daughter Swarnaa Lodha recently launched their book '54 Reasons Why Parents Suck. And Phew.' The book has been co-written by both of them, and they couldn't be happier to share it with the world. This is the first time both of them have collaborated on a book together, however, judging from the title and the dynamic between the two ladies; we're sure readers are going to enjoy the book thoroughly.
The book is a witty and honest look at the relationship between children and their parents. "I wish you understood me" or "you never understand" is something parents and children hear all too often, and the Lodha ladies wanted to tackle this subject and put it into a book that both parties can benefit from.
Well, we were fascinated by both, the subject matter and the mother-daughter duo and just had to sit down with them and pick their brains. Since they were kind enough to take the time, we did a quick interview with them about their love of books, their relationship and the new launch of their book. Let's hear what they had to say.
Team GetLitt: Describe each other in 3 sentences.
Swaraa: She is 44 going on 14. She is the mother every daughter doesn't think exists.
Swati: Swaraa is the 'Grand Old Kid' of the family. She has unlimited friends in the age bracket of 50 – 70 and 2 – 3 friends her age.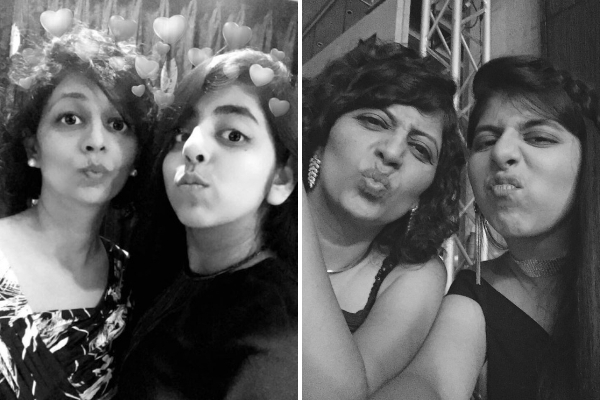 Team GetLitt: Which are the two characters from a book that would describe your relationship the best?
Swati: Minny and Skeeter from "The Help" by Kathryn Stockett.
Team GetLitt: Which children's book or TV characters do you think you're most like?
Swati: We are like 'Chandler and Joey' from the famous TV show 'Friends'.
Swaraa: I am like 'Hermione Granger' from 'Harry Potter', while my mother is like 'Minerva McGonagall' from 'Harry Potter'.
Team GetLitt: Tell us a children's book you love.
Swaraa: Secret Seven Series by Enid Blyton
Swati: Noddy Series by Enid Blyton
Team GetLitt: Is there one topic on which both of you have totally opposing views but have decided to live with the difference in POV.
Swaraa: We both think differently about modes of reading. My mother loves to shove the Kindle in my face, and I cannot read on a Kindle, not even to show-off!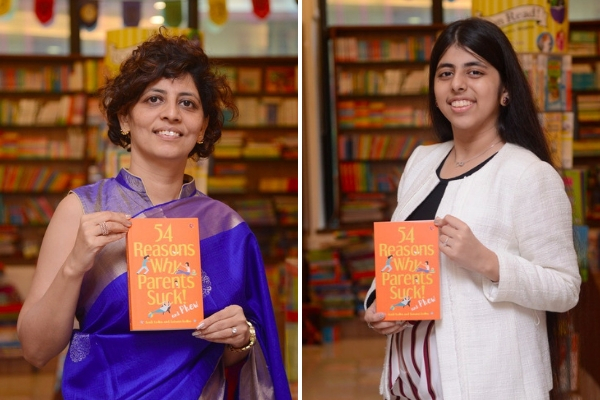 Team GetLitt: 3 reasons why a parent needs to pick up '54 Reasons Why Parents Suck! And Phew.'
Swati: Firstly, parents should buy it to read to their children. Secondly, to renew the lease of their relationship with their children. Lastly, to become the parents that their children deserve.
Team GetLitt: 3 reasons why a teenager should pick up '54 Reasons Why Parents Suck! And Phew.'
Swati: Teenagers should buy it to understand that they are not the only ones who have parents which they find 'over the top'. Secondly, teenagers should read it to find out ways to communicate with their parents about 'How not to suck'. Plus, this book will make them feel as if they visited a spa with their parents and came out rejuvenated.
Team GetLitt: What was it like working with each other on this book?
Swati: Working with each other was like a typical Bollywood film that starts happily, crashes into some conflicts and then ends on a happy note.
We started with excitement, obviously not knowing what we were getting into. Initial few days of discussions were superficial and hence bearable. As Swaraa became honest, my ego took time to recuperate before admitting that I really suck.
The process of writing 'how not to suck' at the end of every chapter was easier as we had mastered the art of self-mockery by then.
Team Getlitt: What inspired you to write a book together?
Swati: Every parent talks about how children give them a hard time, there are books raining on 'how to raise children' while nobody wants to give a voice to the thoughts of children.
This thought of 'giving voice to teenage thoughts' inspired us to write this unique book.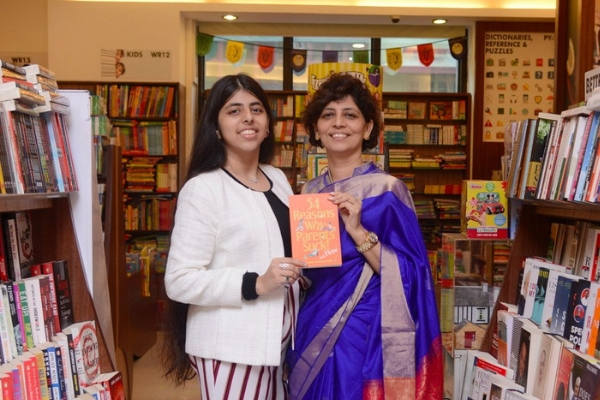 Team Getlitt: Describe your book in 100 words.
Swati: It is not a rant against parents. It is a mirror held in front of parents and a microphone in the hands of children.
The book boldly states that 'parents suck' and proves it, reason by reason, backed by primary and secondary research. Parents should read it because it helps them understand the psychology of their tweens and teens.
Children should read it to realise that they can build up a strong bond for life with their parents by being honest and authentic with them.
The best way to read this book is with your teen.
Team GetLitt: What is that one thing that a parent and a teenager can do to understand each other better.
Swati: Just communicate, omg!
Thanks so much for this awesome interview ladies!
Well there you have it, Swati and Swaraa were nice enough to take the time to answer some of our questions. We hope you enjoyed getting to know them as much as we did! If you're a parent and would like to know the 54 ways in which not to suck, then get your hands on Swati's book – It's available for purchase in all the major bookstores.
Swati Lodha has been enriching lives through her work as a corporate trainer, coach and author for years. In the last 17 years, she has trained over 10,000 young minds through SWASH, her personal-development organisation. Her books 'Come on! Get, set go' and 'Why women are what they are' have created communities of learners who believe in growth and in wanting to live a life of happiness and gratitude.
Swati Lodha's parenting book 'The Un-parenting Guide: Don't raise your Children, Raise yourself' has a 4.6 star rating on amazon.in with reviews from parents who have all been impacted by her words. Her parenting workshops impact parents to learn and unlearn, to empathize and empower. It's no wonder her newest book comes as an extension to her life's work. After helping parents, her sights are naturally on the children. This newest book with her daughter is no doubt going to be as beneficial as all her previous texts because of her past successes.
Her journey from tent classrooms in school to Harvard classrooms has impacted all those who have interacted with her and her work.
So, if you're itching to get your hands on some compelling books, then head on over to our Getlitt library. There is a book for every one, no matter the reading level or age of your child. We are constantly updating and adding new titles to our library so check back every week for fresh content.
Happy Reading!
Like this?
Read: Five Minutes With Indian Children's Book Author Ramendra Kumar
Read more: Five Minutes With Indian Children's Book Author Natasha Sharma