Book List: 12 Books on Siblings And All Their Glorious Complexity
2341 Views
December 5, 2018
There is something special about the bond between siblings that even in its complexity is one that lasts a lifetime. Through thick or thin as they say, sibling relationships are something we've wanted to explore and decided to do it in the form of a book list.
Sibling rivalries are a part of growing up. The fights, the laughter, the mischief and even the scheming together against parents are all indicators of healthy relationships between siblings. However, explaining this concept to children who can't quite grasp the value in these arguments and triumphs can be a little difficult. Whether you're expecting a new baby in the family, or want to foster a better relationship amongst your children, books on siblings are a good way to introduce the topic and explain, in a neutral way, the feelings they have for each other.
The books we've curated today showcase the sibling relationship in some form or the other. So let's have a look at our books on siblings!
1. Aditi Zoo by author Amrutash Misra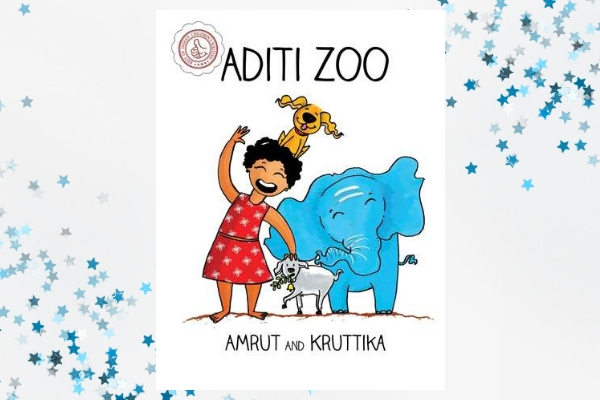 If you want to break the news about bringing a new baby into your family, this book will help. Aditi wants a sibling and keeps asking her parents if she can have one. Every time she asks though, her father sets her a new challenge before she can have a baby brother or sister. Being a tenacious little one, she excels at every challenge that finally results in her, not only getting a new sibling but also a collection of animals!
Read Aditi Zoo HERE
2. How Old is Muttajji by author Roopa Pai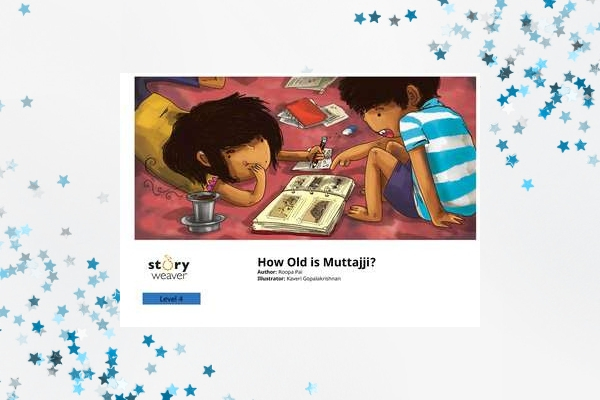 This book is about 8-year-old twins Putta and Putti. They are inseparable siblings who love exploring and being little detectives. Something has been puzzling them though; they want to figure out just how old their great-grandmother, Muttajji is. Through their great-grandmother's memories and some mathematical sleuthing, these two twins finally figure it out!
Read How Old Is Muttajji HERE
3. Boo! When My Sister Died by Richa Jha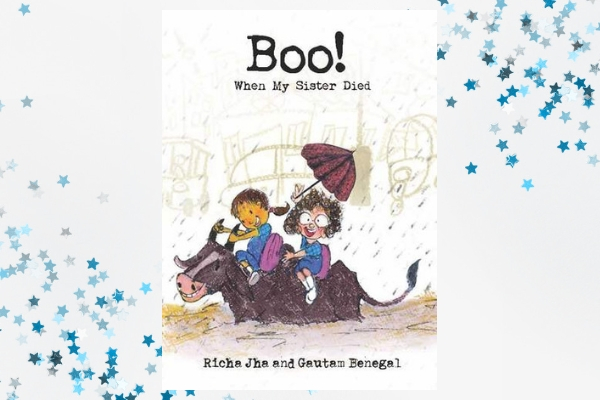 There is nothing sadder than when a loved one passes away, especially when it's a sibling. This heartwarming book is about Noorie who has lost her sister Zoya. Through her exploration and understanding of this sad new experience, she learns about love, loss and moving on. Whether you want to explain the importance of a sibling's love or introduce the concept of death and grief, this book allows you to do just that.
Read Boo! When My Sister Died HERE
4. Charlie and Lola by author Lauren Child

Sometimes one book isn't enough to show the every changing dynamic between sibling, that's when a book series comes to the rescue! This book series called Charlie and Lola is about a brother and sister duo who go through all the dramas of a normal set of siblings – from power struggles to unconditional love – these books have it all!
5. Dum Dum-a-dum Biryani by author Gayathri Tirthapura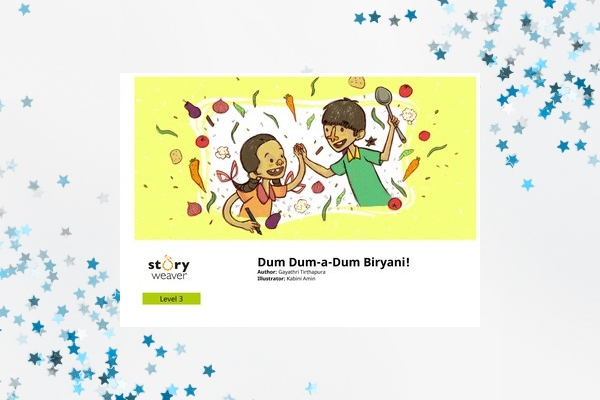 If you want your siblings to play nice and root for each other, then you might want to get hold of this one. Dum Dum-a-dum Biryani is all about the teamwork between siblings Basha and Sainabi. When they get unexpected guests, and their mother is unwell, it's up to these two siblings to feed them all. That includes making their ammi's signature biryani. Luckily both siblings use their unique set of skills to save the day!
Read Dum Dum-a-dum Biryani HERE
6. Maya Saves the Day by author Meera Nair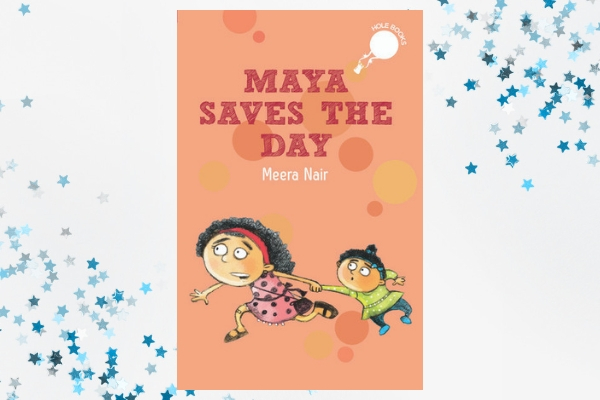 Maya Saves the Day is a collection of short stories where, as you may have guessed, Maya comes to the rescue. Since Maya is the bigger sister, her little sister, Shaila, is often her sidekick that needs to be looked after.  Throughout all the stories that include an escaped tiger, lost parents and even puppies that need a home – Maya's quick thinking ways and her care for her sister is delightful to read.
Read Maya Saves The Day HERE
7. Owl Babies by Author Martin Waddell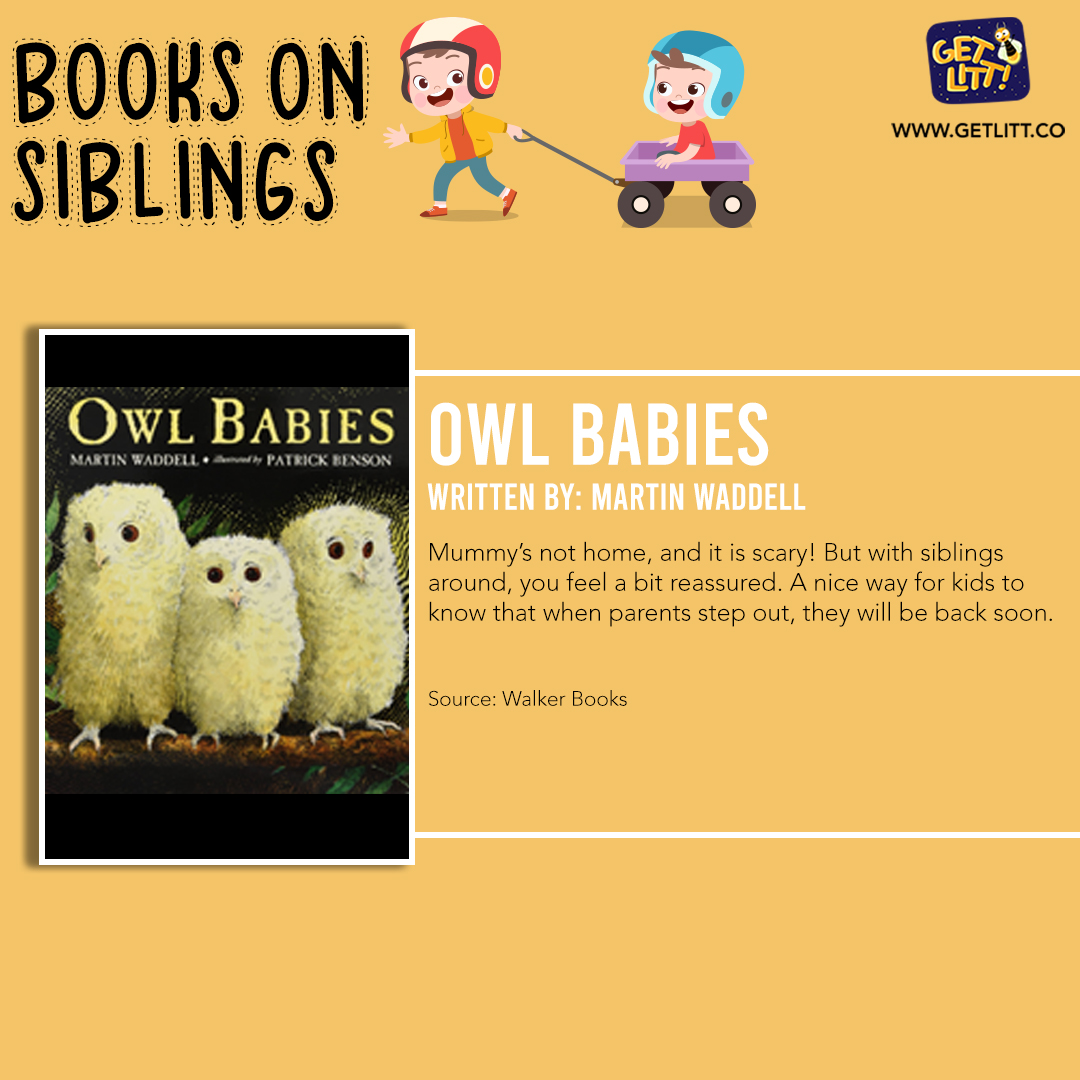 Separation anxiety is something every parent and child goes through and it's beautiful portrayed in the book 'Owl Babies.' This book shines s spotlight on how siblings band together when parents have stepped out. So, just what do these baby owls do when they realise their mommy has gone out? Get the book to find out!
8. Big Red Lollypop by author Rukhsana Khan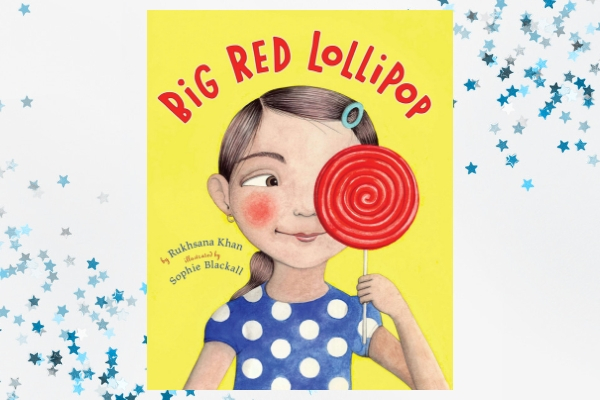 Image Courtesy Ruksana Khan
For the parents who are guilty of making their oldest take their little brother or sister with them for a party, this book is for you! In Big Red Lollipop, Rubina has been invited to a birthday party that's she's ecstatic to attend. That is, until her mother insists she takes her little sister along too. As you can imagine this story can only get better from there. It's a story about taking the higher ground and accepting your siblings no matter their behaviour.
9.  Dhanak by author Anushka Ravishankar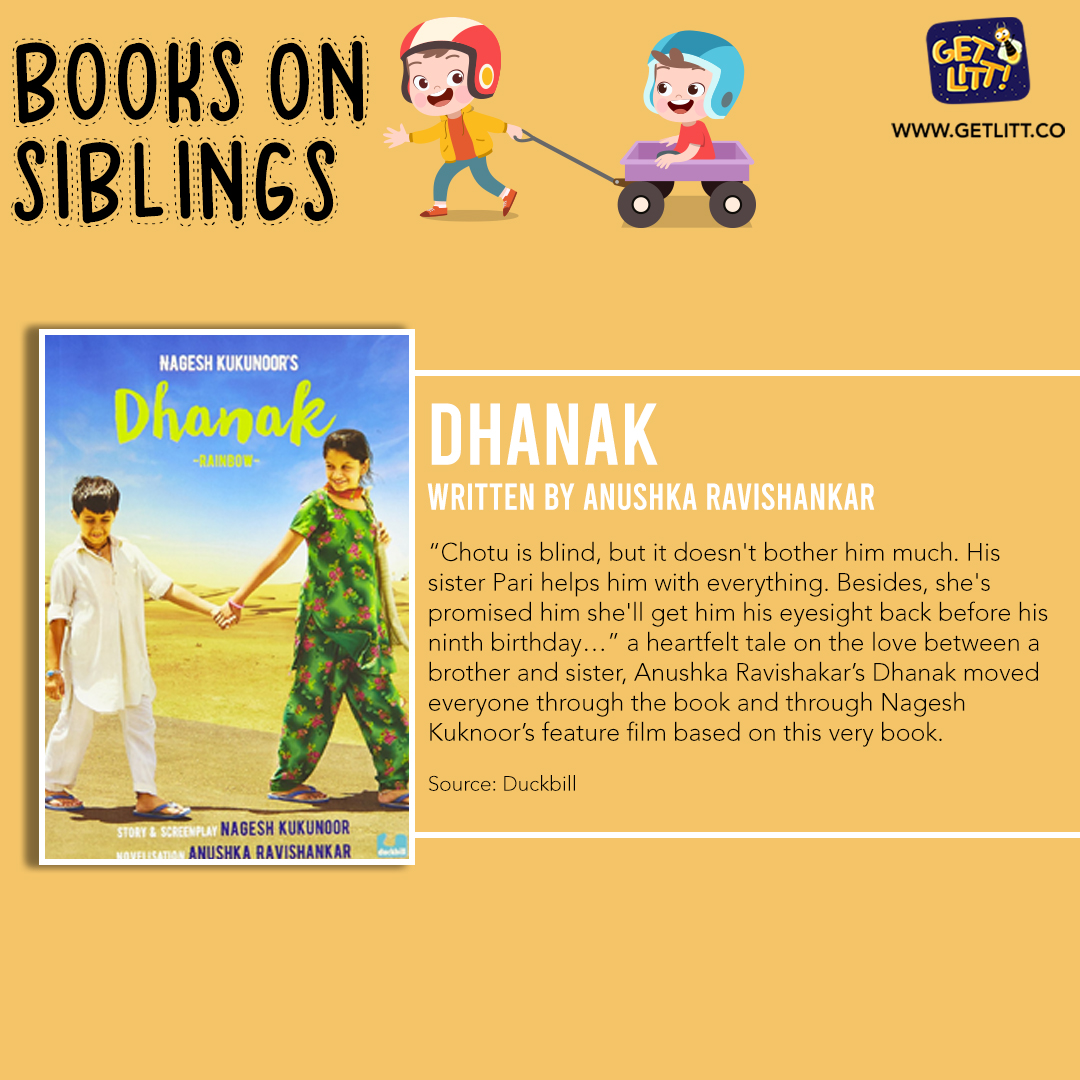 Based on the award winning film, Dhanak is a heartwarming story about sibling love and being different-abled. The story is action-packed with road-trips, letters to superstars and acts of selflessness. Whether you read the book first or watch the movie this is one book on siblings that you won't want to skip!
Read Dhanak on Getlitt! HERE
Storytelling Session with Harshikaa Udasi, Anushka Ravishankar and Ritika Subhash
10. Little Women by author Louisa May Alcott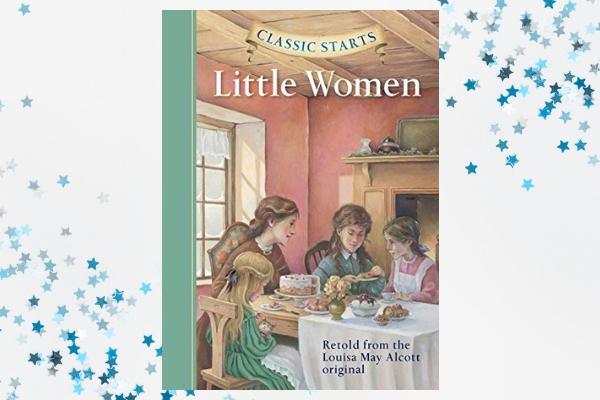 Image Courtesy Classic Starts
These four siblings are arguably the most famous sisters in literary history – we're talking about Meg, Jo, Beth, and Amy March from the iconic novel Little Women. This classic not only talks about the struggles of women but also the complex bond between sisters. If that's something you need in your household, then we couldn't think of a better book.
11. Pride And Prejudice by author Zanna Davidson adapted from Jane Austen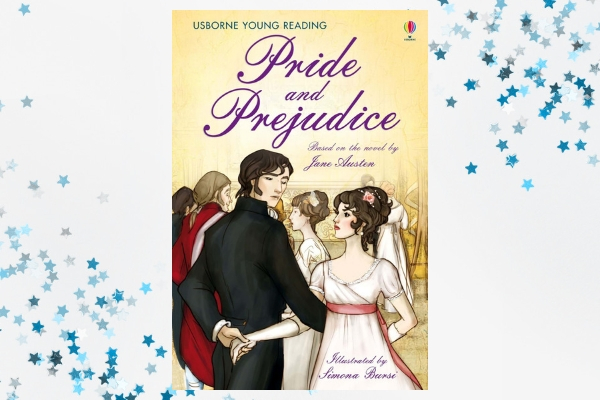 Image Courtesy Usborne Young Reading
It's a toss-up between the March and the Bennet sisters when it comes to who is the most famous, but for sure both sets of sisters are the most beloved. This Usborne Publishing's version of the classic novel is a great way to introduce children to Jane Austen. The adaption with its pretty illustrations will charm young readers into taking an interest in more classic literature. Make this coming of age and sibling story part of your child life – we all need a little Jane Austen in our life!
12. The Twins Discover The Six Seasons by author Asha Shankardass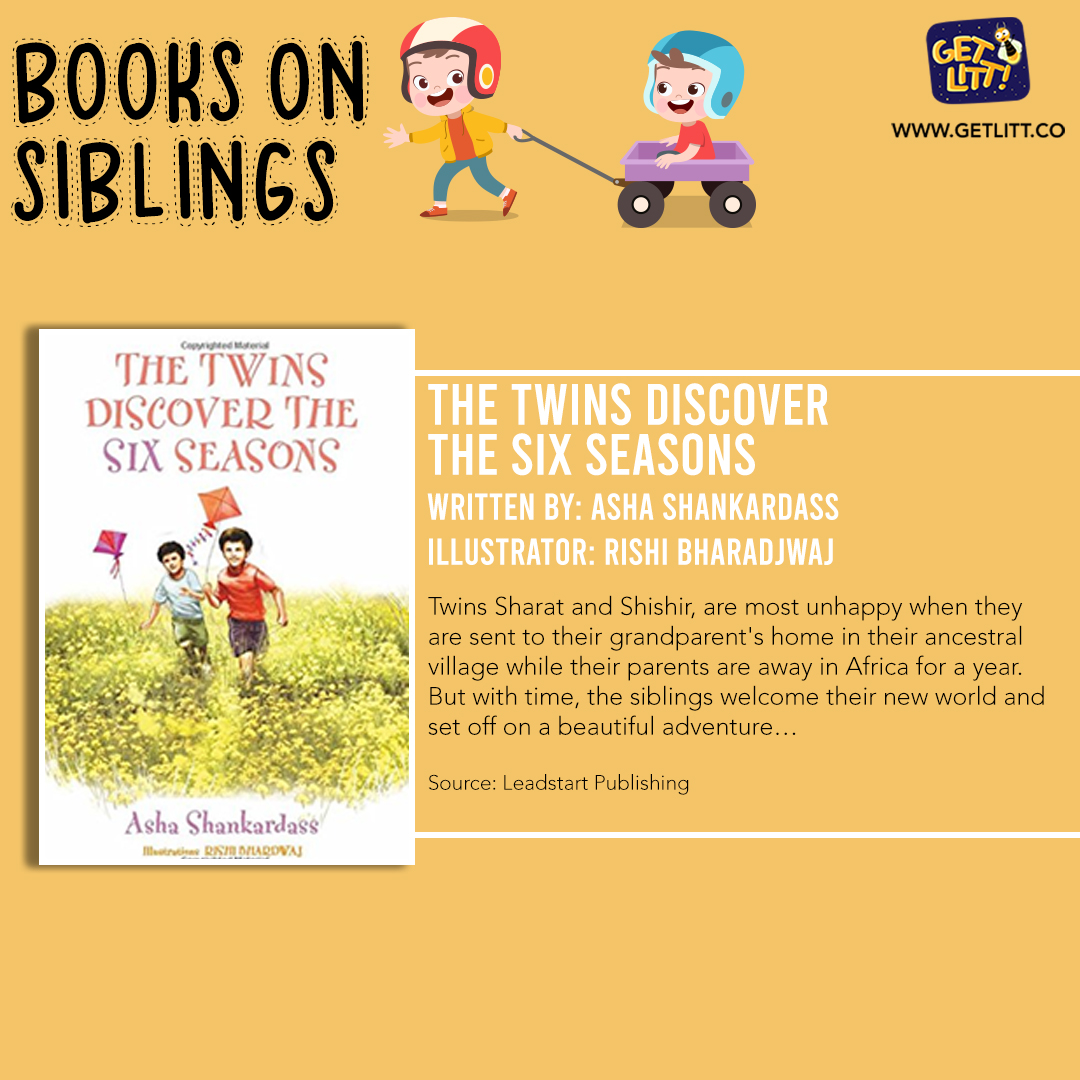 This coming of age story is about twin brothers, Sharat and Shishir, who discover that India has a sixth season – yes you heard that right! Travel with them as they navigate life away from their parents and explore their ancestral village. If you've ever wondered about the bond between twins, well then, it's time to read this book!
Read The Twins Discover the Six Seasons on GetLitt! HERE
These are 12 of our favourite books on siblings from Indian and international authors that we hope your little ones will enjoy. We keep adding more books every week, so come back and check out our library for more exciting books and new launches.
Happy Reading!
Like this?
Read: Book List: Books Featuring Little Protagonists!
Read More: Booklist: Indian Children's Books With The Prettiest Illustrations