Book Talk With Arthi Ramaiah, Mother and Entrepreneur
Today we're in conversation with Arthi Ramaiah, the founder of Bubble Works. Arthi, a former advertising professional, quit her job to start her own company and be a full-time mom to her daughter. Women like Arthi inspire us, and we're sure you'll love hearing a bit about her company and her life.
Arthi Ramaiah, Founder – Bubble Works
Arthi Ramaiah has always followed her passions, no matter the obstacles on the path. She believes in seizing the day and working hard to achieve everything one wants from life. This is part of the reason why she decided to start her company called Bubble Works.
If your children love to write and are constantly penning down stories, then you'll be intrigued by Bubble Works. They make 'mini' masterpieces from your child's stories. They put together these stories using raw videos, pictures, scripts etc. that your child sends in. After a four week process, Bubble Works turns these raw materials into a fully illustrated storybook – how fascinating!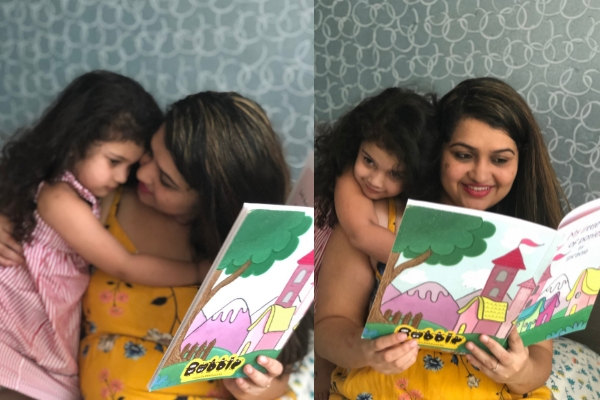 Speaking about her company to the newspaper, The Hindu, Arthi says "Ever since my daughter began expressing herself and communicating, my perspective of everything changed dramatically. Now I know how inventive and imaginative kids can be. I wanted to set up something that would enable children to let their imagination run wild in writing or making up stories, and then transform the story into an object that would live on."
Arthi is a kindred spirit; she loves books and has based her entire company on encouraging children to write. Hence, we were thrilled when she agreed to do a quick five minutes interview with us.
Here's what she had to say!
Team GetLitt: Share with us a few of your favourite children's books.
Arthi Ramaiah: Some of my favourite children's books are ones that uplift and inspire kids to chase their dreams. Such as:
The Gruffalo By Julia Donaldson
Papa, Please Get The Moon For Me By Eric Carle
Oh The Places You Will Go – Dr Seuss
The Wonderful Things You Will Be – Emily Winfield Martin
TGL: What or who sparked your interest in reading as a child?
AR: As a child, we would spend our summer holidays at our grandparent's house. My aunt used to read us Amar Chitra Katha graphic novels. I remember, slipping into that literary world when I heard the stories or read them. That may have been one of the earliest triggers that sparked my interest in reading as a child.
TGL: What is a quirky reading habit you have (either when you're reading with your child or by yourself)?
AR: When my daughter was very little, I used to enact the stories I read to her. Now that she is 3 and a half years old, she plays along with me when I read aloud to her. In fact, I get the whole house involved, whoever is at home turns into a character from the book!
TGL: Which is your favourite reading spot/somewhere you get the most reading done?
AR: My rocking chair, which my daughter loves just as much as I do! It's where we get most of our storytelling sessions and reading done.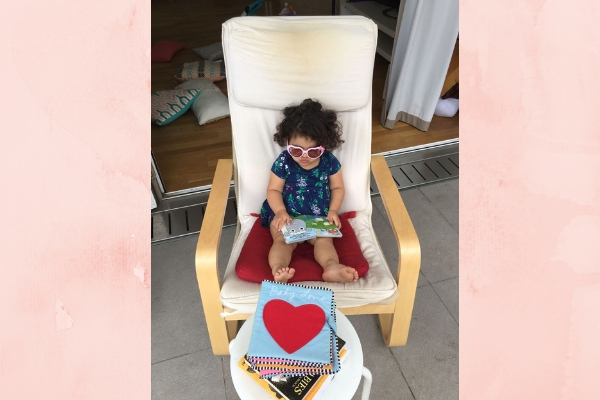 TGL: Have you ever continued to read a bedtime book, even after your daughter has fallen asleep, so that you know how it ends?
AR: Yes, I'm definitely guilty of doing this! I was reading 'The Mixed Up Chameleon' by Eric Carle and couldn't put it down. It is so relevant to all age groups, that even after my little one fell asleep I had to get to the end of it.
TGL: Do you have a tip to help engage kids with reading?
AR: I always felt that reading a book in an interactive way, gets kids interested in reading books. Enacting, pretending to be the characters in the book always gets the child connected with the book.
Need more storytelling tips? Check out this blog HERE.
TGL: Do you have a favourite memory associated with a book?
AR: My cousin gifted my three-year-old daughter, a book named 'Quantum Physics For Babies.' Astonishingly, in about three days she started telling us about protons, neutrons and electrons. It really surprised us!
TGL: Describe your favourite children's book/novel in 5 adjectives.
AR: The Gruffalo – Witty, Clever, Imaginative, Interesting and Funny!
TGL: What Indian children's book have you read recently that you and your daughter enjoyed?
AR: I recently read the book 'Swami And His Friends' by RK Narayan. It brings back happy childhood memories, and I thoroughly enjoyed reading it.
Thanks, Arthi!
That was a lovely interview, and we got to know this powerhouse mommy better. If you'd like to check out Bubble Works, you can head to their website HERE.
Till next time, do browse through the GetLitt! library, we're constantly updating it with new books. So head to GetLitt! and subscribe today to enjoy unlimited access to all these great children's books!
Happy Reading!
Like this?
Read: Book Talk with Indian Mom Rama Thoopal And Her Children's Book Preferences
Read More: Book Talk With Priya Fonseca: What Classic English Books Should My Child Be Reading?