5 Books that Celebrate Strong Little Girls!
Growing up in India, I have seen many strange and beautiful things with respect to gender equality. Girls and women are considered to be a symbol of life, prosperity, and happiness. In Hindu mythology, they are also considered Goddesses. Specifically, represented by Goddess Durga (symbol of strength), Goddess Lakshmi ( symbol of wealth), and Goddess Saraswati (symbol of knowledge), among others. 
However, a woman's role in society isn't always divine. There are also some really shocking and totally contrasting facts. While women are considered as symbols of wonderful things in life and as forms of goddesses, they are also the ones who are mistreated and not given equal rights. Whether it is their clothing or their choices, women are judged on everything. Yet, women come out from this suffocating shell and fight against all odds to finally become what they are!
The aim behind curating this of books is to encourage and inspire young girls who might be struggling in some kind of a prison that hinders them from using their complete potential to break the shackles and become what they wish. The aim is to make boys appreciate the women around them. The aim is to help awaken minds which can build a non-discriminating society in the future. 
Luckily I was able to find the perfect set of books that live up to the aforementioned aims. So, gather your little ones and start reading them these incredible books that will surely inspire young minds to focus more on equality!
5 Books that Celebrate Strong Little Girls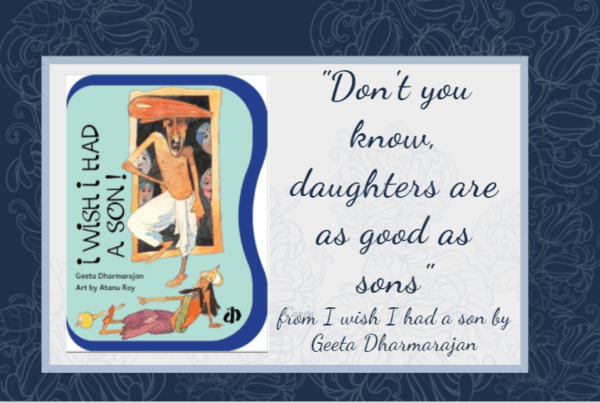 Many of us would have witnessed that there has been a certain preoccupation (since centuries!) with having a son rather than a daughter. This is the idea that has been challenged in 'I Wish I Had a Son' by Geeta Dharmarajan. Are sons actually better than daughters? Find out in this book as you go through the pages in the life of a man living in Jhumli who wishes to have a son but life takes him another way and he finds out something he was completely unaware of. Follow his evolution in this humorous book where the illustrations and story line will undoubtedly keep children hooked. 
Read it here: https://www.getlitt.co/book/i-wish-i-had-a-son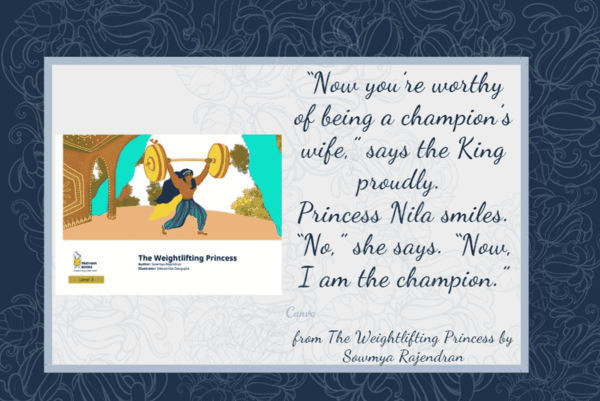 Are you tired of reading books about men with six-pack abs and large arms and strong bodies? Well then, 'The Weightlifting Princess' by Sowmya Rajendran is just the right pick for you. Princess Nila is eager to participate in The Surya Championship, the famous weightlifting contest in her kingdom, which is only a month away. However, she has to overcome many hurdles to emerge as the winner. Will she be able to break through the barriers and win the championship? Discover her story in this amazing book that challenges the norms and presents a protagonist who doesn't care about being a dainty princess.
Also, plot twist – Nila has to go up against Prince Vikram, a fellow competitor. Can you guess who takes the title?

Read the book here: https://www.getlitt.co/book/the-weightlifting-princess
Click HERE to check out this in-depth review by my fellow GetLitt! Editorial Council member Shreya U.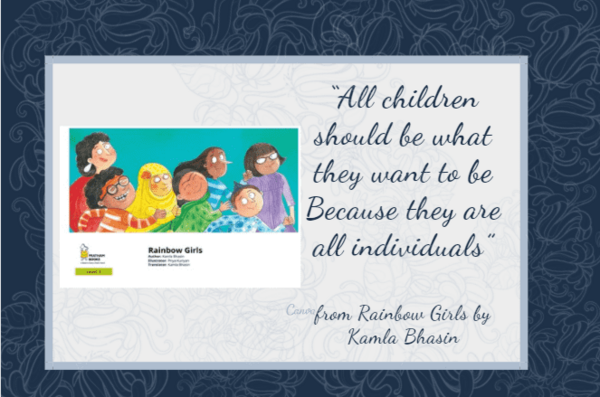 A simple yet wonderful book, 'Rainbow Girls' by Kamla Bhasin teaches young children that girls are not necessarily someone with long hair, introverted and studious. Variation is seen everywhere. Girls, just like other genders have a plethora of personalities and endearing quirks. This book normalizes that girls can choose to be what they want and not what society wants them to be. The simplicity with which a strong message is propagated in the book makes it worth reading. 
Read it here: https://www.getlitt.co/book/rainbow-girls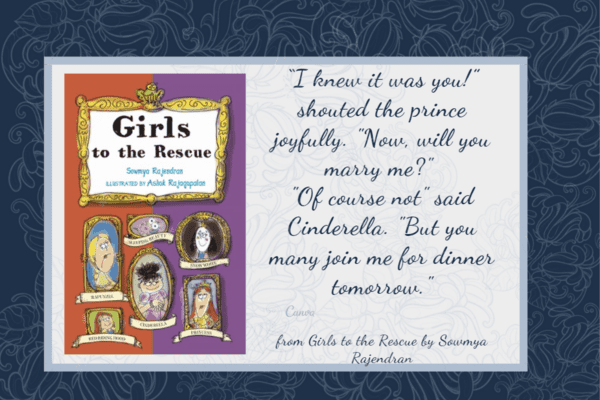 Are you tired of reading those stereotypical fairy tales wherein the princess is always saved by the dashing knight? Don't worry, we have found the solution to your problem. 'Girls to the Rescue' by Sowmya Rajendran challenges these notions about the princesses you know and love. It brings a refreshing and witty change to the classic stories that you have probably read, but found problematic. Protagonist such as Cinderella and Rapunzel have been ingeniously reshaped to bring forth the story of strong and courageous women who fear no one. This is a must-read for not only children but also adults who have admired such characters as children. 
Who doesn't love a book about re-tellings!
 Read it here: https://www.getlitt.co/book/girls-to-the-rescue 
Click HERE to check out this in-depth review by my fellow GetLitt! Editorial Council member Sana S.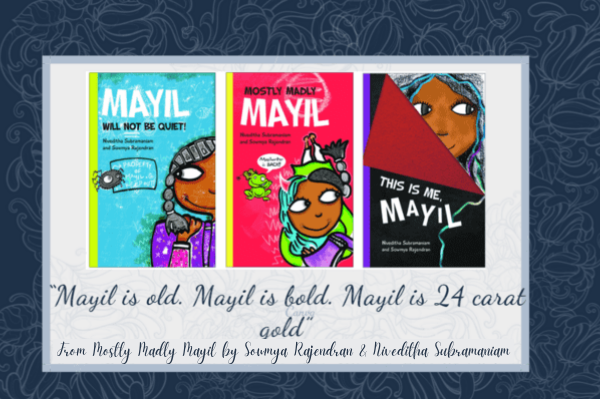 Meet Mayil the protagonist of this book who is fierce, spirited, and honest. The Mayil Series by Sowmya Rajendran and Niveditha Subramaniam is about Mayil who journeys through adolescence and navigates her way as she grows up to become a teenager. She encounters many mixed emotions like doubt, sudden clarity and then again anger and confusion. It is an undeniable book that questions many stereotypes that are prevalent in our society for ages with a tinge of comedy. I would surely recommend this book as a must-read for teens and also others. 
Read it here: https://www.getlitt.co/book/this-is-me-mayil
Final Thoughts
I hope you enjoy these fantastic books about strong little girls, that challenge norms that hinder our social progress. Personally, I believe it's not about equality, it's about equity. Equity is the equal opportunities and rights each individual deserves irrespective of their gender. Maybe this book list can help people of all ages and genders understand gender issues. And, just maybe the stories written on their pages will inspire people to change and treat all sentient beings with equality, equity, and empathy. 
Thanks for reading!
Like this blog?
Read: Words Of Gratitude From Powerhouse Women In Children's Literature
Read More: When Is Daughter's Day? Plus, A List Of Books Dedicated To Daughters!
Ritika Kalantri
Hi! My name is Ritika Kalantri. I am a grade 9 student at Bombay Scottish School, Mahim. A passionate writer, avid reader, and travel enthusiast, my hobbies include playing badminton, dancing, and singing. I am passionate about becoming an entrepreneur in the future. My other fields of interest include writing and debating. Want to describe me in three words? Well, here you go: Hardworking. Determined. Focused. I love to write about social issues, especially those that are serving as hindrances to our development. I wish to write my own blog soon and get more experience in the field of creative writing which I am currently pursuing just as a hobby. Can't wait to make a change in this rapidly evolving world! Ritika Kalantri is part of the GetLitt! Editorial Student Council, a 10-week, literary initiative aimed at getting students actively involved in reading, writing, and editing.