Can A 9th Grader truly be an Editorial Intern?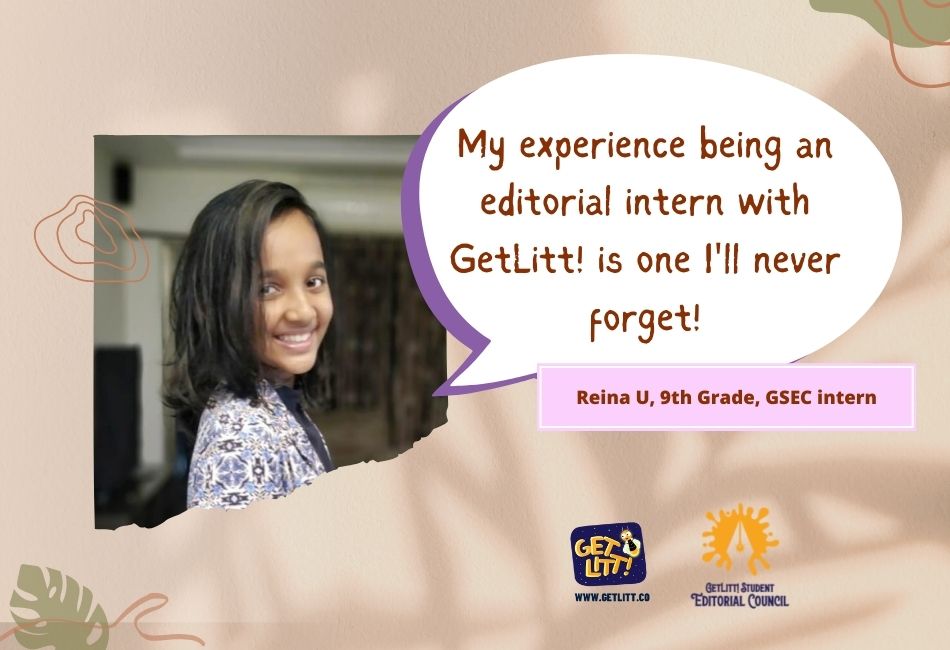 A journey is very scary before you begin. But, as you go along the way, you start to love the journey. Your happiness keeps on going up. Until you reach the end. The end of a journey hits you with an array of emotions. But, in reality, the journey never ends. You may not have the satisfaction of experiencing it over and over again, but it lives on in your memories and never dies. This is how I would describe my time being a 9th graders and an intern for the GetLitt! Student Editorial Council (GSEC).
For our final project for GSEC, I decided to describe the way my creativity increased over the past 10 weeks, through a special journal gifted to all 6 interns before the amazing journey began.
Before representing my journey, I decided that I wanted a guide. And, so, I created one! Meet BLUB.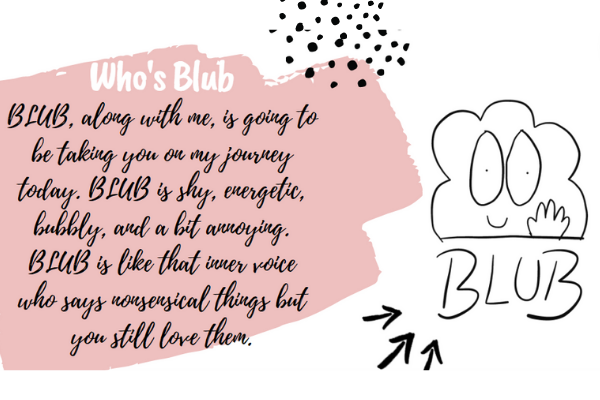 When the day of the first meeting rolled around, I was very nervous. However, as the meeting proceeded, I started to relax more and more. That is, I relaxed till the journal came up again. We were told to start filling up our journals but I had zero ideas on what to do. But then, after days of thinking, it finally hit me! I had forgotten the most basic thing I could do- take notes!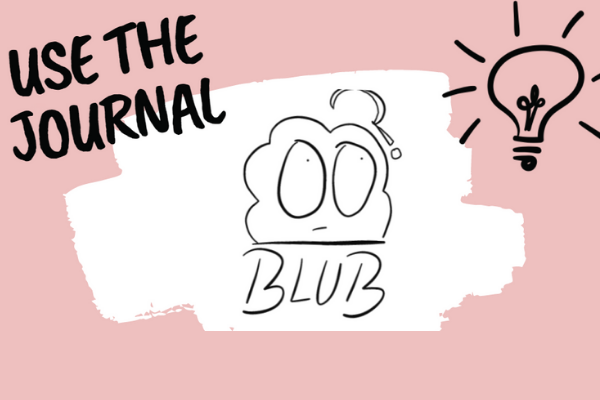 And so for the first couple of weeks, I started filling my pages with notes. For every meeting I attended, and every book I read, I made notes. It all looked so professional, that I was very smug about that. At least, I was smug till we were asked to present our journals. My jaw dropped to the floor. The others had beautifully created drawings, and well-spread schedules and all I had was my scribbled notes!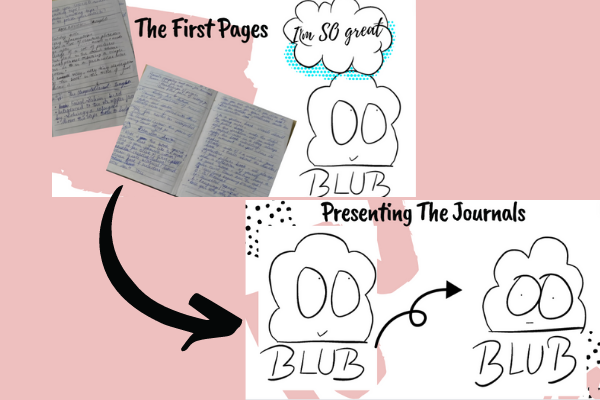 I couldn't let my journal become this boring! So, I started doodling tiny things in the margins. Then I thought to myself- why was I limiting myself to just simple doodles? My drawings came out just fine. And, I started to create drawings in my book.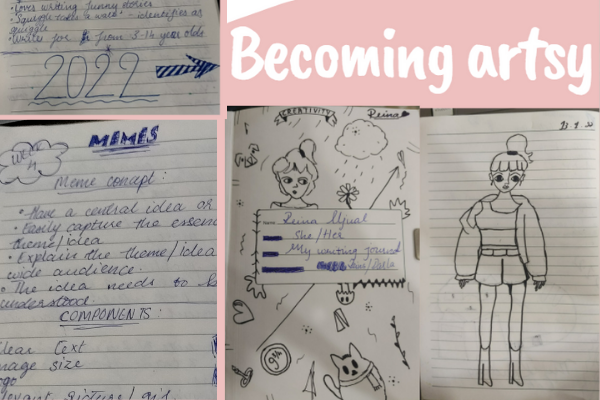 Out of all the assignments and weeks of GSEC, the interview one was my favourite. It was truly a magical time when I interviewed Natasha Sharma. And even during the interview, thanks to the way my creativity had developed over the weeks of GSEC, I was doodling in my journal.
And when the time for the final project rolled around, I knew right away that it had to be related to how I creatively developed through my journal over these 10 weeks. And after a lot of stick figures and weird humans, I came to BLUB.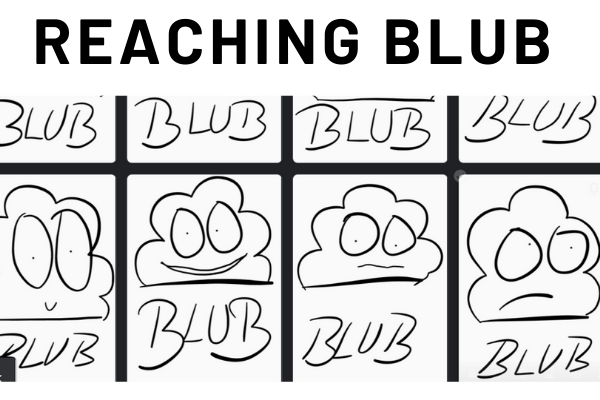 After I created BLUB, and after I worked on my final presentation, I took a step back and looked at what had happened over the past 10 weeks- all the things I wrote, my thoughts and my emotions. A strong bond had been built between all of us in this short time. And somehow, I can express this bond in words: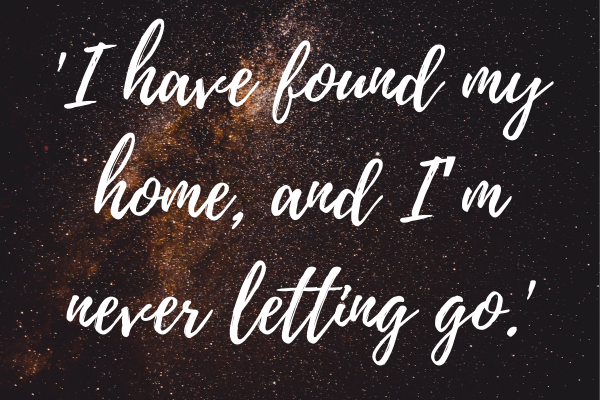 Why do I write? To be free. To explore something new. To explore a new part of me. To leave this universe and go to another one. To slay dragons and go time travelling. I've always been writing. From stories about talking animals to haikus about the rain, words have been my biggest escape. Every time something happens, I write. I write till I let out all my feelings. I write to express myself. I write to know and explore myself. I write till I reach a state of euphoria. But nobody understood. They liked, they praised- but they never understood. They never understood what was behind it. But now, I feel as though I have found my place. They understood and they knew- they were like me too.                                                                                   I have found my home, and I'm never letting go.
My experience with GSEC has been truly magical and has created an emotion that can only be felt and not named. And I don't think I'll ever lose that feeling. Although, my stint at GSEC is over physically, I will never stop living in my memories.
Like this?
Read: Do emotions have a gender?
Read more: 3 Reasons Why Speaking to Abhijeet Kini was an Unforgettable Experience!
Reina Ujual
Reina is a student of Bombay Scottish School, Powai, and is currently in 9th grade. Writing, football and reading are her primary interests along with music and dance. She does all types of writing but is most comfortable with fiction stories. Her current top book is 'We were liars' by E.Lockhart (but watch out, her favourite book changes all the time). She's currently obsessed with Demi Lovato's 'Heart Attack' and reading stories on Wattpad. She likes all genres of writing but somehow usually ends up writing horror. Her music taste varies from Selena Gomez to One direction. She loves interacting with people and getting to know them. Though she'll seem to be shy at first and not talk at all, stay with her for a few days and you'll wish she'll stop talking. Tell her you love Selena Gomez and she'll become your new best friend! Reina Ujual is part of the GetLitt! Editorial Student Council, a 10-week, literary initiative aimed at getting students actively involved in reading, writing, and editing.