List of Climate Change Crusaders Like Greta Thunberg
2734 Views
November 14, 2019
Every generation needs its youth icons that stir the hearts and emotions of the world. Well, today's blog is about climate change crusaders like Greta Thunberg who are at the forefront of the conversation.
Ever since the iconic speech by Greta Thunberg at the 2019 United Nations Climate Action Summit in September, thousands of teenagers and adults have woken up to the climate change conversation. However, there are others just like Greta who campaigned along with her. At the Summit were 15 others all under the age of 20 from various parts of the world – Ridhima Pandey, Alexandria Villasenor, Iris Duquesne, Ayakha Melithafa, Chiara Sacchi, Catarina Lorenzo, Carlos Manuel, Raina Ivanova, David Ackley III, Ranton Anjain, Litokne Kabua, Deborah Adegbile, Ellen-Anne, Raslen Jbeili and Carl Smith.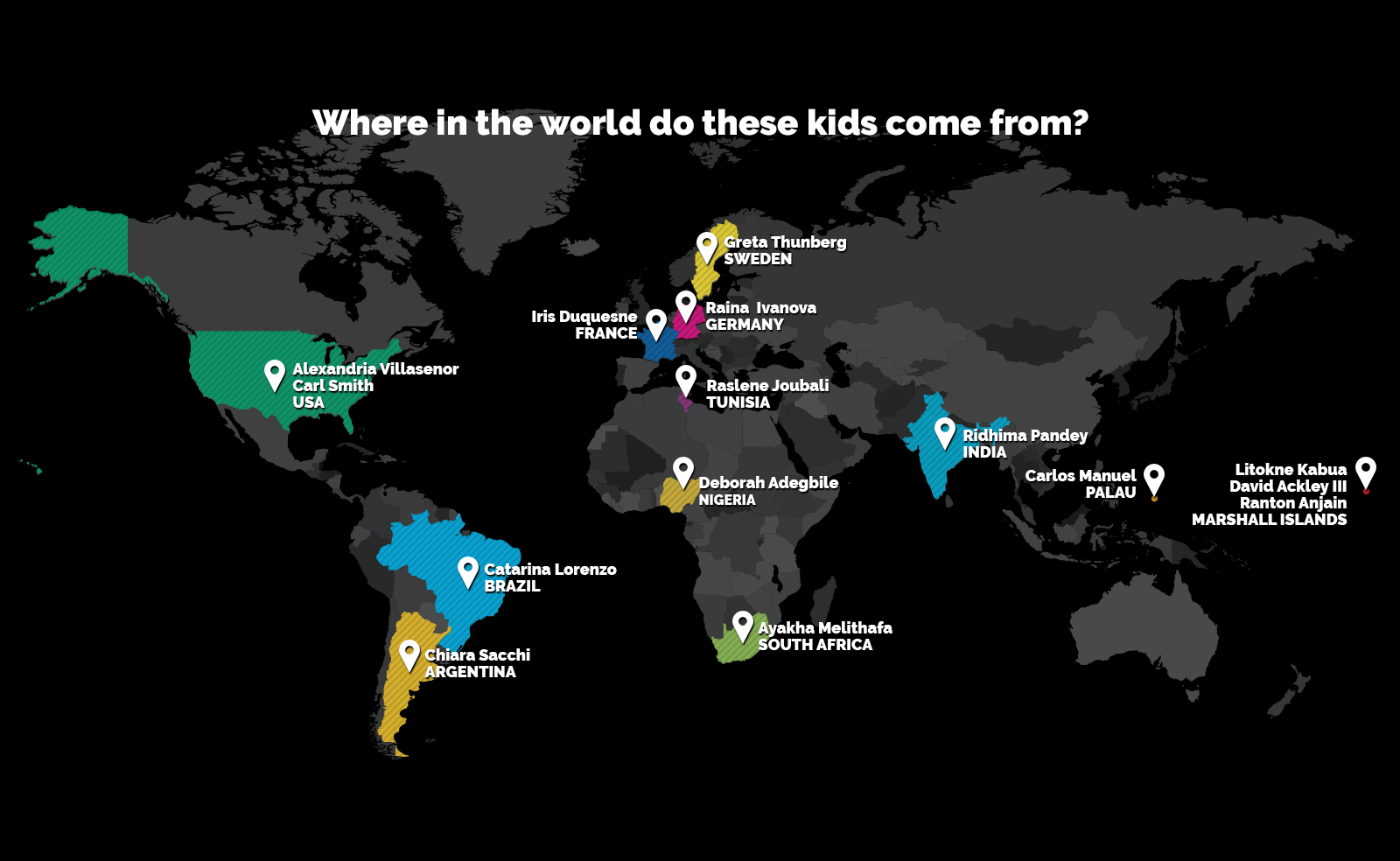 Image courtesy childrenvsclimatecrisis.org
The bold mission statement on the Children Vs Climate Change website; created by these 16 icons is clear for all to understand. It states – Sixteen children from across the world are petitioning the United Nations Committee on the Rights of the Child to hold five of the world's leading economic powers accountable for inaction on the climate crisis. If you'd like to know more about these amazing children, head to their website where they talk about their passions and their individual contributions towards battling the climate crisis in their respective countries.
We will talk about the two children from this esteemed panel in this blog. However, it is essential to also shed light on those who aren't getting as much media attention. So, sit on the edge of your seat and get ready to meet some iconic teenage climate change crusaders.
1. Boyan Slat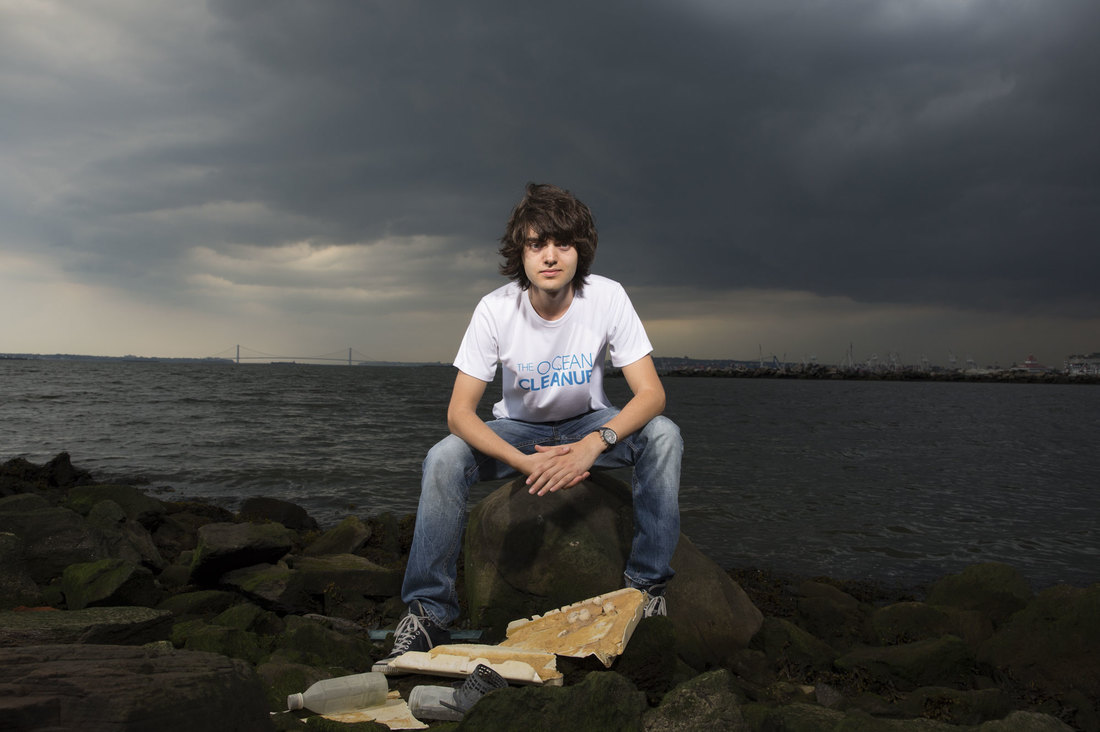 Image courtesy The Ocean Cleanup
Although he's 25 years old now, Boyan Slat's journey started when he went diving, in a garbage-filled ocean off Greece, at the age of 16. This experience caused Boyan to look for solutions that could clean up the oceans and get rid of all the plastic being dumped into it. In 2013, at the age of 17, he decided to drop out of his Aerospace Engineering study to focus on this cause and start his own company, The Ocean Cleanup.
According to CleanOcean.org, 'The Ocean Cleanup develops advanced systems to rid the world's oceans of plastic. Instead of going after the plastic, Boyan devised a system through which, driven by the ocean's currents, the plastic would concentrate itself, reducing the theoretical cleanup time from millennia to mere years.'
Boyan, who is the CEO of The Ocean Cleanup, has launched many prototypes of his systems to eradicate the oceans and rivers of plastic. The latest invention is called The Interceptor, which according to Maritime-executive.com, 'is claimed to be the first scalable solution to intercept river plastic pollution and can be deployed around the world. It is capable of extracting 50,000kg of trash per day – up to 100,000kg per day under optimized conditions.'
2. Greta Thunberg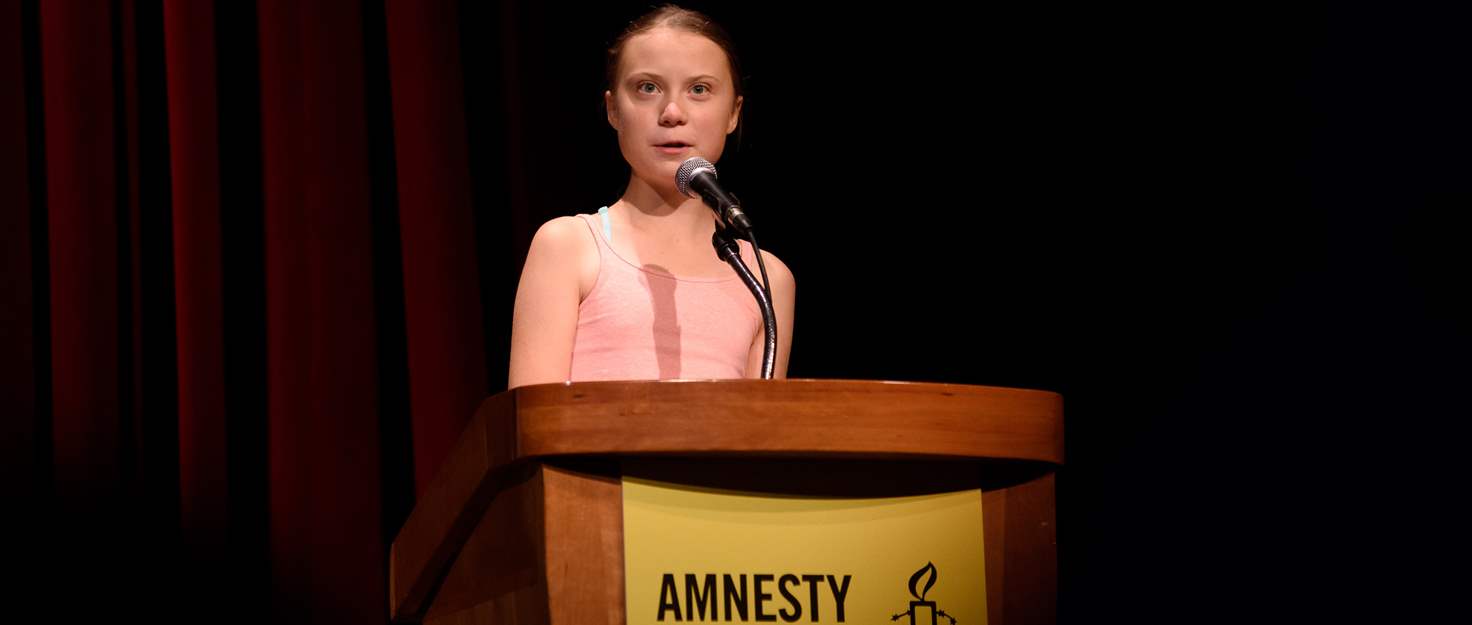 Image courtesy Amnesty international
The viral sensation, Greta Thunberg first shot to fame in 2018, at the age of 15 when she protested for 'action on global warming', outside the Sweedish Parliament. The 'school strike for the climate' protests brought together many local communities, and after her first speech at the 2018 United Nations Climate Change Conference, the protest went global.
We best know Greta for her heartwarming and hard-hitting address at the recent 2019 United Nations Climate Action Summit in September. She took a stand with 15 other teenagers and kids to shed light on climate change and hold five economic superpowers accountable for their lack of action on the issue. Since then, she has risen to fame and hopes to continue her mission to make a positive impact on the world.
A little known fact, Greta was diagnosed with Asperger's syndrome – a diagnosis that doesn't stop her from achieving any of her goals. She tweeted "When haters go after your looks and differences, it means they have nowhere left to go. And then you know you're winning! I have Aspergers and that means I'm sometimes a bit different from the norm. And – given the right circumstances- being different is a superpower. I'm not public about my diagnosis to "hide" behind it, but because I know many ignorant people still see it as an "illness", or something negative."
Isn't Greta just incredible? Not only is she doing good for the environment, but she's also standing up against trolls/bullies. Additionally, she is a positive role model for those on the autism spectrum. All this and she's only 16 years old – incredible!
3. Ridhima Pandey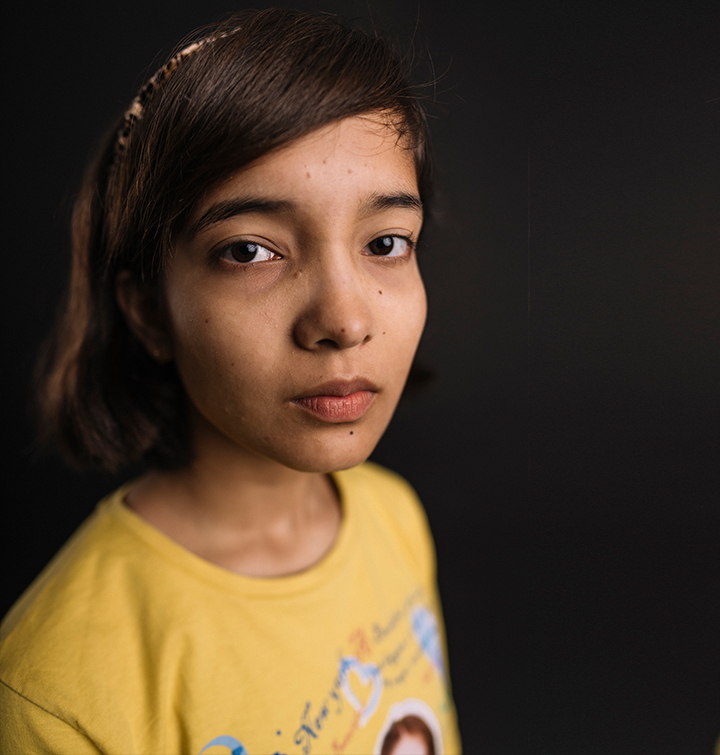 Image courtesy childrenvsclimatecrisis.org
On the panel of children who petitioned along with Greta Thunberg was an 11-year-old Indian girl named Ridhima Pandey. She first made waves in the media, back in 2017, when she filed a petition at the National Green Tribunal. She recognised that the government was not taking strict enough action on climate change and decided that the petition would help get the issue noticed.
Unfortunately, the National Green Tribunal said that climate change was covered under the Environment (Protection) Act and they disposed of her petition. A bit of good news though, she escalated her petition and it is now a matter for the Supreme Court. We hope they make the government take better action towards climate change issues that India is facing.
Ridhima comes from Haridwar and has watched how polluted the Ganges river has been all her life. As quoted from CSmonitor.com, Ridhima says "The government said they cleaned it but it's not true. We say the Ganga is mata (mother), that Ganga is a goddess for us, and we just pollute it."
Ridhima's interest in climate change was strengthened when the devastating floods happened in Uttarakhand in 2013. She knew then that it was time for the youth of this country to stand up against leaders to protect their future.
Way to go Ridhima – we admire your conviction and tenacity to make India and the world a better place to live. At only 11 years old, we can't wait to see the heights this climate crusader will climb.
4. Autumn Peltier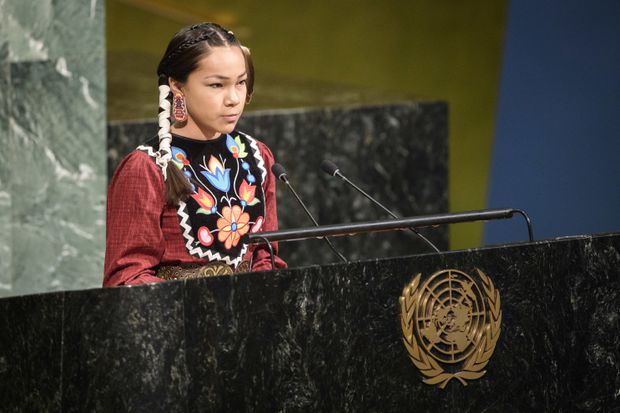 Image courtesy The Globe and Mail
We now take our list to Canada, where 15-year-old Autumn Peltier, an indigenous clean water activist resides. Autumn who comes from the 'First Nation' group called Wikwemikong, lives on Lake Huron, which is one of North America's Great Lakes (known as the largest group of freshwater lakes on Earth).
Growing up surrounded by this gorgeous landscape, it became apparent to Autumn just how climate change and pollution started affecting her environment. As reported to CBC, Autumn said "We keep seeing and hearing that there's First Nation communities that can't drink their water, that it's contaminated from pollution and pipelines breaking. One day it really affected me and I actually cried about it."
This heartbreaking statement is what propelled Autumn to become an advocate for protecting water and an official 'water protector.' Inspired by her aunt, the infamous Josephine Mandamin, who founded the Mother Earth Water Walkers organisation, Autumn too walks the Great Lakes intending to shed light on the need to protect them against contamination. These peaceful protests caught the attention of Canadian President Trudeau, who met with the teenager.
At their meeting, Autumn offered up a copper water bowl to the president and, according to BBC, she said: "I'm very unhappy about the choices you've made." Alluding to the fact that the President has signed off on many pipeline deals that affect the Great Lakes. President Trudeau has since promised to protect the water systems in Canada.
Autumn is a perfect example of how compassion and peaceful acts can change the minds and hearts of leaders.
5. Artemisa Xakriabá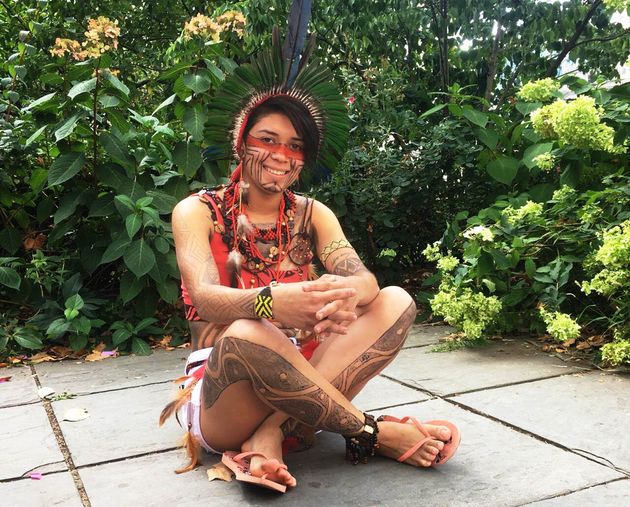 Image courtesy HuffPost
This fantastic climate crusader is from the Brazilian Amazon, and her name is Artemisa Xakriabá. The 19-year-old grew up seeing the land around her succumb to political greed, destruction, violence and most recently – climate change. That's when she realised it was time to fight for Mother Earth and its people.
Speaking at a recent climate strike in New York, Artemisa addressed a crowd saying "We fight for our Mother Earth because the fight for Mother Earth is the mother of all other fights. We are fighting for your lives. We are fighting for our lives. We are fighting for our sacred territory. But we are being persecuted, threatened, murdered, only for protecting our own territories. We cannot accept one more drop of indigenous blood spilled."
Artemisa is also a member of the Global Alliance of Territorial Communities (GATC) group. Earlier in 2019, representing the GATC, she took part in the first-ever march for indigenous women that was held in the capital of Brazil. This march was to protest against President Bolsonaro's policies related to the forest fire occurrences in the Amazon.
Artemis' fiery passion for her people and her land is what makes her stand out from the crowd. We need more teenagers like her, who are uniquely themselves and want to make a change in the world.
6. Xiuhtezcatl Martinez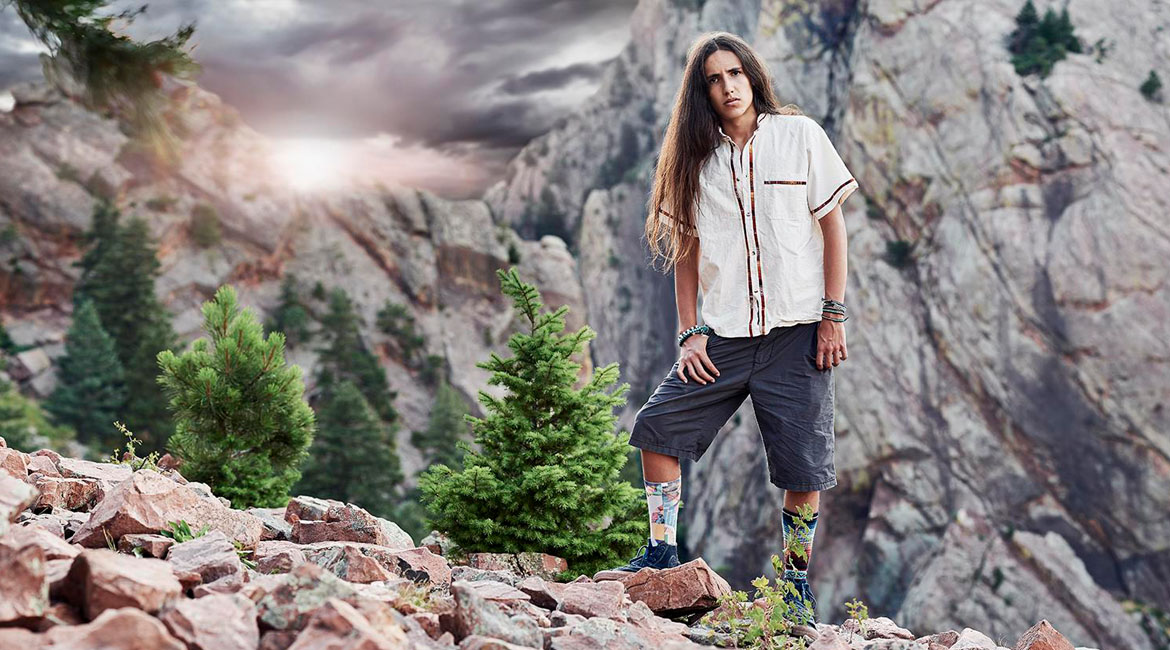 Image courtesy omdfortheplanet.com
You may know this next climate crusader from his hip-hop music – that's right we're talking about Xiuhtezcatl Martinez. Currently 19, Xiuhtezcatl has already made three speeches at the United Nations addressing the issue of climate change.
He grew up in a household that was passionate about the environment and our planet Earth. His mother, Tamara Roske, founded Earth Guardians in 1992, an environmental awareness organisation; Xiuhtezcatl is the Youth Director and spokesperson of this organisation and has been giving speeches since the tender age of six-years-old! As stated in EarthGuardians.org 'Xiuhtezcatl began speaking around the world, from the Rio+20 United Nations Summit in Rio de Janeiro, to addressing the General Assembly at the United Nations in New York city.'
If that wasn't impressive enough, according to Dazed.com, Xiuhtezcatl is one of '21 youths involved in a lawsuit suing the US government and the Donald Trump administration for failing to act on climate change.' His involvement in the case makes Xiuhtezcatl the type of role model who backs up his speeches and protests with legal action. That's something even an adult would be apprehensive about – Bravo Xiuhtezcatl!
Climate Change Crusaders Under 20
On that note, we'd like to conclude our list of climate crusaders under the age of 20. We hope you enjoyed getting to know these role models and will take steps to better the environment around you. Even the tiniest of steps can cause a ripple effect.
We'd like to end on a quote by Xiuhtezcatl Matinez from a speech he gave to the UN in New York – He says "What's at stake right now is the existence of my generation." So let's take a vow to be more mindful of our actions and make the world a better place.
Like this?
Read: The Complete Indian Nobel Prize Winners List!
Read More: Book List: Indian Heroes and Role Models to Read Up On This Independence Day!