Meet The Child Poets Of GetLitt!'s Creative Writing Program!
1328 Views
April 12, 2021
Around the world writers, rappers, lyricists and poets have been testing their creative writing skills for 'National Poem Writing Month' – a poetry writing challenge, where one is tasked to write a poem a day, throughout the month of April. 
All of us at GetLitt! believe that poetry should be celebrated all year round and not just in the month of April. That's why as part of our creative writing topics, we teach poetry to all our students who enroll in the GetLitt! Creative Writing Program.
Online creative writing courses like ours give students the opportunity to express themselves outside the norms of their school's curriculum. We created the GetLitt! Creating Writing program for kids from grades 4 to 7, keeping in mind that kids have a wealth of untapped talent. It's our privilege to nurture and inspire the students of our CW program and see first hand the results that come from the right literary guidance. Not to mention, our online video call classes a riot of chaotic-creative fun! 
So, sit back, preferably with a class of chai, and get ready to immerse yourself in the world of poetry created by the students from our program. They've allowed us to share their amazing creations and have given us a peek into their whimsical and sharp minds. 
GetLitt's Creative Writing Program Student: Aanya S, Billabong high, Grade 6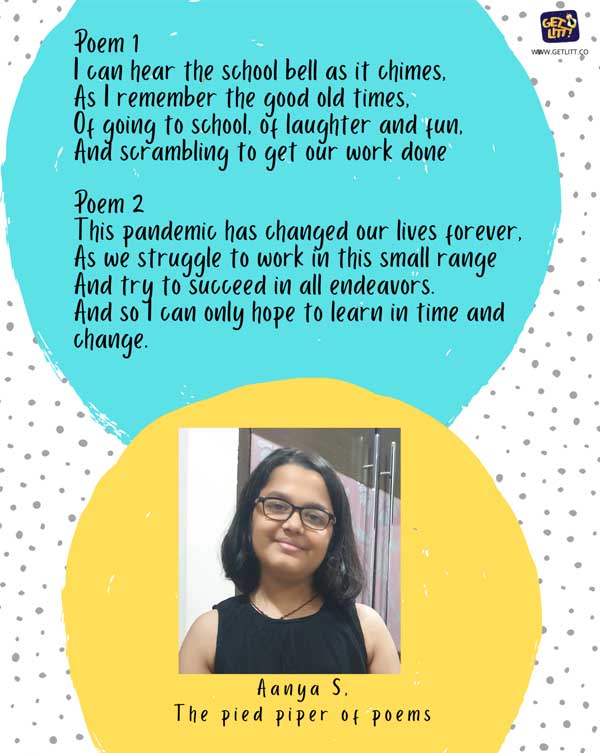 Praise from GetLitt! Faculty Tarika Nalwa: Aanya shows off her poetry and rhyming skills in these two great quatrains (a 4-line poem). For each poem, she uses a different rhyme scheme to showcase her understanding.
GetLitt's Creative Writing Program Student: Keisha R, Bombay Scottish School, Grade 6
Praise from GetLitt! Faculty Tarika Nalwa: Couplets make a poem sound rhythmic and Keisha displays that in her poem about the cuckoo in a clock. The structure along with the amazing word choice makes this poem great to read and listen to!
The Cuckoo
The cuckoo which lives in my clock
Sings as loud and rowdy as a cock
Its shrill harsh tones
Always chill my bones
The sweet elm, which it once used to bore
Is now as frail and soft to the core
Yet it never fails, day to day
And it never goes and flies away
GetLitt's Creative Writing Program Student: Reyansh S, Grade 5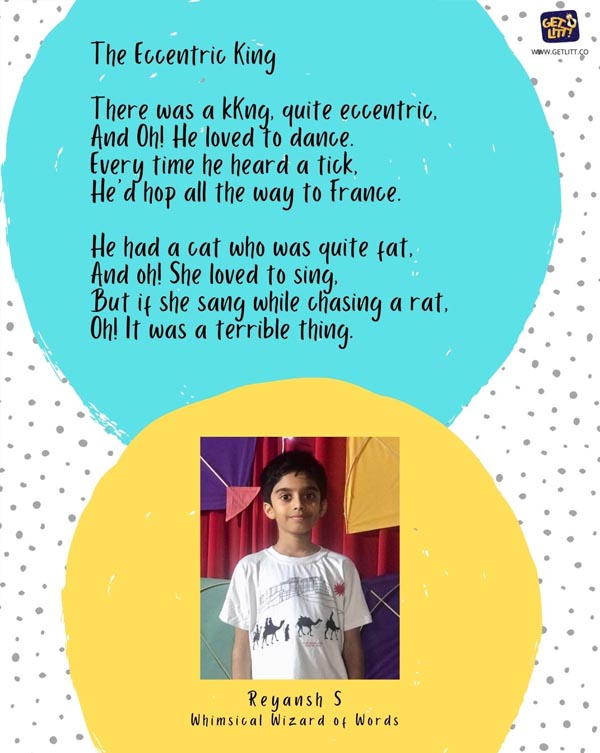 Praise from GetLitt! faculty Aishwarya Ravindran:  Reyansh's first attempt at rhyming poetry in our first session gave us all the giggles.  
The Eccentric King
There was a king, quite eccentric,
And Oh! He loved to dance.
Every time he heard a tick,
He'd hop all the way to France. 
He had a cat who was quite fat,
And oh! She loved to sing,
But if she sang while chasing a rat,
Oh! It was a terrible thing.
 He had a hen who had a pen,
And Oh! She loved to write,
But if people saw her handwriting,
It would give them a fright.
 He also had a goat who designed the castle moat,
And Oh! He loved architecture,
But if you even mentioned butter toast,
He'd give you such a lecture. 
It was such a trouble to manage these animals,
That the king had servants sixty,
Then he bought twenty camels,
Hoping they were smart and really nifty. 
 So, what to learn from this King,
Is to keep animals never,
Whether they do or don't have wings,
They are just much too clever.
GetLitt's Creative Writing Program Student: Sriram C, Phoenix Greens School of learning, Grade 7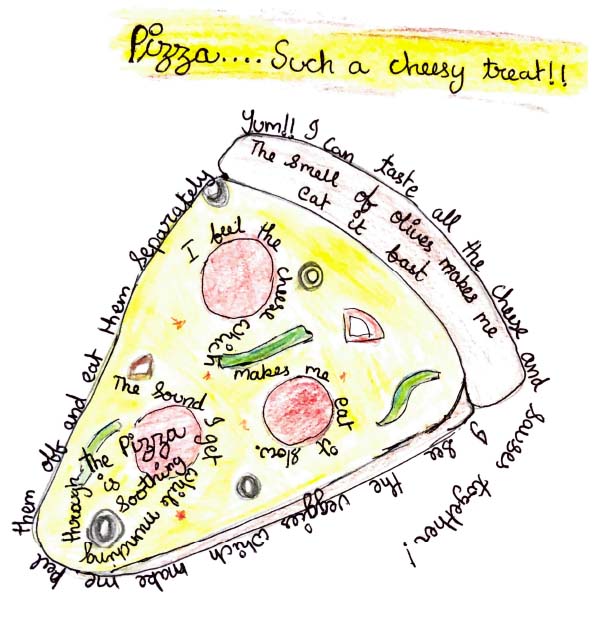 Praise from GetLitt! Faculty Tarika Nalwa: Sriram's concrete poem combined all the sensory experiences of eating a delicious pizza in his words with a great visual! Reading this poem will have your mouth watering! 
GetLitt's Creative Writing Program Student: Annabel D, Bombay Scottish School, Grade 5
Praise from GetLitt! Faculty Tarika Nalwa: Alliteration is always amazing! Annabel's "The Gala Race" used alliteration, repetition and seamless storytelling to create a beautiful poem with great images. 
The Gala Race 
Go! Go! Win the Gala Race!
Gilda's in third, Gabriel in second And good gracious! George is first! Go! Go! Around the bend!
Great! George won the Gala Race! Let's dance with gladness and glee Let's be gay and let's all say,
"Hooray! Hooray! Today's a great day!" 
Those were just five of the hundreds of submissions we have received. The Creative Writing Program started in 2012, so as you can imagine we have a wealth of amazing content that we will be sharing with you on our blog page and through social media. 
If you not already, do make sure to follow us on Instagram, FB, and Twitter – our handle is @Getlittnow. Remember to like, comment, and share this blog to support the kids who put their heart on sleeves and their words to paper!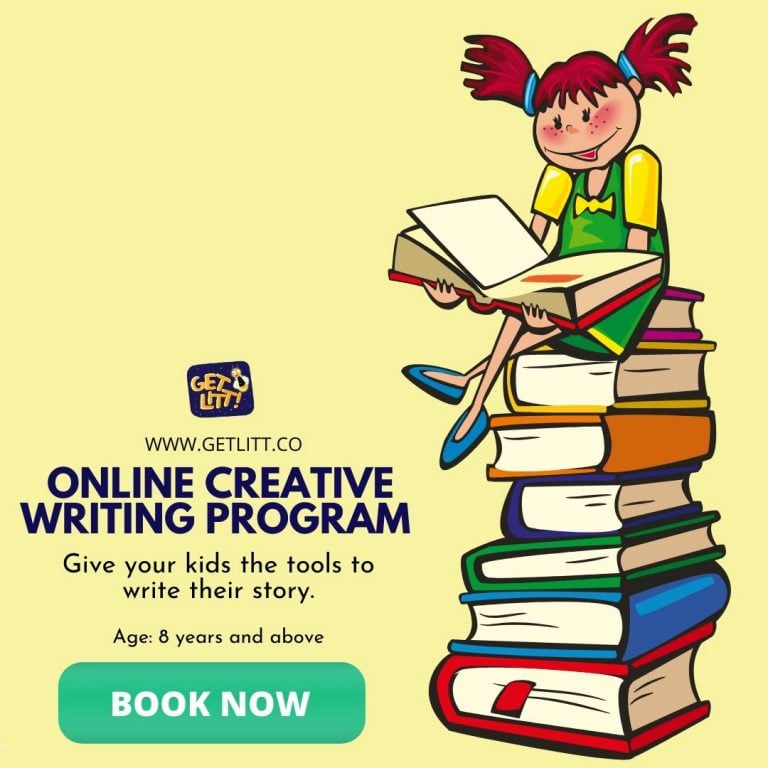 All the students mentioned in this blog are part of the GetLitt! Online Creative Writing Program for Kids! This program includes sessions with experienced in-house faculty exploring various non-fiction, fiction and poetry topics. The goal is to provide children with writing structures while still giving them a space to think creatively and tools to express themselves.
With small-group sizes and consistent writing exposure and practice, our students are able to create a repository of different writing pieces.
If you are interested, please mail us at support@getlitt.co or register at HERE (bit.ly/GL-Writing)
Till next time,
Happy Reading! 
Like this?
Read: GetLitt!'s CW Students Featured in the Blue House Journal!
Read more: The Stars of GetLitt!'s Online CW Program