GetLitt!'s Creative Writing Students Featured in the Blue House Journal!
1510 Views
November 26, 2020
GetLitt!'s Creative Writing Program (CWP) is something we are all very proud of, not just because we thoroughly enjoy our interactive session with the students, but because of the growth we see in them. Along with our guidance, their work and love for literature blossoms into something that's lovely to behold.
It's not just us, but others are noticing this blossoming, too! Recently, we encouraged our CWP students to submit their work to the Blue House Journal – a digital literary journal focused on the 'I voice' and construction of written self. We're happy to announce that of all the submissions they received, four of our student's work got featured!
Writers and creators from all walks of life submitted their written pieces and artwork based upon the theme that was set by the editorial team of the Blue House Journal. This time the theme was 'Water.' Our students, inspired by the theme, set out to create different written pieces that conveyed their thoughts and emotions on the subject.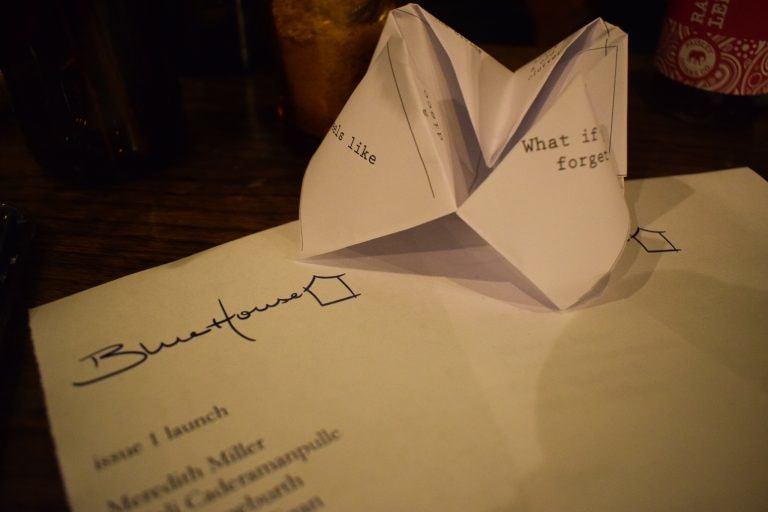 Image courtesy Blue House Journal
Meredith Grace Thompson, editor, Blue House Journal, was particularly impressed with our student's entries, saying, "We received over 300 individual submissions for this issue of BlueHouse, so it was not an easy decision! Students who were not selected should not feel discouraged! And because the theme was so specific, there was a lot of overlap between pieces. For instance, there were at least five pieces called "Water" that dealt with similar subject matter to Hershika's." – and even so, our student's work was featured, because of the quality of her poem!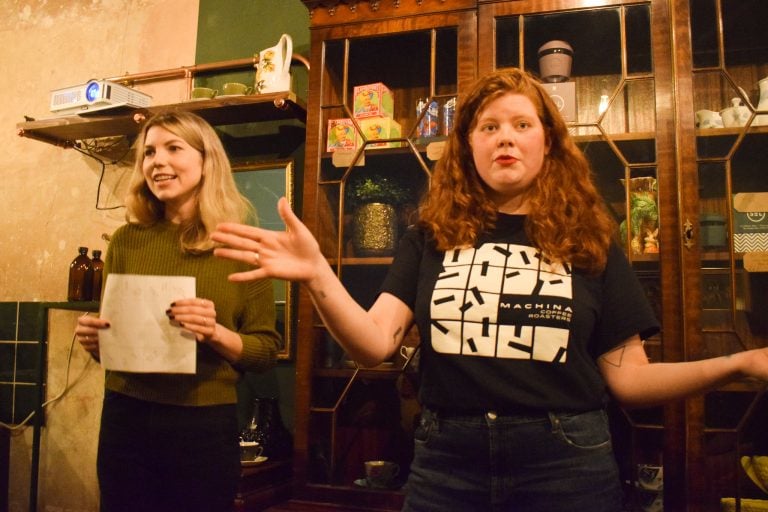 Team Blue House Journal at their issue launch. Image courtesy Blue House Journal
It's a great sense of pride to see the work created by our students be featured in notable periodicals like the Blue House Journal and we hope that in the months to come, there will be more milestones like these to share with you, our Getlitt! Community.
If you would like to read issue 3 of the Blue House Journal, click HERE. Just a reminder, not all the content in the journal is suitable for a younger audience, some pieces contain mature content, reader discretion is advised.
Our Student's Featured Work
We'd like to introduce you to the work our Creative Writing Program students Reina U, Ayonija M, Hershika G and Abhineet G submitted to the Blue House Journal. Editor, Meredith Thompson, was kind enough to share her thoughts on our student's work, too. We're sure they will keep her kind words with them forever!
As an extra perk for our GetLitt! community, we asked some of the students to share their emotions on what it feels like to be featured. Their video testimonials are featured below.
Enjoy!
Hershika G, grade 7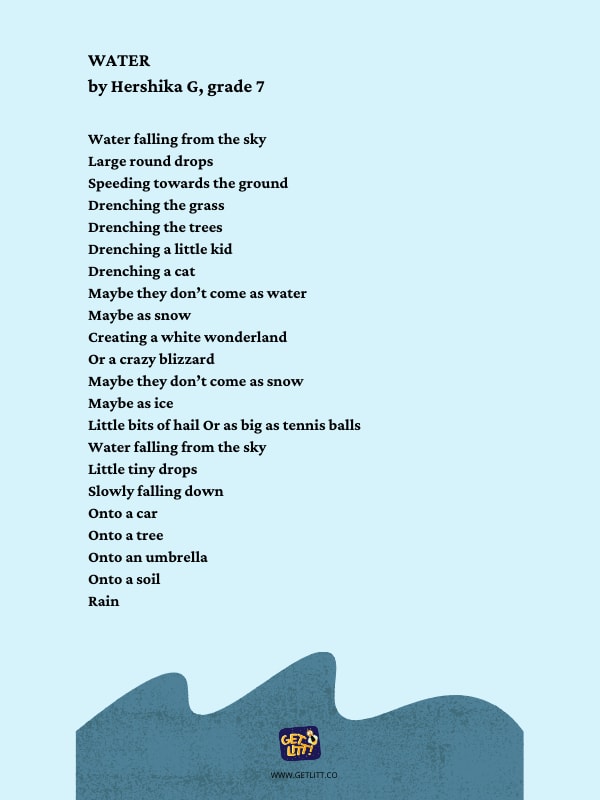 Speaking about Hershika, Meredith Thompson says, "I like the line breaks of the piece. The lines are falling ahead of one another as if simulating rain. As I said, there were several pieces with this same title, and similar subject matter, but this piece was our absolute favourite. I love the four repetitions of "onto" towards the end. It's rhythmic in the way of rain. Its language is simple, not attempting to do anything but create this image and feeling of rain/snow/ice/hail. It also does an excellent job of setting natural water (rainfall) in an urban environment."
Reina U, grade 8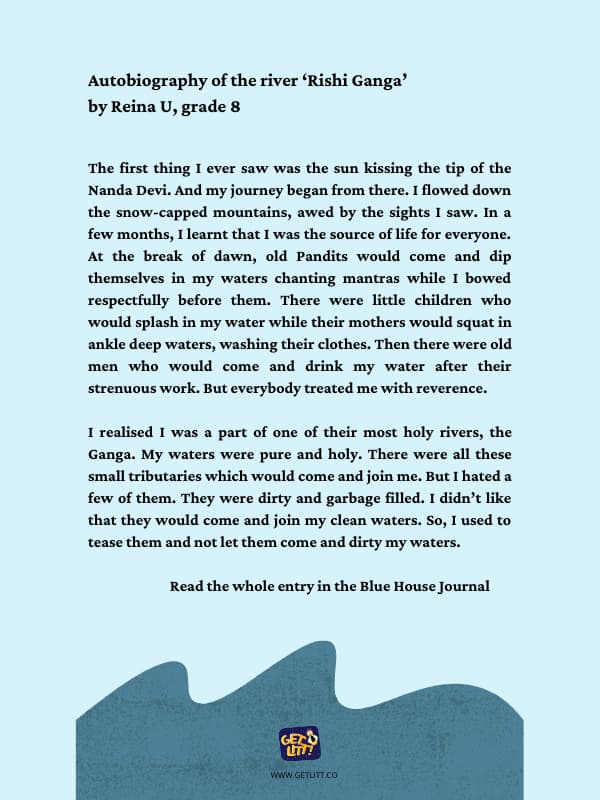 Speaking about Reina, Meredith Thompson says, "Amazing title. Absolutely amazing title which hooks the reader right away! I love the journey of the river. The first person, pressing, movement through, around, in, and towards the larger world. It is a completely unique piece with a very strong voice!"
Abhineet G, grade 9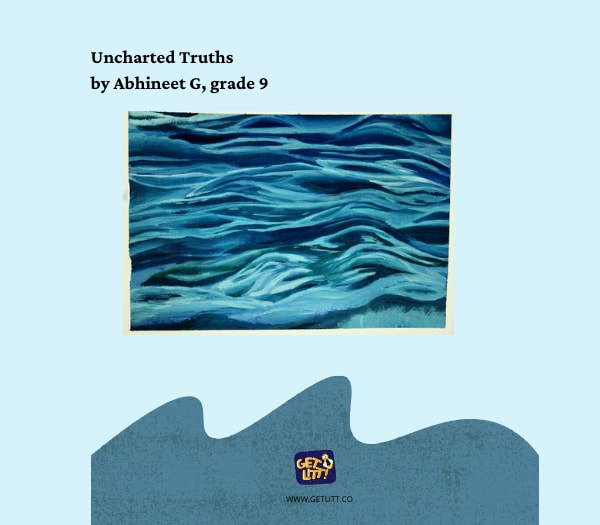 Speaking about Abhineet, Meredith Thompson says, "I love this painting and I wanted it in the journal as soon as I saw it! The colours are amazing. The solidness of the waves. The overwhelming nature of the water covering the space of the page – this painting is one of my favourite pieces!"
Ayonija M, grade 4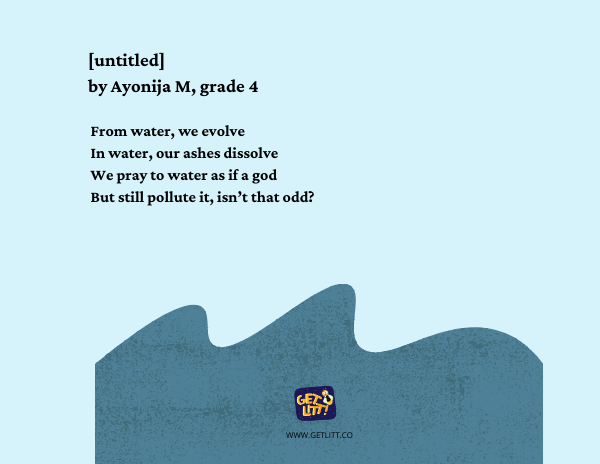 Speaking about Ayonija M, Meredith Thompson says "I love the two rhyming couplets together, and I would prefer not to break them up. But of course, it is the writer's preference!! This poem is compact. It is obvious how carefully every word was chosen. It spans eons and life-cycles and the religiously of water and climate change in a single breath! It is also a brutally harsh truth, that makes me laugh every time I read it (with a loud "Ha!") because it is ridiculous that we pollute the thing that is our life force. This poem captures that juxtaposition perfectly!"
Meet Ayonija and Hershika
The students who are enrolled in the GetLitt! Creative Writing program, truly are one of a kind. Their work featured in the Blue House Journal is a testament to how nurturing the reading and writing skills of a child can open doors beyond imagination.
We at GetLitt! are committed to #raisingreaders and we hope this blog post will inspire you to support your child in discovering their unique voice. To get more details of our program, connect with us at http://bit.ly/GL-Writing
We look forward to seeing your little ones on a virtual call, soon!
Want more content like this?
Check out:
The Stars of GetLitt!'s Online Creative Writing Program
10 Children's Book Recommendations from GetLitt!'s Little Readers!