Top 5 Poetry Activities to Keep Kids Busy During the Lockdown
847 Views
January 25, 2022
During the lockdown, we've all been in search of fun activities to keep us occupied. Now that we're encouraged to stay at home again, we'd like to share one great hobby for kids and adults alike, That is – writing poetry!
Poetry can act as a stress buster, a way to express your thoughts and feelings or it can just be an exciting way to have fun with words, rhythm and rhyme! One of the things we love about poetry is how versatile it is. It can be anything you want it to be and there are no rules.
It's wonderful for kids to have an outlet to just be themselves and have fun with writing. Plus, it fosters creativity and improves their vocabulary. This is why we've compiled a list of 5 exciting activities to bring out your child's inner poet and keep their creative juices flowing even during the lockdown!
1. Write an acrostic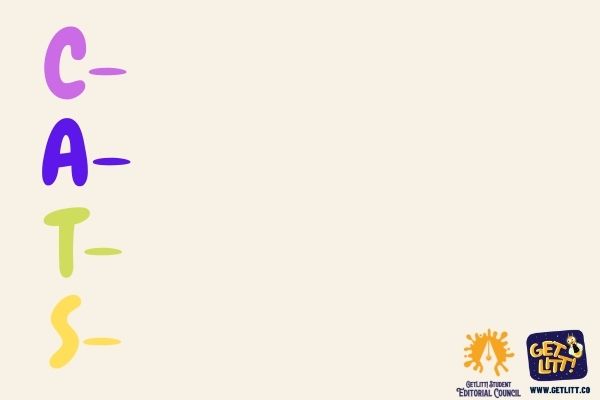 Writing an acrostic is a great activity for kids to improve their vocabulary and will definitely be tons of fun as they'll be writing about their favourite subject! All you have to do is:
It could be your favourite sport, animal, colour, toy or season. It could even be an emotion like joy or sadness. You can also choose your own name!
Write the word out vertically, with each letter on the next line. To make your poem colourful, you could write each letter in a different colour. It should look something like the image above. 
Now comes the fun part! Pick one adjective beginning with each letter of your word that describes the word you chose. For example: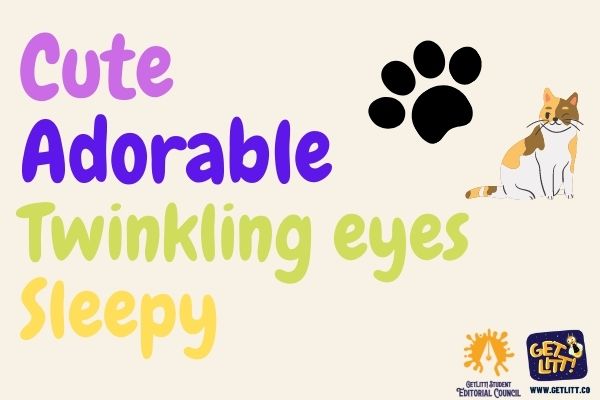 You can also write sentences describing your word. Remember to have fun! The acrostic poem can be anything you want it to be.
2. Write a Shape Poem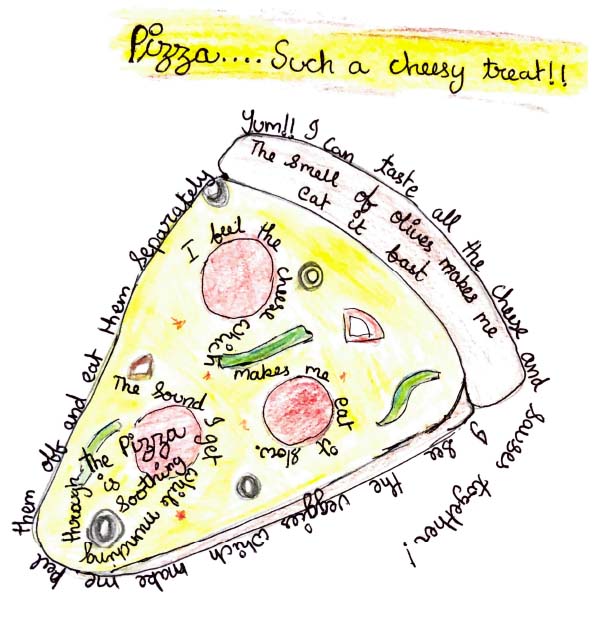 Image courtesy Ananya S, GetLitt! Creative Writing student.
Shape poems are a wonderful way to combine drawing and art with poetry. They are very fun to create with the family. Plus, it's an ideal activity for all those free afternoons on the weekends spent indoors. 
The picture above is an example of a shape poem created by Aanya S, a student of the GetLitt! Creative Writing Program. You can check out the blog, which includes the wonderful work of all the other students of this program to get some inspiration
How to write a Shape Poem
Pick an object of your choice. It could be an animal, food, a toy or maybe just the first thing you see when you look out of the window!

Once you've decided your object, sketch a rough outline of that object on paper.

Now, write a short poem based on your object, it could be rhyming or just free verse.

After this, arrange your poem within the outline of your shape, you can be very creative with this and you can even colour in your shape to make it look nicer!
3. Write a Cinquain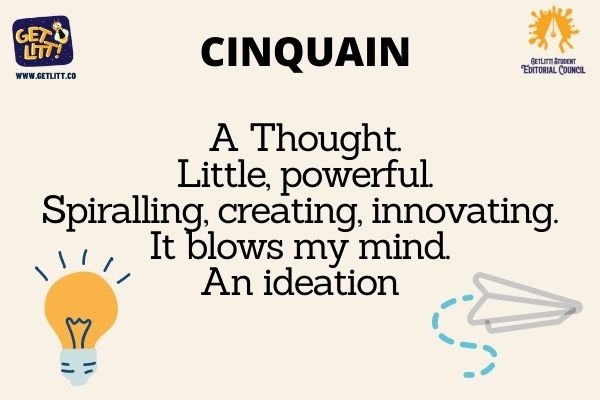 Cinquains are a great form of poetry to start with as a beginner. They're the perfect mix of structure and creative freedom and leave you with a lovely poem at the end! 
How to write a Cinquain poem
Cinquains have five lines

Line 1: 1 noun (this is the subject of your poem)

Line 2: 2 adjectives to describe your noun

Line 3: 3 verbs (action words related to your noun)

Line 4: 4 word phrase related to your noun

Line 5: 1 synonym for your noun
You can choose any word you like! You can modify the format if you want, too.
4. Create a Poetry Relay
This fun group activity is great to do with the whole family! You can play it during long drives, family dinners or just to spend some time with your family. You can either recite the entire poem. Or if like us, you have a bad memory, write it down!
How to create a Poetry Relay
To play this game, at least 2 people are required, but the more the merrier!

The person who starts decides a phrase or sentence.

After this, they call out the name of someone else from the group and that person adds on to the sentence with another phrase.

This continues until everyone agrees that the poem is completed.

Every turn should go quickly and by the end you'll have a fun and silly poem which everyone can laugh at together! 
5. Write a Poem about your Feelings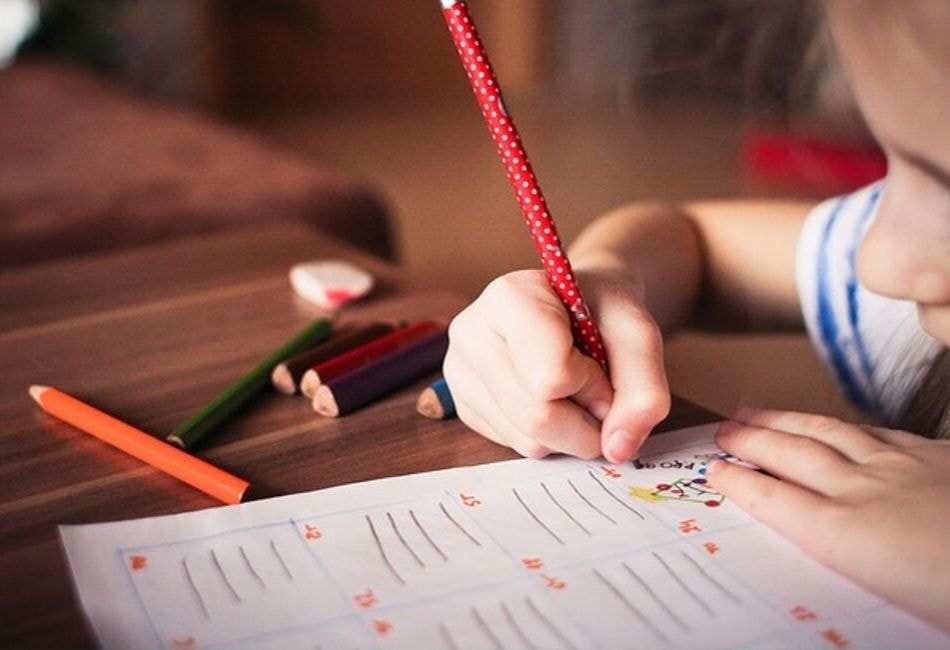 Free image courtesy unsplash
Writing a poem is a wonderful way to express your emotions and get in touch with your inner feelings. It will definitely help you to gather your thoughts and also teach children how to identify the complex emotions they have.
Ask yourself about your mood, thoughts and feelings and reflect on them.

Write down the first five words that come to mind, they can be emotions, objects you associate with your mood or even a location.

Now, use these five words as prompts to create your poem. The poem can be in any style and doesn't have to follow any specific format.

You'll be left with a piece that is very personal and meaningful to you!
We find that poetry is a great outlet for whenever you're stressed or overwhelmed. It provides a creative outlet to express yourself. Plus, these activities can really help when feeling uninspired and it acts as a pick-me-up if you're feeling blue. 
Now that you've practiced the activities we've mentioned in this blog, how about a challenge?
The 7-day Poetry Challenge!
We've got 7 poetry prompts for each day of the week, that will get your creative juices flowing and inspire you to create something magical! So challenge yourself to write a poem a day for seven days with the help of these prompts. Feel free to add your own twists and spins on the topic. Write in any form or style of poetry that you find interesting, or you can try using our suggestions to experiment with new types of poems.
Day 1:

A colour

(Suggestion: a haiku following the 5-7-5 syllables pattern)

Day 2: Catastrophe (Suggestion: an acrostic)

Day 3: 'The End of the Rainbow' (Suggestion: Free Verse)

Day 4: Clouds (Suggestion: a shape poem)

Day 5: Change (Suggestion: tanka: a five-line poem following a 5-7-5-7-7 pattern)

Day 6: Personality ( Suggestion: a cinquain)

Day 7: An animal (Suggestion: limerick: a five-line poem following an AABBA rhyme scheme)
Start Your Poetry Writing Now!
Be sure to tag us on social media if you share any of your poetry activities. Plus, if you've got some poetry activities that you've done with your kids, do drop us your suggestion in the comment section. We'd love to hear them. 
We're sure this blog post has inspired you to dive deeper into poetry. So, check out our other blog about the best poetry books for kids to read, HERE.
Happy poetry writing!
Shreya Upadhyay
I'm Shreya Upadhyay, a student in the ninth grade. When I'm not studying, my hobbies include reading, writing, and crocheting. I'm the kind of person who can read anything, fiction or nonfiction. I love fantasy novels like Percy Jackson, Harry Potter, and Lunar Chronicles. I also enjoy writing poetry and experimenting with different forms of poetry and writing. I love to learn new things and when I decide to do something, I will not stop till I get it done. Earlier this year, I decided to learn how to crochet. After following a few Youtube tutorials, I really got into it and now I always have a project to work on. I also like to play the piano and basketball. I love cats and dogs as well :) Shreya Upadhyay is part of the GetLitt! Editorial Student Council, a 10-week, literary initiative aimed at getting students actively involved in reading, writing, and editing.