10 Young Adult Books That Are So Good, You Have To Read them Again!
1339 Views
February 4, 2022
Every year I have one resolution that's easy for me to stick to and that is reading books. However, for a change, this year I decided to go back to my old books and read them once again. When I started to write my list, I ended up shortlisting 20 books – and I still had more to go! But, with a lot of crossing and cutting I finally (finally!) came down to 10 books that I would surely read again this year. 
Here are my top 10 Books to Re-Read in 2022
1. We Were Liars, by E.Lockhart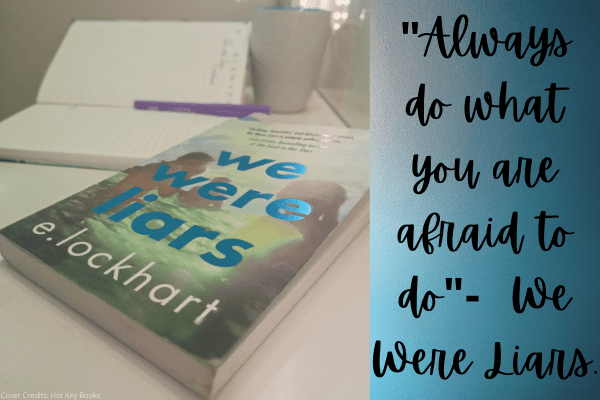 Is it possible to fall in love with a book? Because I fell head over heels in love with this one. This magical book revolves around the rich Sinclair family and their lives on Beechwood Island. The 3 cousins, Cady, Johnny and Mirren, and their childhood friend Gat are the Liars on the island. This is their story. Their story of love and loss. Their story of grief and hope. Their story of mistakes and their consequences. In short, We Were Liars is the type of book which will always stick to you. However, this book is mature and should be read by people 14 years and above. This book is probably going to reach every reading list of mine. And when you're stuck in your houses, this book is the correct thing to bring a little excitement back in. I'll move on to the next book with one promise- We Were Liars is going to bring out every emotion that's there inside of you. 
2. Everything, Everything, by Nicola Yoon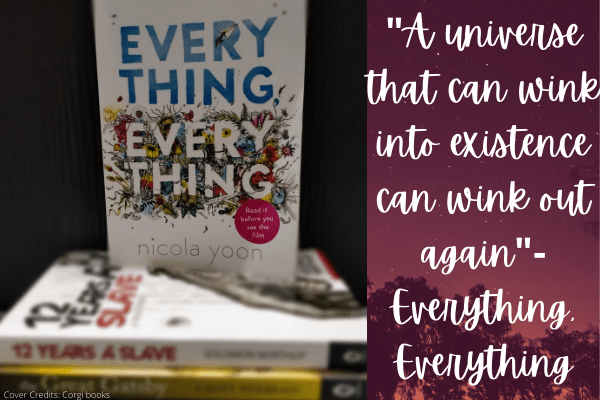 Everything, Everything is the second young adult novel that crept its way to my heart. This book is about 18- year old Maddy who suffers from SCID. Her entire life she's been inside her house and not stepped out. She has the same routine every single day. That is until Olly moves next door. Their friendship blooms and Maddy is going to realise that it's not easy to have a friendship while being confined to her house. This book is lovely in every single aspect. The story has been conveyed in such an easy yet strong way. The book is recommended for kids 13 years and above. It's even been changed into a movie. Everything, Everything won't disappoint. 
3. Book Thief, by Markus Zusak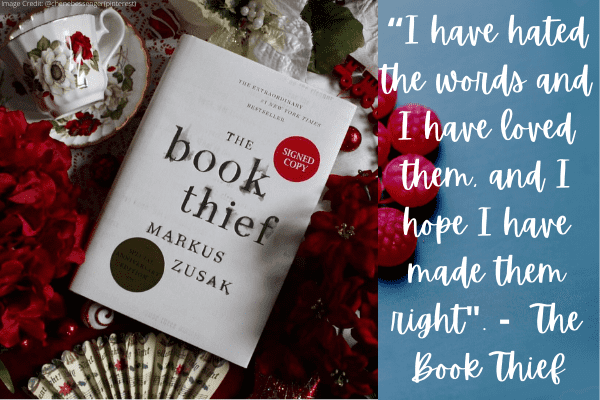 Brilliant and hauntingly beautiful. That's how I'd describe Book Thief. This book is set in Nazi- Germany. Liesel, a small girl, is sent to live with the Hubermanns. Her life entirely changes when she picks up a small thing buried in the snow- The Gravedigger's Handbook. From there, a love for words develops. Liesel then starts stealing books- her only escape from the ongoing war. But the family she lives with plays an even riskier game- they hide a Jew in the basement. As you keep reading, you keep falling in love with all the characters- Liesel, her best friend Rudy, Rosa Hubermann, Hans Hubermann and all the others. The book is full of unexpected twists and will capture your heart in the first 60 pages itself. I would recommend this book for ages 13 and above. 
4. The Fault in Our Stars, by John Green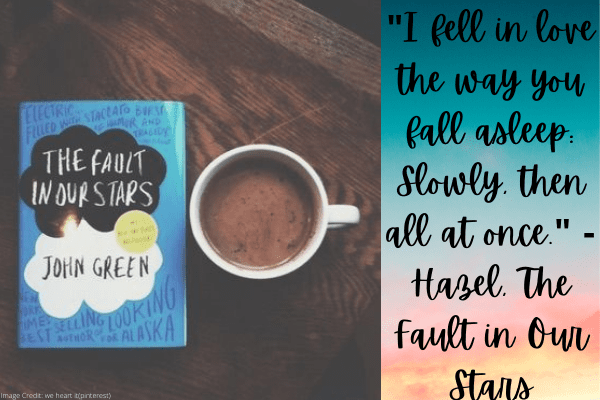 Hazel, a 16- year old girl with thyroid cancer, is in a support group. Every day it's the same prayers, the same name- reading, the same hope stories. That's when osteosarcoma-affected Augustus Waters appears. And Hazel's life is going to be flipped. A beautiful story appears- a beautiful story of being alive and in love. The Fault in Our Stars is funny, clever, beautiful and heartbreaking, all at once. It's appropriate for people 13 and above. The Fault in Our Stars is going to leave you laughing, crying and spellbound. 
5. Pride and Prejudice, by Jane Austen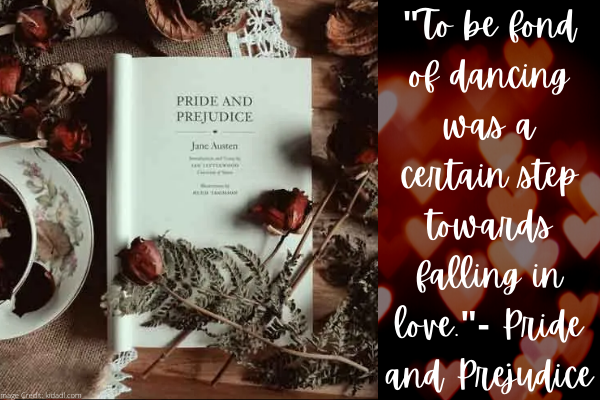 Pride and Prejudice is one of my favourite old classics. And what better way to spend time at home than to read this book? The story follows Elizabeth (Lizzie) Bennet, the second daughter (out of the five daughters) of the Bennet family. The main plotline is the love-hate relationship between Lizzy and Mr Darcy. This popular romantic novel is simply beautiful. Jane Austen, like always, shows her creativity in this book and puts plot twists to the end. I have always and will continue to love Pride and Prejudice. I would recommend you read it if you're at least 13 as some of the things in the book may be too tough for younger kids to understand. 
6. Broken Shards of Time, by Nyah Nicol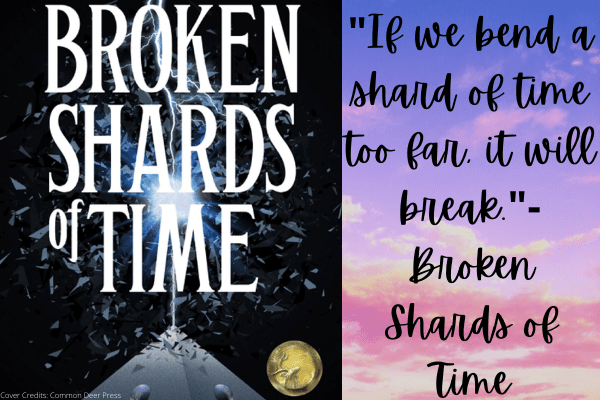 Broken Shards of Time takes us to the life of Wren Derecho. After losing her parents in a car crash that made her wind up with robotic parts, and after losing her uncle in a horrible science accident Wren decides to build a time machine. A powerful orb that she possesses slowly takes over her, causing her to destroy everything. That's when her three best friends Alex, Cassandra and Trevor decide to go back in time and bring the past Wren to fight the future Wren. Broken Shards of Time is one of the best sci-fi books I have read. Nyah Nicol has written it in a very creative way and this book will not disappoint! The minimum age I recommend you should be while reading this book is 13 since it keeps switching between timelines and so is a little tough to read. 
7. The Hound of the Baskervilles, by Sir Arthur Conan Doyle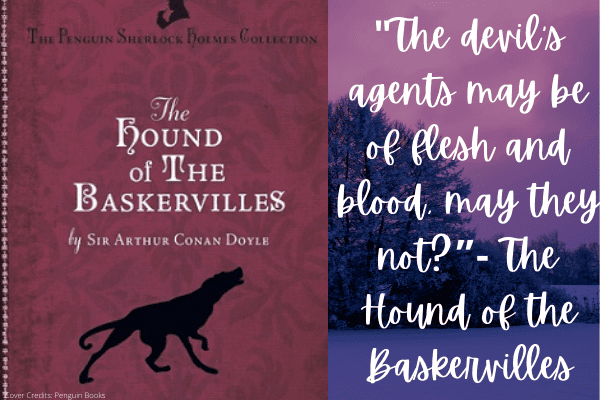 I love the Sherlock Holmes series. And this book is one of my favourites. The unusual death of Sir Charles Baskerville causes his friend, Mr Mortimer, to pay Sherlock Holmes and Watson a visit. He describes the unique case and says his new fear- he feels the next attack will be targeted on the next heir of the Baskervilles, Henry Baskerville. The Hound of Baskervilles is like every other Holmes story- full of mystery, adventurous, captivating and gripping. This book had me on the edge of my seat throughout and I could imagine myself in the moor, trying to solve the mystery. I'd recommend this book for 11+. If you're a Sherlock fan (and even if you're not!), make sure this book is next on your list. 
8. The Merry Adventures of Robin Hood, by Howard Pyle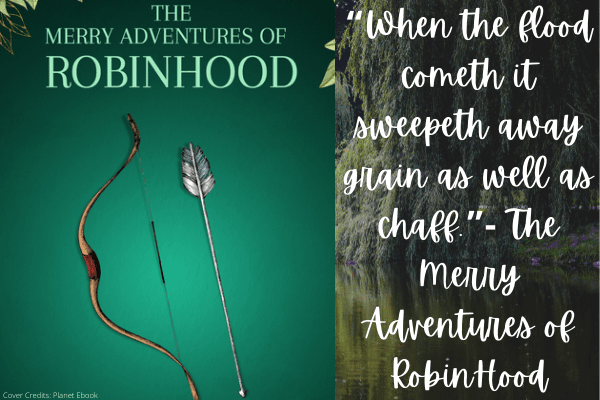 Another beautiful classic. Robin Hood, an outlaw and his band of merry men have one goal- rob from the rich and give to the poor who were robbed. And the Sheriff has one goal- capture Robin Hood. This book is an awesome collection of stories. We follow the life of Robin Hood as he makes new enemies, friends and bandmates along his way. This book is a treasure from my childhood that I always read. The thrill of every adventure, the exciting setting, everything about this book is enthralling. This book is suitable for age groups 10 and above. A book filled with arrows flying, swords clanging, and a new story on every page, The Merry Adventures of Robin Hood is going to become one of your favourite classics once you read it. 
9. Little Women, by Louisa May Alcott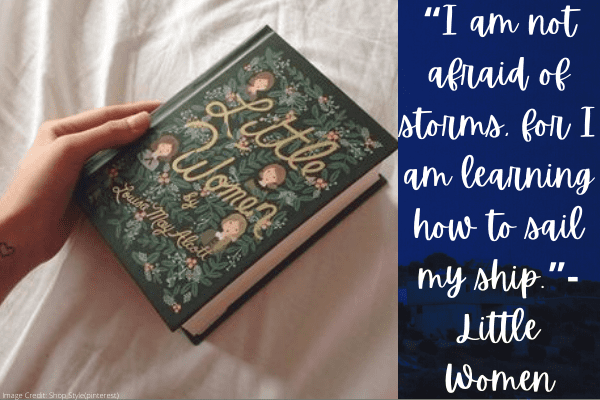 Again, a classic that's just simply great. Little Women is the story of the four March sisters. Jo – the future author, Beth-  the poor sick girl who loves the piano, the stunning Meg and the spoiled artist Amy. The four girls along with their mother struggle to survive in England during the civil war. They befriend their neighbour Laurie, and a new adventure starts there. The four sisters always have fun in their life. Little Women is about each of the girls moving out of their comfortable spaces and becoming confident young women in the world and society. The thing that stands out in this book is the fact the four girls are strong female characters. The book has two sequels that talk about the house for boys that Jo and her husband set up. The book also has a lot of movie adaptations, the latest one being the 2019 version. This book is meant for age groups 13 and above. Little Women is probably one of the best books that you can read this year. 
10. Anne of Green Gables by  Lucy Maud Montgomery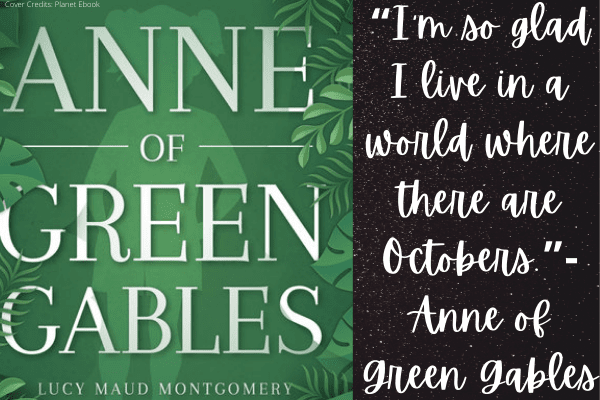 How could I not end this list with another splendid classic? Anne Shirley, an 11-year-old orphan is adopted by siblings Marilla and Matthew. She arrives at their house, Green Gables, only to find out they wanted to adopt a boy, not her. But soon, with her vast imagination and charm, she wins everyone over. Anne is almost always in trouble. Whether it's for almost burning the house down, for hitting a boy because he called her carrots, or for dropping out of school, Anne always finds herself in a mess. But at the end of the day, Anne and her wild imagination always have everyone's love and admiration for her again. Reading this book is one of my favourite pastimes. Being a person who loves reading and writing, I can relate to Anne a lot. This book has many sequels and movie adaptations too. By the end of this book, the read-headed, feisty Anne would have won you over too. I would recommend this book for ages 9 and above. 
I hope this booklist helps you and motivates you to read. But, don't limit yourself to this list of 10 books. Go and explore the vast collection of great books that are out there. Like Garrison Keillor said, ' A book is a gift that you can open again and again.' Go ahead, pick up those books and enter new worlds. Happy Reading! 
Like this?
Read: 5 Classic Children's Books You Can't Put Down!
Reina Ujual
Reina is a student of Bombay Scottish School, Powai, and is currently in 9th grade. Writing, football and reading are her primary interests along with music and dance. She does all types of writing but is most comfortable with fiction stories. Her current top book is 'We were liars' by E.Lockhart (but watch out, her favourite book changes all the time). She's currently obsessed with Demi Lovato's 'Heart Attack' and reading stories on Wattpad. She likes all genres of writing but somehow usually ends up writing horror. Her music taste varies from Selena Gomez to One direction. She loves interacting with people and getting to know them. Though she'll seem to be shy at first and not talk at all, stay with her for a few days and you'll wish she'll stop talking. Tell her you love Selena Gomez and she'll become your new best friend! Reina Ujual is part of the GetLitt! Editorial Student Council, a 10-week, literary initiative aimed at getting students actively involved in reading, writing, and editing.