Storytelling Videos for Kids – Celebrating Childhood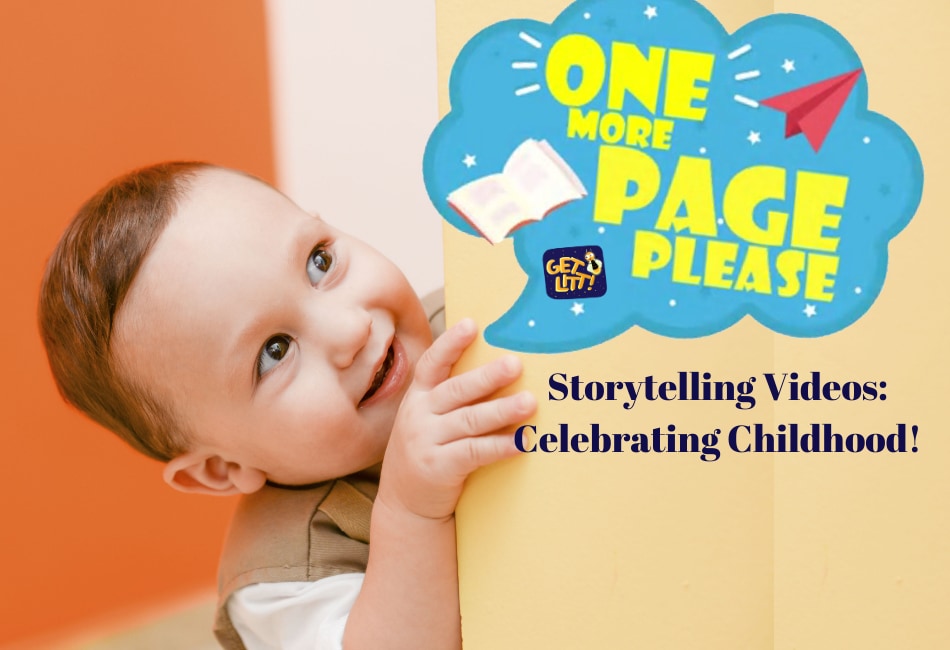 1742 Views
March 12, 2020
Storytelling is an art that we here at GetLitt! love to explore. Part of this exploration comes in the form of storytelling videos conducted by expert storytellers.  As part of World Storytelling Day, we asked our friends at Secret Passages to help us create Storytelling videos using the books available in our library. Secret Passage is a storytelling community and company, who offer a certificate course on 'The Heart and Craft of Storytelling.' Hence, we thought they'd be the perfect people to partner with for the 'One More Page, Please' initiative.
The books read by the talented storytellers feature stories that celebrate childhood.  'Celebrating Childhood' is one of the five categories we shortlisted for this initiative. These books bring to life the various emotions, passions and milestones that little ones go through in their childhood. Friendship, courage, shyness etc. are just some of the subjects these books address.
Before you scroll down to the storytelling videos, we'd like to give you a little background. Each storyteller was given a short snippet from a book to narrate because these videos are aimed at helping parents start their storytelling journey.  Therefore, once the video is over, head to the book link and take over the storytelling session with your own personal style!
All the books mentioned here are available on www.getlitt.co/library.
1. 'The Magic Umbrella' with Shilpa Shah | Ms Moochie Books
This storytelling session is with Shilpa Shah, who reads from the book The Magic Umbrella. It may not be raining outside, but who needs reality, when you can get lost in a book's story? Gather the kids around your laptop or mobile screen and get ready for a short storytelling session!
Read the book HERE
2. 'Ari' with Poyani Mehta | Tulika Publishers
Want your kids to overcome any obstacle that comes their way? Well, check out this storytelling session by Poyani Mehta as she reads from the book called Ari. It's about a young schoolboy who wants to be a lead character in his school play. Will he overcome his shyness and get the role he so badly wants?
Read the book HERE
3. 'Meera & Ameera' with Heena Vaswani | Storyweaver
Our next storytelling video talks about invisible friends. Children with active imaginations can often conjure up friends that none of us can see. How to approach the subject of what is real and imaginary? Let Heena Vaswani's narration of the book Meera & Ameera help with that question!
Read the book HERE.
4. 'Naughty Avantika' with Munira Dalal | Leadstart Publishing
This storytelling video is about a naughty female protagonist named Avantika! Join her as she embarks upon misadventures galore and takes you on a ride full of innocent mischief and good-natured humour. We'll let storyteller Munira Dallal take you on this journey along with Avantika.
Read the book HERE
5. 'Su Su Pals' with Geetanjali Shetty Kaul | Pickle Yolk Books
Here's a cute story about friendship and feeling left out. Children often find it hard to understand the ever-changing dynamics of their friendships. 'Susu Pals' offers a light-hearted look at this subject through the eyes of Rhea and Diya. Storyteller Geetanjali Shetty Kaul reads from this much-loved picture book, a favourite among GetLitt! members.
Read the book HERE.
6. 'Music for Joshua' with Archana Bora | Tulika Publishers
Do your kids love music? Well, if they love music as much as our protagonist, Joshua, then your little ones are going to enjoy this storytelling video. Storyteller Archana Bora reads from the book 'Music for Joshua' – a story about a boy who is in search of a music teacher to teach him how to play an instrument.
Read the book HERE
Those were our six storytelling videos from the 'Celebrating Childhood' category. We hope you got some tips on how to be an excellent storyteller from the professionals in these videos. Do follow GetLitt! on our social media platforms as we're continually uploading fresh content just like these storytelling videos!
Also, if you haven't already, get a subscription to GetLitt! We have over 300+ Indian children's books for all ages that your child will enjoy reading.
Happy Reading!
Like this?
Read: Storytelling Videos For Kids – Amazing Animals!
Read More: Storytelling Tips and Session With Preeti Vyas and Sherin Mathews