Storytelling Videos For Kids – Friends and Family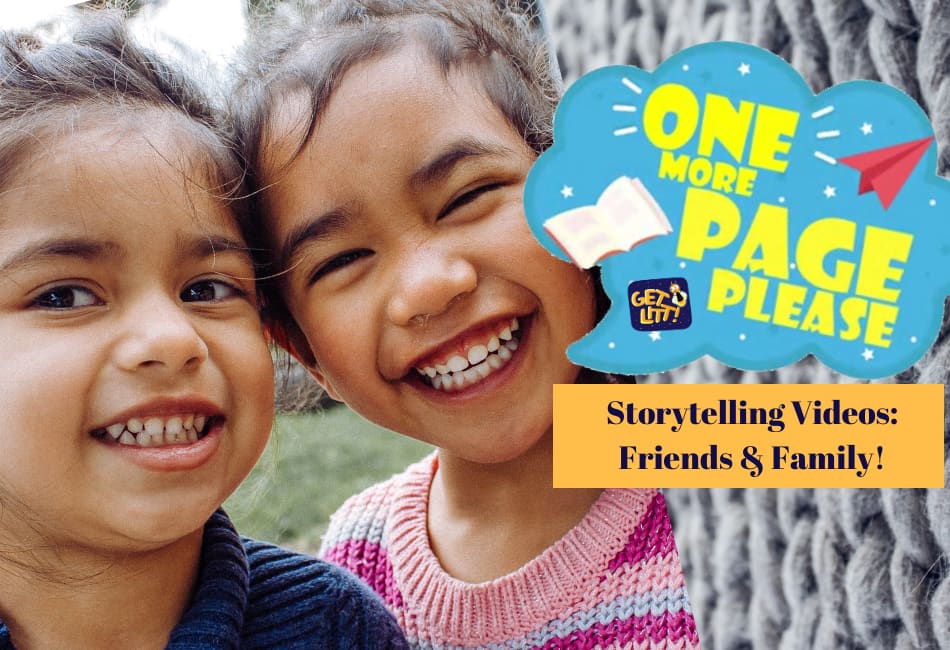 1485 Views
March 12, 2020
Storytelling videos are a great way to introduce very little kids, who can't read, to books. Reading aloud to children has many benefits, such as increased vocabulary, improved language skills and better focus. Therefore, as part of World Storytelling Day, we asked our friends at Secret Passages to help us create Storytelling videos using the books available in our library. Secret Passage is a storytelling community and company, who offer a certificate course on 'The Heart and Craft of Storytelling.' Hence, we thought they'd be the perfect people to partner with for the 'One More Page, Please' initiative.
The four storytelling videos we have below all feature books that talk about 'Friends and Family.' These books look at interesting dynamics between people, whether it be between a mother and son or a person and their community. Through these books, children get a glimpse at different lifestyles, bonds and experiences.
Before you scroll down to the storytelling videos, we'd like to give you a little background. Each storyteller was given only a short snippet from a book to narrate because these videos are aimed at helping parents start their storytelling journey.  Therefore, once the video is over, head to the book link and take over the storytelling session with your own personal style!
All the books mentioned here are available on www.getlitt.co/library.
1. 'Thatha At School' with Munira Dalal | Pickle Yolk Books
Are your kids easily embarrassed by their grandparents? Well, this is the exact subject that is brought to life in the book 'Thatha At School.' Protagonist, Oviyam, is embarrassed at the thought of her school mates seeing her grandfather Thatha in a dhoti. Does she get over this embarrassment? We'll let storyteller Munira Dalal unfold the story of Oviyam and his Thatha.
Read the book HERE.
2. 'Adil Ali's Shoes' with Munira Dalal | Tulika Publishers
We've heard the adage of 'walking in another's shoes' but have you ever heard of a pair of shoes that follow their owner? Storyteller Munira Dalal will fill you in on all the details as she reads from the book 'Adil Ali's Shoes!'
Read the book HERE.
3. 'Ammachi's Amazing Machines' with Heena Vaswani | Storyweaver
This book is a favourite among GetLitt! members. Ammachi'a Amazing Machines is about Sooraj and his grandma, who loves inventing machines. This time they put their skills to the test as they try to make coconut barfi using simple machines! We'll let storyteller Heena Vaswani take you on this mechanical journey!
Read the book HERE.
4. 'Frank Goes to the Market' with Geetanjali Shetty Kaul | Ms Moochie Books
Oopsy! Protagonist Frank has gotten lost in the market! Can he find his way back to his mommy? Storytelling Geetanjali Shetty Kaul will answer that question as she reads from the book 'Frank Goes to the Market.' Don't worry, we foresee a happy ending for Frank and his mommy!
Read the book HERE.
Those were our four storytelling videos from the 'Friends and Family' category. We hope you enjoyed watching the videos, and we hope you got some tips on how to be an excellent storyteller. Do follow GetLitt! on our social media platforms as we're continually uploading fresh content just like these storytelling videos!
Also, if you haven't already, get a subscription to GetLitt! We have over 300+ Indian children's books for all ages that your child will enjoy reading.
Happy Reading!
Like this?
Read: Storytelling Videos For Kids – Amazing Animals!
Read More: Storytelling Videos for Kids – Celebrating Childhood