Storytelling Videos For Kids – Amazing Animals!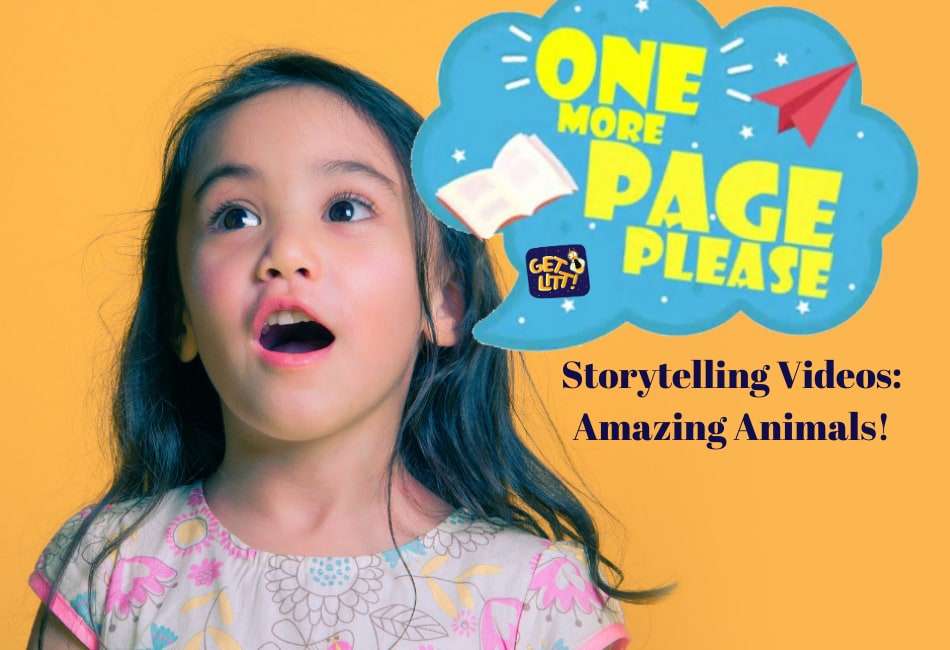 1919 Views
March 12, 2020
As part of World Storytelling Day, we here at GetLitt! asked our friends at Secret Passages to help us create Storytelling videos using the books available in our library. Secret Passage is a storytelling community and company, who offer a certificate course on 'The Heart and Craft of Storytelling.' Hence, we thought they'd be the perfect people to partner with for the 'One More Page, Please' initiative.
The books read by the talented storytellers feature 'Amazing Animals' – one of the five categories we shortlisted for this initiative. Many children's book authors create animal protagonists because children are fascinated with furry creatures. Therefore, the stories, morals or life lessons in these books are easier for kids to understand and accept because they are told through animal characters.
So, let's not waste any more time, we know you're eager to scroll down to our storytelling videos! Each storyteller was given a short snippet of the book to narrate because these videos aim to help parents with their storytelling journey.  Once the video is over, head to the book link and take over the storytelling session with your own personal style!
All the books mentioned here are available on www.getlitt.co/library.
1. 'Gajapati Kulapati Gurrburrrrooom!' with Poyani Mehta | Tulika Publishers
Ready for a storytelling session? Today we've got storyteller Poyani Mehta who is reading 'Gajapati Kulapati Gurrburrrrooom!' This picture book is a hot favourite on GetLitt! And has many reviews from our little readers too.
Read the book HERE
2. 'Shabana and the Baby Goat' with Poyani Mehta | Tulika Publishers
Your animal-loving child is going to adore this storytelling video. 'Shabana and the Baby Goat' is a lovely tale about the friendship between a girl named Shabana and Kajri the little goat. So, get ready to be entertained by storyteller Poyani Mehta as she reads aloud from the book!
Read the book HERE
3. 'The Dog Who Taught me Math' with Heena Vaswani | Ms Moochie Books
We all need a little help with maths sometimes. However, would you be surprised if we told you that the protagonist in this book gets math help from her dog? We'll leave all the other surprises to storyteller Heena Vaswani and her wonderful narration of 'The Dog Who Taught me Math.'
Read the book HERE
4. 'Tara's Elephant' with Shilpa Shah | Ms Moochie Books
This book tells a vibrant tale of friendship and fun between a little girl and her elephant, written by author CG Salamander. It is sure to capture the hearts of young readers, especially those who love elephants! Check out the storytelling session by Shilpa Shah and her captivating narration of the book 'Tara's Elephant.'
Read the book HERE
5. 'When Ali Became Bajrangbali' with Archana Bora | Tulika Publishers
Lastly, here's a storytelling session of the book 'When Ali Became Bajrangbali.' Storyteller Archana Bora narrates the story about a brave monkey who uses his quick-thinking skills to save the day!
Read the book HERE
Those were our five storytelling videos from the 'Amazing Animals' category. We hope you enjoyed watching the videos, and we hope you got some tips on how to be an excellent storyteller. Do follow GetLitt! on our social media platforms as we're continually uploading fresh content just like these storytelling videos!
Also, if you haven't already, get a subscription to GetLitt! We have over 300+ Indian children's books for all ages that your child will enjoy reading.
Happy Reading!
Like this?
Read: Storytelling with Certified Storyteller Sonia Bareja
Read More: Storytelling Session with Srividhya Venkat And Natasha Sharma!