Tips to Develop Writing Skills for Preschoolers
3274 Views
October 18, 2019
Every milestone in a child's life is important for their progress. Right from their smile, to their first words and then going to school are huge feats for a child. School, starting from preschool, brings about a huge amount of development in a child's life. The benefits of a preschool, in particular, are:
It is their first experience at socializing with other children, learning to receive and follow instructions and to function in a structured setting.
It promotes social and emotional development in a child.
Makes a child independent and also emphasizes on the importance of sharing and being sensitive to others' needs.
Helps develop motor skills and nurtures a child's curiosity.
Promotes language skills, cognitive skills, pre-math and literacy skills
Language is the primary skill that allows a person to communicate. A child begins to develop language even before they can use words – by crying and their actions. When the child learns the art of communication through a language, it becomes easier for them to convey their feelings and needs. Language development is important for a child in order to adequately exchange information with others in a meaningful way. Once a child starts speaking, the next step is to learn the technique of writing. Teaching writing skills for preschoolers can be quite a challenge as you need to begin from the basics which is also called pre-writing.
Importance of pre-writing skills
Pre-writing skills are very important to help kids develop skills to write legibly later on during their K-12 schooling. If these skills are developed at this stage, the self-esteem and confidence of the child increase by leaps and bounds.
How to develop writing skills for preschoolers?
Getting a preschooler to write is quite a task as their attention span is very less. You cannot dive into writing at one go, as it is a totally new concept for your child. You need to start working on the basics first. The key is to do it through some fun activities coupled with learning. We have come up with some ways to help your child to develop the skill of written communication:
Identify the dominant hand – This is the most important thing to do before commencing the entire process of writing. The simplest thing to do is to give your child a crayon, a pencil or a chalk and observe the hand which they are most comfortable with. You may have to observe for a few days as children tend to switch hands often. Also, observe your child while they do different activities every day.
Active play – make your child participate in activities which involve grasping and manipulating small objects like drawings, puzzles, open jars, containers etc. The idea is to make use of fingers instead of the whole hand.
Image courtesy Pixabay
Improve finger strength – Holding a pencil and writing sentences isn't an easy task for a child. The posture of the fingers can cause pain if it is held for a longer period of time. It is a great idea to strengthen your child's fingers by engaging them in activities like paper scrunching, play dough, pegs, lego etc.
Sensory play – Sensory play is any activity which engages the senses. Children engage in such activities in their daily life every day. Some such activities are finger painting, rice play etc. It benefits children in a number of ways like increasing their attention span, supporting motor skills, kindling an interest in learning etc.
Finger recognition – Once you have established the above methods, you can introduce your child to the names and uses of his fingers. A fun way to do this could be through the song – 'Daddy Finger'. It is easily available on the internet.
Pincer grasp – It is a hand grasp which develops when a baby is around 8 to 10 months old, especially when kids start feeding themselves. It is needed to grasp a small object between the thumb and the index finger. This grasp is very important for writing. Some activities to strengthen the pincer grasp for toddlers are playing with tongs, clothespins, play dough, stringing beads, peeling stickers etc.
Preschool writing books – This should always be the final step while teaching your child any form of written communication. There are a number of easy and interesting workbooks to develop writing skills for preschoolers.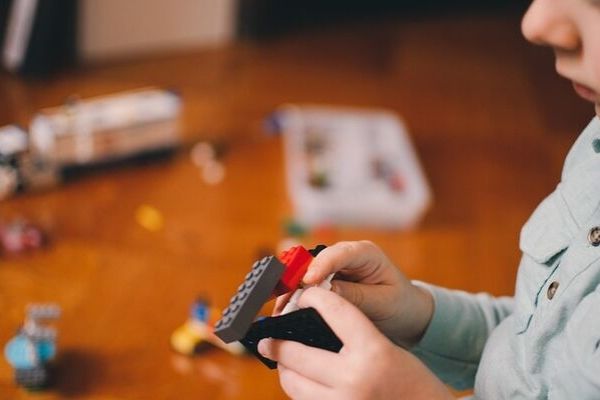 Image courtesy Pixabay
I have listed a few of my favourite books which have helped me a lot as my son is also learning pre-writing skills. These are my recommendations to parents for improving their child's writing skills.
SOE Store Kids Nursery Pattern Writing by SOE Store Kids – This is my son's favourite book as the colours and illustrations in it are very vibrant. It is reusable, making it a great choice for young children. This book is usually our travel buddy as it keeps my son engaged during the long journeys.
SOE Store Kids Nursery Preschool Activity Book by SOE Store Kids – The book has more than 50 activities which are a mix of mazes, puzzles and other brain development games. It is appropriate for toddlers, pre-nursery and nursery children.
Pre-nursery Pattern Writing by Dreamland Publications – A great book to introduce children to simple strokes, curves and patterns with a huge number of activities. These activities help them to develop their motor skills and pre-writing skills.
These are some methods to teach and improve writing skills for preschoolers. The most important thing for parents to bear in mind is that it is a completely new dimension for your child and you need to up your patience levels while teaching them. Also, please praise and applaud them for their little achievements as boosting a child's confidence is the key to raising a confident child.
Like this?
Read: Practical Tips on Story Writing for Kids with Dyslexia
Read More: How to Improve Writing Skills in Kids
Feature image courtesy Pixabay
Revati Khutvad
Revati Khutwad is a former Voice and Accent Trainer, who delved into her passion for writing post motherhood. She has a 3.5-year-old son, who is her inspiration to start penning down her experiences. She is an avid reader, loves to travel and enjoys varied cuisines. A happy go, lucky person, she believes that everyone can achieve great things if they love what they do.