6 Books to Help Children Learn the Joy of Giving
915 Views
December 22, 2021
As a teenager growing up in India, I started to explore different festivals we celebrate, and that's where I found my love for Christmas and gift-giving. Curious and passionate, I would often research Christmas traditions and binge-watch Christmas movies (till 3 am also). In the course of feeding my curiosity, I got to know so much about the tradition of 'gift-giving' – which is my favourite part of the December 25th morning!
According to giftsinternational.net, I found out that the widely practiced Christmas tradition of gift-giving stems from the story of the Three wise kings. In their blog, they say that 'Christmas gifts are symbols of the tributes made to the baby Jesus by the Three Wise Men after his birth during the story of the Nativity.'  That's what fueled me to write this blog on books that would help children to understand the importance and joy of giving, and why it is a part of our Christmas celebrations.
So, this Christmas, celebrate the joy of giving, with:
6 Books That Teach The Joy Of Giving
1 The broken Ornament, by Toni DiTerlizzi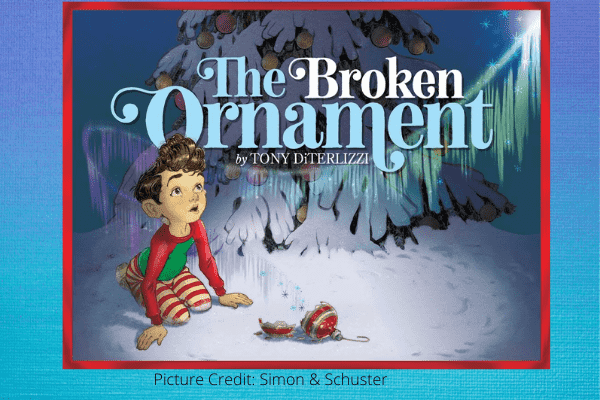 In his attempt to have the best Christmas ever, protagonist Jack unintentionally breaks his mother's treasured ornament. However, Jack finds out that his mother was so emotionally attached to it – that's where the heart-warming story begins. What will Jack do to fix this problem? Will he be able to have the best Christmas, despite his innocent actions?
Through the story, we learn that Little Jack has to decide whether he wants to fulfill his desire of having the best Christmas or make his mother happy by giving her a special Christmas gift, instead.
Will he be happier to fulfill his desire or by making his mother happy? Find it out, in this heartwarming book 
Reading Age: 4-8 years
2. The Legend of St. Nicholas: A Story of Christmas Giving, by Dandi Daley Mackall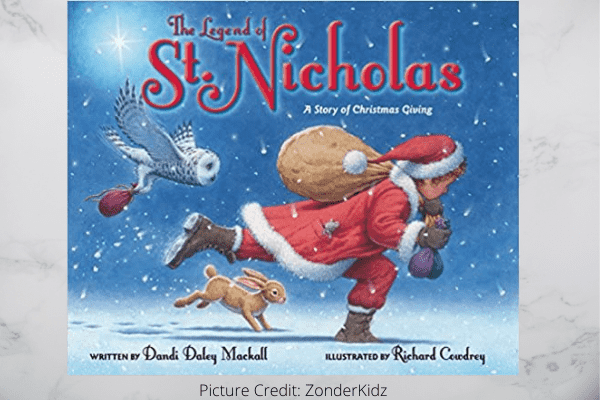 Protagonist Nick loves receiving gifts more than giving but one incident changes his Christmas priorities. 'The Legend of St. Nicholas: A Story of Christmas Giving' narrates the history behind Santa Claus and re-instigates the importance of the Christmas celebration – which after all is more about giving than receiving. Nick takes inspiration from the story he hears and realizes the true essence and meaning of the Christmas Season. 
If your child is an inquisitive mind and questions everything, then your search to find a bedtime storybook for Christmas eve ends here. Feed your child's curiosity by helping them understand the reason and story behind the practice of giving presents during Christmas.
Reading Age: 4-8 years
3. The Berenstain Bears and the Joy of Giving, by Jan & Mike Berenstain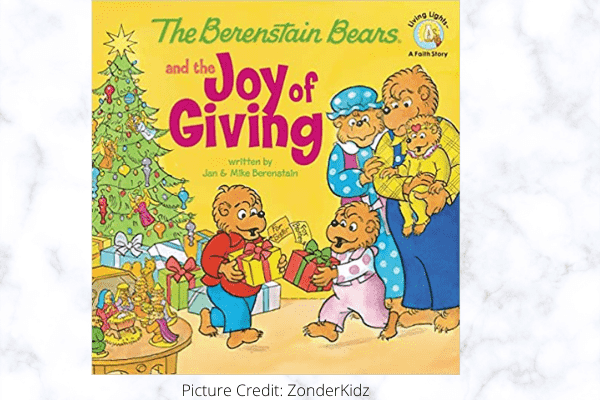 Brother Bear and Sister Bear are extremely excited about Christmas, for one particular reason,  they want to see what presents they will receive. Unfortunately for our sibling characters, they are more interested in receiving than in giving. However, an unexpected event at the Christmas pageant changes their outlook and teaches them the significance of the tradition of giving. 
'The Berenstain Bears and the Joy of Giving' is a book with a wonderful story and pleasing artwork and it surely brings in the Christmas cheer! If your child loves animals (or if you want to make them sensitive towards animals) then this book is a double win for you! I am sure they will learn the true meaning and joy of giving as well as grow their love for animals. 
Reading Age: 4-7 years
4. The Legend Of Poinsettia, by Tomie Depaola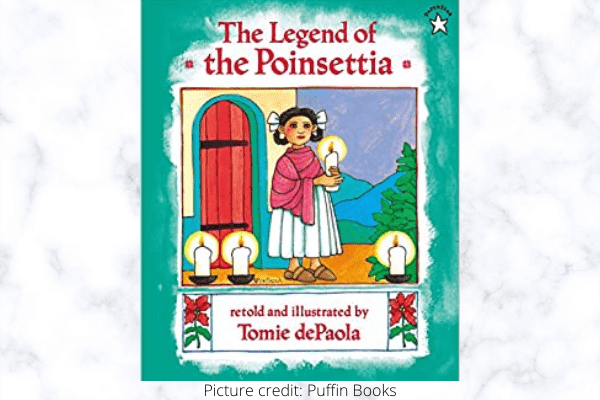 Lucida and her mother get the opportunity to make a blanket for the baby Jesus and Lucida is extremely excited about it! The whole village was making preparations for the Christmas processions. Everyone was enthusiastically making gifts to place at the manger of the baby Jesus. But what will happen when Lucida's mother falls sick and won't be able to weave the blanket in time? Will Lucida be able to give baby Jesus a present?  
This book has a unique message to impart: It does not matter how big or small your gift is, but the love and compassion with which you give, is what counts. The Mexican legend that this book is based on, explains the efforts taken by the little girl, Lucida, to give baby Jesus a gift and how it became a truly valuable one. 
Reading Age: 4-8 years
Indian Books about the Joy Of Giving
The next two books are from Indian authors who through amazing storytelling, teach kids that giving is about generosity and it doesn't matter whether it's a big gift or a small gesture – it's all about the joy of giving.
1. Machher Jhol, by Richa Jha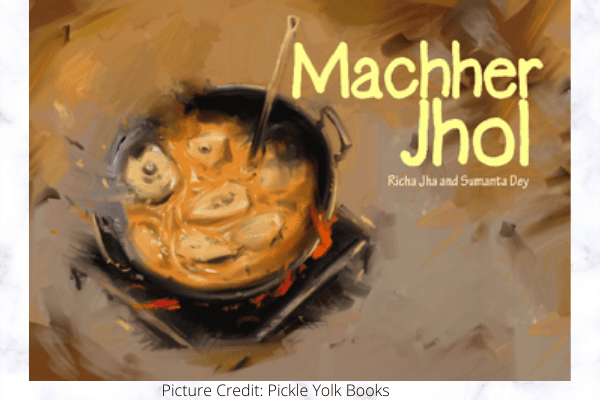 A heartwarming story of a young boy, Gopu, who walks alone and makes his way through the bustling streets of Calcutta, to bring home a surprise for his ailing father. With an unexpected revelation at the end, this story highlights the importance of giving, even if it is in its simplest form. The striking illustrations teleport the readers to the streets of Calcutta along with Gopu.  
I was truly touched by all the little steps taken by Gopu to give his father a delightful present even if he had to bear things that weren't to his liking. The power of simple presents given heartily to a loved one has been pointed out exceptionally well and I hope our young readers get inspired by Gopu's efforts to bring his father, the yummy dish, no matter the odds. 
Reading age: 4-9 years
Read Machher Jhol on GetLitt! HERE. 
2. Uncle Nehru, Please Send an Elephant! by Devika Cariapa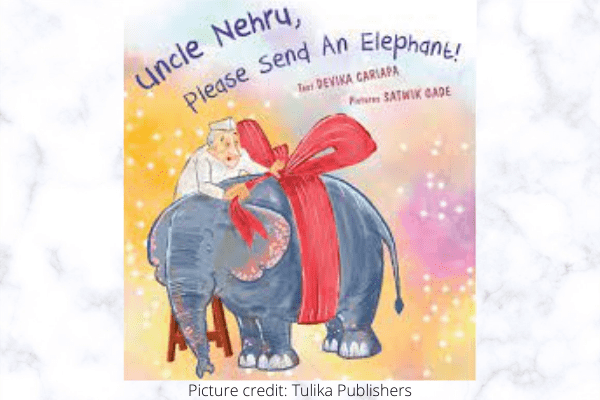 This little-known story begins when one afternoon, Uncle Nehru (as the Prime Minister was affectionately called by kids) received a letter from the children of Japan expressing their wish to send an elephant to their country. This book narrates the story behind the elephants who were India's presents to the world (one of them was also named Indira, after Prime Minister Nehru's daughter).
Even though India was handling its issues, Prime Minister Nehru fulfilled the requests of all the children from various nations, which was truly commendable. Thinking about others even when one is going through a rough patch is exemplary and the true definition of generosity. The elephants were symbolic of India's generosity and also ambassadors of peace. 
Based on true events, 'Uncle Nehru, Please Send an Elephant!' will be relatable to not only Indian readers but also to all the young readers from across the globe. Get to know about India's majestic gift to the world with this gripping book which will surely not be a disappointment. 
Read Uncle Nehru, Please Send an Elephant, on GetLitt! HERE. 
There you have it!
Those were six children's books that I just had to share with you for the Christmas season. Books are the best way to learn values, gain awareness of the world around us and most importantly, books are our best friends! What better way and time to teach your child the joy of giving than through books and during the Christmas season itself. I hope they enjoy these books as much as I did and become the generous and kind leaders of the future!
Let's celebrate this Christmas with more generosity than jealousy and more love than hatred! Wishing you all a Merry Christmas filled with laughter, joy, love, and – you guessed it – GIVING!
Like this?
Read: Best Books That Teach Kids About Gratitude
Read More: Words Of Gratitude From Powerhouse Women In Children's Literature
Ritika Kalantri
Hi! My name is Ritika Kalantri. I am a grade 9 student at Bombay Scottish School, Mahim. A passionate writer, avid reader, and travel enthusiast, my hobbies include playing badminton, dancing, and singing. I am passionate about becoming an entrepreneur in the future. My other fields of interest include writing and debating. Want to describe me in three words? Well, here you go: Hardworking. Determined. Focused. I love to write about social issues, especially those that are serving as hindrances to our development. I wish to write my own blog soon and get more experience in the field of creative writing which I am currently pursuing just as a hobby. Can't wait to make a change in this rapidly evolving world! Ritika Kalantri is part of the GetLitt! Editorial Student Council, a 10-week, literary initiative aimed at getting students actively involved in reading, writing, and editing.