Meet Coronavirus And Other Interesting Characters In These Must-Read Asterix Comics!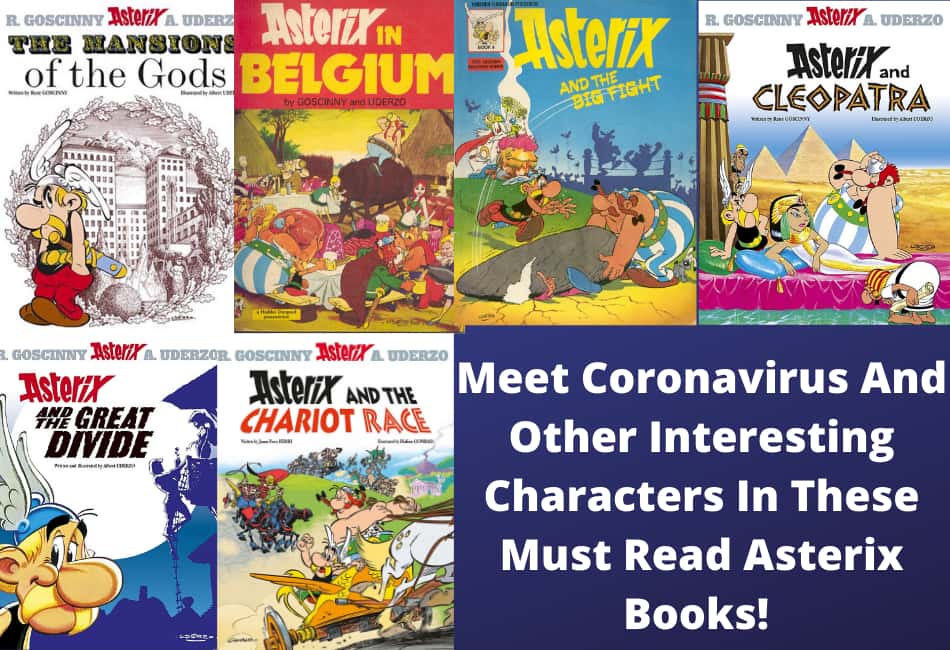 2870 Views
February 21, 2020
Reading Asterix and Obelix is a rite of passage. Ask any 90s child and they will tell you how they found these books stashed away in a cupboard or a shelf in the house and how they gingerly leafed through one and got hooked! The Asterix series first appeared in 1959 and since then 38 volumes have been released. The series features a village full of Gaulish warriors who resist the Roman occupation and fight against the empire of Julius Caesar.
Top three reasons why readers love Asterix and Obelix
1. Asterix characters and their genius names!
Reading an Asterix and Obelix comic and meeting all the characters is a laugh riot. Not just because of their brilliant characterization but their names too. Picture this – the village elder is called Geriatrix, the pet dog is called Dogmatix, the village bard is called Cacofonix and we could go on and on! Keep reading because we are about to list our all-time favourite Asterix characters from the series soon in this article!
2. The situation
A small village of Gaul warriors hold on strong against the mighty Roman Empire who have taken over Gaul entirely except for this tiny village. These warriors have resisted the Roman occupation with their fierce bravery but they also have a little help from a magic potion brewed with secret ingredients by their village druid.
3. Timelessness
These comics never get old! You may have read them as a teenager first but revisit them now and you will still find them hilarious!
Memorable Asterix and Obelix characters
Asterix, the plucky, brave warrior and his best friend Obelix, the menhir delivery man who enjoys feasting on huge quantities of wild boar — are no doubt the stars of the series and definitely our favourites but there are a number of other supporting characters that make the books they appear in memorable. Here are some of the most notable ones!
1. Coronavirus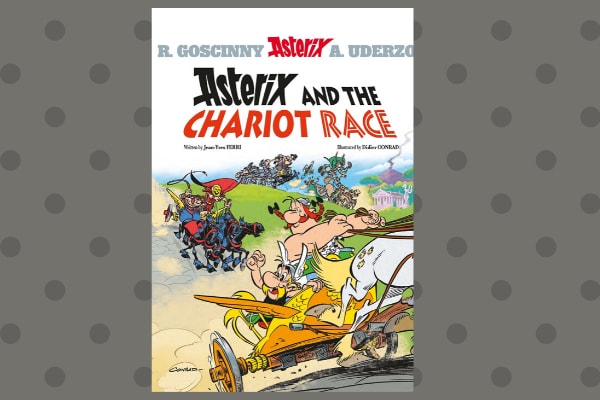 Image courtesy Orion Children's Publishing house
This one is really uncanny and a true example of life imitating art. Coronavirus is fast becoming one of the worst epidemics to hit modern human civilization and is now the biggest news of 2020 but long before Coronavirus surfaced as a disease from the Wuhan province, he was featured as a villain in Asterix and the Chariot Race. The book, released in 2017, featured Coronavirus – a masked villain with a reputation of stopping at nothing in order to win. Called "the masked one" multiple times in the book, Coronavirus tries to defeat Asterix and Obelix in a chariot race. Asterix and the Chariot Race is the 37th book in the series and was published in over 20 languages.
2. Dogmatix
Image courtesy the Tallenge store
First named in the book Asterix and Cleopatra, Dogmatix is an adorable tiny, white terrier who appears in many books throughout the series. He is Obelix's companion and Asterix and Obelix often end up arguing about whether Dogmatix should be allowed to accompany them on their adventures. Dogmatix loves nature and shows his sensitive side by howling in distress when he sees a tree being cut down. He may be tiny but he has a big, nasty temper! Though he is a minor character in the books, he is the only animal (other than the wild boars) and can always be seen doing something in the background of the main action. In Asterix and Cleopatra, Dogmatix plays a big role by helping the Gauls escape to safety from inside a pyramid.
3. Squareonthehypotenus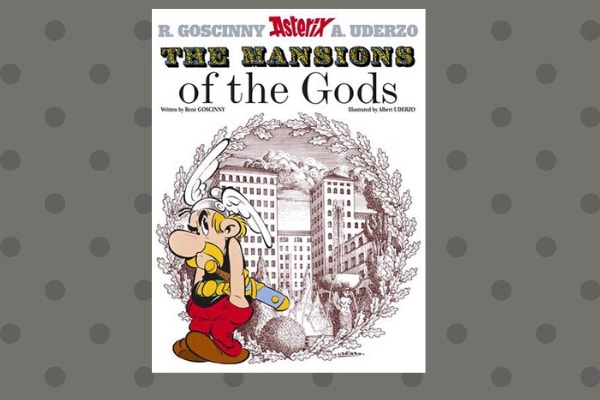 Image courtesy Orion Children's Publishing house
Project leader and architect in the book Asterix and Obelix Mansion of the Gods, Squareonthehypotenus has the task of razing down a forest and building a Roman colony on the orders of Julius Caesar. His plans to raze a forest are foiled by Asterix and Obelix who plant acorns that mature into trees instantly. By the end of this hilarious book, Squareonthehypotenus decides to go to Egypt where he plans to build pyramids for a quieter, more peace-loving set of people. Asterix and Obelix Mansion of the Gods was the 17th book in the series and caricaturized events during that period in France. It almost became writer Goscinny's mode of social commentary.
4. Vitalstatistix and Impedimenta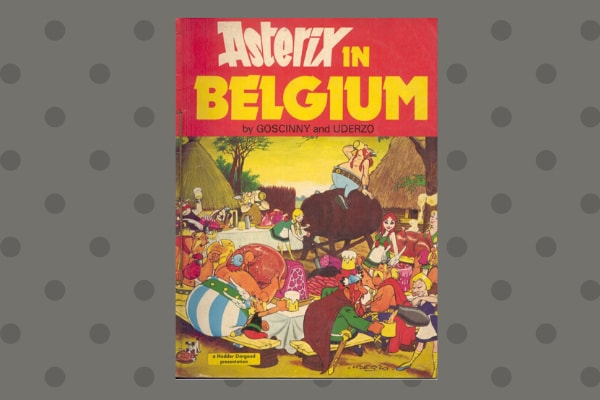 Image courtesy Orion Children's Publishing house
Vitalstatistix is a pot-bellied man with red hair and a big mustache. He is the chief of the village and commands respect from the Gauls. Asterix and Obelix often bribe him with delicious food and drink to get their way. What makes this character memorable is his biggest fear that the sky may fall on his head the next day. He travels around the village by standing on a shield. Though he makes a brief appearance in most books he has a huge role to play in books like Asterix and the Big Fight and Asterix in Belgium.
Impedimenta is Vitalstatistix's wife, leader of the village wives, and the best cook in the whole village. She calls Vitalstatistix 'Piggy-wiggy' in front of the village folk that often causes Asterix and Obelix to laugh hysterically! She is characterized as a nag and as someone who influences her husband's decisions. She is also seen lamenting her husband's lack of ambition. Her brave side is shown when she battles the Romans using her rolling pin as a weapon!
5. Getafix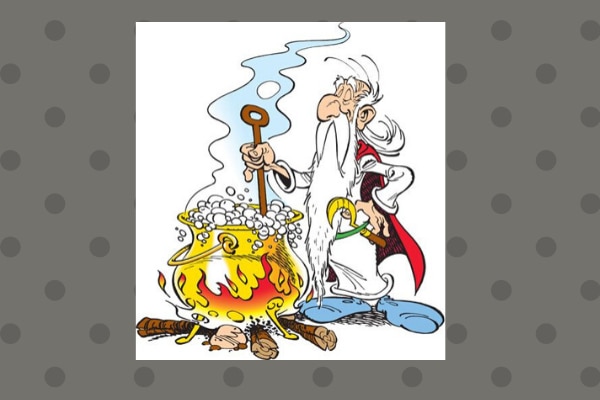 Image courtesy Orion Children's Publishing house
Getafix is the village druid and the only one who can whip up the magic potion that gives the Gauls their superhuman strength. He is a tall man, with a long, white beard but his age is never revealed. He is shown as being the moral compass of the village, even refusing to make the magic potion when the villagers need it to fulfil a selfish end. Getafix is a recurring character in many Asterix books. If you like Getafix you will love his role in Asterix and The Great Divide.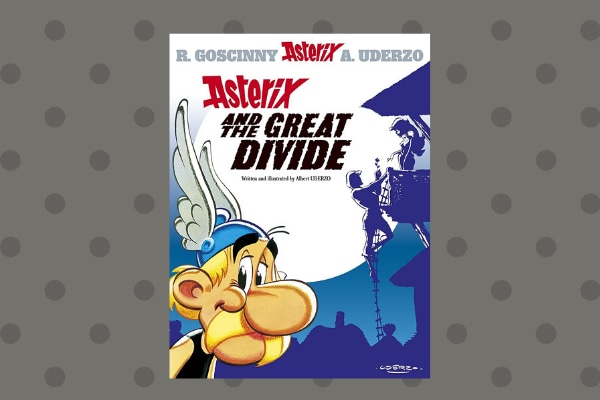 Image courtesy Orion Children's Publishing house
6. Cacofonix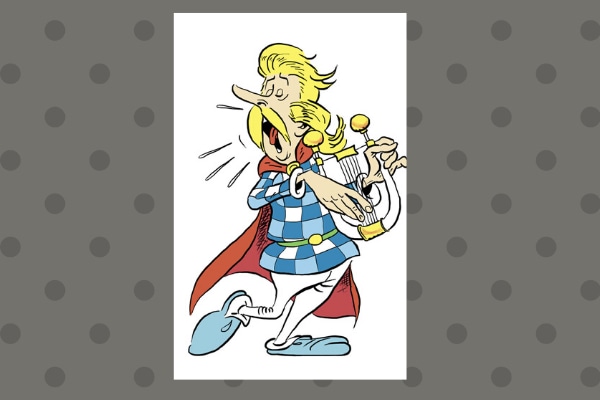 Image courtesy Orion Children's Publishing house
Cacofonix, a play on the word cacophony is the name of the village bard. Cacofonix plays the lyre, the trumpet, the bagpipes and the drums and loves to sing. His singing is so terrible that it actually causes a thunderstorm, even indoors! The villagers have made him live in a house high up on a mountain so he can practice his singing without them having to listen to it. He is often seen gagged and bound during the end of banquets to prevent him from singing!
7. Cleopatra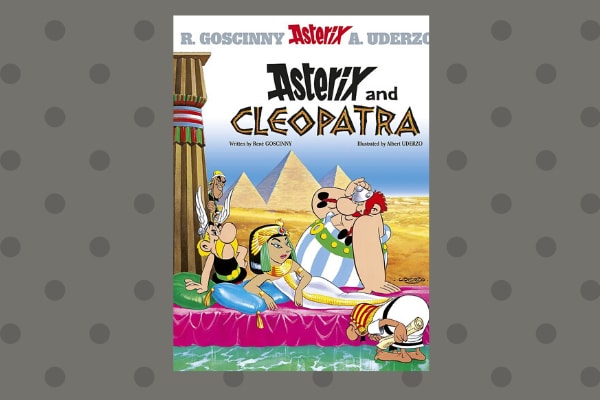 Image courtesy Orion Children's Publishing house
Cleopatra is the first female character of Asterix and part of the eponymous Asterix and Cleopatra. In the book, she tries to prove to Julius Caesar that the Egyptians are a superior race by promising to build a huge palace within three months. She enlists the help of the Gauls to do this. Generous and temperamental, she was the only female character in the Asterix and Obelix series to take on a central role.
The death of Rene Goscinny, the creator of the Asterix series in 1977 was compared to the fall of the Eiffel Tower – akin to the loss of such a defining part of the French cultural identity. Though fans of another super series, Tintin may argue that the news reporter series is far more interesting than Asterix, sales figures show that Asterix comics came out far ahead of Tintin book sales.
Do you have a favourite character from Asterix and Obelix? Do write in about them so we can include them in the list.
Like this?
Read: Nostalgia: Tinkle Stories Read Online
Read More: Where to Read Tinkle Online?
Feature Image courtesy Orion Children's Publishing house
Rati Ramadas Girish
Rati Ramadas Girish is a true manifestation of an urban nomad. She has lived and learned in India, Saudi Arabia, Europe, and the USA. She began her career as a journalist with NDTV and then worked as a folklorist in Houston, Texas. Somewhere along the way she developed an irrepressible love for children's literature and even wrote and published short stories in anthologies. Presently, she writes from home surrounded by her muses —two sons, a large dog, and her indulgent husband.