Creative Ways to Design A Reading Corner for Kids
2264 Views
November 19, 2019
One of our constant endeavours, as bibliophile parents, is to get our children interested in reading. We would love to see them choose a book and curl up with it. Is that too much to ask for? Apparently it is! As with anything else, reading is also all about location, location, location. So how do you design a reading corner for your little bookworm – one that's inviting, cosy, inexpensive, and just perfect?
Here are some excellent tips to design a reading corner for your child.
1. Use the windows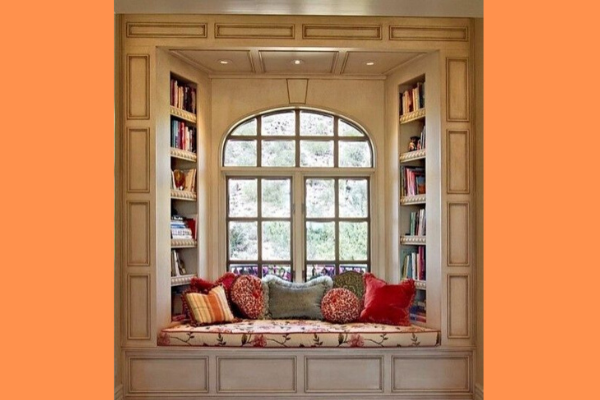 Image courtesy: Parent Map
One of the easiest and most cost-effective ways to design a reading nook for your child is to use the corner space by the window in their room. Add an oversized, comfy chair that they can curl up in or simply add a small ledge with a cushion so they can sit for hours and read a book. You could use the natural light streaming in from the windows for most of the day and add a tall, thin lamp for night-time reading.
2. Bunk bed nook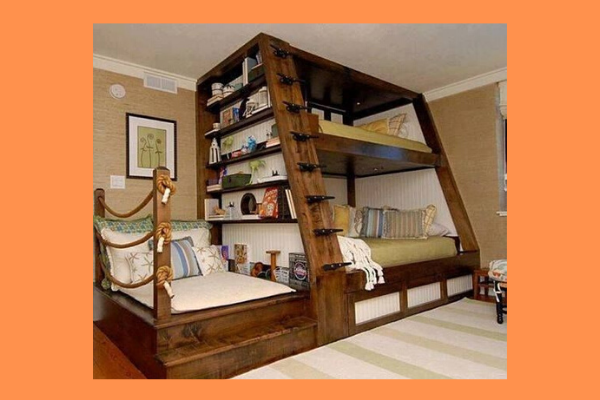 Image courtesy: pinterest.com
If you are designing your child's room and are thinking of adding a reading corner, then one of the funkiest ways to do that is to invest in a bunk bed. Your child could choose the top or bottom bunk and the other one becomes a cozy reading nook. Design a reading corner on the bunk with a small curtain your child can draw, a tiny basket with their favourite books and even a stuffed toy or two to cuddle up to while they read! You could even decorate the ladder of the bunk with stickers and characters from their favourite books to add extra excitement leading up to the reading nook!
3. Get a tent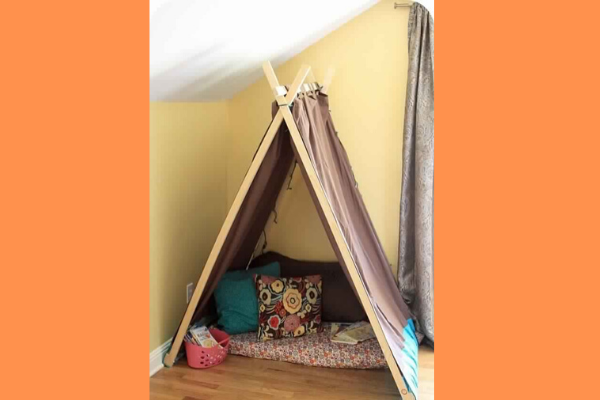 Image courtesy: ana-white.com
Another super simple way to design a reading corner is to get a tent. Make sure to get a good light or lantern they can hang inside the tent so there is ample light to read. Add a basket or a bucket where they can store books and add small cushions and a throw so they are comfortable inside the tent. Children will love the cozy ambience of a tent and will enjoy getting away from the rest of the household to read in peace inside their tent!
4. Day bed near windows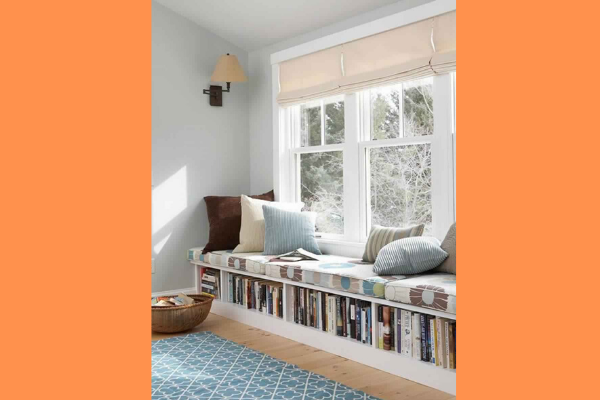 Image courtesy: Interior design news
If you have windows at the end of a corridor, use that usually forgotten space to design a reading nook. Instead of wasting the space which gets lovely, natural light, add a day bed with some cushions and storage space underneath and create a reading corner where anyone can take a book to and spend hours reading in. The window sill can be used for keeping a mug of coffee or juice, and adults and kids can both use this as their reading nook!
5. Under the staircase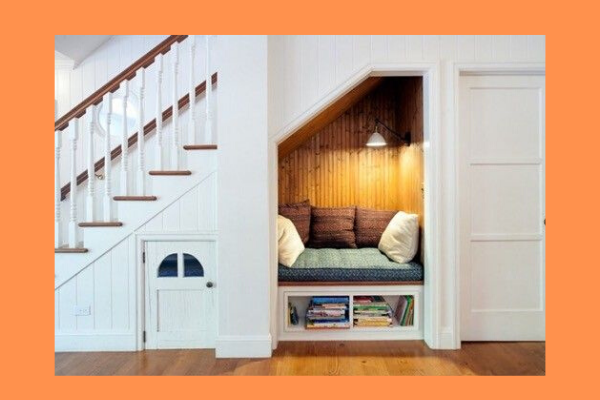 Image courtesy: pinterest.com
While we are talking about reclaiming forgotten spaces, one of the most overlooked spaces is under the staircase – a place any child would love! Use this space to design a reading nook for kids by adding a light, shelves to keep books and small cushions and a mat. You could even dress it up by adding small posters and pictures on the walls. This is a perfect place for kids to hide out and read their favourite books. Similarly, take a look around your house and see if you can transform spaces into reading nooks. Maybe a small space in the balcony or even a small store-room! All these spaces, with a little creative help, can be used as a reading corner!
6. Carve a nook in the bookshelf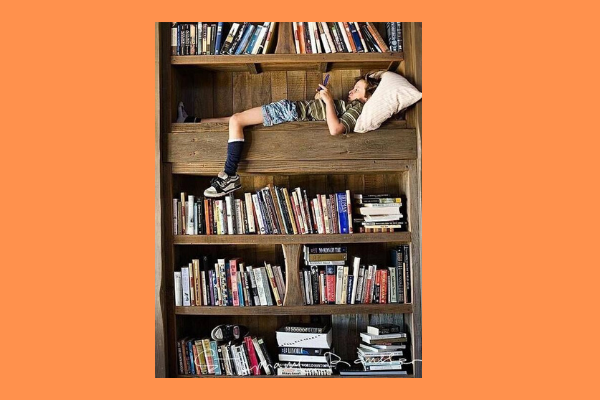 Image courtesy: bookriot.com
This is one of the most creative ways to design a reading nook yet! If you are in the process of creating a bookshelf add an element of design big enough for your child to fit into and read a book! This will not just work as an excellent design element for your house but kids will love curling up to reading a book in this unique nook!
If you want to keep it simple, you could consider simply removing a few shelves and brackets to fit your child. Add a layer of fabric and a narrow pillow and you have designed a reading corner!
7. Reclaim a corner of the living room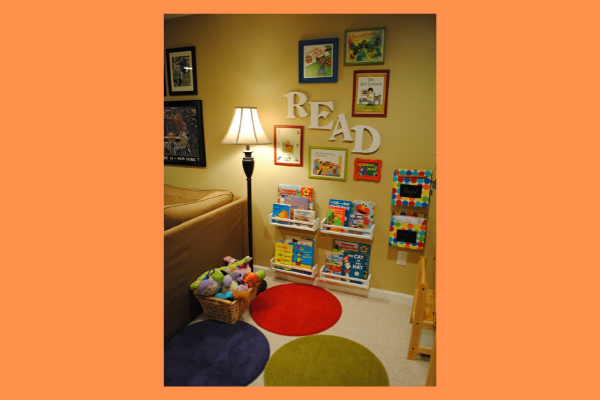 Image courtesy: pinterest.com
Who says reading nooks have to only be inside bedrooms? A great way to draw attention to books is to carve out a small space in the living room to design a reading nook. Just add a colourful rug to the floor and place a big sitting cushion on it. Surround with smaller cushions, a lamp and you have a cosy reading nook, which not only adds a unique design element to your living room but will also keep kids away from the TV.
8. Use corner walls
You know those oft-unused spaces between rooms? Why not use it to design a reading corner for your child! That tiny space is perfect for young children and you don't even need to do much! Just add ledges to hold books facing front, add a little seating and use the lights in the corridor to light up the area.
9. Canopy nook: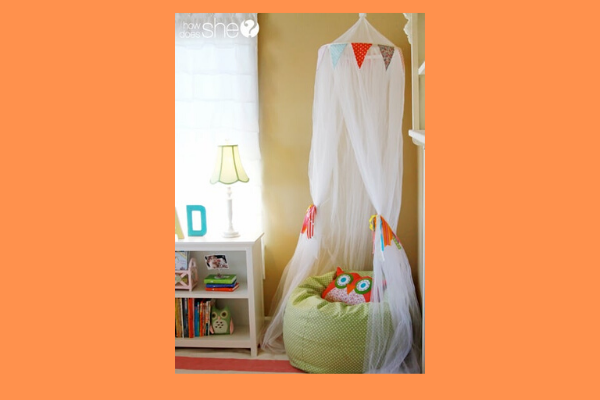 Image courtesy: hellowonderful.co
This one is a perfect idea for when you have very little space. To design a reading nook using a canopy all you need is a small space for a beanbag chair. Add a canopy with light curtains, dress it up by adding colourful ties or pom pom garlands and string lights and you have the perfect reading nook for your child!
Creating a small space for your child to be able to retreat to when they read is an excellent way to encourage them to read. But if you live in space-starved cities, like a lot of us do, then why not encourage children to lose themselves in a book online? GetLitt! gives your child access to hundreds of books and encourages reading with book challenges too! All they need to do is download the app and get ready to read books by their favourite authors!
Happy reading!
Like this?
Read: Book Themed Activities: Gratitude Rocks
Read More: Three Fun Activities To Do On Christmas Day With Your Children
Rati Ramadas Girish
Rati Ramadas Girish is a true manifestation of an urban nomad. She has lived and learned in India, Saudi Arabia, Europe, and the USA. She began her career as a journalist with NDTV and then worked as a folklorist in Houston, Texas. Somewhere along the way she developed an irrepressible love for children's literature and even wrote and published short stories in anthologies. Presently, she writes from home surrounded by her muses —two sons, a large dog, and her indulgent husband.