Five Minutes with Award-Winning Filmmaker Shilpa Ranade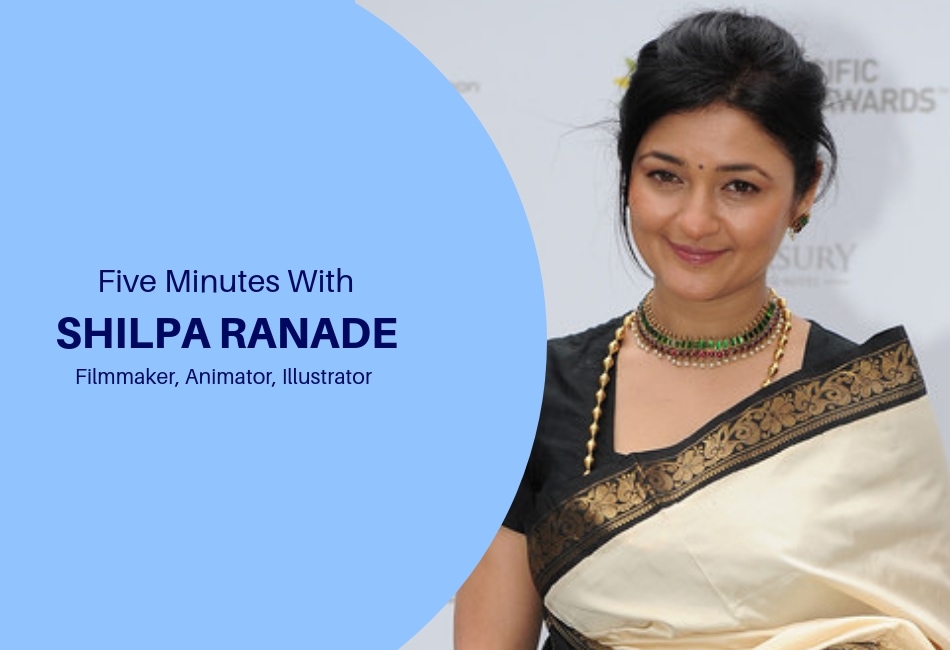 Today, we're in conversation with the talented award-winning filmmaker, illustrator, animator and soon to be puppeteer – Shilpa Ranade! She is currently a professor at IIT Bombay, where she teaches image-making and animation. Shilpa is an award-winning animation filmmaker; her films are thought-provoking, visually stunning and reflect India's vibrant culture. You may have come across her recent children's film called Goopi Gawaiya Bagha Bajaiya.
About Goopi Gawaiya Bagha Bajaiya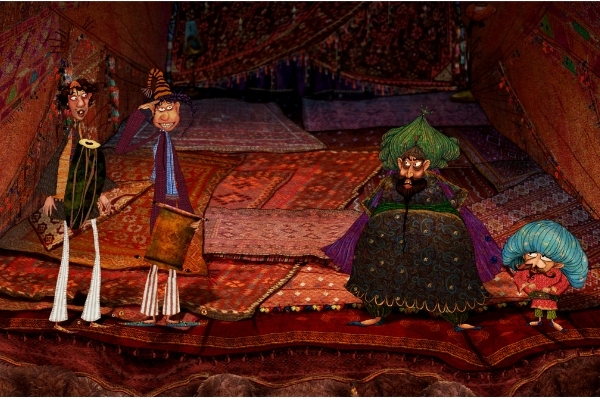 Still from Goopi Gawaiya Bagha Bajaiya, Image courtesy Shilpa Ranad
Goopi Gawaiya Bagha Bajaiya is a story of two musicians who go on a journey unlike any other. Unfortunately for Goopy and Bagha, they are exhiled to the forest because of their harsh voices. It's in this forest that they encounter ghosts who grant them magical powers. These powers help them overcome challenges throughout this engaging animated film.
Looking at the stills from this film, it's no wonder this film has won awards all over the world. It won for 'Best Animation ' in 2013 at the International Children's Film Festival awards. Shilpa Ranade won the 'Animation Award' at the WIFTS Foundation International Visionary Awards in 2013, and the 'Best Professional animated Feature Film' award at the ASIFA awards, India.
Her passion for creating with her hands started at a young age. Ever since she could remember, Shilpa has loved to draw and paint. In her free time, Shilpa still enjoys spending hours absorbed in making things with her hands. It's for this reason, among others, that we wanted to conduct this interview with her.
Team GetLitt: What is your favourite thing to draw?
Shilpa Ranade: I love to draw my dogs Indiana and Kimba, one is a Great Dane and the other a Combai hound. One is huge and the other tiny – both are the greatest of friends.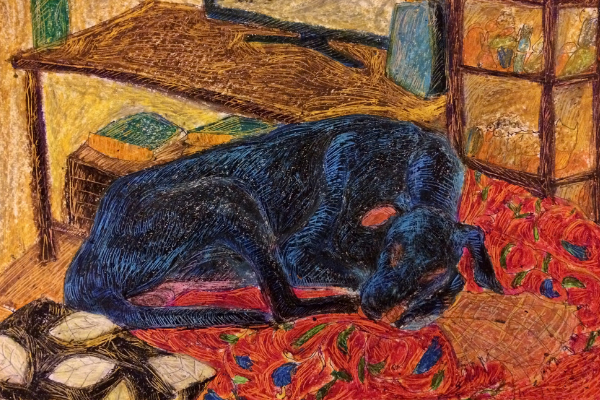 Image courtesy Shilpa Ranade – Painting of her dog.
TGL: Tell us a children's book(s) which you would love to illustrate.
SR: Would love to illustrate the classic 'Where The Wild Things Are', this is a brilliant book and is a mirror to the mind of a child, the illustrations by the author Maurice Sendak are truly phenomenal.
TGL: Which children's book character would you love to illustrate if given a chance?
SR: I think any character from Noddy would be fun to do. I loved the books so much as a child that I wanted to be a toy in Toyland. Maybe I'd like to make a toy version of me to put into Noddy's world.
TGL: Which is your favourite illustrated character/ element from Goopi Gawaiya Bagha Bajaiya?
SR: I enjoyed making all the characters and elements in GGBB, but the most fun character is the rooster who opens the film and wakes everyone up with his loud call. Although he is not the main character, he is an important link for me between the book I illustrated and the film I subsequently made. He is featured in both mediums, as the same avatar.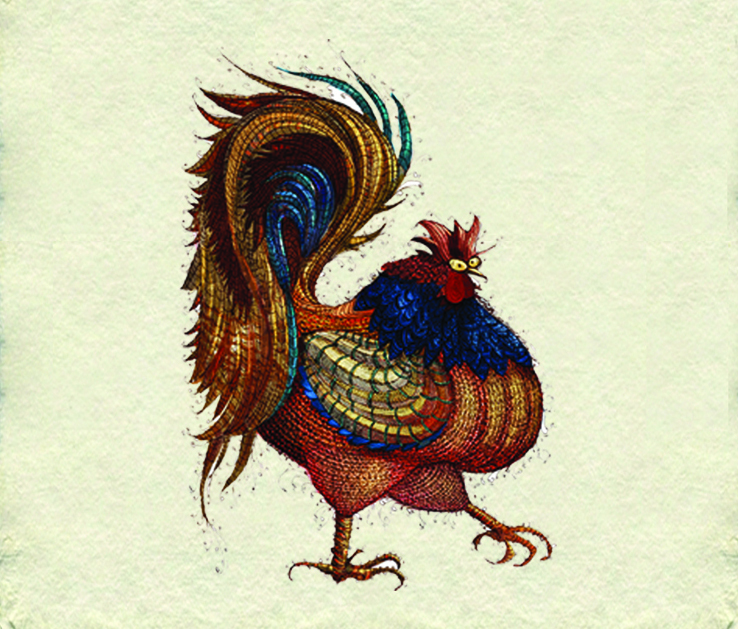 Image Courtesy Shilpa Ranade
TGL: What was the most fun part of directing GGBB?
SR: I enjoyed drawing all the characters and imagining what they would look like. I liked thinking about how they would act and emote; what they would wear and how they would speak and come alive.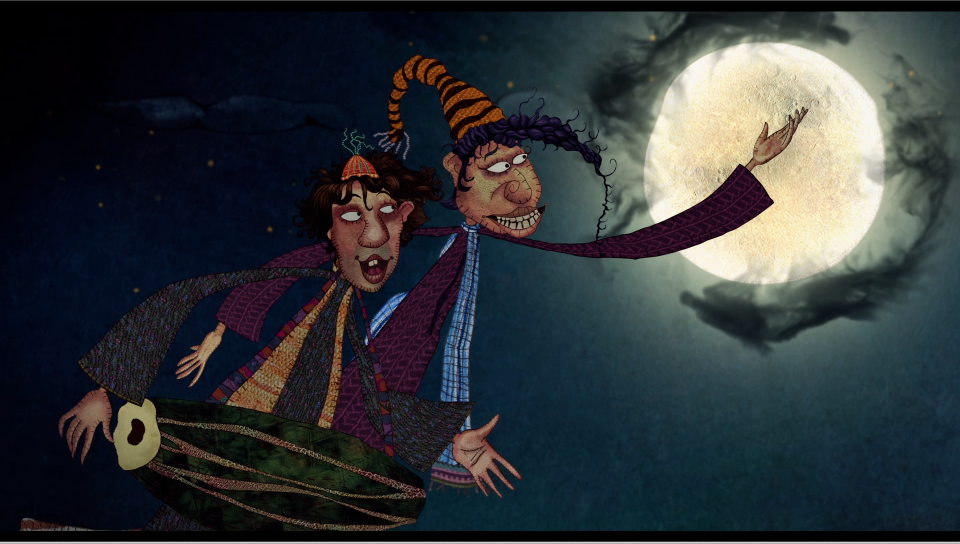 Still from Goopi Gawaiya Bagha Bajaiya, Image courtesy Shilpa Ranade
TGL: Why do you think every child should watch GGBB?
SR: The film is a lot of fun and is very engaging, yet, thought-provoking and layered – making it a meaningful experience for children. The look and feel is very different from the regular cartoons children watch and has an essence of our cultural ethos in terms of the colour, texture, detail, storytelling, music and imagery.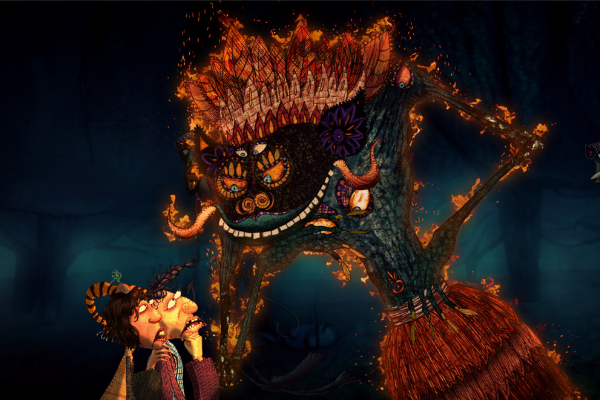 Still from Goopi Gawaiya Bagha Bajaiya, Image courtesy Shilpa Ranade
TGL: If you had to create a new creature which was a combination of two-already existing creatures, what would the two be and what would you call the new one?
SR: I would make a combination of two extreme opposites. An elephant and a hummingbird – to make a humongous character that can fly with the tiniest wings. I would call her Teeny Weeney Ginormous.
TGL: If there was any famous painting/illustration you wish you had painted, which would it be and why?
SR: I would've loved to make the 'Diaries of Prabhakar Barwe', they are copiously illustrated and each drawing has character, meaning and surprise. The notes alongside are cues to deconstructing his abstractionism. It's a great insight into the deep insightful thought process of the artist.
TGL: Which of your senses or elements, help put you in the mood to illustrate?
SR: I love dark chocolate, Jazz and Blues and Hindustani classical music. Flower and fruit teas help as well. However, when I draw I don't really need anything, the act of drawing is meditative and it absorbs me completely – it is something I can't do without!
TGL: Give us three reasons why reading is vital for children?
SR: Reading takes you across thresholds of imagination to places with characters you wouldn't encounter otherwise. It leaves an impact that can be as real as actual life experiences. Reading articulates language and allows for an experience of the beauty of words and expressions.
Thanks Shilpa Ranade!
This was such an insightful interview. Shilpa's creativity knows no bounds; it's no wonder that her animation films are so vibrant and immersive. Creative minds like her make the best children's books and if you're in the mood for a good book, head to GetLitt! today. Subscribe and get access to 200+ children's books!
Happy Reading!
Like this?
Read: Five Minutes with Indian Children's Book Author Shals Mahajan
Read More: Five Minutes with Illustrator Savio Mascarenhas, Group Art Director of Amar Chitra Katha
Feature Image Courtesy Zimbio