How To Avoid Grammatical Mistakes In English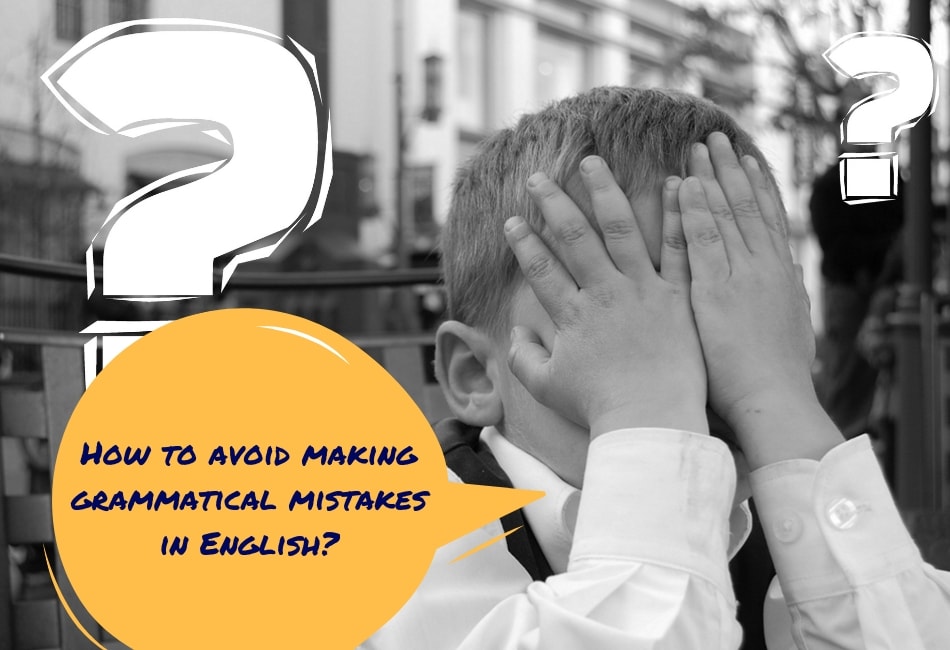 Language has a strong basis, built over centuries; yet it is dynamic and always evolving. Grammar is the system of a language and helps maintain structure and readability.
This system for the world's most widely spoken language, English, is complex, tricky and even funny sometimes. The grammatical rules are hard to follow and familiarity with grammar skills needs to be cultivated from a young age.
It is an added challenge for us in India, given that English is not our primary language. Our country has 22 registered languages, each having even more dialects. Contrary to popular belief, none of our states are completely English-speaking. However, it is imperative for us to learn English, to communicate at a global level.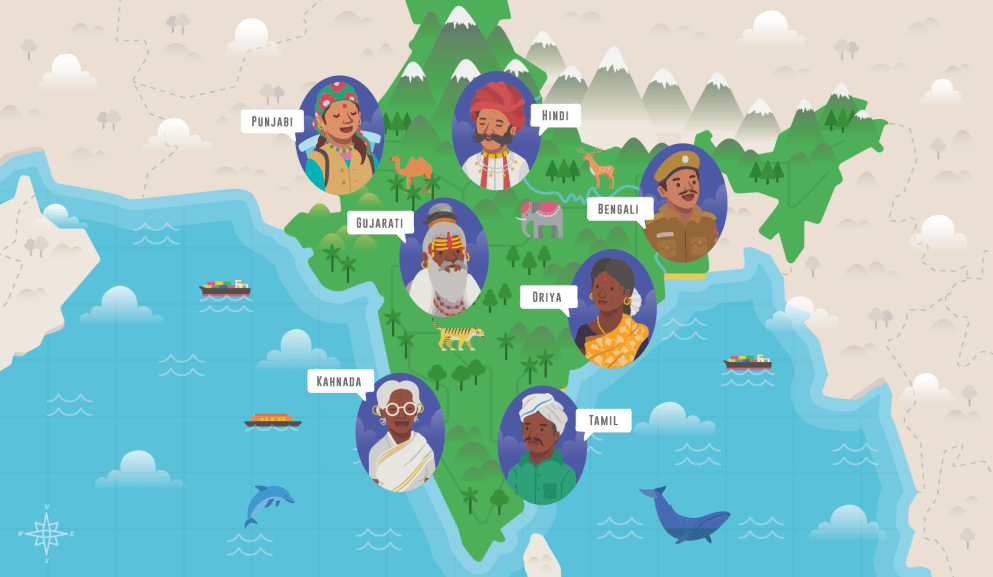 Image Courtesy Babbel.com
With the boom of the internet and growth of the social media space, written and oral communication has become even more intimate and important for individuals across the globe. These situations have placed a huge focus on the usage of English as its medium for communication.
Grammar and in particular, using complete sentences is vital for clear communication on this global platform. A grammatical error brings incoherence, leading to faulty communication. People now get called out and even trolled for incorrect usage of the language. Which is why we wanted to write a blog on common grammatical mistakes in English.
English Grammar 101
Any English language learner should start with the basics, so here they are.
Grammar comprises of two components:
Morphology – Form and structure of words 
Syntax – How words are arranged in sentences 
Correct usage of grammar makes communication of content clear, comprehensible, effective and appealing.
What Are the Most common grammar mistakes in English?
Here are few of the common grammatical errors that individuals make while writing.
1. Inappropriate Use of Tenses:
There are 12 tenses in English. A sentence has to maintain the same tense throughout the sentence. Dropping in words with different tenses makes the sentence incoherent.
Wrong: Sonia will went to school tomorrow.
Correct: Sonia will go to school tomorrow.
2. Subject-Verb Agreement: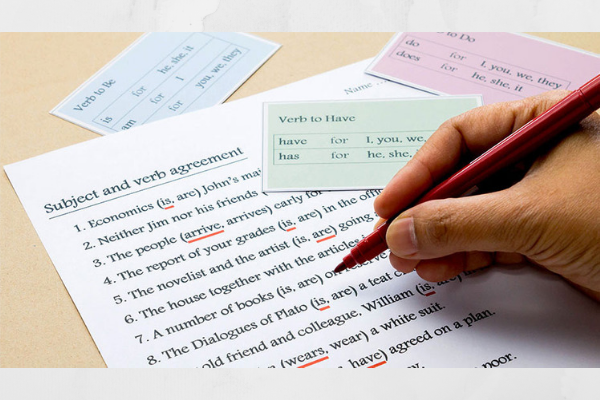 Image courtesy www.ed2go.com
The subject and verb in a sentence must agree to be of the same number. Both have to be either singular or plural.
Wrong: My dog growl at the post man.
Correct: My dog growls at the post man.
3. Missing or Misplaced Apostrophes:
Apostrophes are used to indicate possession and as a stand-in for a missing letter in a contracted word. But these often get confused and people either miss using them or put them in the wrong place. Both these errors can change the whole meaning of a sentence.
Singular & Plural words indicating possession: 
One Customer:
Wrong: The customers complaints were ignored.
Correct: The customer's complaints were ignored.

Multiple Customers:
Wrong: The customers's complaints were ignored.
Correct: The customers' complaints were ignored.
Do not becomes Don't
They are becomes They're 
Indicate Time and Quantity Expressions:
Time:
Wrong: It is an hours walk from here.
Correct: It is an hour's walk from here.

Quantity:
Wrong: I have one liters worth of milk.
Correct: I have one liter's worth of milk.

4. Comma Mistakes:
People overuse, misuse or just not use commas in their sentences. Commas enhance the reading experience providing appropriate pauses in a sentence. Just like apostrophes, when commas aren't used appropriately, they can change the meaning of the sentence and make reading a strenuous experience.
Wrong: The desk, is too small.
Correct: The desk is too small.

Wrong: Additionally the project was delayed.
Correct: Additionally, the project was delayed.
5. Misplaced or Dangling Modifiers:
A word, phrase or clause that describes a word, phrase or clause is a modifier. When the modifier is wrongly placed or not clearly and logically related to the word it is modifying, then we call it a misplaced or dangling modifier respectively. These mistakes can create confusion and they not only create barriers while reading but also sound awkward and ridiculous.
Wrong: On her way back, Diana found a gold man's watch.
Correct: On her way back, Diana found a man's gold watch.

Explanation: The word 'gold' is the modifier here and it is describing the watch. Changing its position in the sentence structure changes the meaning. 
Wrong: Having been broken, Ali could not use the phone.
Correct: Having been broken, the phone was of no use to Ali.

Explanation: Having been broken is the dangling modifier. In the first sentence it suggests that Ali was broken and therefore couldn't use the phone. But, with the rearrangement of the sentence, it's meaning changes and we understand that the phone was broken. 
Similar to this is the error of incorrect pronoun reference. When one uses a pronoun, they have to make sure that it clearly refers to the noun they are replacing.
E.g.: Wrong: After putting her book in the bag, Sybil lost it.
What did Sybil lose, the book or the bag? There is a lack of clarity here.
Correct:  Sybil lost the book after putting it in the bag. 
6. Comma splice:
A common mistake while attempting to correct a run-on sentence is the usage of a comma splice. It occurs when two or more independent clauses are joined only by a comma.
For e.g. If we used a comma to correct the examples given above, it would read as follows:
The sky was clear, we went for a picnic.
My teacher saw me crying, she comforted me. 
As you can see a comma isn't strong enough to separate these two independent clauses by itself. And hence, we use any one the three methods mentioned above to correct a run-on sentence.
7. Spelling Errors: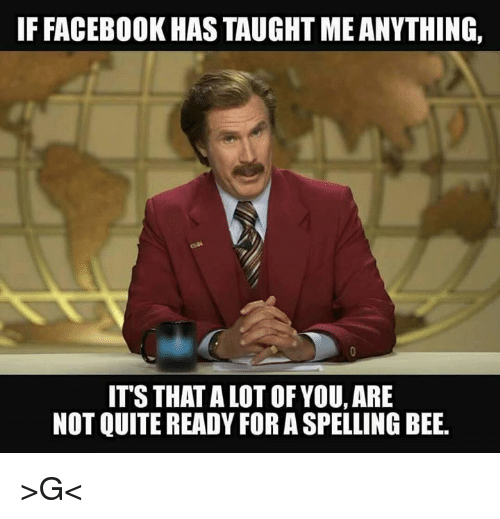 Image Courtesy Me.Me
The letters of a word, denote its spelling. These are fixed and vary only occasionally. Spellings are among the first literary concepts introduced to the child and they are the backbone of any language. Getting them wrong can create complications and is considered a major flaw in one's literary skills. Considering that the English language is filled with commonly confused words, much care needs to be given here.
8. Run on sentence:
It is a faulty sentence where two or more independent clauses are joined without coordinating conjunctions and a punctuation mark to separate them. One can use one of the two methods to correct a run-on sentence:
Run on sentence: 

The sky was clear we went for a picnic.
My teacher saw me crying she comforted me. 

Correct using a period: 

The sky was clear. We went for a picnic.
My teacher saw me crying. She comforted me. 

Correct using a coordinating conjunction and a comma:

The sky was clear, so we went for a picnic.
My teacher saw me crying, and she comforted me. 

Correct using a semi colon:

The sky was clear; we went for a picnic.
My teacher saw me crying; she comforted me.
How to Correct Grammatical Mistakes While Writing
Avoid Spelling Errors: If you are unsure about spelling, check it before using the word.
Punctuate: A misplaced punctuation mark can change the entire meaning of the sentence or make it sound like a nonsensical sentence. So, make sure to put those commas, apostrophes etc. in the appropriate places.
Don't Write Too Fast: When an individual is writing, their mind is usually working faster, racing in fact, in comparison to the hands that are typing or writing. This difference in pace also creates what are today called 'typos.' Avoid writing too fast by creating pointers beforehand or jotting your ideas in a journal.
Read Out Loud: Whatever you write, read aloud to yourself. Listen carefully. Trust your instinct or gut when a sentence doesn't sound right. Cross-check that sentence.
How to Check Grammatical Mistakes
No matter how cautious we are while writing, we are likely to make errors. How does one check that their written piece has no grammatical errors? Here are some points that may help:
Get Someone Else To Read Your Material: You should ask someone familiar with the language and thorough with grammar to go through your writing. They may be able to see your work more objectively and highlight any errors you may have missed.
Use Online Resources: Today there are apps and websites that offer assistance at the click of a button. You could check for errors using them too. These online tools highlight and sometimes also offer alternate solutions to make the sentence correct.
How to Over Come Grammatical Mistakes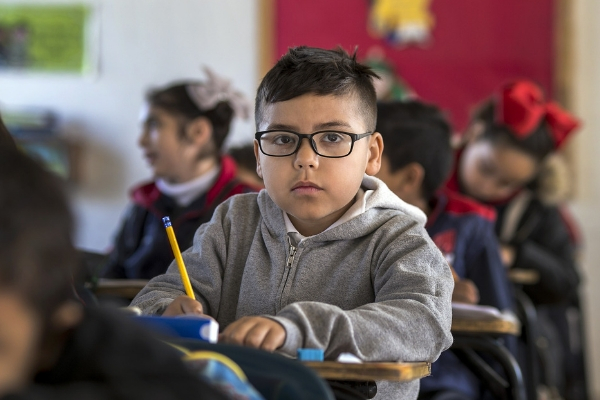 Image courtesy canva.com
Correct grammar cannot be something one focuses on only while writing. Here are some ways to overcome grammatical mistakes in the long run:
Listening Is Learning: Pay attention to people when they speak in English. Watch shows, cartoons and movies in English to understand the language and bring about familiarity with the system of the language.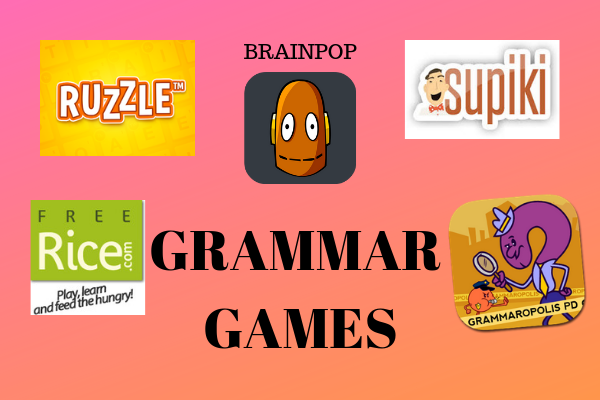 Play Word Games, Grammar Games, Language Games: Today learning has been made fun with a variety of tools at our disposal, just a touch away. Playing games that increase our comprehension and hone our language skills is a more interesting way to understand the language.
Find Reference Resources To Improve: You can find a variety of books, videos, worksheets that aim to help people overcome the fear of the language. These are great reference resources for when you are in doubt, need some questions to be answered or want to look at more examples.
Increase Your Vocabulary: English language has a rich vocabulary and you should definitely try to use new words to enhance your writing. But the correct usage and spelling are imperative.
Practice, Practice, Practice: This age-old method is golden. To improve your grammar, you have to keep working on your language. Write often. Get it corrected. Talk to people in English. Make mistakes and learn from them. If your grammar is strong it has the overall ability to improve your writing.
Accept Criticism Gracefully: It is difficult to say 'I don't know' or 'I made an error' in front of others. But if you do and someone corrects you, accept it gracefully and work on it to improve your language. You're the one benefitting from this whole process.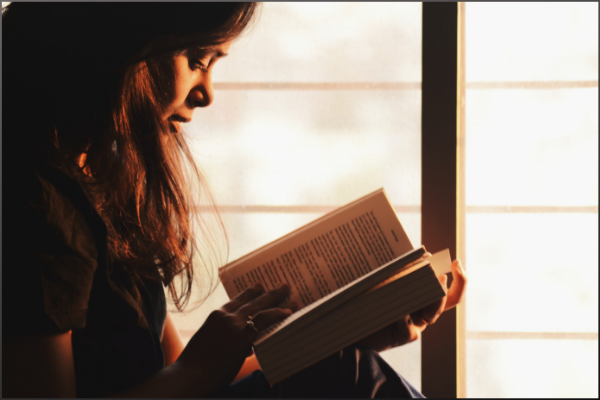 Image Courtesy – unsplash.com, Josh Applegate
Read: The importance of reading books cannot be stressed enough. Reading makes people familiar with the language. One subconsciously absorbs vocabulary, spellings and sentence and word structures. This familiarity helps with your instinct or gut reaction to a grammatically incorrect sentence. Reading exposes an individual to a host of genres and to different forms of writing. On GetLitt! you can find a wide range of interesting books across genres and reading levels.
We hope that this article has helped you gain some clarity and get actionable next steps to improve your grammar while writing. For more articles like these check out our blog. Don't forget to subscribe to Getlitt! and get access to over 200+ children's books!
Happy Reading!
Like this?
Read: How to Increase Vocabulary of a Child
Read more: How to Write an Essay In English
Read Even More: How to Write a Book Review for Kids