10 Children's Book Recommendations from GetLitt!'s Little Readers!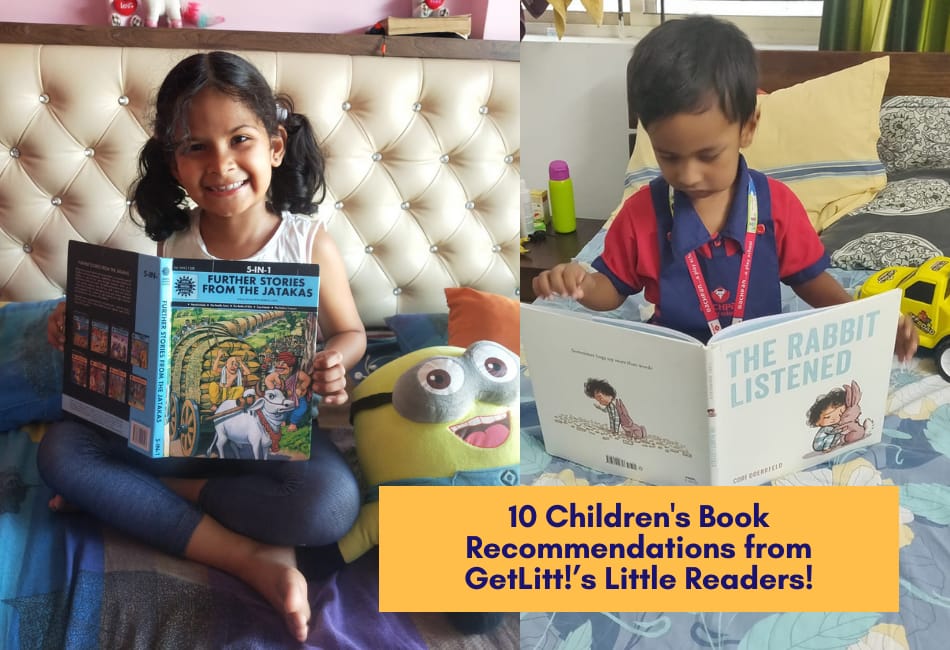 Reading books has a profound effect on children, which is why it's so important to introduce them to books as soon as possible. Raising readers from a young age in an environment that is literacy-rich has numerous benefits. In a recent study by Ohio State's Crane Center for Early Childhood Research and Policy, they found that children below five years old, who read five books a day learned 1,483,300 words before their fifth birthday!
Simply put – children who are introduced to books from a young age learn more words and have a higher vocabulary when compared to those who don't. Looking at their research, it states that children who were:
Never read to learned 4,662 words;
Read to 1-2 times per week learned 63,570 words;
Read to 3-5 times per week learned 169,520 words;
Read to daily learned 296,660 words;
Read five books a day learned 1,483,300 words.
This research drives home the fact that a child growing up in an environment that supports reading will no doubt be leading the pack. Fascinated by this study, we at GetLitt! used the same study as a reference point.
We found that a child in grade 3-4 reading two books a week will be exposed to half a million words in a year. Additionally, students from grades 5-7 who read just one chapter book a week will be exposed to 572,000 words in a year – isn't that extraordinary!
10 Children's Book Recommendations from GetLitters!
So, on the occasion of World Book Day, we reached out to parents and kids to get their book recommendations. All the kids featured today are members of GetLitt! and have access to over 300+ Indian children's books available in our library. We wanted to widen our net for this blog; hence, we asked them to share their favourite children's book regardless of whether an Indian or international author wrote the book.
Here are their recommendations!
1. Arjun Dayama, 8-years-old, The Chronicles of Pantouflia, by author Andrew Lang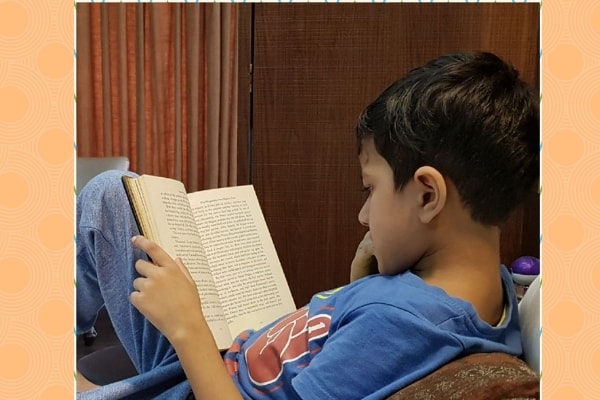 Priyanka Dayama says "This book was read by my husband 32 years back as a child and now my son Arjun read it as an eight-year-old. Priceless for me!"
About the book: The Chronicles of Pantouflia is an adventure book about two fairy tales with a twist. The storylines of protagonists Prince Prigio and Prince Ricardo come together as they fight off forces of evil. The dry humour and storytelling make this book fun for kids and adults!
2. Akaisha Krishnamoorthy, 8.5-years-old, Geronimo Stilton Series, by author Elisabetta Dami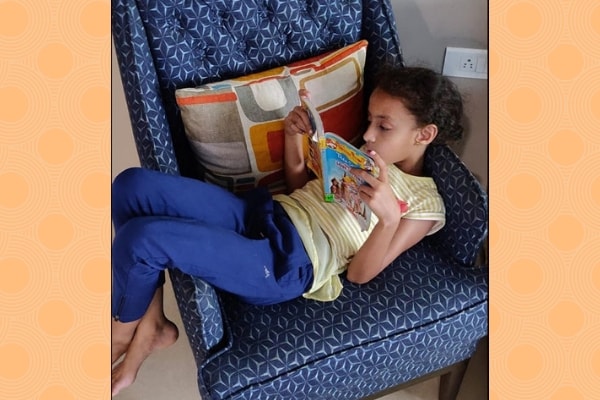 Sanjaya Krishnamoorthy says "Immersed in the world of " Geronimo Stilton" Akaisha, my 8.5 yrs old, found these books so interesting that she got into the habit of reading."
About the books: Geronimo Stilton is a massive hit among little readers as they are daring, exciting and full of adventure. We wrote a whole blog about this children's book series, so check it out if you'd like to know which book your child should read first.
Best Geronimo Stilton Books List
3. Trisha Karnavat, 8.5-years-old, Harry Potter Series, by author J.K Rowling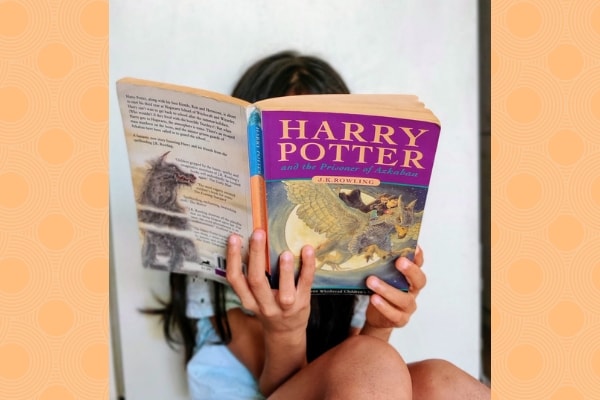 Amruta Bafna Karnavat says "At 8.5yrs when I didn't even know what reading meant, Trisha's gulped down entire the HarryPotter series." Seeing the picture above, Trisha's relative, Sneha Jain Karnavat sent in another picture with the caption "I captured this when she (Trisha) was reading lying on the bonnet of the car while others were playing!"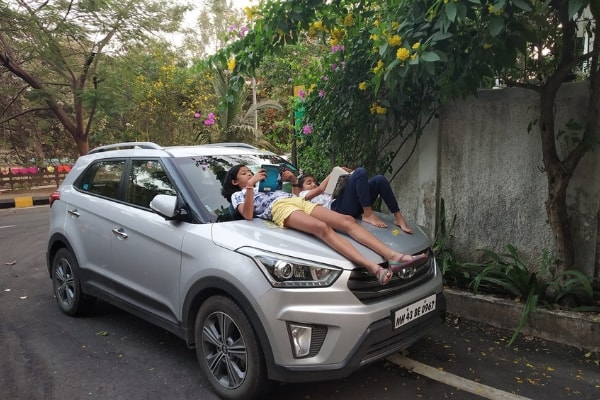 About the books: The infamous Harry Potter books have captured imaginations from the day they were published. Many adults and children remember growing up alongside the book's characters – which makes it all the more special. If you find yourself asking – when is the right time to introduce your child to Harry Potter and the gang? Check out THIS BLOG for the answers!
List of Harry Potter Books: A Peek into the Harry Potter Universe!
4. Anshika Prakash, 8-years-old, Stories of Shiva, by Amar Chitra Katha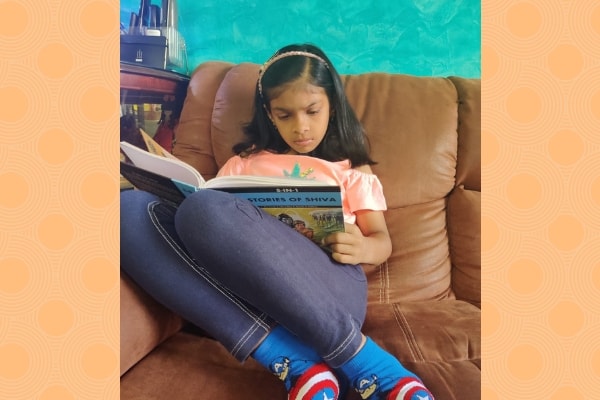 Sarika Prakash says "Anshika; aged eight took to Amar Chitra Katha very well. The publication is a great way to introduce stories from Indian mythology and the lives of great people, without being too preachy."
About the books: Many parents will surely remember those long summer vacations spent reading Amar Chitra Katha comics. These books tell tales of real and fictional characters that entertain children for hours. We have a large selection of Amar Chitra Katha comics in the GetLitt! library, do check them out!
Learning About Famous People Through Graphic Novels
5. Ishanvi Prakash, 4-years-old, Charlie Cook's Favourite Book by author Julia Donaldson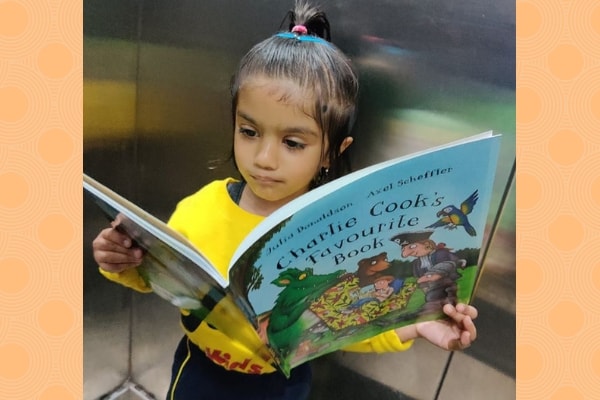 Ishanvi is Anshika's sister (girl reading Amar Chitra Katha, point 4); both sisters are avid book readers. We love a family of readers, especially when they do book reviews! Check out THIS VIDEO of both Ishanvi and Anshika, who share their favourite books, from their bookshelf – it's adorable!
About the book: Here's a book, in a book, in a book. It starts with Charlie Cook's favourite book about a pirate; who has a favourite book about Goldilocks; who has a favourite book about… and on and on it goes!
6 Harshith Pirjit, 10-years-old, Harry Potter Series, by author J.K Rowling
Snega Pirjit says Harshith is a "Crazy Potter Head!!" However, Harshith is more than just a Potter Head, he loves reviewing books and has his own Youtube channel dedicated to his favourite books! Subscribe to his channel and support this little reader!
About the book: Check out our blog on Harry Potter HERE!
7. Anay, 5-years-old, Why Holi, by author Riyanka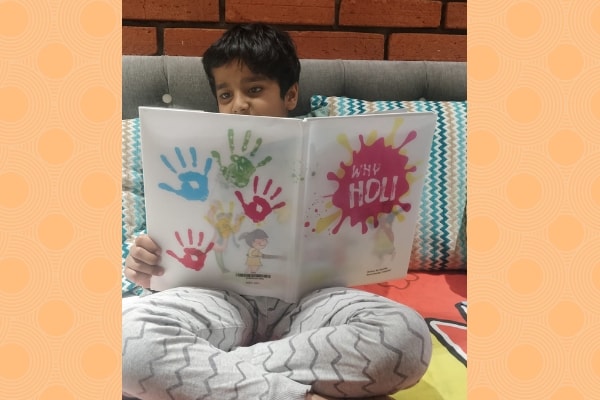 Mommy blogger and mother to Anay, Sulbha Bathwal says "Holi is around the corner, so, Anay needed to know why we celebrate Holi. Hence he is reading this 'Why Holi??' book"
About the book: This book teaches kids about the story behind the celebration of Holi. It retells the gruesome story of King Hiranyakashyap in a positive, rhyming and informative way to educate kids about India's festival of colours.
8. Tanvi, 7-years-old, Further Stories from The Jatakas by Amar Chitra Katha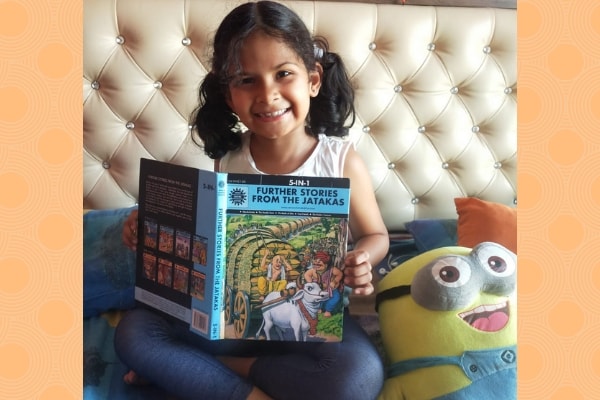 Reena Tiwari says "My daughter Tanvi is seven years old…she is fond of books..this is one of her favourite books."
About the book: Introduce your children to this book which has a collection of short stories from Indian folklore, Hinduism and Buddhism. It's ideal for bedtime and a great way to get your kids hooked on comic books!
9. Aarav Krishna, 3.5-years-old, The Rabbit Listened, by author Cori Doerrfeld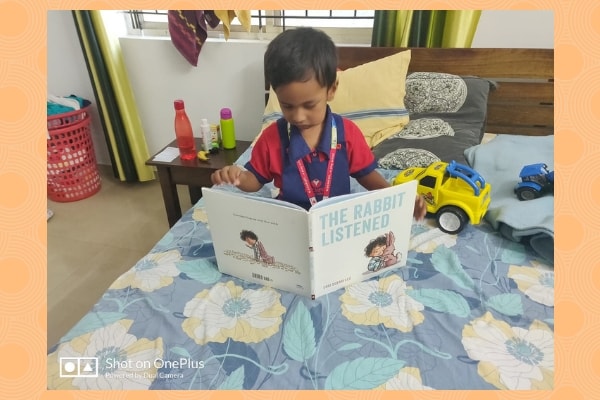 Mahima Krishna says "My son Aarav is 3.5-years-old, this book was suggested in an FB group for books. But he loved the book totally and it's soo good."
About the book: This book helps kids understand death, loss and heartbreak. Its sweet illustrations and careful storytelling make it a must-read for kids who are going through loss. Parents should read this book to kids to help them understand the concept of grief and death.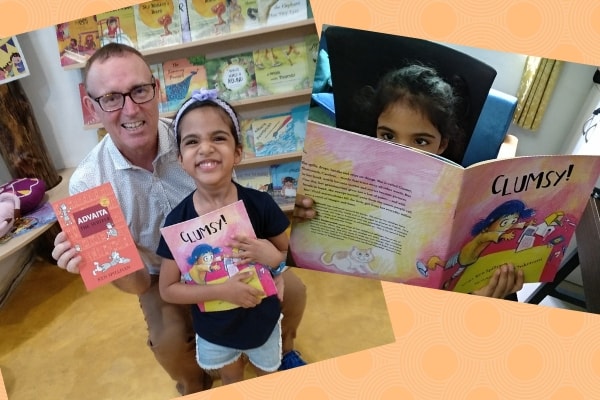 Vania Vekatalakshmi Vikram is one lucky girl as she met Ken Spillman the author of her favourite book – Clumsy! Meeting authors is a great way to encourage children to read and it helps them form a connection with literature and books. Therefore, keep an eye and ear out for any author sessions, book launches or book reading events that publishers and bookstores may host.
About the book: As the name suggests, the story is about a clumsy girl. Due to her accidental actions she is called clumsy, slowcoach and careless – words that, in her head, she turns into stories! This is a lovely book that teaches kids to have thick skin and turn a negative into something creative and positive!
Read Clumsy on GetLitt! today!
That's all Folks!
A big thank to all ten little readers and their parents for sending in their pictures and book recommendations. We absolutely love seeing children read, give reviews and engage with books. Has your child got a favourite book? Let us know in the comment section! If not, get them a subscription to GetLitt! We're sure they'll find at least one of the 300 books to call their favourite!
Happy Reading!
Like this?
Read: Words Of Gratitude From Powerhouse Women In Children's Literature
Read More: From Costumes to Candy, Here's Why These Getlitt! Members Love Halloween