Best Books of Tintin – including the controversial ones!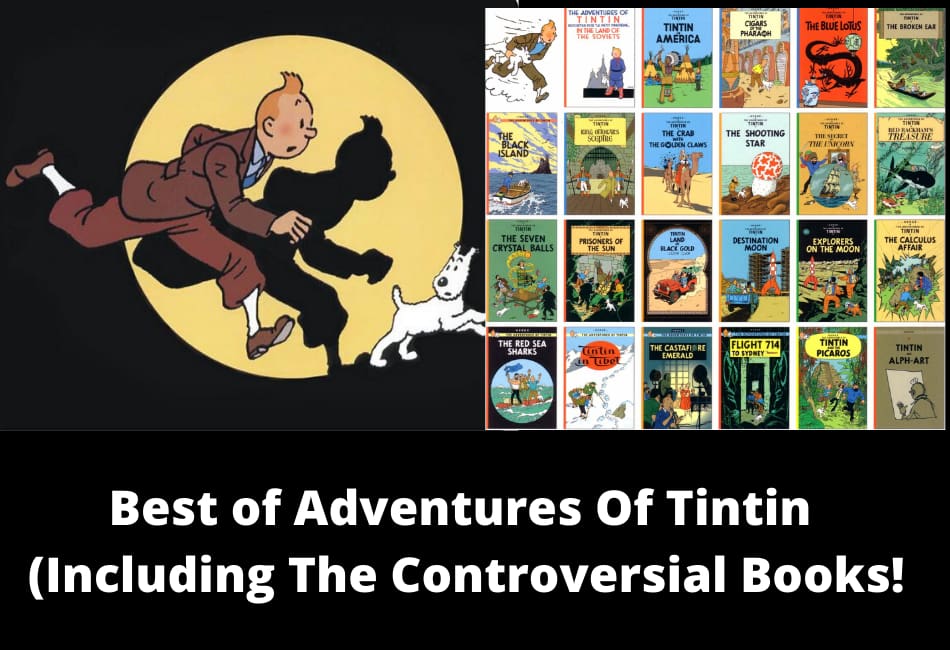 As a child, I was obsessed with Tintin comics. I used to borrow the books from the library and even had a rather large poster of Tintin and the supporting cast — Snowy, Captain Haddock, and Professor Calculus — over my bed! My first impressions of journalism were formed based on Tintin books.  My friends and I would talk about the adventures for hours on end and swap character details we had noticed through the book.
Reading an Adventures of Tintin comic book, while growing up, was similar to going on a thrilling armchair adventure to far-flung places where we solved mysteries that involved warring countries. Of course, everyone loved Tintin, the intrepid journalist, who we never once saw file a news report, but what made the books really interesting were the supporting characters!
The Adventures of Tintin books were a series of 24 books written by Belgian cartoonist Georges Prosper Remi who wrote under his pen name – Hergé. Tintin has been published in more than 70 languages and has sold over 200 million copies! The series was first written in French and appeared in the youth supplement of the Belgian newspaper, Le Vintiéme Siécle. But one of the most successful comic books of the 20th century has a very controversial side.
Tintin Comics And The Controversies
Image courtesy: Casterman
Now hailed as a collector's item, Tintin in the Congo was first released in 1930 in the children's supplement of the Belgian newspaper and was about Tintin and Snowy being sent to the Belgian Congo to report on events in the country. Through a series of interactions with the local tribes, Tintin uncovers a million-dollar diamond smuggling operation spearheaded by the American gangster, Al Capone. This book came under a lot of controversy for the following reasons:
The way the native Congolese were illustrated reeked of racism. They were drawn as blackface, caricaturized and drawn with fat, red lips and depicted as simpletons.
The native Congolese were depicted as an inferior race that needed to be saved by the superior white masters. Tintin was hailed as the white master. This concept hit too close to the truth especially given Belgium's violent colonization of Congo.
The book came under fire because of its depiction of cruelty towards animals.
The story itself was written as conservative propaganda for children and disseminated far-right ideas to children.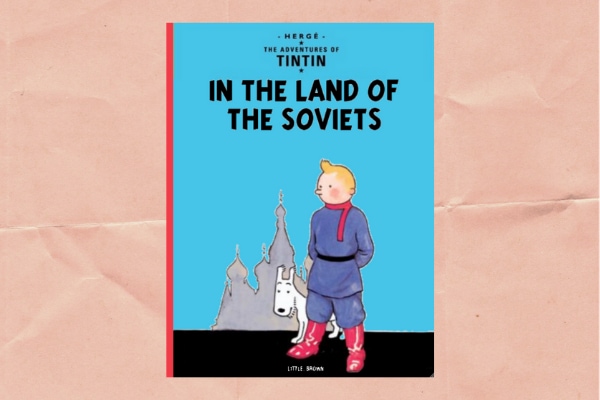 Image courtesy: Little, Brown Books for Young Readers
The book that preceded Tintin in the Congo was Tintin in the Land of the Soviets, which was first serialized in 1929. This book came under a lot of fire for its anti-communist propaganda. The author was severely criticized and in later years Hergé himself tried to stop subsequent publications of this book.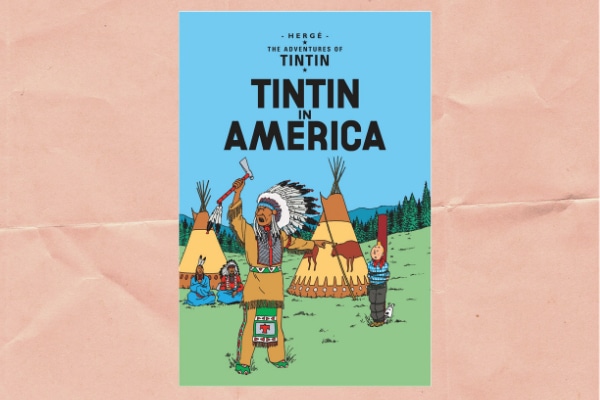 Image courtesy: Egmont Publishers
After being criticized for his first three books – Tintin in the Land of the Soviets, Tintin in the Congo, and Tintin in America – Hergé started paying a lot more attention to details in the back story. The subsequent books written by him have been the more popular and less controversial ones. If you are a fan of the adventures of Tintin books, these should be on your must-read list!
1. Tintin and the Picaros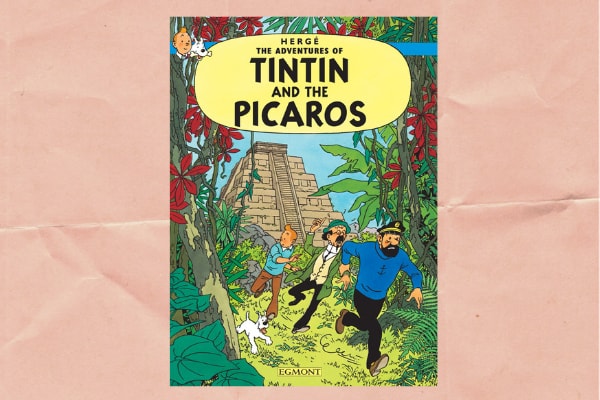 Image courtesy: Egmont Publishers
Is there anything Tintin can't do? In Tintin and the Picaros, Tintin and his friends Captain Haddock, and Thomson and Thompson head to the town of San Theodoros in South America to save opera singer, Bianca Castafiore. This book is one of those must read adventures.
2. Prisoners of the Sun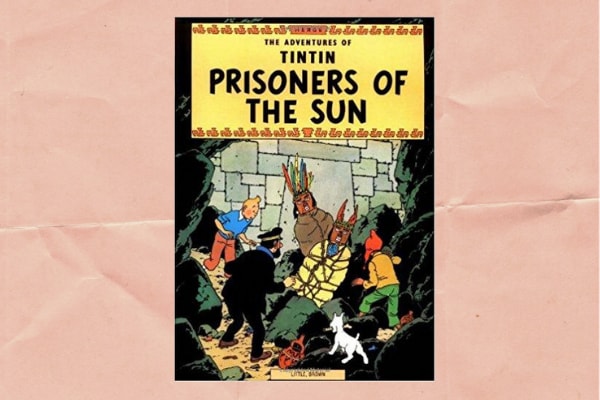 Image courtesy: Egmont Publishers
Prisoners of the Sun is the fourteenth book in the series and a completion of the story that was started in the Seven Crystal Balls. In this book Tintin, Snowy, and Captain Haddock set out to save Professor Calculus and stumble upon an ancient Incan civilization. The head priest decides they must die by the rays of the sun. How will Tintin and his friends escape? Read this thrilling adventure to find out! This book was also made into an animated film called Tintin and the Temple of the Sun in 1969.
3. Destination Moon and Explorers of the Moon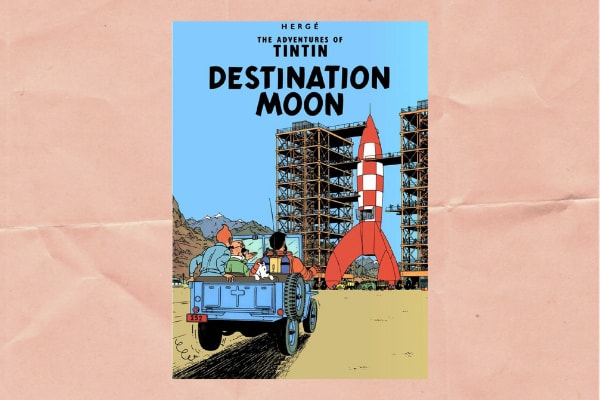 Image courtesy: Egmont Publishers
Space travel was at its nascent stage in the 80s, especially the way it was portrayed in books and movies. Reading Tintin Destination Moon and its sequel Explorers on the Moon opened our eyes to huge possibilities in space.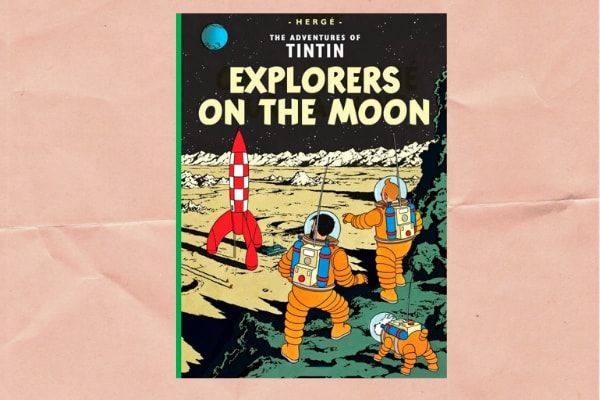 Image courtesy: Egmont Publishers
Fearless Tintin, Snowy and Captain Haddock realize Professor Calculus' dream of sending a manned mission to the moon and give it their all to achieve it. While doing so they also foil a foreign power's plan to hijack the mission. How do they do all this and will they be able to make it back to earth safely? Read these books to find out!
4. Red Rackham's Treasure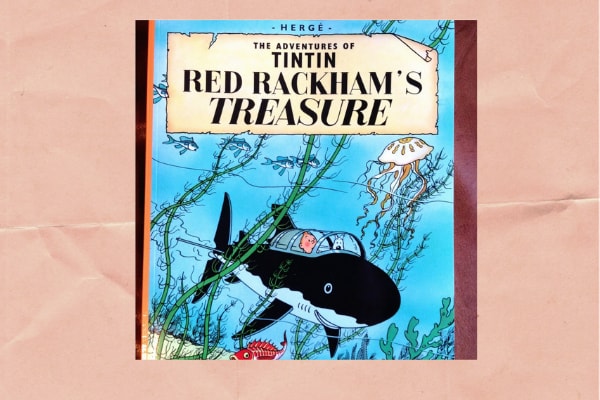 Image courtesy: Egmont Publishers
This book was a huge commercial success and completed a story that was started in The Secret of the Unicorn. In Red Rackham's Treasure, Tintin and Captain Haddock set out on an underwater adventure to the Caribbean to locate the treasure of the pirate Red Rackham. The coordinates of the treasure were found in notes left by Captain Haddock's ancestor, Sir Francis Haddock. Do they find the treasure? A thrilling story from start to finish, that was even incorporated into a Tintin cartoon movie by acclaimed director, Steven Spielberg. This book was also important as it introduced Professor Cuthbert Calculus for the very first time. This book also introduces the reader to Marlinspike Hall, the venue for many subsequent Tintin books.
5. Tintin and the Lake of Sharks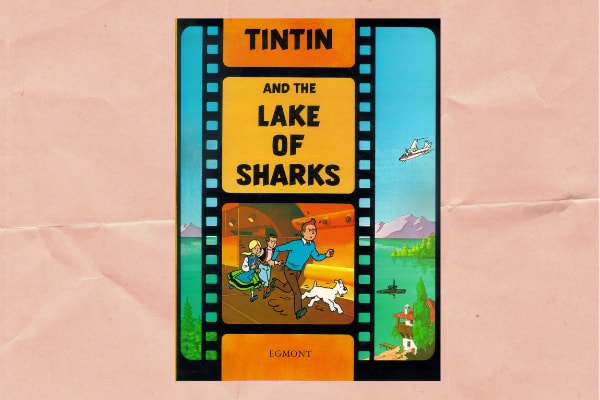 Image courtesy: Egmont Publishers
This was not a part of the adventures of Tintin but was a French-Belgian animated adventure film. The script for Tintin and the Lake of Sharks wasn't written by Hergé either but by Belgian comics creator Greg Regnier. Following its screen success, this movie was adapted into a comic book using stills from the movie. This Tintin cartoon sees the return of Rastapopulous, Tintin's arch-nemesis. In this adventure of Tintin, the journalist is sent to protect Professor Calculus and his invention – a device that can duplicate anything.
These are some of our favourite Tintin adventures, have we listed all of yours as well? Write in and tell us if we haven't and we would love to include them in our list. We would also love to hear what you think about the controversial Tintin books and of course, what you think about kids reading adventures of Tintin books. Too controversial or a thrilling read? You decide!
Like this?
Read: Meet Coronavirus And Other Interesting Characters In These Must-Read Asterix Comics!
Read More: Nostalgia: Tinkle Stories Read Online
Rati Ramadas Girish
Rati Ramadas Girish is a true manifestation of an urban nomad. She has lived and learned in India, Saudi Arabia, Europe, and the USA. She began her career as a journalist with NDTV and then worked as a folklorist in Houston, Texas. Somewhere along the way she developed an irrepressible love for children's literature and even wrote and published short stories in anthologies. Presently, she writes from home surrounded by her muses —two sons, a large dog, and her indulgent husband.