Family Road Trip Ideas Inspired By Books
452 Views
January 17, 2020
A lot of great memories, especially of summer holidays, have to do with the outdoors. Playing for hours, reading for hours, and just chatting with friends. I remember, when I was growing up, my friends and I would spend hours reading Enid Blyton books and dreaming of days when we would visit London and have tea, scones, and clotted cream at charming English bakeries. Through the summer, we would dream of quaint English cottages and busy London streets, reliving every word and image we had read, to a point where we felt like we had already visited and seen all these places! Years later when I did visit England, I made sure to carry my favourite Enid Blyton book just so I could match what I had read to what I saw.
Imagine your child reading Harry Potter. They would have formed a picture of Diagon Alley and Hogwarts and Platfrom 9 ¾ in their minds that will greatly differ from the image you have. Books have this uncanny knack of transporting you to a place and making it feel strange and familiar at the same time. Now imagine being able to combine the power of books and travel together to create unforgettable family memories.
Come holiday season and parents around the world are thinking of travelling. Out of all the forms of traveling, road trips continue to be a favourite owing to the excitement, adventure and flexibility that come with them. Planning a road trip with kids is like taking a giant leap of faith. Things have a way of going wrong when you least expect it. Having said that, I wouldn't ever pass up an opportunity for a family road trip and am always on the hunt for fun family road trip ideas! Sure, they are chaotic, but road trips are a great way to learn and bond together as a family. So, I thought, why not combine books with road trips? Indian children's literature has a vast storehouse of amazing titles about places in India frequented by families with young kids.
We have curated an amazing list of books that you must read together as a family before (or even while!) you drive to the destination. Here are some ways you can use the book you read in the place you are visiting
Use the books as a map and when you reach your destination try and find places the author was talking about.
Try to find things that may have inspired the author to write the story
Now that you have visited the place how would you write the story differently?
So fasten your seat belt and settle in as we give you a list of book-themed family road trip ideas. Choose one for your next holiday and watch as the entire family has fun!
East India: Sunderbans

As far as family road trip ideas go, a trip to the Sunderbans is a great one. Known for the biggest mangrove forests the world over, the Sunderbans is also the place to go to see the Royal Bengal Tiger. Families will love the complete biosphere experience as you enjoy safaris, and cross roaring rivers, and live amidst thick jungles. This area has been designated as a UNESCO World Heritage site. If you are planning to travel here with your family then make sure you read the following books.
1. Tiger Boy, by author Mitali Perkins
Image courtesy: Westland
This book will transport you to the deep, lush depths of the Sunderbans with the story of Neel who is being persuaded by his family to win a scholarship to study in the big city. But for Neel, the Sunderbans are his home and he doesn't want to leave these familiar surroundings for the big city. About the same time, a tiger cub from the reserve goes missing and Neel and his sister are determined to find it, before goons catch the cub and succeed in their plans of selling it!
Image courtesy: Leadstart Publishing
Eight-year old Diya lives in a village by the Sunderbans and visiting the mangroves and playing in the river are some of her favourite activities! But one day, she and her pet goat, Misthi wander a little further off than they usually do and end up going through a series of adventures. Will they come back alive after meeting the King Cobra and the Bengal Tiger? This is a lovely book with a strong message about the delicate balance of nature and all living creatures and is a superb way to introduce the Sunderbans to your child.
Read One Night In The Sunderbands on GetLitt! here!
Some of our other favourite books which can inspire family road trip ideas to the Sunderbans are The Adventures of Woka Chimni, by author Preeti Vyas, The Honey Hunter, by authors Karthika Nair and Joelle Jolivet, and Ghost Stories from Bengal and Beyond, by author Manjira Majumdar.
West India: Ranthambore and Bharatpur
Another very popular family road trip idea is Ranthambore. Combine your family's love for wildlife and scenic adventures by visiting Ranthambore National Park in Rajasthan. Wildlife enthusiasts visit this park to spot tigers, leopards, jackals, and even the elusive Indian wolf. Nestled among two major hill ranges, the Ranthambore National Park will not disappoint and neither will these books based on Ranthambore!
1. Ranthambore Adventure, by author Deepak Dalal
Image courtesy: Westland/Silverfish
When Aditya finds the diary of a tiger poacher, little does he realize what adventure he and his friend, Vikram, are in for. This book teaches kids about the need of the hour to come together to save tigers. Every little bit of effort counts to save these gorgeous creatures from mindless poaching.
2. A Tigress Called Machhli: And Other True Animal Stories from India, by author Supriya Sehgal
Image courtesy: Hachette India
Ever heard the story about a camera-friendly tigress that ruled over all of Ranthambore? Now you can! Read all about Machhli and other animals in this collection of true stories.
3. Chaos At Keoladeo, by author Priya Fonseca
Image courtesy: FunOkPlease
Three young children go on an adventure to Bharatpur to see the fabled Siberian cranes but little do they know they are about to be caught in an adventure that involves strange mysteries in the middle of the wildlife park. Who is the strange guy following them and where are the Siberian cranes they had come to see? Add Bharatpur to your list of places to see when you visit Ranthambore and you and your family will not be disappointed!
West India: Kutch region, Gujarat
The Kutch region of Gujarat offers something for everyone in the family. From vast salt deserts to handicrafts shopping and from shipbuilding yards to wildlife sanctuaries – the Kutch region has it all. Include this family road trip idea when you are planning one and here are a few exciting books to help you plan!
Image courtesy: Kalpavriksh
This is a book young readers will enjoy. Join Khari as she travels through the Kutch region, exploring various habitats and encountering many adventures.
Read Khari Journeys through Kachchh on GetLitt! 
Image courtesy: Kalpavriksh
Shero is a beautiful little hedgehog that lives in the Kutch area. One day she discovers some strange people near her home discussing something that will wreck her neighbourhood. Now it is up to her to rally support from animals in the grasslands, wetlands, and the desert of the Kutch region to save their land from these evil people.
Read Shero To the Rescue on GetLitt!
West India: Sahyadris, Maharashtra
The Sahyadris is one of Maharashtra's best-kept secrets. This gorgeous range runs from Maharashtra right down to Kerala and offers plenty of opportunities for hiking, trekking, river rafting, and even for quiet vacations. The natural beauty of the ghats on the Deccan and Konkan plateaus will definitely make you come back for more. And these books can work as perfect guides on your vacation. Get them today!
1. Sahayadri Adventure: Anirudh's Dream
Image courtesy: Westland
Join Vikram, Aditya, and their new friend Anirudh as they journey through the Sahyadris for an adventure like never before!
Image courtesy: FunOkPlease
Passing through Mumbai on your family road trip? Then the first thing that hits you is the sheer volume of people in Maximum city. That must have you wondering what a person's life in Mumbai is really like? Read this book that answers that very question and takes you into the lives of ordinary people living and working in Mumbai.
Read People Called Mumbai on GetLitt!
North India: Amritsar, The Golden Temple, The Himalayas 
Combine architecture, religion, and scrumptious food on a gorgeous road trip through Punjab where there are sights to take in at every corner. Explore, discover, and learn about culture, art, and take in gorgeous scenic views as you drive through the region.
1. Amma, Take Me To The Golden Temple, by Bhakti Mathur
Image courtesy: Westland
Introduce your child to the beautiful Golden Temple and the stories of Guru Nanak and Sikh saints. This book allows them to learn about and know more about the traditions of langar, and the true meaning of the religion and customs followed at the Golden Temple, through evocative illustrations.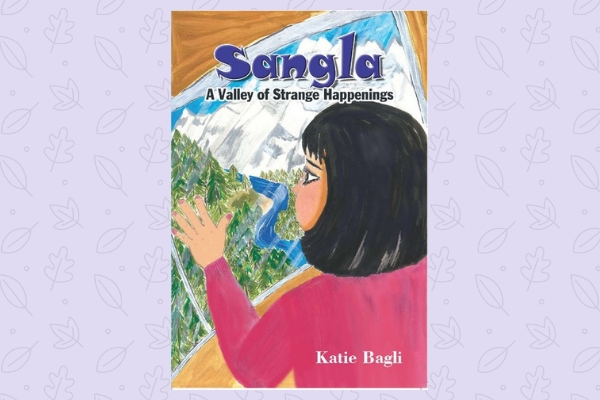 Image courtesy: Inking Innovations
Planning a family road trip through Himachal Pradesh? Then Sangla should definitely be on your must-visit list. Make sure you read Sangla- A Valley Of Strange Happenings, by Katie Bagli on GetLitt! Four-year-old Tara feels a deep connection to Sangla, her homeland. She loves learning about the different animals, the myths and fables of the land she was born in. She feels deeply sad when she encounters people cutting down the majestic deodar trees. Can she stop them? Read this book to find out!
Read Sangla A Valley of Strange Happenings on GetLitt!
South India: Coonoor and Ooty
Take a break from the humid and crowded capital cities of South India and lose yourself in the quiet, scenic, hill stations of Ooty and Coonoor. Taking a family road trip to these hill stations will give you a glimpse of the past while offering your family some much-needed rest and relaxation and what better companion to carry along than these books!
Image courtesy: Leadstart Publishing
Pradeep and Priya have recently moved to Coonoor in the Nilgiri hills with their aunt and are learning to live there amidst scenic surroundings while they come to terms with the new chapter in their lives. But little do they know that right around the corner lurks a mystery! Read this exciting book set in the beautiful hill station of Coonoor on GetLitt! now!
Read Magic In The Mountains on GetLitt!
That's an exhaustive list for book-themed family road trip ideas and we hope you will definitely find your next destination right here! In addition to the books mentioned above we also love these books that give young readers a good idea of places and stories in India. T is for Taj Mahal: An India Alphabet, By Varsha Bajaj and Robert Crawford is perfect for young bibliophiles just discovering the alphabet and soaking in everything around them. Talk of the Town: Stories of 12 Indian Cities, by various authors is a great book for older readers and tells you stories of cities you would never dream about! Read this book to know a city's hidden tales, secret deals and so much more! Tales of a Driftwood, by author Gangadhar Menon will definitely make you plan your next family road trip. The journeys mentioned in this book cover more than 20 states and even some neighbouring countries and will make you want to get out there and experience the world.
Have you been on a family road trip recently? Which places did you go to? Did a book or a series inspire your family road trip? Write in and tell us and we would love to include it in this list!
Like This?
Read: Funny Short Stories For Kids That Will Have You In Splits
Read More: Award Winning Books for Teens
Rati Ramadas Girish
Rati Ramadas Girish is a true manifestation of an urban nomad. She has lived and learned in India, Saudi Arabia, Europe, and the USA. She began her career as a journalist with NDTV and then worked as a folklorist in Houston, Texas. Somewhere along the way she developed an irrepressible love for children's literature and even wrote and published short stories in anthologies. Presently, she writes from home surrounded by her muses —two sons, a large dog, and her indulgent husband.