Sherlock Holmes Books List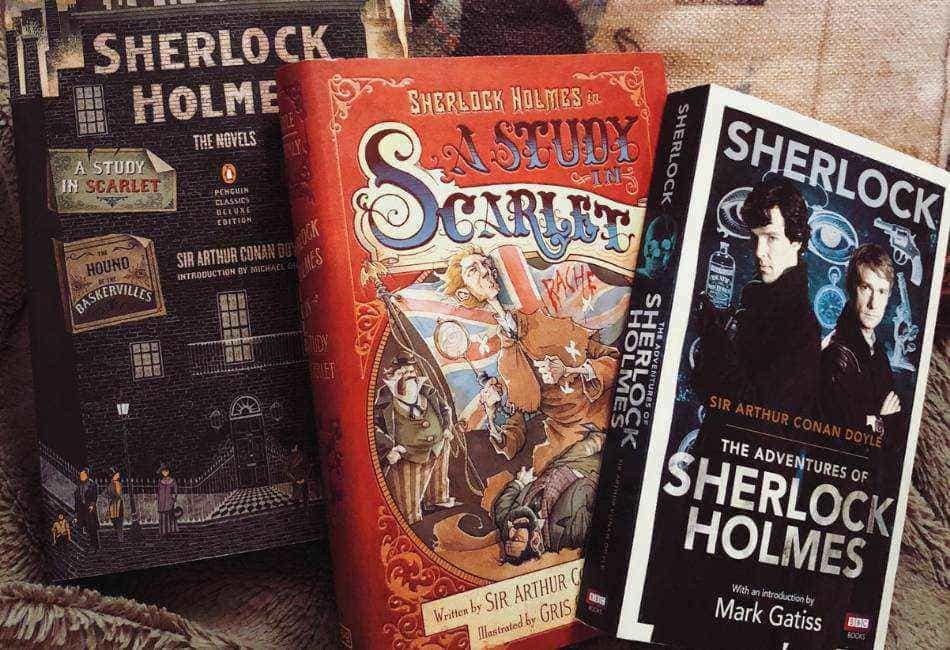 It has been over a century since the first Sherlock Holmes story was published by the renowned author Sir Arthur Conan Doyle, and yet no other detective series has been able to take this its place. Sherlock Holmes' fame resembles that of a real person and not a fictional characterIn fact, he has never been 'just a fictional character.' Instead, he has been a protagonist of great intrigue that readers all around the world, have tried to decipher. Let us, together, dive deep into his thrilling world of murder, mystery, crime and read about the Sherlock Holmes Books List. 
Who is Sir Arthur Conan Doyle?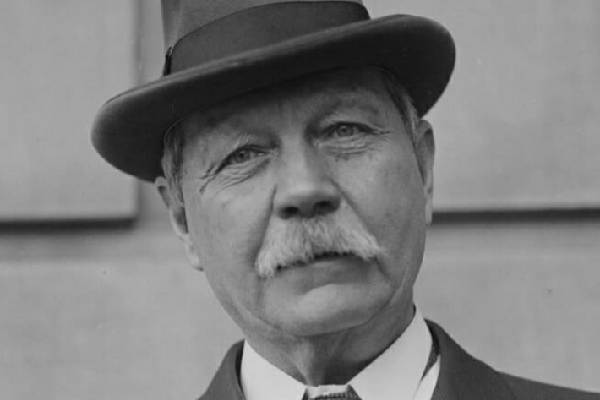 Image Credits – shawfest.com
Sir Arthur Conan Doyle was born in a privileged family. He was admitted to the best schools and universities. However, he wasn't very interested in rudimentary subjects like algebra, geometry and classic literature. Since a very young age he wished for more. He wanted to discover; he wanted to explore; he wanted to innovate. This desire for learning pushed him towards medicine.
Before Sir Arthur Conan Doyle came to be known as the author of the infamous Sherlock Holmes mysteries, he was a physician. He dabbled in various medical streams, from botany to ophthalmology and even general surgery. However, none of them quenched his true desires.
That is until he wrote his first Sherlockian mystery – A Study in Scarlet. From this point on, there was no looking back. Sir Arthur had found his calling and he pursued it with great vigor. Not only did he publish four full-fledged novels, but he also wrote 56 short stories, originally published in Strand Magazine.
Who is Sherlock Holmes?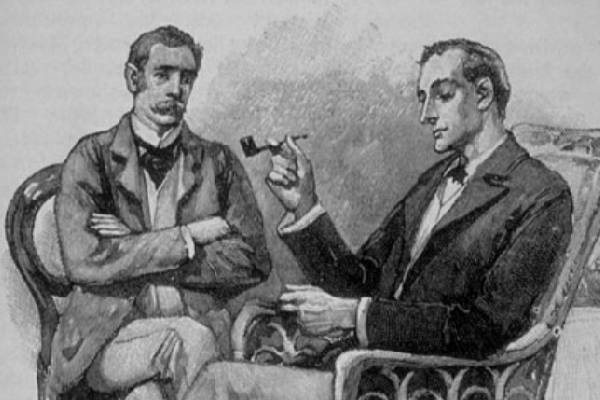 Image Credits- dnaindia.com
One can say that Sherlock Holmes is a fictional British cultural icon. He has inspired many and continues to do so. He is an eccentric private detective, known for his proficiency in observation, forensic sciences, and logical reasoning. He has a knack for noticing even the smallest of details that seem trivial to the layman. However, those details usually turn out to be of great importance in closing his various cases. His skills of deduction are legendary and unparalleled.
Sherlock Holmes is almost always seen with his companion and only close friend, Dr. John Watson, a former Army doctor. This dynamic duo has solved crimes and has created a special place in their readers' and viewers' hearts. The Sherlock Holmes books have been adapted for TV, radio, theatre, and movies numerous times. Each of those adaptations has been prolific and popular amongst all who flock to experience them.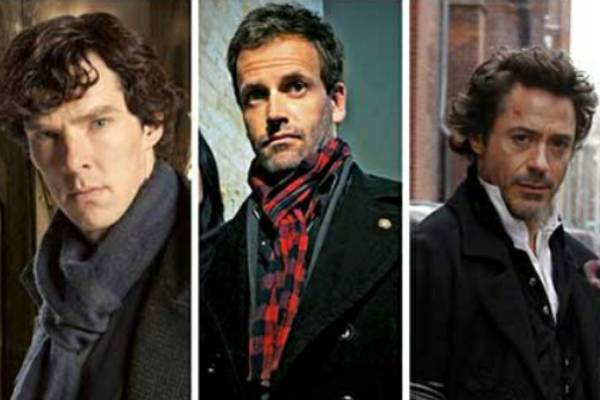 Image Credits- read.ohippo.com
Great actors from the early 20th century have portrayed Sherlock on these various platforms. Many will agree that the two all-time favorites are Benedict Cumberbatch and Robert Downey Jr.
Cumberbatch played the iconic protagonist in BBC's TV show adaption called Sherlock – a role that arguably launched Cumberbatch's career.  The show started in 2010 and has gripped audiences ever since. The TV series has a modern viewpoint, yet adheres to the original short stories that were written by Sir Arthur Conan Doyle.
Unlike the TV series, the movies kept to the time period and written texts. One of the actors who took Sherlock's character to the big screen was Robert Downey Jr. Just like Cumberbatch, Downey did Sherlock's character justice. The American actor was such a hit that, in just two movies, he was able to capture the raw essence of Sherlock and deliver it perfectly to the fans!
How to read Sherlock Holmes?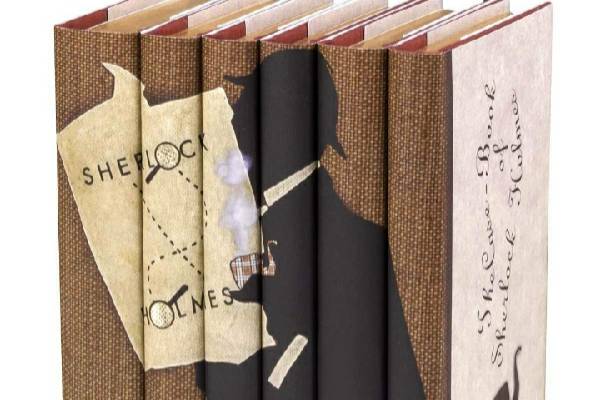 Image credits- juniperbooks.com
Now that we've given you a fair idea about Sherlock Holmes and have, hopefully whet your appetite, let's get into the order of how to read these novels. We're going to be focusing on the progression and relationship between Watson and Holmes; as this is the one consistent narrative that ties all the stories together.
Sherlock Holmes books can be enjoyed in any order as they are mostly stand-alone short stories. However, there are key moments that need to be read in a certain order to fully understand the narrative arc of the entire series. We suggest reading them in the order listed below
Sherlock Holmes book series list in order 
A

Study in Scarlet

(novel, 1887)

Adventures of Sherlock Holmes

(12 short stories, 1891-1892)

The Sign of Four (novel, 1890)

Memoirs of Sherlock Holmes

(12 short stories, 1892-1893)

Return of Sherlock Holmes (13 short stories, 1903-1904)

The

Hound of The Baskervilles

(novel, 1902)

His Last Bow (7 short stories, 1893 -1917)
This is not a determined order but is the closest to any chronology found in the series. We've suggested this order as it has a dynamic mix of novels and short stories to break up any monotony. While we know the volumes of Sherlock Holmes books can be daunting, we urge you to encourage your children to read them.
They're classics, and if your child is fascinated by mystery and adventure, then these books will keep them hooked for hours.
Let's now do a deep dive into the individual books that we've mentioned above to give you a better understanding of the Sherlock Holmes books series.
Sherlock Holmes Book List – Best Novels 
Of all the Sherlock Holmes novels that entice and engage readers, the two that stand out the most to us are A Study in Scarlet and The Hound of The Baskervilles. These two nail biters deserve a read as they'll keep you on the edge of your seat!
A Study in Scarlet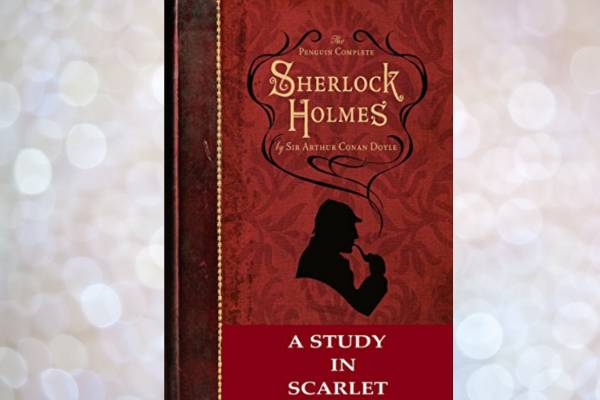 Image Credits: Penguin
This is the book where the famous detective duo, Sherlock Holmes and Dr. John Watson, first make their appearance. The book sets the tone for the entire series as an intelligent murder mystery. Nothing about it is simple or clichéd. This book introduces the reader to how all of Sherlock's stories are narrated through the voice of Dr John Watson. Plus, it's the first foray into Sherlock's mind castle and deductive reasoning.
A corpse is found in a dilapidated house in a remote suburb of London. Sherlock is approached to investigate it when all other attempts at solving the case fail. On reaching the crime scene, he sees the word 'RACHE' scrawled with blood on the wall. Nobody knows what this clue means – was it a name, a place or a code word?
If you're still not convinced about reading 'A Study in Scarlet,' then let us leave you with this famous line from the book. "There is a scarlet thread of murder running through the colorless skein of life; our duty is to unravel it, isolate it and expose it."
The Hound of The Baskervilles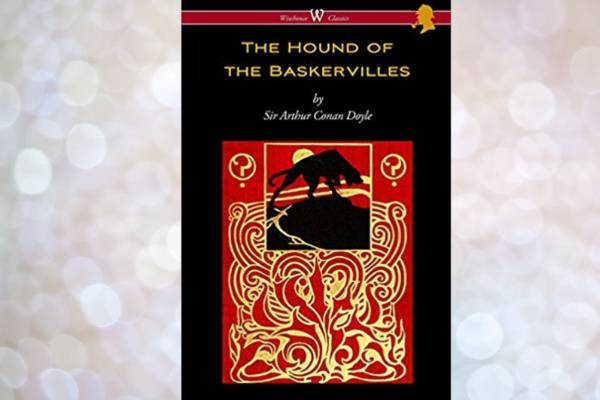 Image Credits: Wisehouse Classic
This is the third novel written, but it is the first tale set after a shocking set of events in the short story The Final Problem.
This story is based on a local legend of a spectral hound that has haunted the lands and people of Dartmoor in Devonshire, England. Most of the action takes place in the night – when the terrifying howls of the hound pierce the sky and wreak havoc on the citizens of the town.
Sir Baskerville, a wealthy landowner, is found dead and his son, who is now twisted in absolute terror, calls upon Sherlock Holmes, as he fears his life is now in danger. The imminent danger of the hound keeps rising, and nobody knows what to do. What happens next? Well, that is up to you if you wish to find out! 
Sherlock Holmes Book List – Best Short Stories
There are 56 short stories all revolving around the infamous Sherlock Holmes. However, let's focus on the cream of the crop and keep the other ones for when you need your Sherlock fix.
Here is our selection of the best Sherlock Holmes short stories – a list meticulously prepared just for you!
A Scandal in Bohemia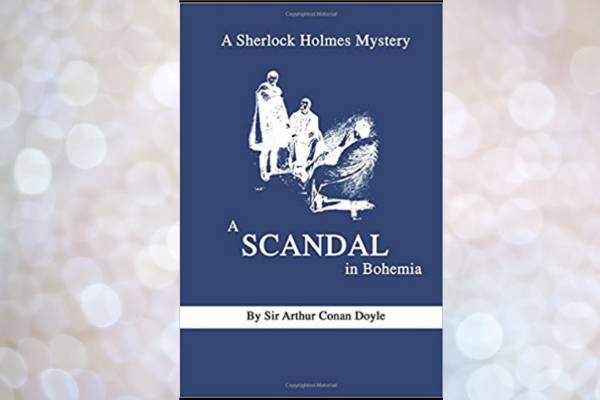 Image Credits: Penguin
This book is widely known for another notorious character in the Sherlock Holmes universe – Irene Adler. She is smart, sly, conniving, and the only criminal who is Sherlock's intellectual equal.
The story starts with a masked prospective client coming to Sherlock's home. Although Sherlock cannot see his face, he manages to unmask the man's identity – The King of Bohemia. The King believes that Irene has some incriminating evidence against him, which will threaten his imminent marriage. He wants Holmes to retrieve that information from Ms. Adler.
Embark on this journey where you will experience Holmes undertaking a disguise and entering Adler's house. Will he make it out safe? Or will Irene Adler find out his true identity?
Adventures of the Greek Interpreter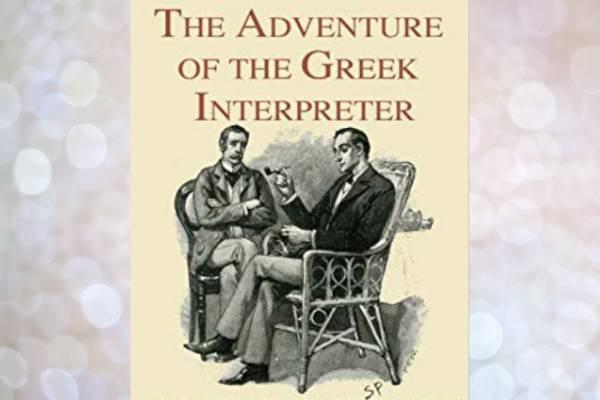 Image Credits: Solis Pres
This book consists of another colorful character from the Sherlockian universe – Mycroft Holmes, Sherlock's elder brother who many will agree, is just as interesting and smart as Sherlock himself.
This story starts with a sinister encounter between Sherlock, Mycroft and his neighbor, Mr. Melas – who is a translator and interpreter. Mr. Melas recounts an alarming experience where he finds himself in a dilapidated house wearing a blindfold and having no recollection of how he got there.
What he does remember is being approached by a man known as Mr. Latimer, who wanted to avail of his services. Through blurry memories and anxious thoughts, Mr. Melan seeks Sherlock's counsel and help on figuring out this very strange series of events.
Where did Mr. Latimer take Mr. Melas? What did he see there that made him worry about the ongoings? Find out in Adventures of the Greek Interpreter!
Adventures of Gloria Scott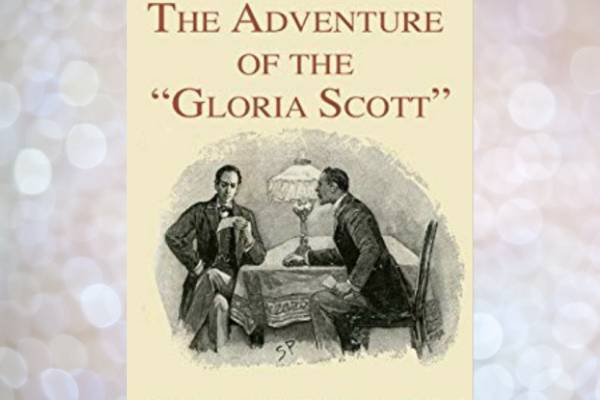 Image Credits: Solis Press
There is something unique about every short story – the special element of this one is the point of view. Unlike the other stories where the narrator is Dr. John Watson, this story is told from the perspective of Sherlock Holmes.
This book gives you a glimpse of his University life. Sherlock narrates his first ever case, which leads him on the path of becoming a detective. To give you a short summary – Sherlock overstays his welcome at his only friend, Trevor Victor's house. When Sherlock is called upon again, Victor's father is on his deathbed after reading a letter which has shocking contents. To whet your appetite, the letter leads to an unraveling about the history of the father and his time on a ship called the Gloria Scott.
Adventures of the Speckled Band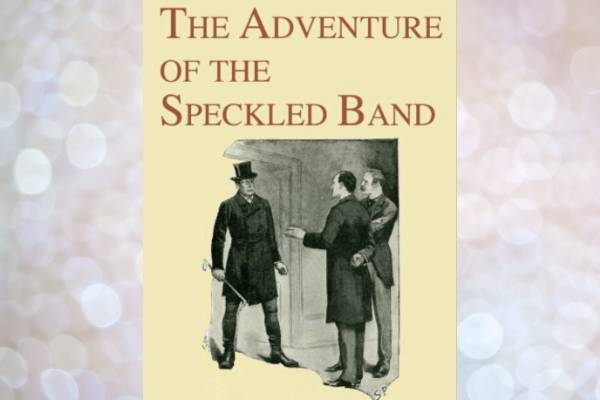 Image Credits: Solis Press
A young girl, shivering and scared to death, comes to the door of Sherlock – she doesn't have any money but has a tale of great intrigue. She and her twin sister lived with their violent and ill-tempered stepfather after their mother died. Her twin sister, Julia, who was about to get married, has died suddenly and unnaturally. Will Sherlock solve this family affair? If you're wondering what the 'Speckled Band' in the title alludes to – well, without giving out too much, there is an Indian twist!
The Boscombe Valley Mystery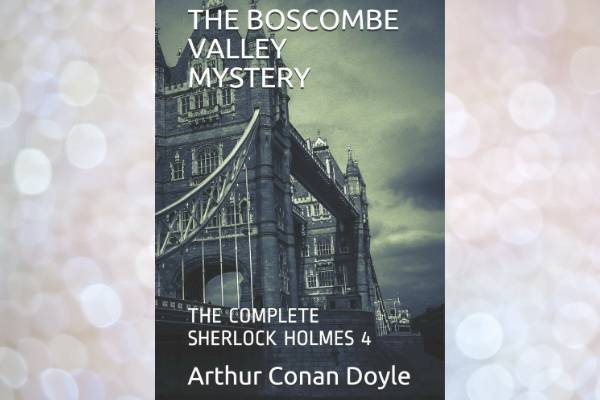 Image Credits: Mighty Ape
The Boscombe Valley Mystery was originally assigned to the Scotland Yard Police Department. However, when lead inspector Lestrade's uncanny connection to a suspect is discovered, they call upon Sherlock Holmes to solve the case.
The victim, Charles McCarthy, was murdered in a flurry of events where his estranged son is implicated. The twist comes when the victim's neighbor, Alice, who was previously engaged to Lestrade, falls in love with the son of Charles McCarthy.
Nobody knows who the real killer is and everybody is a suspect with motives that involve unrequited love, criminality, and blackmail. Sherlock really has his work cut out for him in this one!
The Final Problem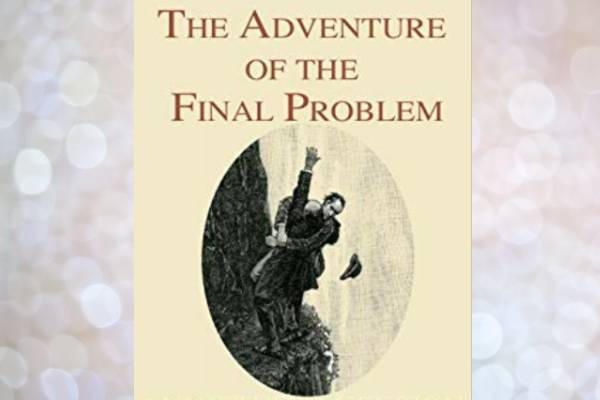 Image Credits: Solis Press
This book is a fast-paced suspense thriller which will keep you engrossed until the very last moment. The Final Problem has it all – murder threats to Dr. John Watson, unknown attacks on Holmes, threats by Sherlock's arch nemesis Professor Moriarty and a trail across the continent of Europe.
We don't want to give out too many spoilers. However, what we can say is that it's an epic battle between two great advisaries that culminates in a truly shocking ending. The Final Problem written by Sir Arthur Conan Doyle is fourth on his personal list of best Holmes stories.
Alternatives to Sherlock Holmes Books
The Sherlock Holmes books written by Sir Arthur Conan Doyle are a real work of art and a treat to those who enjoy good quality mystery novels. If your children adore reading books with the same level of intensity, then why not take a look at homegrown Indian children's books? GetLitt! has some superb alternatives to Sherlock Holmes, that might be better suited to younger readers.
Here are some you can check out today – remember to subscribe for unlimited access to all these incredible Indian novels.
Big Bully and M-Me by Author Arti Sonthalia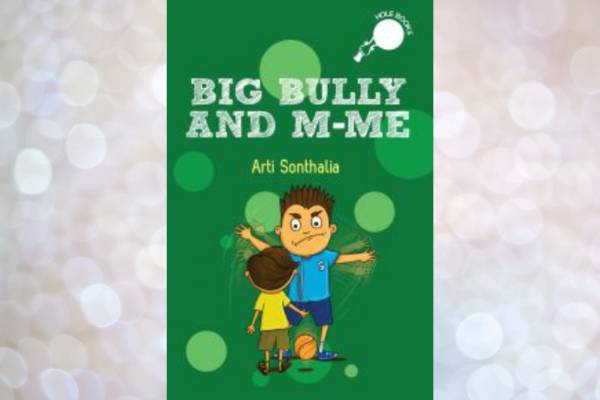 This story revolves around Krishna, a young schoolboy, who is picked on for his stammer and for being shorter than the other kids. All the other children bully poor little Krishna; especially Ishaan – who never misses the opportunity to demean Krishna.
However, when paired together for an impromptu school project, Krishna discovers a secret about Ishaan. If you want to learn about this little mysterious secret, then you'll have to follow the link below to start reading this book!
Read Big Bully and M-me HERE!
Kool 5 Mystery Series: The Phantom of the Raymond Villa by Author Soni Dabral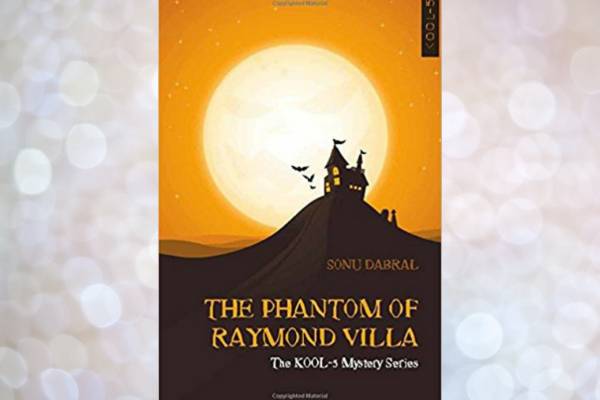 A group of 5 kids, who couldn't be more different than each other, are united because of their common love for mystery novels. Each of them has a different skill set, which all combine to make them a super problem-solving gang. However, there are no mysteries to solve in their town. That is until one fateful day things change!
They chance upon something fishy about a villa on the edge of their town, that has something spooky going on – what is it? Will they be able to reach the root of the problem? Read the book and see whether this gang can solve the mystery.
Read The Phantom of the Raymond Villa HERE!
Defective Detectives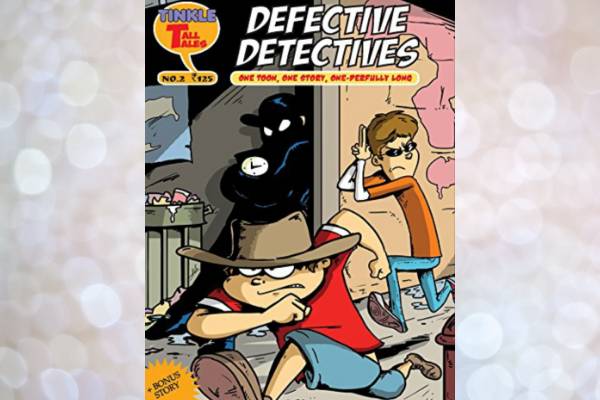 A comic take on detectives – this story revolves around Rahul and Ravi who have a deep desire to rid the Earth of all crimes, except that their deduction and observation skills are not the most polished. If a case to solve doesn't exist, they might even create one! Read this graphic novel, and I assure you, you will not stop laughing.
Read Defective Detectives HERE!
Choices, choices, choices – you have a lot of them! Choose any book from this list and we're sure that your mind will be stimulated just like that of the detective Sherlock Holmes! Go on and dive deep into the vast sea of suspense novels. Remember to subscribe to GetLitt! today to get unlimited access to all the homegrown, Indian children's books available in the library!
Happy Reading!
Like this?
Read: List of Harry Potter Books
Read more: Children's Books that were Made into Kids Movies