Classic Mystery Books For Kids: The Goosebumps Series
4298 Views
August 28, 2019
Ghosts, vampires, werewolves – the Goosebumps book series has all the creepy monsters that you can imagine! A series of fast-paced, action packed stories which will have your kids flipping the pages in excitement and suspense!! Get  ready to be wowed by a world where horror meets humour, where evil meets fun as we're going to be exploring the Goosebumps series today!
What Is The Goosebumps Original Series?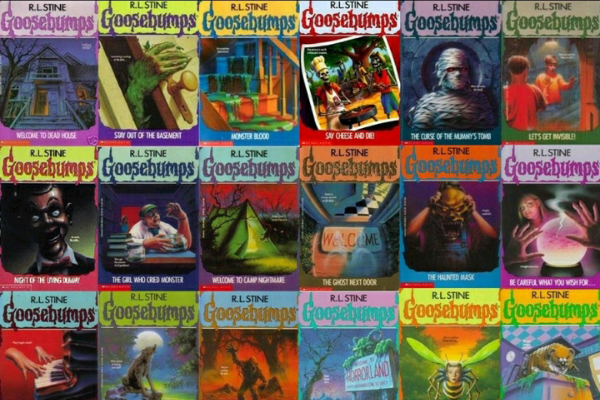 Image Courtesy- scholastic.com
It is a series of horror fiction novels which follow child characters who find themselves in uncanny situations. Whether it is a haunted house or a bustling boarding house, supernatural beings and monsters always seem to make their way into this universe. There are 62 books published under the Original Goosebumps umbrella title from July 1992 to 1997. This series was an instant hit when it was first published and even today, it is read by millions of children all around the world
Author Of The Goosebumps Original Series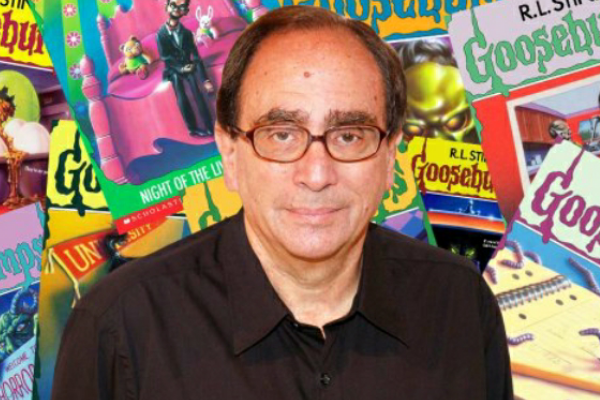 Image Courtesy- fatherly.com
Author R. L. Stine a.k.a Robert Lawrence Stine, is the revolutionary creator of this world of horrors and terrors. He has created a legacy which frightens and thrills  children and adults alike. His work is so prominent that he has often been called the "Stephen King of Children's Literature" – a  prestigious title for any author to receive.
He started his career under the name, Jovial Bob Stine, writing  humourous books. He even started a magazine for young kids called Bananas whose main aim was to provide fun and light entertainment for kids aged 8 to 12. It was not until 1986 that he discovered his passion for horror writing. We all know what happened next – he created the Goosebumps series. Stine was also named by USA Today as America's Number 1 best-selling author for three consecutive years!
The Illustrator Of Goosebumps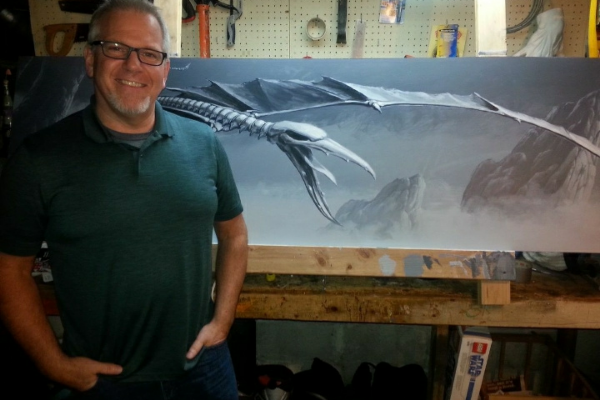 Image Courtesy- stine.fandom.com
Out of the 62 published books, Tim Jacobus, created 60 Goosebumps original series book covers. He also created covers for the various spin-offs and reprints of the Goosebumps editions. When Author R.L. Stine was choosing an illustrator he had two contenders in his mind. After deliberation, finally Tim Jacobus was chosen due to his beautiful use of saturated colours which went on to become a key attraction in all of the Goosebumps original series book covers.
Back then digital art was a new concept and, like most artists, Tim Jacobus steered clear of it. He painted and re-painted each cover by hand according to the requirements of the editor and the author. Mr. Jacobus doesn't receive all the credit he deserves for the hardwork and dedication towards his work.
Adaptations Of Goosebumps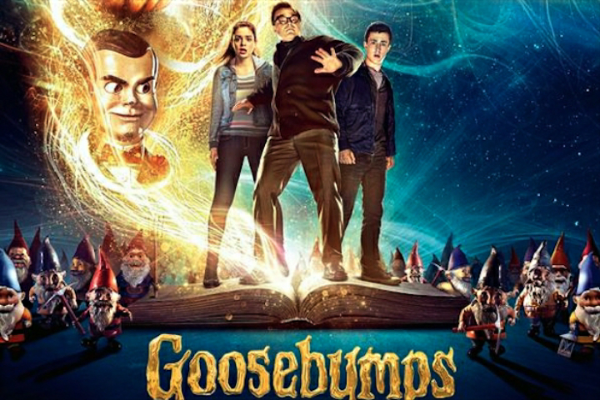 Image Courtesy- thewrap.com
The Goosebumps original series created quite the rage from the time it was published. It was such a hit that soon, it began manifesting into other forms of entertainment as well. It was turned into a television series in the late 1990s, when a Canadian producer picked it up. The television series successfully ran for 4 seasons in over 100 nations.
This series focused on all the main characters from the original book series and was a great hit amongst children. It was rated as the number 1 TV show for children for 3 consecutive years.
The Goosebumps series also forayed into the world of films and released a two part movie: Goosebumps (2015) and Goosebumps 2: Haunted Halloween (2018). Goosebumps even has its own set of graphic novels called the Goosebumps GraphiX! Want to know more about these, well you'll have to check them out for yourself… they will not disappoint!
How To Read The Goosebumps Books?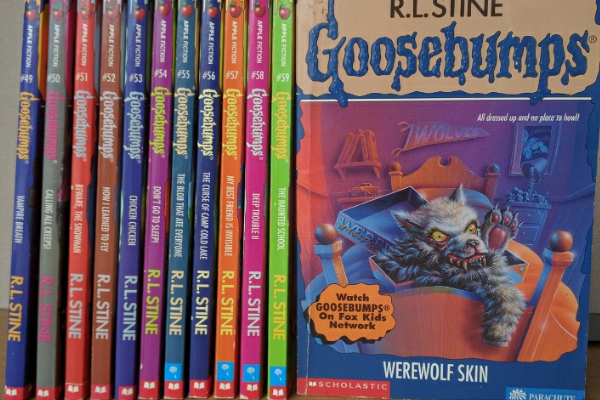 Image Courtesy- dazeddigital.com
We have come a long way from the time when there were only 62 books in the Goosebumps original series. Now there are spin-offs, re-adaptations and game books waiting to be read! Today over 200 books exist and many people are daunted by this huge number, but let us guide you through this confusing maze.
There is no set chronological order for the Goosebumps original series as most of them are unattached and do not even share the same characters. However, they are divided into parts on the basis of when they were published. Here is the classification:
1) Goosebumps Original Series (1992-1997)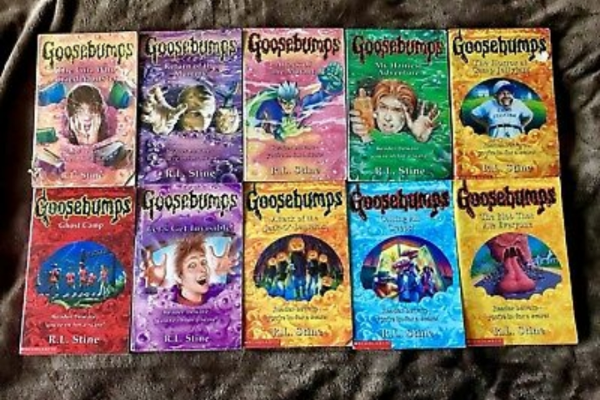 Image Courtesy- scholastic.com
Contains 62 books, most of which are independent stories with different plot lines and exciting characters. However, there are a few series (mentioned below) which, if read in a serialised order will help you understand the flow of events.
Monster Blood (4 books)
Night of the Living Dummy (3 books)
The Haunted Mask (2 books)
Deep Trouble (2 books)
2) Tales That Give You Goosebumps ( 1994-1997)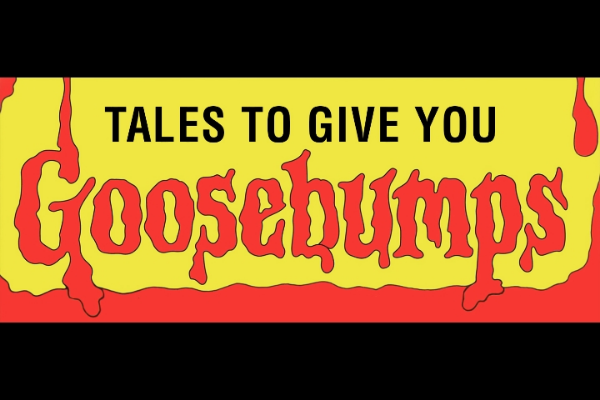 Image Courtesy- scholastic.com
This a series of six books which can be read in whatever order you decide to read them in. Each of these six books contains 10 short stories and the last one is a season special with only Christmas themed stories! So, we recommend keeping that last book for the winter season when it's cold. Read it snuggled up in blankets and sipping a mug of hot cocoa!
3) Give Yourself Goosebumps (1995-2000)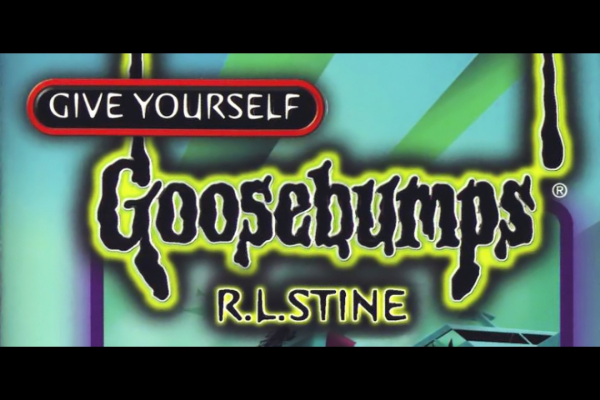 Image Courtesy- scholastic.com
Now, these books are not like regular ones, in which you have to simply read and let the characters make all the decisions –  leaving you screaming at them to not do it! Well, this series of gamebooks gives you a chance to make those decisions. The stories are supported by engaging puzzles and choices! Each decision you make will change the outcome of the story… does the character survive or not, it is in your hands!
4) Goosebumps Series 2000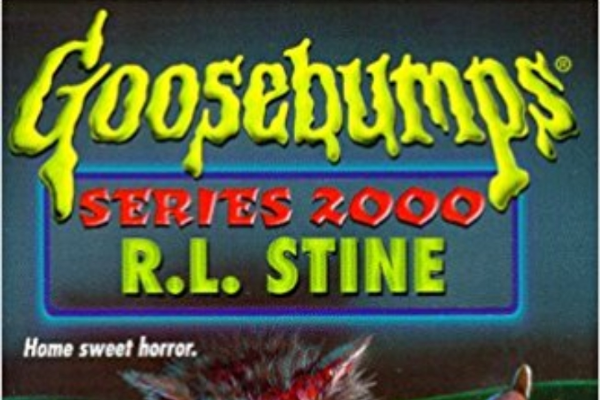 Image Courtesy- scholastic.com
A spin-off from the original Goosebumps series started off as a way to revive the nostalgia and gain the same momentum. It follows the same themes and same patterns, but this time with new characters and new villains. The series has 26 books, each different from the other,  with no specific reading order. Read whatever you want, whenever you want!
5) Goosebumps HorrorLand (2008-2012)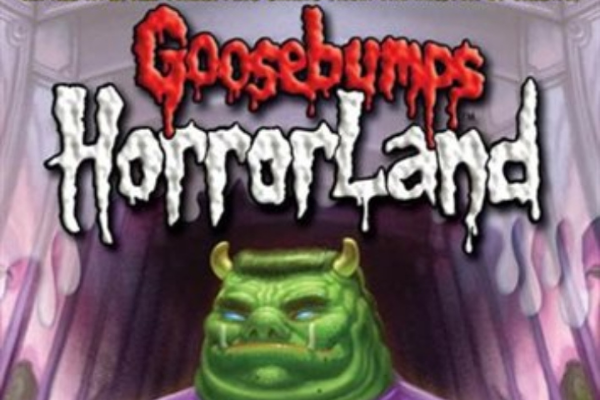 Image Courtesy- scholastic.com
After a hiatus of almost 6 years, R. L. Stine returned  with a new series of the Goosebumps books. There are a total of 27 books all to be read in chronological order. The story is set in HorrorLand – termed by Stine as the scariest place on Earth! Each book chronicles the adventures of the citizens of this mysterious land!
There are a number of other books as well, published after 2012 which bring back famous old characters and new adventures circling around them. Some of them include, Slappy the Dummy, Lawn Gnomes and the Haunted Mask – all beloved characters from the Goosebumps series that have been brought back in these new books.
Why Should Children Read The Goosebumps Series?
In the old days, many people believed that horror was a genre that should be kept away from young children. However author Stine busted this myth by creating the Goosebumps series of horror/humour books, which are perfectly appropriate for kids. Not only does this series allow your child to open up their imagination, it introduces them to so many new creepy characters and creatures. All Goosebumps books use simple and easy-to-understand language which makes these  books appropriate for young and new readers. Lastly, it introduces children to a new genre that they are usually kept away from. It provides them with a different and fresh perspective!
Goosebumps Book List With Covers

We guess by now you know much more about the Goosebumps books. Now, all you need to know is which ones are the absolute best! Each book in this series is one of a kind- R.L. Stine made the mould, wrote the book and then destroyed the mould. However, if you can't get through all of them, we have created a list of books which are our favourites from the Goosebumps series. So dig in- our advice is to snuggle with a blanket and get something indulgent to eat, because once you begin to read a Goosebumps book you won't get up till  the very end!
1) The Horror at Camp JellyJam (#33)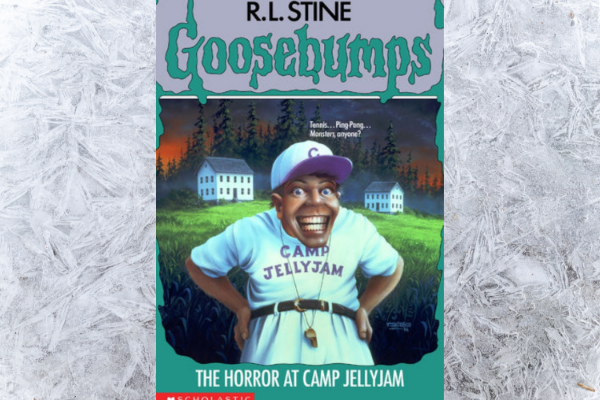 Image Courtesy- scholastic.com
Two young kids, Wendy and Eliot are separated from their parents while they are on a road trip. They are found by a man who claims to be Buddy, a sports camp counsellor. This man takes them to Camp JellyJam – which is supposed to be a  sports camp… but something seems off! The counsellors are too happy all the time. Also, for some reason, they are obsessed with winning. Plus, isn't it strange that when Wendy and Eliot were found abandoned nobody attempted to call their parents! Something seems wrong… read the book to find out what dark and evil mystery lurks in the corners of Camp JellyJam!
2) The Abominable Snowman of Pasadena (#38)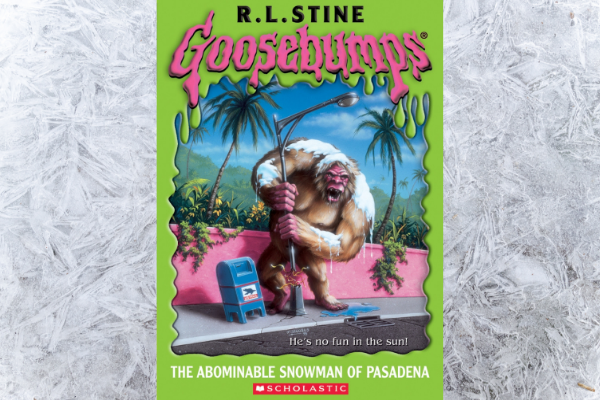 Image courtesy- scholastic.com
Pasadena, California is actually a really nice place to live in according to most visitors and citizens. However, according to R.L Stine it is just a hot place – from the sweltering sun to intolerable humidity, making it comparable to the pits of hell. Jordan and Nicole Blake are sick of this hot situation they find themselves in – all they long for is a cold and real winter! Suddenly, one day their wish is granted! The entire Blake family takes a trip to Alaska – doesn't get colder than that now, does it? But all this seems too good to be true, right? One minute they're making snowmen and snow angels and the next they are being chased down by a monstrous creature – a humongous, abominable Snowman… find out how they escape from its clutches!
3) Shocker on Shock Street (#35)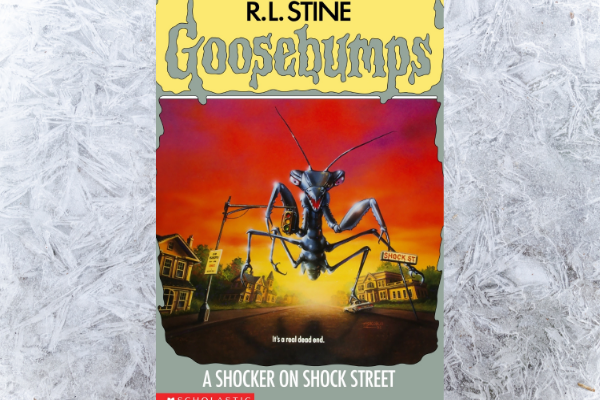 Image Courtesy- scholastic.com
Best friends Erin and Matty are great lovers of horror movies. Not only do they love to watch them, but they love to live these horror movies too. Lucky then, that they get a once-in-a-lifetime chance to visit the Shock Street theme park. It's full of the horror movie characters they love such as The Toadinator, Mad Mangler and Ape Face. It's all a dream until they can't get out of there. Suddenly, the characters start seeming more real than they should be, but it wasn't possible, was it? Read the book to find out more!
4) Night of the Living Dummy (#7)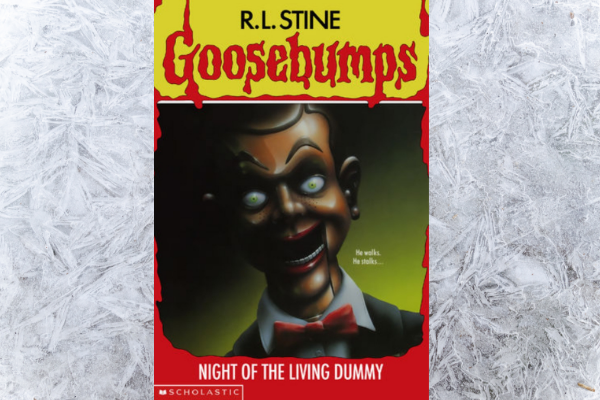 Image Courtesy- scholastic.com
The first of a series of three books about a little girl, Lindy, who finds a ventriloquist's doll and decides to take it under her wing. She names him Slappy the Dummy; he is kind of ugly, but Lindy loves to play with him. She even becomes pretty good at using him, so much so, she starts getting a lot of attention from her family. This does not sit well with Kris, her sister, and she decides to take things in her own hands. She too finds a dummy for her to perform with, and that is when things start getting ugly… could it be Slappy causing all the trouble?
5) The Revenge of the Lawn Gnomes (#34)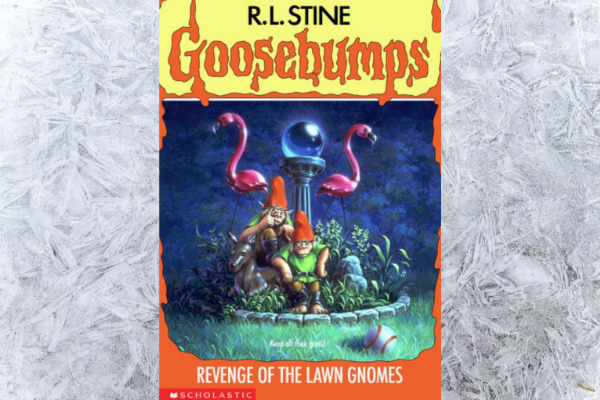 Image Courtesy- scholastic.com
The only thing Joe loves more than gardening, is decorating his garden. He is the proud owner of many ugly and gaudy ornaments and to add on to his collection he buys two lawn gnomes. From the moment those two creatures enter Joe's house,his gardens are squashed, noises are heard and things go awry… what could be the reason – the gnomes maybe?
6) Welcome to Dead House (#1)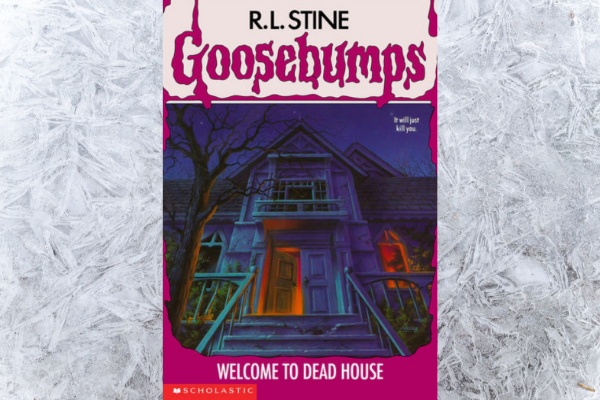 Image Courtesy- scholastic.com
The Benson family has just moved into a new, but actually very ancient, home, in the city of Dark Falls. Nothing about this situation sounds safe, right? Well, the kids, Amanda and Josh feel the same way. They hear things, they see things but their parents seem unperturbed and just tell them to go outside and make new friends. So, that is what they do – go out to make new friends. However, these friends aren't exactly what one would expect…to find out more, read this book!
7) One Day at Horrorland (#16)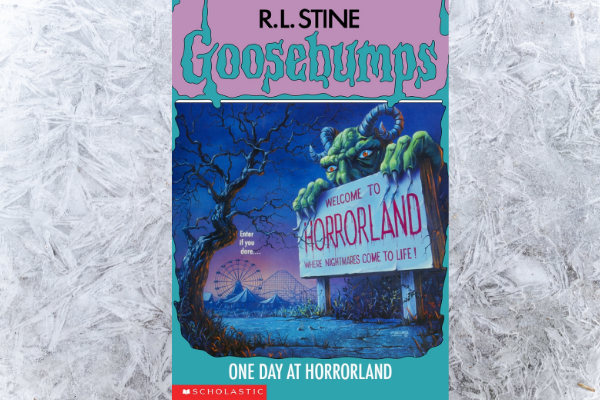 Image Courtesy- scholastic.com
One day, the Morris family gets lost on the way to the Zoo Gardens Theme Park. They're sad until they find another very cool amusement park. There are great rides, no crowd and free admission – seems very suspicious, right? Well, the Morris family failed to see the amusement park in that dark light. They go inside all excited, but that's when nasty things start to happen. Read the book to find out!
8) The Haunted Mask (#11)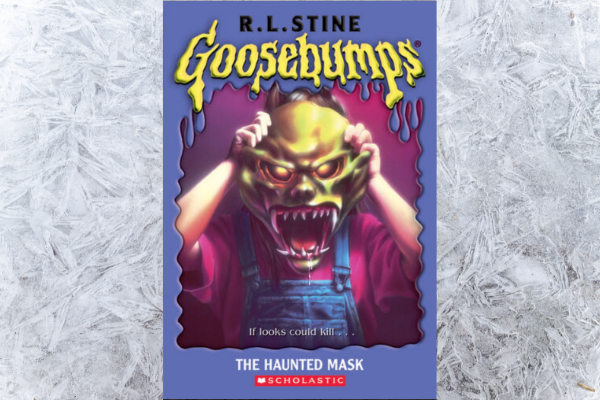 Image Courtesy- scholastic.com
Protagonist Carly Beth Caldwell has had enough of Chuck and Steve, her two bullies in school. She wants to take revenge on them and being the determined girl she is, she plans to do just that! She buys a haunted "mask" from a party shop, but unbeknownst to her, this mask is enchanted. She did not choose the mask, the mask chose her. From the moment she bought it things start to change, like  her behaviour and even other people's behaviour. However, does it help her stop her bullies from being cruel? Find out how she fights through this uncanny adventure!
9) A Night in the Terror Tower (#27)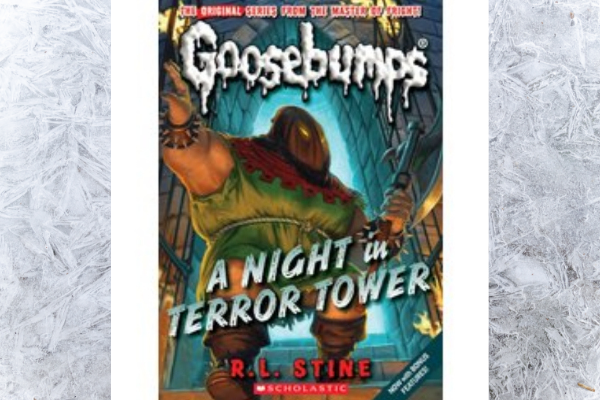 Image Courtesy- scholastic.com
London is a magical place for all, even siblings Sue and Eddie. They almost immediately fall in love with the place. That is , until they run into a tiny problem – they've been left behind by their tour guide! They find themselves in a dingy, dark prison tower, all alone with no way out. That's when they hear sinister whispers in the air but they have no way to fend for themselves. Read the book to find out whether they make it back to safety.
10) The Curse of Camp Cold Lake (#56)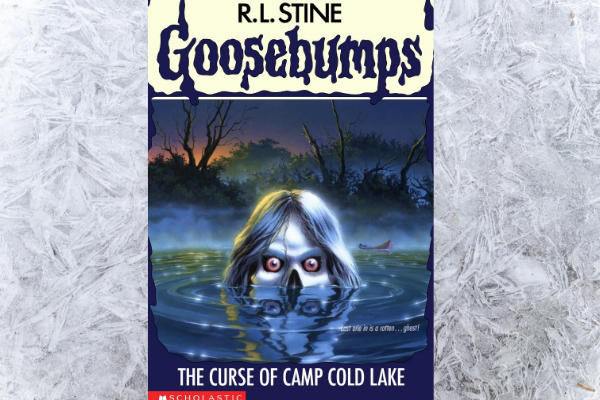 Image Courtesy- scholastic.com
Sarah hates Camp Cold Lake- camps are supposed to be exciting and thrilling but all this place has to offer is an old, filthy lake. To make things worse, Sarah is having a little bit of difficulty in adjusting. Not only does she not have friends, but her bunkmates at the camp have turned into enemies. However, Sarah is not ready to give up, she cooks up a devious plan to survive at the camp.  She pretends to drown at the camp lake, hoping that everybody will feel sorry for her. However, there is somebody at the lake, somebody with pale blue eyes and a transparent body. Somebody not human… does this entice you enough to read the book yet?
Alternatives To Goosebumps

Till you can get your hands on the Goosebumps books,  we've got alternatives that are just as good. Visit GetLitt!'s extensive library which will give you books as bone-chilling as the Goosebumps series. We've mentioned a few of our favourites below.
1) The Ghost of the Mountains by Author Sujata Padmanabhan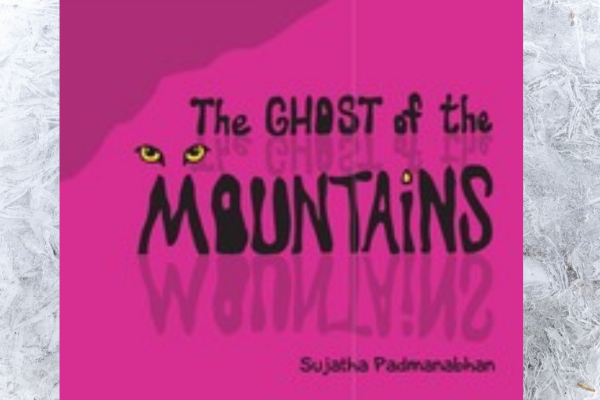 Ang is a small village nestled amongst the Himalayan mountains in Ladakh. Everything is very peaceful there, nothing bad ever happens until one day, an unusual visitor comes to town. He creates a riot amongst the citizens who threaten to kill him. All of them are very angry except this young man who feels that the visitor should be let go. Who is the visitor? Why has he created havoc? How will this madness be stopped? So many questions and there is an answer to them! Read the book to know what happens next!
Read The Ghost of the Mountains HERE!
2) The Taxi Ride by Authors Priyanka Sivaramakrishnan and Bhavini Pant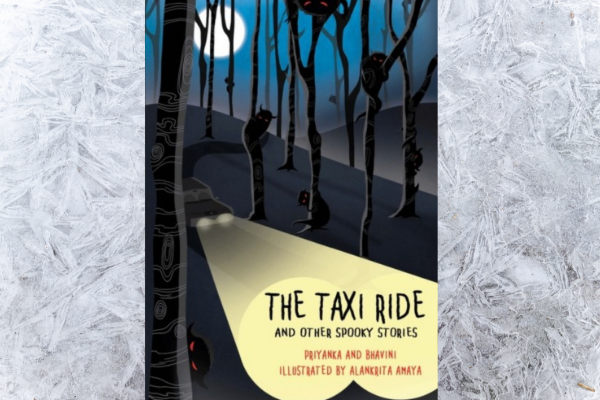 A book not meant for the weak-willed and faint-hearted; full of short stories about the mysterious beings of the supernatural world. Who knows what lies underneath the surface? Werewolves, ghosts, vampires or something even more dangerous? These creatures will not spare the protagonists, whether it is in a simple taxi ride or during a visit to their Nani's house. Want to know what their fate has in store for them?
Read The Taxi Ride and Other Spooky Stories HERE!
3) Mr. X the Storyteller by Author Karthika Amrut

Maya is a nine year old girl who lives with her widowed mother. It has only been the two of them for a long time now and she is very satisfied with the life they lead. Maya did not want anything to change. That is, until Mr. X walks into their lives, a man who wants to marry Maya's mom. Maya has one condition though, every time Mr. X meets her, he has to tell her a story – a great story. Only then will she decide whether he is a worthy man. However, Mr. X has never told a story before. Can he become a storyteller overnight?
Read Mr. X the Storyteller HERE!
So many books, not enough time! So, you should really get to it then. All of these books either from the Goosebumps series or the GetLitt! alternatives are fabulous. They will open up a new world full of eccentric characters, exciting plotlines and out of the box settings. Each page you turn, each book you finish will teach you something new. Do read these mystery books for kids, they are milestones in themselves!
Like this?
Read: Award Winning Books for Teens
Read more: Book List: Children's Books That Were Made Into Kid's Movies
Feature image courtesy WorthPoint.com