Reading – A Habit Worth Building
1933 Views
September 18, 2019
"Reading gives us a place to go when we have to stay where we are" – Mason Cooley'
What a fantastic way to describe reading, isn't it? In this fast-paced world, ruled by gadgets, there are certain 'relics-of-the-past' that we still cherish to hold in our hands- Yes, I am talking about 'Books'! Nowadays, as the format of reading and learning is changing from physical books to digital, with apps like Getlitt, there are many options to choose from. So, whether you enjoy reading online on-the-go or prefer books, the one thing that is clear is that reading is a lovely habit to be hooked on to.
One reason why we were interested in getting our daughter Dia, hooked on to books from the very start, and by that I mean the 0-6 months age group itself, was that we really enjoyed reading ourselves. It wasn't just an activity for us to engage in, but a very special way to bond & a wonderful way to relax together. Before we knew it, book-reading had very much become a part of our daily routine, especially around bed-time. There are just far too many benefits of this superbly rewarding activity.
A quote from the very popular Dr Seuss sums up the benefits very well- 'The more you read, the more your will know. The more you learn, the more places you'll go!'. Even if you haven't started as early as we did, it doesn't really matter. What matters is, to start now!
Reasons Why Reading Is A Habit Worth Building
Read on to know the numerous gains from reading together…
Developing Imagination
Increasing Vocabulary
Learning & Improving Diction
Finding Expression
Engaging in Conversation
Imbibing Values
Easing into sleep
Now, while it's lovely to know about the benefits, what should you do if you are struggling with getting your child engaged happily in this activity? Firstly, it is important to understand that many a times, children who aren't used to reading, are often reluctant because they associate reading with schoolwork, studying, pressure and other not-so-much-fun activities, something that has to be done irrespective of whether they like it or not. The core problem here is their negative association with book reading. Once you have identified this, you can slowly start looking at ways of turning around the association gradually, by making reading fun and engaging.
Just keep a few pointers in mind: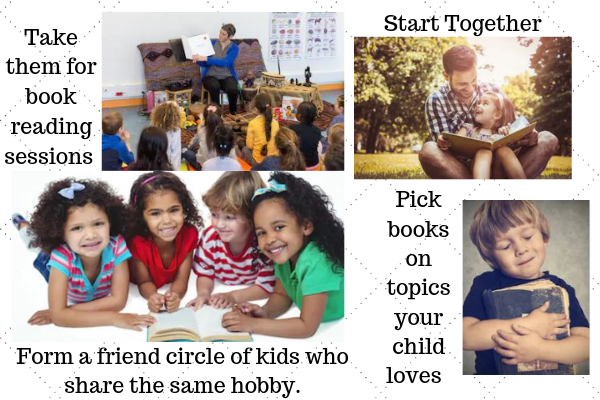 1. Read as per the child's interest area
You may want to start with books that are about an activity or thing that the child loves. For example, if your kid likes to sing, pick up a children's storybook revolved around singing. If your child is fascinated with outer space, start with a fun book on that topic. This method can pull the child towards reading over time.
2. Start slow and start together
It is important not to push your child too much and feed the 'negative association' discussed earlier. You can help by reading out aloud to your child at a set time daily, so that it is well anticipated by them and develops into a routine of sorts. Your presence and attention can work wonders in getting them to be present and attentive too, when it comes to books.
3. Set up a challenge
Make it engaging in a way that suits your child. Most kids love being competitive, so ask them if they can finish the book in a particular time-frame or if they can narrate the story to you correctly or maybe just ask them to enact the title of the book or a character from the book and let you guess.
4. Take your child for a book–reading session
This way your child gets to interact with peers who enjoy reading. This is a great way to make them form a friend circle of kids who share the same hobby.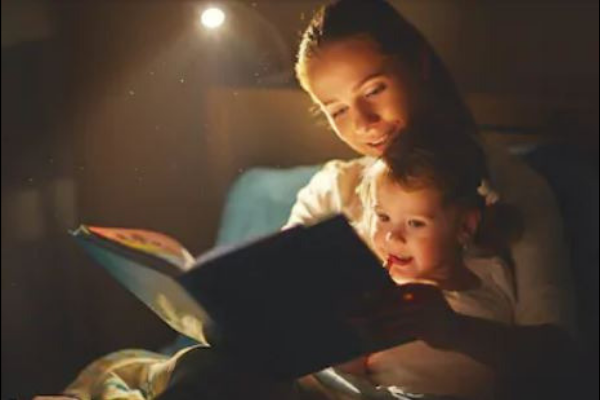 Image courtesy Shutterstock
Interactive books are a great place to start inculcating this precious habit, for a lifetime. You can pick from a variety of options as mentioned below …
1. Poem Picture Books
Julia Donaldson and Dr Seuss are great at telling stories through rhymes for kids in the 'below 5-years' age group. Kids love the sound of poems and take to poetry books faster, as they feel like reciting and enacting them. Publisher Ms Moochie Books has few fun titles that rhyme and that kids love to read again and again.
Read: 17 Poetry Books for Kids
2. Activity Storybooks
These books have DIY activities like sticking pictures or magnets in blank spaces to complete the story. There are even book activities like connecting the dots to make an image that links to the story or drawing the lead characters.
3. Pictures-in-Text Books or Puzzle Books
While reading these books, the parent pauses wherever a picture or blank space appears among words, so that the child says the word instead. This ends up being a fun game while the reading happens alongside.
4. Joke books
Joke books are a perfect way to turn a reluctant child onto reading by making it a hilarious hobby. Plus, the more they read, the more they'll understand the importance of reading for all aspects of their lives – including telling jokes!
Read: Funny Short Stories For Kids That Will Have You In Splits
5. I-Spy Books
One of the most popular books in this area is 'Each Peach Pear & Plumb' by Janet and Allen Ahlberg. On every page, there is a rhyme that ends with a question while the hint is hidden in the image. It is really engaging and enjoyable to read these books over and over again to your little one. At the end of every reading, they feel a sense of achievement  – plus, it's fun!
If you are a "GetLitt-er" enjoying the varied collection of books available in the GetLitt! library then here is a list from where you can begin your child's reading journey. If you're not a subscriber yet, don't worry GetLitt! has a free preview of each book mentioned below. Here are some great books to get your kid hooked on the importance of reading: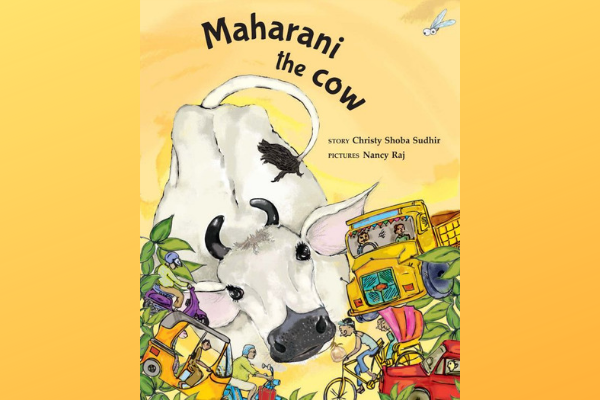 The illustrations in this book will draw your child into a sensory trip with so much to explore beyond the simple text and story. It will surely help your child to fall in love with stories in the written form.
Read Maharani The Cow on GetLitt!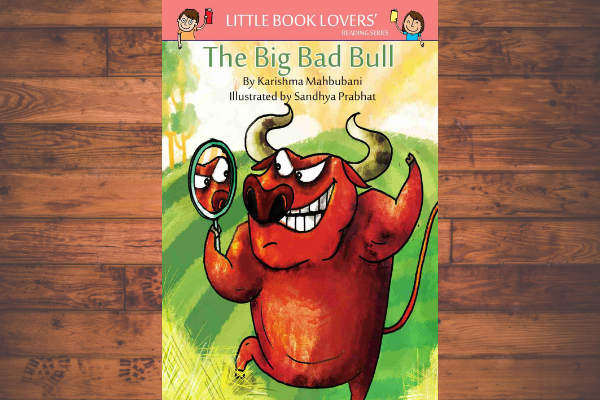 Little children love rhymes and what better way to entice them into reading than with a book with rhyming text. The cute story and illustrations are an added bonus.
Reading The Big Bad Bull on GetLitt!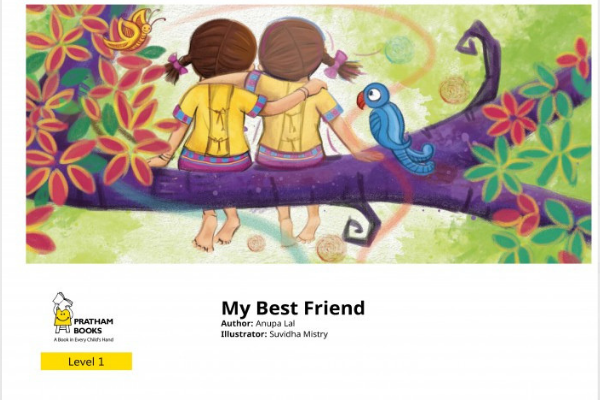 Toddlers are fascinated by the mirror and can spend hours having fun with their reflection. Here is a warm, relatable story about the same that you can read with your curious child.
Read My Best Friend on Getlitt!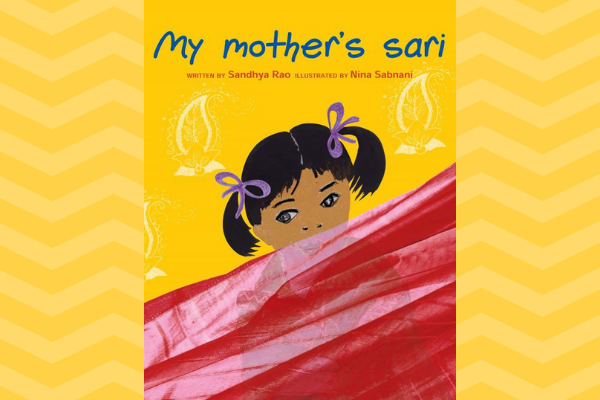 The simple text and the slights of imagination it takes with a simple sari make this book a great read with your little ones. They will love the vivid illustrations and, we are sure, will have a few lovely ideas of their own to give!
Read My Mother's Sari on GetLitt!
With all this in your view, now the only thing for you to do is to pick up the right books, find the right time and mood for your child and walk together into the marvellous world of reading.
I hope you enjoyed this blog on reading and why it is a great habit to foster in a child. GetLitt! has a library of 300+ books that are ideal for any age and any reading level. So subscribe today to get access to these incredible Indian children's books!
Happy Reading!
Like this?
Read: Storytelling with Certified Storyteller Sonia Bareja
Read More: The Importance of Reading Habit in Children
Feature Image Courtesy Shutterstock.com
Aditi Sheoran Chhajta
Aditi is a Leadership Development facilitator & coach in the corporate arena. Apart form that she is passionate about wellness & writing. Aditi is a Sivananda certified Yoga Teacher & she blogs and writes on lifestyle topics across various platforms. Aditi is the mother of a cute little 3.5 year old daughter Dia. Writing helps her bring her interests to life.