How to Get Your Child To Start Reading Short Stories For Kids
1471 Views
September 18, 2019
Watching your child curled up with a book, engrossed in reading short stories for kids is one of life's greatest pleasures. We all want to raise a reader, but just how do we achieve this magic feat?
Ask any school teacher and they will complain that children of today have reduced attention spans. Remember when we were kids and we had a question? We were often told to look for the answer in encyclopedias and we did find it after hours of research. But today, any query we have can be answered simply by asking online. When things are this simple, how do you explain research and looking for answers in books to children today?
Research has found that a growing number of primary school children were not interested in even reading short stories because of the presence of the internet and also because of a lack of reading in the home environment.
Many parents often complain that their children are constantly moving around playing and jumping from one activity to another but not sitting still long enough to consume a book.
According to UNESCO, the biggest single indicator of whether a child is going to thrive at school and at work is whether or not they read for pleasure.
Though it may be difficult to lure an overactive child with a book, it isn't entirely impossible. The easiest way to get your child to read or listen to a book is by getting them involved. Never force reading upon your child or it will end up becoming like a chore for them. Begin by letting them choose short stories for kids and allowing them to read at their own pace. Here are a few tried and tested tips to get your child hooked onto reading short stories for kids.
1. Surround your child with books
Keep them within reach of your child and keep a good variety. Books with bright, colourful illustrations, books with quirky characters they can relate to, short stories that are paperback versions of their favourite cartoon characters – anything to get them hooked. If books are kept within their reach, children will willingly explore.
2. Be a role model
Children, especially really young ones, want to do exactly as mom and dad do. So, if they see you reading before bedtime or during a quiet afternoon, chances are they will pick up a book too. They will initially flip through the pages and look at the pictures but gradually they will be curious about the words too.
3. Make bedtime reading a habit
Always wind down with a story. This is a wonderful opportunity to read short stories for kids. Bedtime stories work well to help your child wind down and also to instill a good bonding routine between the parent and the child.
4. Let them choose
Surround your child with good books and ask them to choose a book to read. Chances are they will pick a book with short stories for kids, or a book with bright illustrations, or one they find really funny. Children's stories are short, powerful, and are just long enough to hold the attention of a child. Here are some really good, short books to choose from. Remember you can read them all on GetLitt!
Short Stories for Kids – Book Suggestions
1. Icky, Yucky, Mucky by author Natasha Sharma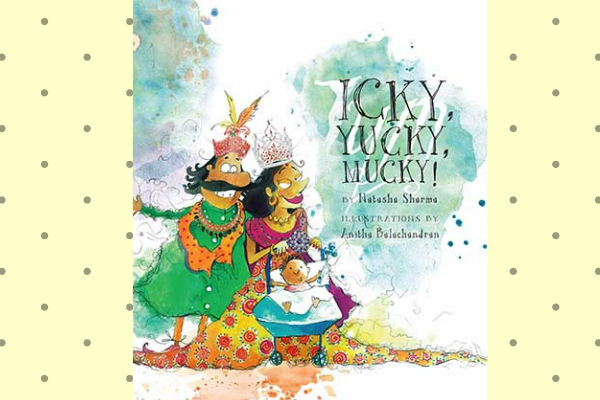 One of our favourite short stories for kids, this one is guaranteed to please young kids with all the references to icky, yucky, mucky things. It is sure to become a family favourite!
Read Icky, Yucky Mucky on GetLitt! 
Click HERE for the storytelling session of Icky Yucky Mucky by the author Natasha Sharma!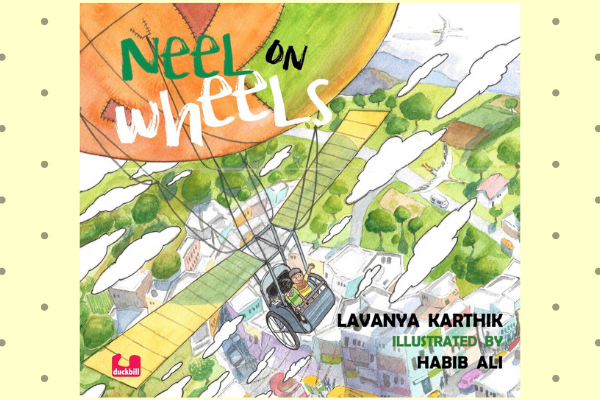 A short story about a physically challenged boy, it will grab your child's attention with its easy to read prose and beautiful illustrations.
Read Neel on Wheels on GetLitt!
Five Minutes With Lavanya Karthik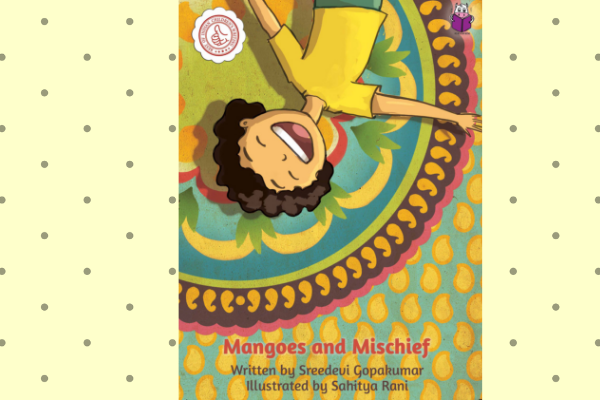 Perfect reading for hot summer months when mangoes are the only thing on everyone's minds! This book from our list of short stories for kids will definitely grab their attention with its evocative illustrations and a fun story they can relate to.
Read Mangoes and Mischief on GetLitt!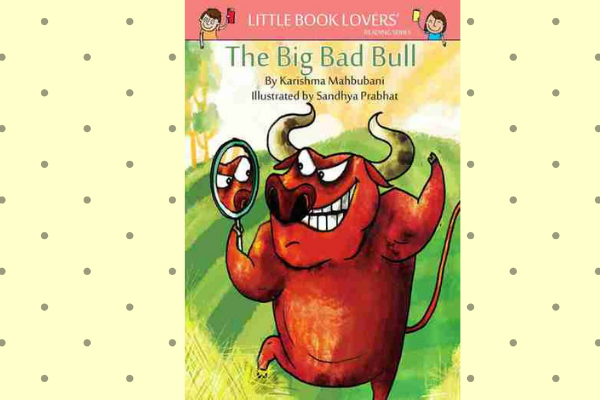 How would you teach a big, bad, bully a lesson? You gang up with your friends and believe in teamwork!
Read The Big Bad Bull on GetLitt!
5. Sit Still, by author Karishma Mahbubhani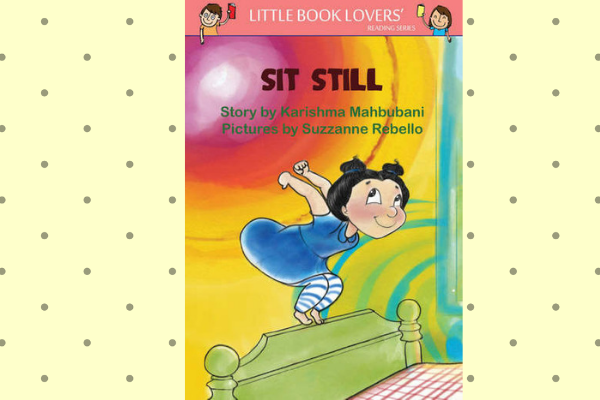 What do you do when you simply can't sit still? You jump and you run and you leap and you bound. But what happens when you finally find something to do that tires you out and you need to take a break?
Check out this storytelling session of the book Sit Still with expert storyteller Deepa Kiran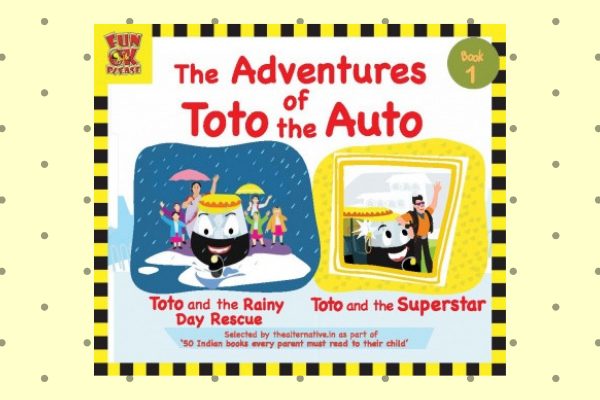 Follow Toto the auto and his amiable driver Pattu as they navigate their way through their city solving crime, saving people in need and loads more! The Toto the Auto series is the perfect way to get your kids interested in reading short stories for kids!
Read Toto the Auto on GetLitt!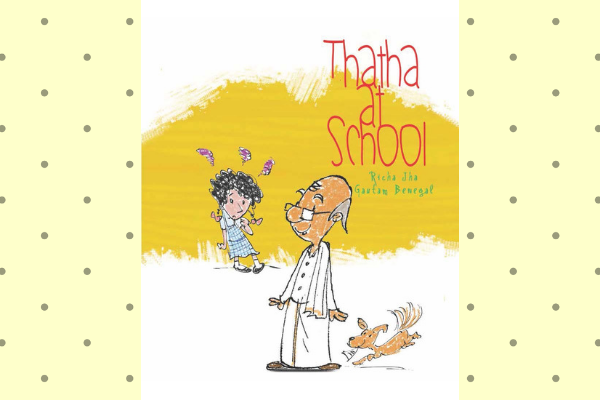 Oviyam has a problem! It is grandparent's day in school and he cannot imagine what his school friends will say when they see his Thatha. How can he stop Thatha from coming to school?
Read Thatha at School on GetLitt!
The list above is a great place to start to get your child hooked onto reading short stories. If you need a little more help, celebrated author Priya Fonseca shares her tips on how to raise a reader. If you are struggling to get your child to focus on a task, make sure to read this article which is packed with tips on simple ways to increase your child's focus. Loved the books we listed above? Then, here is more! These lists ranges from short stories with pictures to funny stories perfect for any time reading. Make sure to write in and tell us your favourites!
Happy reading!
Like this?
Read: 5 Steps To Start Your Child on Short Story Writing
Read More: 10 Enlightening Short Moral Stories for Kids
Rati Ramadas Girish
Rati Ramadas Girish is a true manifestation of an urban nomad. She has lived and learned in India, Saudi Arabia, Europe, and the USA. She began her career as a journalist with NDTV and then worked as a folklorist in Houston, Texas. Somewhere along the way she developed an irrepressible love for children's literature and even wrote and published short stories in anthologies. Presently, she writes from home surrounded by her muses —two sons, a large dog, and her indulgent husband.